Professor MASUDA Kazumi
Faculty, Affiliation
Faculty of Human Sciences, Institute of Human and Social Sciences Faculty of Human Sciences
College and School Educational Field
Division of Transdisciplinary Sciences,Graduate School of Frontier Science Initiative
Division of Regional Development Studies, Graduate School of Human and Socio-Environmental Studies
Division of Transdisciplinary Sciences, Graduate School of Frontier Science Initiative
Division of Natural System, Graduate School of Natural Science and Technology
Course in Curriculum Studies, School of Teacher Education, College of Human and Social Sciences
Laboratory
Laboratory for Exercise Physiology and Biochemistry TEL:076-264-5568 FAX:076-264-5574
Academic Background
【Academic background(Doctoral/Master's Degree)】
University of Tsukuba Doctor Doctoral Program in Sport Sciences Sport Sciences 199903 Completed
【Academic background(Bachelor's Degree)】
University of Tsukuba School of Health and Physical Education 199403
Liverpool Polytechnic Diploma in Science and Football Course 199207
【Degree】
Ph.D. of Sport Sciences
Career
University of Tsukuba Center for Tsukuba Advanced Research All(1999/04/01-2000/03/31)
University of Tsukuba Center for Tsukuba Advanced Research All(2000/04/01-2001/12/31)
Kanazawa University Faculty of Education(2002/01/01-2009/03/31)
University of California Davis University of California Davis Visiting Scholar(2005/08/29-2006/08/15)
Year & Month of Birth
Academic Society
Japan Society of Physical Education, Health and Sport Sciences
The European College of Sport Sciences

Japanese Society of Physicl Fitness and Sports Medicine
The American Physiological Society
American College of Sports Medicine
Hokuriku Society of Sports Sciences and Physical Education
Japanese Society of Physicl Fitness and Sports Medicine, Hokuriku Area
Japan Society of Exercise and Spotrs Physiology
Award
Japan Society of Exercise and Spotrs Physiology
○Shibuya Science and Sports Culture Foundation(2020/12/01)
○Shibuya Science and Sports Culture Foundation(2020/12/01)
○Shibuya Science and Sports Culture Foundation(2020/12/01)
○Shibuya Science and Sports Culture Foundation(2020/12/01)
○The Best Young Investigator Award(2008/08/03)
Specialities
Sports science、Environmental physiology (including physical medicine and nutritional physiology)、Biomedical engineering/Biomaterial science and engineering
Speciality Keywords
exercise and sport, muscle bioenergetics, mitochondria, membrane transport, free radical, oxidative stress
Research Themes
Molecular regulation of oxygen transport to muscle tissue and mitochondria bioenergetics during exercise
Mitochondria function is essential key role on metabolic properties in myocytes. We need to understand the functional interactions of proteins and molecules surrounding mitochondria. Our current research focuses on function of hemeprotein family, especially myoglobin within the cells, including an interaction of myoglobin with mitochondria bioenergetics.
Molecular determinants for selectivity of substrates in skeletal muscle during exercise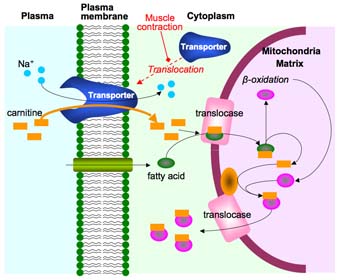 Skeletal muscle consisted of several types of muscle fibers, which contractile and metabolic properties differ. These differences result on usage of substrates for energy production. Our current research focuses on fat metabolism, especially on substrate transport across the plasma membrane, its delivery pathway into mitochondria and molecular interactions in order to understand substrate selectivity in muscles.
Exercise induced free radical, oxidative stress and regeneration of myocytes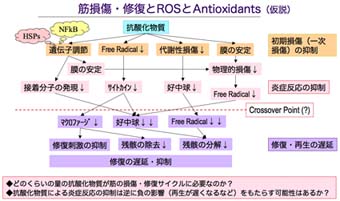 Since reactive oxygen species (ROS) has much higher reaction than stable oxygen, it causes oxidative damage to tissues if it excesses in vivo. Exercise where tissue oxygen consumption increase, turns out to increase in chance of oxidative damage in vivo. However, ROS affects gene transcription, cell growth and proliferation, and also is intracellular signal per se on the molecular basis. Our current research focuses on role of ROS and effect of antioxidants on muscle regeneration from damage to optimize the exercise prescription and nutrients aid.
Books
 Thomas Jue, Kazumi Masuda Inracellular oxygen dynamics observed by NIRS during skeletal muscle contraction. In Application of Near Infrared Spectroscopy in Biomedicine, (Series: Handbook of Modern Biophysics, Vol. 4, Jue T & Masuda K Eds) Springer 2013/04
Papers
 Adaptation of glucose tolerance and skeletal muscle glucose uptake capacity in response to calorie restriction Nonaka Y, Masuda K 4 2023/03
 Effect of daily intake of a rice fermented beverage on endurance exercise performance in male college student athletes Shibaguchi T, Koma R, Riskawati YK, Kawai Y, Yoneda T, Aizaki H, Pérez-López C, Tsuji A, Yamazaki Y, Matsui K and Masuda K 

J Phys Fitness Sports Med

 11 5 263-278 2022/09
 Curcumin induces mitochondrial biogenesis by increasing cyclic AMP levels via phosphodiesterase 4A inhibition in skeletal muscle Hamidie DRR, Shibaguchi T, Yamada T, Koma R, Ishizawa R, Saito Y, Hosoi T and Masuda K 

Br J Nutr

 126 1642-1650 2021/12
 Muscle immobilization delays abrupt change in myoglobin saturation at onset of muscle contraction Takakura H, Yamada T, Furuichi Y, Hashimoto T, Iwase S, Jue T and Masuda K 

J Phys Fitness Sports Med

 11 87-96 2022/03
 Localization of myoglobin in mitochondria: implication in regulation of mitochondrial respiration in muscle Koma R, Shibaguchi T, Pérez-López C, Oka T, Jue T, Takakura H, Masuda K 

Physiol Rep

 25 9-14 2021/03
 Mitochondrial biogenesis and respiration during rat development Ojino M, Yamada T, Koma R, Shibaguchi T, Takakura H, Masuda K 2 1-12 2021/03
 Effect of leucine on microRNAs and mitochondrial biogenesis in C2C12 myotubes Pérez-López C, Shibaguchi T, Morino K, Koma R, Masuda K 

Adv Exerc Sports Physiol

 26 35-42 2020/12
 Involvement of myoglobin in intracellular oxygen transport and oxidative metabolism Takakura H, Yamada T, Masuda K 

Adv Exerc Sports Physiol

 25 1-8 2019/06
 Mitochondrial nature adjusted to host cellular demand and environment Yamada T, Takakura H, Masuda K 

Adv Exerc Sports Physiol

 25 9-14 2019/06
 Effects of different fatty acid chain lengths on fatty acid oxidation-related proteins in skeletal muscles Ishizawa R et al.  

J Oleo Sci

 64 415-421 2015/03
 Endurance training facilitates myoglobin desaturation during muscle contraction in rat skeletal muscle Takakura H et al. 

Scientific Reports

 5 9403 2015/03
 Curcumin treatment enhances the effect of exercise on mitochondrial biogenesis in skeletal muscle by increasing cAMP levels Hamidie DRR et al. 

Metabolism

 64 1334-1347 2015/07
 Myoglobin and the regulation of mitochondrial respiratory chain complex IV Yamada T et al. 

Journal of Physiology

 594 483-495 2016/01
 Intracellular oxygen tension limits muscle contraction-induced change in muscle oxygen consumption under hypoxic conditions during Hb-free perfusion Takakura H, Ojino M, Jue T, Yamada T, Furuichi Y, Hashimoto T, Iwase S, Masuda K 

Physiological Reports

 5 e13112 2017/01
 Effect of exercise-mimic stimulation on mitochondrial biogenesis in rat myocytes Machino A, Ishizawa R, Shibaguchi T, Masuda K 

北陸体育学会紀要

 2017/03
 Topological assay for isolated mitochondria in skeletal muscle Tomohiro Makino, Tsubasa Shibaguchi, Claudia Pérez López, Kokoro Yamashita, Kazumi Masuda 55 22-33 2019/03
 Potensi konsumsi kunyit dalam rangka meningkatkan performa olahraga melalui peningkatan mitokondria biogenesis otot skelet Hamidie DRR and Masuda K 

Jurnal Pendidikan Jasmani dan Olahraga

 3 129-135 2018/10
 Fermented grain beverage supplementation following exercise promotes glycogen supercompensation in rodent skeletal muscle and liver Shibaguchi T, Ishizawa R, Tsuji A, Yamazaki Y, Matsui K, Masuda K 

Indonesian J Sci Tech

 2017/04
 Mitochondrial biogenesis induced by exercise and nutrients: implication for performance and health benefits Masuda K, Jue T, Hamidie DRR 

Indonesian J Sci Tech

 2017/09
 Effect of conjugated linoleic acid intake on endurance exercise performance and anti-fatigue in student athletes Terasawa N, Okamoto K, Nakada K, Masuda K 

J Oleo Sci

 66 723-733 2017/07
 Endurance training improves muscle VO2peak but not alters tissue oxygenation level? 

MEDICINE AND SCIENCE IN SPORTS AND EXERCISE

 35 S95 2003/06
 Imaging mass spectrometry reveals fiber-specific distribution of acetylcarnitine and contraction-induced carnitine dynamics in rat skeletal muscles Furuichi Y et al.  

Biochem Biophys Acta – Bioenergetics

 1837 1699-1706 2014/10
 Reply to Pancheva, Panchev, and Pancheva [Letter to the editor] Yamada T et al.  

JOURNAL OF APPLIED PHYSIOLOGY

 115 151 2013/07
 Interaction between myoglobin and mitochondria in rat skeletal muscle Yamada T et al.  

JOURNAL OF APPLIED PHYSIOLOGY

 114 490-497 2013/02
 Quantification of myoglobin deoxygenation and intracellular partial pressure of O2 during muscle contraction under Hb-free medium perfusion Takakura H et al. 

EXPERIMENTAL PHYSIOLOGY

 95 5 630-640 2010/05
 Role of myoglobin in regulating respiration during muscle contraction Masuda K et al.  

J Phys Fitness Sports Med

 2 9-16 2013/02
 Muscle contraction increases carnitine uptake via translocation of OCTN2 Furuichi Y et al.  

Biochem Biophys Res Commun

 418 774-779 2012/02
 Effects of muscle temperature on muscle oxygenation kinetics during contraction (in English) Takakura H et al. 47 11-19 2010/03
 Oxygen dynamics across plasma membrane during muscle contraction and implication of myoglobin contribution to oxygen transport system Takakura H et al. 46 1-12 2010/03
 Relationships between age, daily physical activity, antioxidant capacity and oxidative stress among middle-aged and elderly people Tanabe K et al. 

Int J Sport Health Sci

 4 S2 515-527 2006/12
 OCTN2 is associated with carnitine transport capacity of rat skeletal muscles Furuichi et al.  

ACTA PHYSIOLOGICA SCANDINAVICA

 200 57-64 2010/09
 Effect of intensive interval training during unloading on muscle oxygenation kinetics Furuichi Y et al. 

INTERNATIONAL JOURNAL OF SPORTS MEDICINE

 30 563-568 2009/07
 Relationships between fiber composition and NMR measurements in human skeletal muscle 

NMR IN BIOMEDICINE

 9 8-12 1996/01
 Proanthocyanidin promotes free radical scavenging activity in muscle tissues and plasma Masuda K et al. 

Appl Physiol Nutr Metab

 32 1097-1104 2007/12
 Intensive cycle training with artificial gravity maintains muscle size and function during bed rest Akima H et al. 

AVIATION SPACE AND ENVIRONMENTAL MEDICINE

 76 10 923-929 2005/10
 Determination of myoglobin concentration in blood-perfused tissue Masuda K et al. 

Eur J Appl Physiol

 104 41-48 2008/09
 Relationships between muscle strength in various isokinetic movements and kick performance among soccer players Masuda K et al. 

JOURNAL OF SPORTS MEDICINE AND PHYSICAL FITNESS

 45 1 44-52 2005/03
 Statistical evaluation of endurance-training effects on systolic blood pressure in elderly people using a single-case design 

Int J Sport Health Sci

 1 148-153 2003/03
 Antioxidant capacity in rat skeletal muscle tissues determined by electron spin resonance Masuda K et al. 

COMPARATIVE BIOCHEMISTRY AND PHYSIOLOGY B-BIOCHEMISTRY & MOLECULAR BIOLOGY

 134 2 215-220 2003/02
 Determinants for stair climbing by elderly from muscle morphology 

Percept Motor Skills

 94 814-816 2002/04
 Endurance training under 2500-m hypoxia does not increase myoglobin content in human skeletal muscle Masuda K et al. 

EUROPEAN JOURNAL OF APPLIED PHYSIOLOGY

 85 486-490 2001/09
 Level of myoglobin concentration in human vastus lateralis muscle: effect of training status Masuda K et al. 

Adv Exerc Sports Physiol

 7 47-51 2001/06
 Changes in capillary luminal diameter in rat soleus muscle after hind-limb suspension Kano Y et al. 

ACTA PHYSIOLOGICA SCANDINAVICA

 169 271-276 2000/08
 Oxygen uptake kinetics following 20 days of unilateral lower limb suspension Hotta N et al. 

J Physiol Sci

 56 5 347-353 2006/10
 Effects of spontaneous exercise on antioxidant capacity in rat muscle determined by electron spin resonance 

Proceeding of Eighth Annual Congress European College Sport Science

 256 2003/07
 Histological skeletal muscle damage and surface EMG relationships following eccentric contractions Kano Y et al. 

J Physiol Sci

 58 349-355 2008/10
 Maintenance of myoglobin concentration in human skeletal muscle after heavy resistance training Masuda K et al. 

EUROPEAN JOURNAL OF APPLIED PHYSIOLOGY

 79 347-352 1999/03
 Simultaneous recording with non-invasive plethysmogram method and an invasive arterial catheter method for continuous monitoring of blood pressure variance and cardiac output variance, during exercise by ergometer Kondo S et al. 22 1 3-10 2010/04
 Relationship between muscle cross-sectional area and strength in various isokinetic movements among soccer players Masuda K et al. 

JOURNAL OF SPORTS SCIENCES

 21 10 851-858 2003/10
 Changes in NIRS parameters and the muscle oxygenation in elder Masuda K et al. 

Therapeutic Res

 22 1981-1985 2001/09
 Expression of hybrid isomyosins in human skeletal muscle 

AMERICAN JOURNAL OF PHYSIOLOGY-CELL PHYSIOLOGY

 271 C1250-C1255 1996/10
 Effect of different cool-down intensity for heart contractile activity after high intensity exercise 41 1 23-34 2005/03
 Early phase adaptations of muscle use and strength to isokinetic training Akima et al. 

MEDICINE AND SCIENCE IN SPORTS AND EXERCISE

 31 588-594 1999/04
 Effects of different intensity endurance training on the capillary network in rat skeletal muscle Kano et al. 

Int J Microcirc

 17 93-96 1997/06
 NIRS measurement of O2 dynamics in contracting blood and buffer perfused hindlimb muscle Masuda K et al. 

Adv Exp Med Biol

 662 323-328 2010/01
 Model evaluation of skeletal muscle deoxygenation at onset of muscle contraction Takashima T et al. 42 1 1-7 2006/03
 Effect of spontaneous exercise on antioxidant capacity in rat muscles determined by electron spin resonance Tanabe K, Masuda K et al. 

Acta Physiol (Oxf)

 186 2 119-125 2006/02
 Changes in surface EMG parameters during static and dynamic fatiguing contractions Masuda K et al. 

JOURNAL OF ELECTROMYOGRAPHY AND KINESIOLOGY

 9 39-46 1999/01
 Adaptation of myoglobin in compensatory hypertrophied rat muscle Masuda K et al. 

ACTA PHYSIOLOGICA SCANDINAVICA

 160 327-331 1997/08
 Morphological adaptation of capillary network in compensatory hypertrophied rat plantaris muscle Kano Y et al. 

EUROPEAN JOURNAL OF APPLIED PHYSIOLOGY

 75 97-101 1997/02
 Oxidative enzyme activity and soma size in motoneurons innervating the rat slow-twitch and fast-twitch muscles after chronic activity Nakano H et al. 

BRAIN RESEARCH BULLETIN

 43 149-154 1997/02
Conference Presentations
Interaction of myoglobin with Hsp70 chaperone: implication in mitochondrial translocation via Tom complex(conference:American College of Sports Medicine 69th Annual Meeting)(2022/06/01)
Effects of icing with or without heat stress on skeletal muscle fibrosis following injury in rats(conference:American College of Sports Medicine 68th Annual Meeting)(2021/06/01)
Submitochondrial localization of myoglobin in skeletal muscle(conference:American College of Sports Medicine 68th Annual Meeting)(2021/06/01)
米醗酵飲料の継続的な摂取はヒトの持久性運動パフォーマンスを向上させる(2019/09)
Leucine stimulate mitochondrial biogenesis via regulation of PGC-1α-targeting miRNAs in C2C12 myotube(2019/09)
Effect of endurance exercise on localization of myoglobin in mitochondria in muscle(conference:American College of Sports Medicine 67th Annual Meeting)(2020/05/27)
Negative impact of icing treatment on qualitative recovery of injured soleus muscle in rats(conference:American College of Sports Medicine 64th Annual Meeting)(2019/05)
Nutrients stimulate mitochondrial biogenesis via PGC-1α-targeting miRNAs in C2C12 myotubes(conference:American College of Sports Medicine 64th Annual Meeting)(2019/05)
Leucine and Caffeine induce mitochondrial biogenesis and down-regulation of miRNAs in cultured mouse myotubes(conference:The 9th Federation of the Asian and Oceanian Physiological Societies (FAOPS) Congress)(2019/03)
Grain fermented beverage treatment induces mitochondrial biogenesis in C2C12 myotubes(conference:American College of Sports Medicine 63rd Annual Meeting)(2018/06)
Localization of myoglobin in mitochondria: implication on regulation of mitochondrial respiration in muscle(conference:American College of Sports Medicine 63rd Annual Meeting)(2018/06)
Ketone bodies induce mitochondrial biogenesis in skeletal muscle cells(conference:American College of Sports Medicine 63rd Annual Meeting )(2018/06)
Effects of fermented drink intake on post‒exercise glycogen restoration in rat skeletal muscle and liver(conference:American College of Sports Medicine 62nd Annual Meeting)(2017/05)
Fermented grain beverage supplementation following exercise promotes glycogen supercompensation in rodent skeletal muscle and liver(2016/11/18)
Curcumin potentially to increase athletic performance through regulated mitochondrial biogenesis(2016/11/18)
Inhibition of cAMP synthesis abolish the impact of curcumin administration in rodent skeletal muscle(2016/10/04)
Myoglobin regulates mitochondrial respiration through its interaction with complex IV(conference:European College of Sport Science 21st Annual Congress)(2016/07)
Endurance training with curcumin treatment regulated mitochondrial biogenesis in skeletal muscle through SIRT1-mediated signaling pathway(conference:American College of Sports Medicine 62nd Annual Meeting)(2015/05/29)
Curcumin decreases phosphorylation phosphodiesterase (PDE) to regulated mitochondrial biogenesis in rat skeletal muscle(conference:第70回日本体力医学会大会)(2015/09/10)
Myoglobin regulates mitochondrial respiration through its interaction with complex IV(conference:European College of Sport Science 21st Annual Congress)(2016/07/08)
Interaction of myoglobin with mitochondria in skeletal muscles(conference:European College of Sport Science 16th Annual Congress )(2011/07/06)
Re-assessment of myoglobin function related to muscle mitochondrial respiration(2016/08/05)
Mitochondrial biogenesis induced by exercise and nutriens: implication for performance and health benefits(2016/11/18)
Curcumin treatment augment exercise effect on mitochondria biogenesis in skeletal muscle and myocardium(conference:American College of Sports Medicine 61st Annual Meeting)(2014/06/01)
PGC-1α expression is not essential for endurance training–induced increase in myoglobin expression in skeletal muscle(conference: American College of Sports Medicine 61st Annual Meeting)(2014/05/30)
Caffeine treatment stimulates myoglobin synthesis via cAMP signaling in L6 skeletal muscle cells(conference:ACSM Conference on Integrative Physiology of Exercise)(2014/09/19)
New insights for the factor regulating muscle mitochondrial respiration(conference:Cell Symposia System approach to Metabolic Diseases)(2014/10/01)
Enhanced respiration with myoglobin interaction in mitochondria(conference:American College of Sports Medicine 61st Annual Meeting)(2014/05/30)
Others
 Effect of endurance exercise on localization of myoglobin in mitochondria in muscle 

Med Sci Sports Exerc

 52 S154 2020/05
 Differences of training frequency on strength training effect of elderly female 32 S244 2000/06
 Changes in muscle oxygenation and blood flow during plantar flexion in human 32 S247 2000/06
 Adaptations of myoglobin in rat skeletal muscles to different intensity and duration of training 8 1995/09
 Effects of low- and high-intensity endurance training on capillary luminal diameter in rat skeletal muscle 42 1995/09
 Effect of cycling exercise on antioxidant capacity in human muscle measured by ESR Tanabe K et al. 

The Integrative Biology of Exercise, APS

 47 288 2004/10
 Effect of intensive interval training during unloading on the muscle oxygenation kinetics. Furuichi Y, Takakura H, Masuda K et al. 39 6 325 2007/06
 Exercise and reactive oxygen species in elderly - exercise as prevention of oxidative stress - Masuda K et al. 4 S2 348-359 2006/12
 Contribution of blood flow an myoglobin during apnea-eupnea cycle in elephant seal muscle. Jue T, Ponganis P, Kreutzer U, Knower-Stockard T, Lin PC, Masuda K et al. 49 12 54 2006/12
 Different Pi/PCr kinetics in human muscle between the static and dynamic exercises Inaki M et al. 39 56 1996/10
 Effect of intensive interval cycling training during unilateral lower limb unloading on aerobic capacity Katayama K et al. 56 6 84 2007/12
 Contribution of blood flow an myoglobin during apnea-eupnea cycle in elephant seal muscle Jue T et al. 0 0 0 2006/09
 Change in intracellular PO2 during muscle contraction under Hb-free medium perfusion Takakura H et al. 41 S281 2009/05
 Expression of novel organic cation/carnitine transporter (OCTN2) in the skeletal muscle Furuichi Y et al. 41 335 2009/05
 Effect of muscle temperature on the oxygenation kinetics during contraction Takakura H et al. 38 S 224 2006/06
 Faster rate of tissue oxygen extraction during contraction after short period of resistance training Masuda K et al. 37 S 390-391 2005/06
 The joint project for the application of artificial gravity system 21  253-257 2005/01
 Effect of short period of unweighting on muscle tissue oxygenation and EMG activity profiles during exercise in human calf 169 2004/06
 Changes in surface electromyogram parameters in rat skeletal muscle after strenuous eccentric exercise 34 S1031 2002/06
 The effects of endurance training on the isocapnic buffering phase and on its influencing factors 32 S331 2000/06
 Time course of changes in myoglobin content after bupivacaine-induced muscle damage. 

American College of Sports Medicine 44th Annual Meeting

 29 53 1997/05
 The influence of unilateral lower limb suspension on cardiorespiratory response during exercise Sato K et al. 38 S 391 2006/06
 Effect of artificial gravity on the human deconditioning due to bed rest 22  192-195 2006/01
 Age-associated changes of antioxidant capacity determined by electron spin resonance in human skeletal muscle Tanabe K et al. 37 S 316 2005/06
 Effect of high intensity cycle training with artificial hypergravity during bed rest on skeletal muscle Akima H et al. 37 S 33 2005/06
 Comparative near-infrared spectroscopy kinetics at onset of different types of muscle contraction in human 22 2004/09
 Neural linkages among individual muscles in quadriceps femoris during knee-extension exercise 33 S217 2001/05
Arts and Fieldwork
Patent
Theme to the desired joint research
○Research for reduction of exercise-induced oxidative stress
○Development of training and conditioning methods for competitive sports
Grant-in-Aid for Scientific Research
○「骨格筋の酸素運搬と利用における骨格筋ミオグロビンの役割」(2001-2002) 
○「筋細胞ミトコンドリアの機能修飾をもたらすヘムタンパク質の相互作用」(2021-2024) 
○「骨格筋のミトコンドリアに運動経験を記憶させるための運動条件とその機序の究明」(2020-2022) 
○「酸素輸送担体を介した筋細胞独自のミトコンドリア活性化機序」(2017-2020) 
○「酸素輸送担体に作用する骨格筋ミトコンドリアタンパク質の網羅的探索」(2013-2014) 
○「骨格筋のミトコンドリア呼吸活性を修飾する酸素輸送担体の新たな分子相互作用」(2014-2016) 
○「基質による骨格筋ミトコンドリア生合成の新たな分子機序の解明と呼吸機能評価の確立」(2015-2017) 
○「高齢者の転倒予防のための下肢筋量のガイドライン作成」(2000-2001) 
○「筋収縮時のミトコンドリア活性化に対する酸素輸送担体の分子相互作用の解明」(2011-2013) 
○「筋収縮特異的に亢進する基質流入を調節しているトランスポーターの役割」(2011-2012) 
○「筋収縮時の筋細胞内の酸素輸送担体を介した酸素輸送量と細胞呼吸の新たな連関機序」(2009-2010) 
○「ミトコンドリアに対するミオグロビンの相互作用と筋細胞内の効果的な酸素供給システム」(2008-2010) 
○「身体不活動及び運動トレーニングが身体機能に及ぼす宇宙医学的研究」(2005-2008) 
○「筋の酸素代謝能力を評価する非侵襲的手法の考案とその生理学的機構の検討」(2003-2005) 
○「筋収縮に伴う筋細胞内外の酸素環境動態の変化と代謝動態との関連について」(2006-2007) 
○「骨格筋ミトコンドリア活性を調節する酸素輸送担体の分子相互作用の解明」(2012-2014) 
○「筋収縮時における細胞内酸素ダイナミクスについて」(2010-2011) 
○「骨格筋収縮中におけるカルニチントランスポーターの活性調節機構の解明」(2010-2011) 
Competitive research funding,Contribution
Collaborative research,Consignment study
○Preliminary investigation for health tourism in Noto, Ishikawa(2008-2008)
Classes (Bachelors)
○Studies in Teaching of Health and P.E I(2021)
○Exercise & Sports Practice(2021)
○Exercise & Sports Practice(2021)
○Seminar on Physiology II(2021)
○Hygiene and Public Health(2021)
○Studies in Teaching of Health and P.E I(2021)
○School Supporting(2021)
○School Internship(2021)
○Studies in Curriculum Design for Health and P.E II(2021)
Classes (Graduate Schools)
○Introduction of Exercise Physiology a(2021)
○Special Study on Advanced Health Promotion Sciences 1(2021)
○Advanced Exercise Physiology(2021)
International Project
International Students
Lecture themes
Others (Social Activities)