Professor KAWAI Keiichi
Faculty, Affiliation
Faculty of Health Sciences, Institute of Medical, Pharmaceutical and Health Sciences
College and School Educational Field
Division of Health Sciences, Graduate School of Medical Science
Division of Health Sciences,Graduate School of Medical Science
Division of Material Sciences, Graduate School of Natural Science and Technology
Graduate School of Advanced Preventive Medical Sciences
Department of Radiological Technology,School of Health Sciences, College of Medical, Pharmaceutical and Health Sciences
Laboratory
 TEL:076-265-2527 FAX:076-234-4366
Academic Background
【Academic background(Doctoral/Master's Degree)】
Kyoto University Doctor Graduate School, Division of Pharmaceutical Sciences 198803 Unfinished course
Kyoto University Master Graduate School, Division of Pharmaceutical Sciences 198603 Completed
【Academic background(Bachelor's Degree)】
Kyoto University 198303
【Degree】
Ph.D.
M.S.
Career
Kanazawa University Faculty of Health Sciences(2008/04/01-)
Kanazawa University Graduate School of Medicine(2005/04/01-2008/03/31)
Kanazawa University Faculty of Health Sciences(2001/04/01-2005/03/31)
Fukui University Biomedical Imaging Research Center Visiting Professor(2001/10/01-)
Miyazaki Medical College Central Research Laboratories(1996/04/01-2001/03/31)
National Institutes of Health PET Department, Clinical Center(1995/07/17-1995/08/04)
National Institutes of Health PET Department, Clinical Center(1992/04/01-1993/03/31)
Science University of Tokyo Faculty of Pharmaceutical Sciences(1988/04/01-1996/03/31)
Year & Month of Birth
1959/04
Academic Society

The Society of Nuclear Medicine
The Society of Radiopharmaceutical Chemistry and Biology





Award
Specialities
Radiopharmaceutical Chemistry、Nuclear Medicine、Medical Pharmaceutical Science
Speciality Keywords
Molecular Imaging, Radiopharmaceutical Chemistry, Pharmacokinetics
Research Themes
Radioprobe-based Molecular Imaging for Diagnosis of Metabolic Function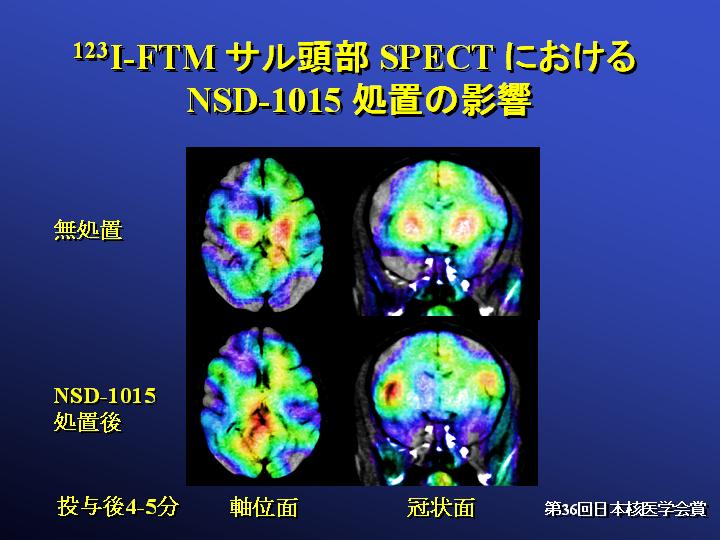 The body develops and utilizes a variety of functional molecules to perform sophisticated biological processes at the cellular level accurately and rapidly. In particular, functional proteins such as tranporters, enzymes, and receptors play significant roles in metabolism and biological processes. Primarily with transporters and information transduction agents and biosynthetic enzymes as target molecules, in our lab we molecularly design and evaluate radiogenic diagnostic agents containing radionuclide that have affinity with them and are necessary for diagnostic imaging. This type of diagnostic imaging for metabolism function analysis, targeting functional molecules that are instrumental to metabolism and information transduction, is considered to be in the cutting-edge research area of "molecular imaging", which has been attracting attention in recent years.
Regulation of Pharmacokinetics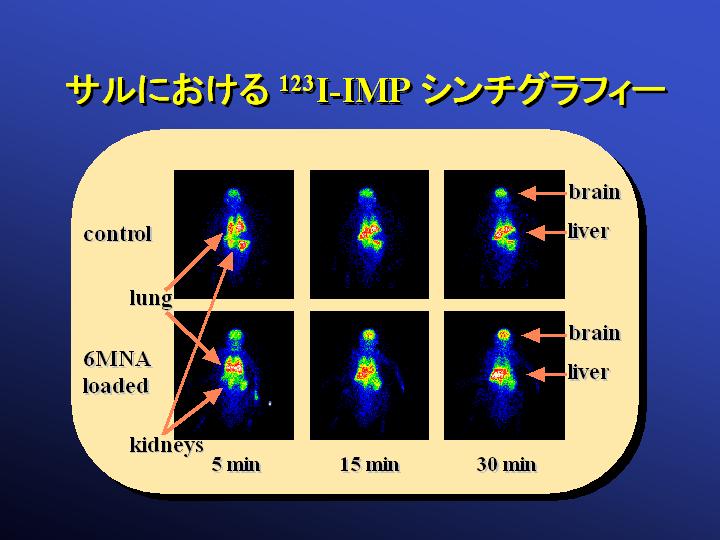 Active elements of drugs that are administered may bind with polymer molecules or be discharged to the outside of the body after being absorbed, with no more than several percent reaching the target tissues. Controlling target accumulation inhibitors of active elements of drugs could enhance drug efficacy and reduce side effects when the same amount of the same active ingredient is administered. We invented a method for controlling serum protein binding and kidney elimination of drugs, demonstrated the indication effect of the kinetic control method for diagnostic imaging of a drug through imaging visualization, and acquired an international patent. Based on these research results, we are now dealing with disposition control methods to effectively utilize not only diagnostic drugs but also treatment drugs.
Evaluation of Radiopharmaceutical for Cancer Detection and Image-guided Planning Treatments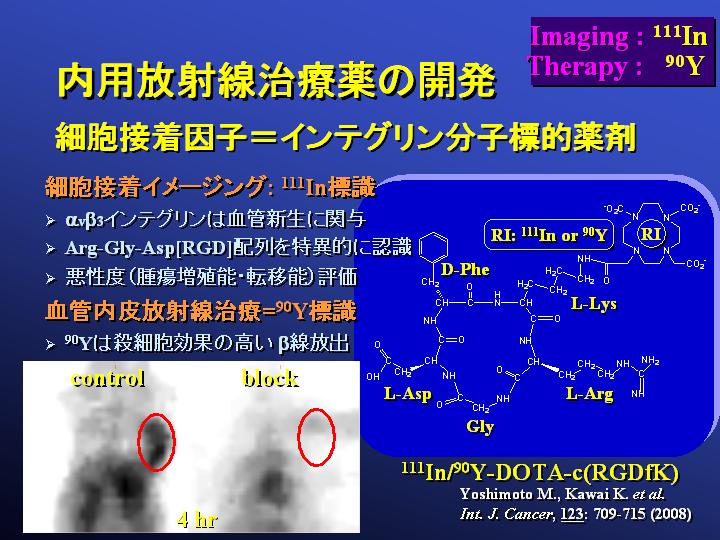 Nuclear medicine diagnostic imaging using radiogenic diagnostic imaging drugs that accumulate in tumor cells has been applied not only for cancer detection but also for treatment effect evaluation and prognosis assessment. Further, internal radiotherapy drugs that are labeled by radionuclide that is effective in cell-killing have been developed, and there have been reports on their significant effect in a number of cases in which difficult-to-treat multiple metastatic cancer that had been treated by means of surgical operations and external radiation therapy was completely cured with one injection. Our lab has enabled drug therapy effect projection and side-effect prevention by pre-determining accumulation rates of the radiogenic drug in cancer and side-effect regions, and is developing diagnostic imaging drugs and internal radiotherapy drugs for cancer that can be labeled with both diagnostic radionuclide and therapeutic radionuiclide, to enable truly individualized medicine.
Books
 PET and Molecular Imaging. State of the Art and Future Perspectives Elsevier, Amsterdam 2004/04
 Proceedings of International Symposium on Serum Albumin and α1-Acid Glycoprotein from Basic Sciences to Clinical Applications Tokyo Print, Tokyo 2001/07
 Recent Advances in Biomedical Imaging Elsevier, Amsterdam 1997/04
Papers
 Assessment of Drug Transporters Involved in the Urinary Secretion of [99mTc]Dimercaptosuccinic Acid. Kobayashi M., Mizutani A., Okamoto T., Muranaka Y., Nishi K., Nishii R., Shikano N., Nakanishi T., Tamai I., Kleinerman E.S., Kawai K. 

Nucl. Med. Biol.

 94-95 92-97 2021/01
 [131I]MIBG Exports via MRP Transporters and Inhibition of the MRP Transporters Improves Accumulation of [131I]MIBG in Neuroblastoma. Kobayashi M., Mizutani A., Nishi K., Muranaka Y., Nishii R., Shikano N., Nakanishi T., Tamai I., Kleinerman E.S., Kawai K. 

Nucl. Med. Biol.

 90-91 49-54 2020/09
 Transport Mechanism and Affinity of [99mTc]Mercaptoacetyltriglycine ([99mTc]MAG3) on the Apical Membrane of Renal Proximal Tubule Cells. Kobayashi M., Nishi K., Mizutani A., Okudaira H., Nakanishi T., Shikano N., Nishii R., Tamai I., Kawai K. 

Nucl. Med. Biol.

 84-85 33-37 2020/01
 Imaging of Hepatic Drug Transporters with [131I]6-β-iodomethyl-19-norcholesterol. Kobayashi M., Nishi K., Mizutani A., Hokama T., Matsue M., Tsujikawa T., Nakanishi T., Nishii R., Tamai I., Kawai K. 

Sci. Rep.

 9 1 e13413 2019/09
 The Pharmacological Properties of 3-Arm or 4-Arm DOTA Constructs for Conjugation to α-melanocyte-stimulating Hormone Analogues for Melanoma Imaging. Kobayashi M., Kato T., Washiyama K., Ihara M., Mizutani A., Nishi K., Flores II L.G., Nishii R., Kawai K. 

PLoS One

 14 3 e0213397 2019/04
 An L-type Amino Acid Transporter-1 Specific Imaging Agent: Structure-function Relationships of Radioiodinated Tyrosine Derivatives. Shikano N., Kanai Y., Kawai K., Inatomi J., Kim D.K., Endou H. 

ASVIP

 24 23-28 2019/03
 Radiolabeled Molecular Imaging Agents for Amino Acid Transport in Tumors. Shikano N., Kawai K. 

ASVIP

 25 1-12 2020/04
 Radioiodinated 6-iodo-D-meta-tyrosine: Characterization of Uptake in DLD-1 Colon Cancer Cells and Biodistribution in Mice. Shikano N., Yagi N., Nishii R., Ohe K., Nakajima S., Ogura M., Ikeda A., Kobayashi M., Yamaguchi N., Kawai K 

ASVIP

 24 1-11 2019/03
 Different Efflux Transporter Affinity and Metabolism of 99mTc-2-methoxyisobutylisonitrile and 99mTc-tetrofosmin for Multidrug Resistance Monitoring in Cancer Cells. Kobayashi M., Tsujiuchi T., Okui Y., Mizutani A., Nishi K., Nakanishi T., Nishii R., Fukuchi K., Tamai I., Kawai K 

Pharm. Res.

 36 1 18 2018/11
 Quantitative Metabolic Imaging to Detect Hepatic Carboxylesterase Drug-Metabolizing Enzyme Activity Using 123I-Iomazenil. Mizutani A., Kobayashi M., Fujita K., Takahashi K., Hokama T., Takatsu H., Nishi K., Shikano N., Fukuchi K., Kawai K. 

Nucl. Med. Commun.

 39 9 825-833 2018/08
 Differential Diagnosis between Low-grade and High-grade Astrocytoma using System A Amino Acid Transport PET Imaging with C-11-MeAIB: A Comparison Study with C-11-Methionine PET Imaging. Nishii R., Higashi T., Kagawa S., Arimoto M,, Kishibe Y., Takahashi M., Yamada S., Saiki M., Arakawa Y., Yamauchi H., Okuyama C., Hojo M., Munemitsu T., Sawada M., Kobayashi M., Kawai K., Nagamachi S., Hirai T., Miyamoto S. 

Contrast Media Mol. Imaging

 doi: 10.1155/2018/1292746 2018/06
 Development of Radioiodine-labeled Acetaminophen for Specific, High-contrast Imaging of Malignant Melanoma. Zhu W., Kobayashi M., Yamada K., Nishi K., Takahashi K., Mizutani A., Nishii R., Flores II L.G., Shikano N., Kunishima M., Kawai K. 

Nucl. Med. Biol.

 59 16-21 2018/03
 In Vitro Uptake and Metabolism of [14C]Acetate in Rabbit Atherosclerotic Arteries: Biological Basis for Atherosclerosis Imaging with [11C]Acetate. Yamasaki K., Yamashita A., Zhao Y., Shimizu Y., Nishii R., Kawai K., Tamaki N., Zhao S., Asada Y., Kuge Y. 

Nucl. Med. Biol.

 56 21-25 2018/01
 Relationship between [14C]MeAIB Uptake and Amino Acid Transporter Family Gene Expression Levels or Proliferative Activity in a Pilot Study in Human Carcinoma Cells: Comparison with [3H]Methionine Uptake. Kagawa S., Nishii R., Higashi T., Yamauchi H., Ogawa E., Okudaira H., Kobayashi M., Yoshimoto M., Shikano N., Kawai K. 

Nucl. Med. Biol.

 49 8-15 2017/06
 Altered Glucose Metabolism and Hypoxic Response in Alloxan-induced Diabetic Atherosclerosis in Rabbits. Matsuura Y., Yamashita A., Zhao Y., Iwakiri T., Yamasaki K., Sugita C., Koshimoto C., Kitamura K., Kawai K., Tamaki N., Zhao S., Kuge Y., Asada Y. 

PLos One

 12 4 e0175976 2017/06
 Difference in Accumulation and the Transport Mechanism of L- and D-Methionine in High- and Low-Grade Human Glioma Cells. Kobayashi M., Mizutani A., Nishi K., Nakajima S., Shikano N., Nishii R., Fukuchi K., Kawai K. 

Nucl. Med. Biol.

 44 2 78-82 2017/02
 Assessment of Amino Acid/Drug Transporters for Renal Transport of [18F]Fluciclovine (anti-[18F]FACBC) in vitro. Ono M., Baden A., Okudaira H., Kobayashi M., Kawai K., Oka S., Yoshimura H. 

Int. J. Mol. Sci.

 17 10 1730 2016/10
 A Novel Injection Strategy of Flurbiprofen-axetil by Inhibiting Protein Binding with 6-Methoxy-2-naphthylacetic Acid.. Ogata K., Takamura N., Tokunaga J., Ikeda T., Setoguchi N., Tanda K,., Yamasaki T., Nishio T., Kawai K. 

Eur. J. Drug Metab. Pharmacok.

 41 2 179-186 2016/04
 Simultaneous Acquisition of 99mTc- and 123I-labeled Radiotracers using a Preclinical SPECT Scanner with CZT Detectors. Kobayashi M., Matsunari I., Nishi K., Mizutani A., Miyazaki Y., Ogai K., Sugama J., Shiba K., Kawai K., Kinuya S 

Ann. Nucl. Med.

 30 4 263-271 2016/04
 Impact of Injection Dose, Post-reconstruction Filtering, and Collimator Choice on Image Quality of Myocardial Perfusion SPECT using Cadmium-zinc Telluride Detectors in the Rat. Mizutani A., Matsunari I., Kobayashi M., Nishi K., Fujita W., Miyazaki Y., Nekolla S.G., Kawai K. 

EJNMMI Physics

 2 1 7 2015/12
 [14C]Fluciclovine (alias anti-[14C]FACBC) Uptake and ASCT2 Expression in Castration-resistant Prostate Cancer Cells. Ono M., Oka S., Okudaira H., Nakanishi T., Mizokami A., Kobayashi M., Schuster D.M., Goodman M.M., Shirakami Y., Kawai K. 

Nucl. Med. Biol.

 42 11 887-892 2015/11
 Comparison of Image Quality with 62Cu and 64Cu-labeled Radiotracers in Positron Emission Tomography Whole-body Phantom Imaging. Kobayashi M., Mori T., Tsujikawa T., Ogai K., Sugama J., Kiyono Y., Kawai K., Okazawa H. 

Hell. J. Nucl. Med.

 18 2 103-107 2015/08
 Development of Radioiodine-labeled 4-Hydroxyphenylcysteamine for Specific Diagnosis of Malignant Melanoma. Kobayashi M., Nishii R., Shikano N., Flores II L.G., Mizutani A., Ogai K., Sugama J., Nagamachi S., Kawai K. 

Nucl. Med. Biol.

 42 6 536-540 2015/06
 A Strategy for Improving FDG Accumulation for Early Detection of Metastasis from Primary Pancreatic Cancer: Stimulation of the Warburg Effect in AsPC-1 Cells. Ogura M., Shikano N., Nakajima S., Sagara J., Yamaguchi N., Kusanagi K., Okui Y., Mizutani A., Kobayashi M., Kawai K. 

Nucl. Med. Biol.

 42 5 475-481 2015/05
 In Vivo Radioactive Metabolite Analysis for Individualized Medicine: A Basic Study of a New Method of CYP Activity Assay using 123I-IMP. Nishi K., Mizutani A., Shikano N., Fujita K., Kobayashi M., Ono M., Nishii R., Sasaki Y., Kinuya S., Kawai K. 

Nucl. Med. Biol.

 42 2 171-176 2015/02
 Cross-linked Human Serum Albumin Dimer has the Potential for Use as a Plasma-retaining Agent for the Fatty Acid-conjugated Antidiabetic Drugs. Taguchi K., Chuang V.T., Yamasaki K., Urata Y., Tanaka R., Anraku M., Seo H., Kawai K., Maruyama T., Komatsu T., Otagiri M. 

J. Pharm. Pharmacol.

 67 2 255-263 2015/02
 Accumulation of trans-1-Amino-3-18F-fluorocyclobutanecarboxylic Acid in Prostate Cancer due to Androgen-induced Expression of Amino-acid Transporters. Okudaira H., Oka S., Ono M., Nakanishi T., Schuster D.M., Kobayashi M., Goodman M.M., Tamai I., Kawai K., Shirakami Y. 

Mol. Imaging Biol.

 16 6 756-764 2014/12
 Effect of Surrounding Materials on Iterative Reconstruction Based Line-Source Response Function, and Annihilations outside the Source Assessed by a Small Animal PET Scanner. Miyazaki Y., Kobayashi M., Komatsu R., Hayashi A., Yonezawa S., Kawai K., Matsudaira M., Shiozaki J., Matsunari I. 

Ann. Nucl. Med.

 28 6 512-522 2014/07
 Differences in Transport Mechanisms of Trans-1-amino-3-[18F]fluorocyclobutanecarboxylic Acid in Inflammatory, Prostate Cancer, and Glioma Cells: Comparison with L-[Methyl-11C]methionine and 2-Deoxy-2-[18F]fluoro-D-glucose. Oka S., Okudaira H., Ono M., Schuster D.M., Goodman M.M., Kawai K., Shirakami Y. 

Mol. Imaging Biol.

 16 3 322-329 2014/06
 Performance Evaluation of the eXplore speCZT Preclinical Imaging System. Matsunari I., Miyazaki Y., Kobayashi M., Nishi K., Mizutani A., Kawai K., Hayashi A., Komatsu R., Yonezawa S., Kinuya S. 

Ann. Nucl. Med.

 28 5 484-497 2014/06
 Intrastriatal Grafts of Fetal Ventral Mesencephalon Improve Allodynia-like Withdrawal Response to Mechanical Stimulation in a Rat Model of Parkinson's Disease. Takeda R., Ishida Y., Ebihara K., Abe H., Matsuo H., Ikeda T., Koganemaru G., Kuramashi A., Funahashi H., Magata Y., Kawai K., Nishimori T. 

Neurosci. Lett.

 573 C 19-23 2014/06
 Transport Mechanisms of Hepatic Uptake and Bile Excretion in Clinical Hepatobiliary Scintigraphy with 99mTc-N-pyridoxyl-5-methyltryptophan. Kobayashi M., Nakanishi T., Nishi K., Higaki Y., Okudaira H., Ono M., Tsujiuchi T., Mizutani A., Nishii R., Tamai I., Arano Y., Kawai K. 

Nucl. Med. Biol.

 41 4 338-342 2014/04
 Monitoring of Gefitinib Sensitivity with Radioiodinated PHY based on EGFR Expression. Yoshimoto M., Hirata M., Kanai Y., Naka S., Nishii R., Kagawa S., Kawai K., Ohmomo Y. 

Biol. Pharm. Bull.

 37 3 355-360 2014/03
 Influences of Artificial Heart-lung Machine Operation on the Binding Sites of Albumin: Possibility of an Effective Administration Plan. Totoribe K., Takamura N., Ogata K., Tokunaga J., Kawai K., Nakamura K., Ieiri I., Higuchi S. 

Int. J. Artif. Organs,

 37 2 99-108 2014/02
 Increased Metabolite Levels of Glycolysis and Pentose Phosphate Pathway in Rabbit Atherosclerotic Arteries and Hypoxic Macrophage. Yamashita A., Zhao Y., Matsuura Y., Yamasaki K., Moriguchi-Goto S., Sugita C., Iwakiri T., Okuyama N., Koshimoto C., Kawai K., Tamaki N., Zhao S., Kuge Y., Asada Y. 

PLoS One

 9 1 e86426 2014/01
 Prototype Imaging Protocols for Monitoring the Efficacy of Iodine-131 Ablation in Differentiated Thyroid Cancer. Kobayashi M., Wakabayashi H., Kojima H., Konishi T., Okuda K., Yoneyama H., Kayano D., Tobisaka M., Tsushima H., Onoguchi M., Kawai K., Kinuya S. 

Hell. J. Nucl. Med.

 16 3 175-180 2013/09
 Comparative Evaluation of Transport Mechanisms of Trans-1-amino-3-[18F]fluorocyclobutane-carboxylic Acid and L-[Methyl-11C]methionine in Human Glioma Cell Lines. Ono M., Oka S., Okudaira H., Schuster D.M., Goodman M.M., Kawai K., Shirakami Y. 

Brain Res.

 1535 24-37 2013/08
 Binding of Sulforhodamine B to Human Serum Albumin: A Spectroscopic Study. Kitamura M., Murakami K., Yamada K., Kawai K., Kunishima M. 

Dyes and Pigments.

 99 3 588-593 2013/04
 Arterial 18F-Fluorodeoxyglucose Uptake Reflects Balloon Catheter-induced Thrombus Formation and Tissue Factor Expression via Nuclear Factor-κB in Rabbit Atherosclerotic Lesions. Yamashita A., Zhao Y., Zhao S., Matsuura Y., Sugita C., Iwakiri T., Okuyama N., Ohe K., Koshimoto C., Kawai K., Tamaki N., Kuge Y., Asada Y 

Circ. J.

 77 10 2679-2680 2013/07
 Pharmacokinetic Alteration of 99mTc-MAG3 using Serum Protein Binding Displacement Method. Nishi K., Kobayashi M., Nishii R., Shikano N., Takamura N., Kuga N., Yamasaki K., Nagamachi S., Tamura S., Otagiri M. and Kawai K. K., Shikano N., Nishii R., Higashi T., Okazawa H. and Kawai K. 

NUCLEAR MEDICINE AND BIOLOGY

 40 3 366-370 2013/03
 Diagnostic Usefulness of an Amino Acid Tracer, α-[N-methyl-11C]-methylaminoisobutyric Acid (11C-MeAIB), in the PET Diagnosis of Chest Malignancies. Nishii R., Higashi T., Kagawa S., Kishibe Y., Takahashi M., Yamauchi H., Motoyama H., Kawakami K., Nakaoku T., Nohara J., Okamura M., Watanabe T., Nakatani K., Nagamachi S., Tamura S., Kawai K., Kobayashi M. 

Ann. Nucl. Med.

 27 9 808-821 2013/07
 Appropriate Collimators in a Small Animal SPECT Scanner with CZT Detector. Higaki Y., Kobayashi M., Uehara T., Hanaoka H., Arano Y. and Kawai K. 

ANNALS OF NUCLEAR MEDICINE

 27 3 271-278 2013/03
 Application of a Medium-energy Collimator for I-131 Imaging after Ablation Treatment of Differentiated Thyroid Cancer. Kobayashi M., Wakabayashi H., Kayano D., Konishi T., Kojima H., Yoneyama H., Okuda K., Tsushima H., Onoguchi M., Kawai K., Kinuya S. 

Ann. Nucl. Med.

 28 6 551-558 2013/07
 Predominant Contribution of L-Type Amino Acid Transporter to 4-Borono-2-18F-fluoro-phenylalanine Uptake in Human Glioblastoma Cells. Yoshimoto M., Kurihara H., Honda N., Kawai K., Ohe K., Fujii H., Itami J. and Arai Y. 

NUCLEAR MEDICINE AND BIOLOGY

 40 5 625-629 2013/03
 Kinetic Analyses of Trans-1-amino-3-18F-fluorocyclobutanecarboxylic Acid Transport in Xenopus Laevis Oocytes Expressing Human ASCT2 and SNAT2. Okudaira H., Nakanishi T., Oka S., Kobayashi M., Tamagami H., Schuster D.M., Goodman M.M., Shirakami Y., Tamai I. and Kawai K. 

NUCLEAR MEDICINE AND BIOLOGY

 40 5 670-675 2013/03
 The Usefulness of 18F-FDG PET/MRI Fusion Image in Diagnosing Pancreatic Tumor: Comparison with 18F-FDG PET/CT. Nagamachi S., Nishii R., Wakamatsu H., Mizutani Y., Kiyohara S., Fujita S., Futami S., Sakae T., Furukoji E., Tamura S., Arita H., Chijiiwa K. and Kawai K. 

ANNALS OF NUCLEAR MEDICINE

 27 6 554-563 2013/03
 A Diclofenac Suppository-nabumetone Combination Therapy for Arthritic Pain Relief and A Monitoring Method for The Diclofenac Binding Capacity of HSA Site II in Rheumatoid Arthritis. Setoguchi N., Takamura N., Fujita K.I., Ogata K., Tokunaga J., Nishio T., Chosa E,., Arimori K., Kawai K. and Yamamoto R. 

BIOPHARMACEUTICS & DRUG DISPOSITION

 34 2 125-136 2013/02
 Down-regulation of Calcium/calmodulin-dependent Protein Kinase Kinase 2 by Androgen Deprivation Induces Castration-resistant Prostate Cancer. Shima T., Mizokami A., Miyagi T., Kawai K., Izumi K., Kumaki M., Ofude M., Zhang J., Keller E.T. and Namiki M. 

PROSTATE

 72 16 1789-1801 2012/12
 Enhanced Expression of Organic Anion Transporting Polypeptides (OATPs) in Androgen Receptor-positive Prostate Cancer Cells: Possible Role of OATP1A2 in Adaptive Cell Growth under Androgen-depleted Conditions. Arakawa H., Nakanishi T., Yanagihara C., Nishimoto T., Wakayama T., Mizokami A., Kawai K. and Tamai I. 

BIOCHEMICAL PHARMACOLOGY

 84 8 1070-1077 2012/08
 Transport Mechanism of 11C-labeled L- and D-Methionine in Human-derived Tumor Cells. Kobayashi M., Hashimoto F., Ohe K., Nadamura T., Nishi K., Shikano N., Nishii R., Higashi T., Okazawa H. and Kawai K. 

NUCLEAR MEDICINE AND BIOLOGY

 39 8 1213-1218 2012/08
 N-Isopropyl-p-iodoamphetamine Hydrochloride (IMP) is Predominantly Metabolized by CYP2C19. Fujita K., Sugiyama M., Akiyama Y., Hioki K., Kunishima M., Nishi K., Kobayashi M., Kawai K. and Sasaki Y. 

DRUG METABOLISM AND DISPOSITION

 40 5 843-846 2012/05
 Appropriate Parameters of Ordered-Subset Expectation Maximization Algorithm on Measurement of Myocardial Blood Flow and Oxygen Consumption with 11C-Acetate PET. Kobayashi M., Mori T., Kiyono Y., Tsujikawa T., Maruyama R., Higaki Y., Shikano N., Nishii R., Kawai K., Kudo T. and Okazawa H. 

NUCLEAR MEDICINE COMMUNICATIONS

 33 2 130-138 2012/02
 The Agreement of Left Ventricular Function Parameters between 99mTc-Tetrofosmin Gated Myocardial SPECT and Gated Myocardial MRI. Kuroiwa Y., Nagamachi S., Miyati T., Yamaguchi K., Nishii R., Kuga N., Azuma T., Arita H., Maeda M., Tamura S. and Kawai K. 

ANNALS OF NUCLEAR MEDICINE

 26 2 147-163 2012/02
 Cerebral Oxygen Metabolism of Rats using Injectable 15O-Oxygen with a Steady-state Method. Kobayashi M., Mori T., Kiyono Y., Tiwari V., Maruyama R., Kawai K. and Okazawa H. 

JOURNAL OF CEREBRAL BLOOD FLOW AND METABOLISM

 32 1 33-40 2012/01
 MR Signal Change in Venous Thrombus Relates Organizing Process and Thrombolytic Response in Rabbit. Kuroiwa Y., Yamashita A., Miyati T., Furukoji E., Takahashi M., Azuma T., Sugimura H., Asanuma T., Tamura S., Kawai K. and Asada Y. 

MAGNETIC RESONANCE IMAGING

 29 7 975-984 2011/07
 Functional Characterization of Apical Transporters Expressed in Rat Proximal Tubular Cells (PTCs) in Primary Culture. Nakanishi T., Fukushi A., Sato M., Yoshifuji M., Gose T., Shirasaka Y., Ohe K., Kobayashi M., Kawai K. and Tamai I. 

MOLECULAR PHARMACOLOGY

 8 6 2142-2150 2011/06
 Comparison of Diagnostic and Prognostic Capabilities of 18F-FDG PET/CT, 131I-scintigraphy, and Diffusion-weighted Magnetic Resonance Imaging for Postoperative Thyroid Cancer. Nagamachi S., Wakamatsu H., Kiyohara S., Nishii R., Mizutani Y., Fujita S., Futami S., Arita H., Kuroki M., Nakada H., Uchino N., Tamura S. and Kawai K. 29 6 413-422 2011/06
 Putative Transport Mechanism and Intracellular Fate of Anti-18F-FACBC (Trans-1-amino- 3-18F-fluorocyclobutanecarboxylic Acid) in Human Prostate Cancer. Okudaira H., Shikano N., Nishii R., Miyagi T., Yoshimoto M., Kobayashi M., Ohe K., Nakanishi T., Tamai I., Namiki M. and Kawai K. 

JOURNAL OF NUCLEAR MEDICINE

 52 5 822-829 2011/05
 Differential Expression of FosB, c-Fos, and Zif268 in Forebrain Regions after Acute or Chronic L-DOPA Treatment in a Rat Model of Parkinson's Disease. Ebihara K., Ishida Y., Takeda R., Abe H., Matsuo H., Kawai K., Magata Y. and Nishimori T. 

NEUROSCIENCE LETTERS

 496 2 90-94 2011/02
 Development of an H215O Steady-state Method Combining a Bolus and Slow Increasing Injection with a Multiprogramming Syringe Pump. Kobayashi M., Kiyono Y., Maruyama R., Mori T., Kawai K. and Okazawa H. 

JOURNAL OF CEREBRAL BLOOD FLOW AND METABOLISM

 31 2 527-534 2011/02
 Superior Plasma Retention of a Cross-linked Human Serum Albumin Dimer in Nephrotic Rats as a New Type of Plasma Expander. Taguchi K., Urata Y., Anraku M., Watanabe H., Kawai K., Komatsu T., Tsuchida E., Maruyama T. and Otagiri M. 

DRUG METABOLISM AND DISPOSITION

 38 12 2124-2129 2010/12
 Radioiodinated 4-Iodo-L-meta-tyrosine, a System L Selective Artificial Amino Acid: Molecular Design and Transport Characterizationin in Chinese Hamster Ovary Cells (CHO-K1 Cells). Shikano N., Kotani T., Nakajima S., Ogura M., Nakazawa S., Sagara J., Kobayashi M., Baba T., Yamaguchi N., Kubota N. and Kawai K. 

NUCLEAR MEDICINE AND BIOLOGY

 37 8 903-910 2010/12
 Inhibition of Cisplatin Protein Binding: a Possible Therapeutic Advantage. Tokunaga J., Matsuo Y., Takamura N., Ogata K., Yoshida H., Nagata M., Kishimoto S., Fukushima S., Ikeda O., Nishio T., Kawai K. and Arimori K. 7 4 127-132 2010/07
 The Citrus Flavonoids Hesperetin and Naringenin Block the Lipolytic Actions of TNF-α in Mouse Adipocytes. Yoshida H., Takamura N., Shuto T., Ogata K., Tokunaga J., Kawai K. and Kai H. 

BIOCHEMICAL AND BIOPHYSICAL RESEARCH COMMUNICATIONS

 394 3 728-732 2010/06
 Effect of Protein Binding Inhibitors on Biodistribution of 123I-N-Isopropyl-p-iodoamphetamine in Rats. Shikano N., Takamura N., Nishii R. and Kawai K. 15 34-41 2010/04
 The Reproducibility of Deep-inspiration Breath-hold 18F-FDG PET/CT Technique in Diagnosing Various Cancers Affected by Respiratory Motion. Nagamachi S., Wakamatsu H., Kiyohara S., Fujita S., Futami S., Arita H., Tamura S. and Kawai K. 

ANNALS OF NUCLEAR MEDICINE

 24 3 171-178 2010/03
 Basic Study on Flurbiprofen Protein Binding Inhibition by an Albumin Site II Binding Inhibitor, 6-Methoxy-2-naphthyl Acetic Acid. Tokunaga J., Takamura N., Ogata K., Yoshida H., Setoguchi N., Kondo T., Nishio T. and Kawai K. 11 153-158 2010/03
 Comparison of the Transcellular Transport of FDG and D-Glucose by the Kidney Epithelial Cell Line LLC-PK1. Kobayashi M., Shikano N., Nishii R., Kiyono Y., Araki H., Nishi K., Oh M., Okudaira H., Ogura M., Yoshimoto M., Okazawa H., Fujibayashi Y. and Kawai K. 

NUCLEAR MEDICINE COMMUNICATIONS

 31 2 141-146 2010/02
 Atherosclerotic Lesions Rich in Macrophages or Smooth Muscle Cells Discriminated in Rabbit Iliac Arteries Based on T1 Relaxation Time and Lipid Content. Kuroiwa Y., Yamashita A., Miyati T., Furukoji E., Takahashi M., Azuma T., Sugimura H., Tamura S., Kawai K. and Asada Y. 

ACADEMIC RADIOLOGY

 17 2 230-238 2010/02
 Stimulation of 125I-3-Iodo-alpha-methyl-L-tyrosine in Chinese Hamster Ovary (CHO-K1) Cells by Tyrosine Esters.  Nakajima S., Shikano N., Kotani T., Ogura M., Nishii R., Yoshimoto M., Yamaguchi N., Iwamura Y., Kubota N., Ishikawa N. and Kawai K. 

NUCLEAR MEDICINE AND BIOLOGY

 37 2 189-196 2010/02
 Uptake of 3-[125I]Iodo-α-methyl-L-tyrosine into Colon Cancer DLD-1 Cells: Characterization and Inhibitory Effect of Natural Amino Acids and Amino Acid-like Drugs. Shikano N., Ogura M., Okudaira H., Nakajima S., Kotani T., Kobayashi M., Nakazawa S., Baba T., Yamaguchi N., Kubota N., Iwamura Y. and Kawai K. 

NUCLEAR MEDICINE AND BIOLOGY

 37 2 197-204 2010/02
 Intracellular Reactions Affecting 2-Amino-4-([11C]methylthio)butyric acid ([11C]Methionine) Response to Carbon Ion Radiotherapy in C10 Glioma Cells. Nakajima S., Shikano N., Kotani T., Ogura M., Nishii R., Yoshimoto M., Yamaguchi N., Iwamura Y., Kubota N., Ishikawa N. and Kawai K. 

NUCLEAR MEDICINE AND BIOLOGY

 36 8 985-991 2009/12
 Evaluation of Radioiodinated Vesamicol Analogs for Sigma Receptor Imaging in Tumor and Radionuclide Receptor Therapy. Ogawa K., Shiba K., Akhter N., Yoshimoto M., Washiyama K., Kinuya S., Kawai K. and Mori H. 100 11 2188-2192 2009/11
 Improvement of N-isopropyl-p-[123I]iodoamphetamine Cerebral Accumulation by Competitive Displacement of Serum Protein Binding with Amino-Acid Infusion. Kuga N., Shikano N., Takamura N., Nishii R., Yamasaki K., Kobayashi M., Nagamachi S., Tamura S. and Kawai K. 

JOURNAL OF NUCLEAR MEDICINE

 50 8 1378-1383 2009/08
 Usefulness of a Deep-inspiration Breath-hold 18F-FDG PET/CT Technique in Diagnosing Liver, Bile Duct, and Pancreas Tumors. Nagamachi S., Wakamatsu H., Kiyohara S., Fujita S., Futami S., Arita H., Nishii R., Tamura S. and Kawai K. 

NUCLEAR MEDICINE COMMUNICATIONS

 30 5 326-332 2009/05
 Usefulness of Competitive Inhibitors of Protein Binding for Improving the Pharmacokinetics of 186Re-MAG3-conjugated Bisphosphonate (186Re-MAG3-HBP), an Agent for Treatment of Painful Bone Metastases. Ogawa K., Mukai T., Kawai K., Takamura N., Hanaoka H., Hashimoto K., Shiba K., Mori H. and Saji H. 

EUROPEAN JOURNAL OF NUCLEAR MEDICINE

 36 1 115-121 2009/01
 Altered Chain-length and Glycosylation Modify the Pharmacokinetics of Human Serum Albumin. Iwao Y., Hiraike M., Kragh-Hansen U., Kawai K., Suenaga A., Maruyama T. and Otagiri M. 

BIOCHIMICA ET BIOPHYSICA ACTA-PROTEIN STRUCTURE AND MOLECULAR ENZYMOLOGY

 1794 4 634-641 2009/01
 Serum Protein Binding Displacement: Theoretical Analysis using a Hypothetical Radiopharmaceutical and Experimental Analysis with 123I-N-isopropyl-p-iodoamphetamine. Kawai K., Nishii R., Shikano N., Makino N., Kuga N., Yoshimoto M., Jinnouchi S., Nagamachi S., Tamura S. and Takamura N. 

NUCLEAR MEDICINE AND BIOLOGY

 36 1 99-106 2009/01
 Differential Expression of Fos and Zif268 in the Nigrostriatal System after Methamphetamine Administration in a Rat Model of Parkinson's Disease. Ishida Y., Kawai K., Magata Y., Ebihara K., Takeda R., Abe H., Yoshimoto M., Hashiguchi H., Odagiri K., Matsuo H. and Nishimori T. 

SYNAPSE

 62 12 920-926 2008/12
 Usefulness of rCBF Analysis in Diagnosing Parkinson's Disease: Supplemental Role with MIBG Myocardial Scintigraphy. Nagamachi S., Wakamatsu H., Kiyohara S., Fujita S., Futami S., Tamura S., Nakazato M., Yamashita S., Arita H., Nishii R. and Kawai K. 

ANNALS OF NUCLEAR MEDICINE

 22 7 557-564 2008/12
 αvβ3 Integrin-targeting Radionuclide Therapy and Imaging with Monomeric RGD Peptide. Yoshimoto M., Ogawa K., Washiyama K., Shikano N., Mori H., Amano R. and Kawai K. 

INTERNATIONAL JOURNAL OF CANCER

 123 3 709-715 2008/08
 Influence of Haemodialysis on the Binding Sites of Human Serum Albumin; Possibility of an Efficacious Administration Plan using Binding Inhibition. Nishio T., Takamura N., Nishii R., Tokunaga J., Yoshimoto M. and Kawai K. 

NEPHROLOGY DIALYSIS TRANSPLANTATION

 23 7 2304-2310 2008/07
 Assessment of Diastolic Function using 16-frame 201Tl Gated Myocardial Perfusion SPECT: A Comparative Study of QGS2 and pFAST2. Nagamachi S., Wakamatsu H., Fujita S., Nishii R., Kamimura K., Kiyohara S., Futami S., Onitsuka H., Nagoshi Y., Tamura S., Kawai K. and Arita H. 

ANNALS OF NUCLEAR MEDICINE

 22 2 115-122 2008/02
 Dosage Plan of Flurbiprofen Injection Product using Inhibition of Protein Binding by Lipid Emulsion in Rats. Ogata K., Takamura N., Tokunaga J., Kawai K., Arimori K. and Higuchi S. 

JOURNAL OF PHARMACY AND PHARMACOLOGY

 60 1 15-20 2008/01
 Fluorescent X-ray Imaging with Synchrotron Radiation for the Evaluation of Probes for Biomedical Functions: A Pilot Study on 4-Bromo-DL-phenylalanine for Cancer Detection in Mice. Shikano N., Kotani T., Nakajima S., Ogura M., Hyodo K., Sugiyama H., Monma M., Kawai K., Takeda T., Kubota N., Nishimura K., Mori K. and Ishikawa N. 12 67-73 2007/11
 Changes of Net Charge and Alpha-helical Content Affect the Pharmacokinetic Properties of Human Serum Albumin. Iwao Y., Hiraike M., Kragh-Hansen U., Mera K., Noguchi T., Anraku M., Kawai K., Maruyama T. and Otagiri M. 

BIOCHIMICA ET BIOPHYSICA ACTA-PROTEIN STRUCTURE AND MOLECULAR ENZYMOLOGY

 1774 12 1582-1590 2007/10
 Pharmacokinetics of 3-[125I]Iodo--methyl-L-tyrosine, a Tumor Imaging Agent, after Probenecid Loading in Mice Implanted with Colon Cancer DLD-1 Cells. Nakajima S., Shikano N., Kotani T., Ogura M., Nishii R., Yoshimoto M., Yamaguchi N., Iwamura Y., Kubota N., Ishikawa N. and Kawai K. 

NUCLEAR MEDICINE AND BIOLOGY

 34 8 1003-1008 2007/08
 Transport of D-[1-14C]-Amino Acids into Chinese Hamster Ovary (CHO-K1) Cells: Implications for Use of Labeled D-Amino Acids as Molecular Imaging Agents. Shikano N., Nakajima S., Kotani T., Ogura M., Sagara J., Iwamura Y., Yoshimoto M., Kubota N., Ishikawa N. and Kawai K. 

NUCLEAR MEDICINE AND BIOLOGY

 34 6 659-665 2007/06
 Diagnosis of Misery Perfusion using Noninvasive 15O Gas PET. Kobayashi M., Okazawa H., Tsuchida T., Kawai K., Fujibayashi Y. and Yonekura Y. 

JOURNAL OF NUCLEAR MEDICINE

 47 10 1581-1586 2006/10
 Radio-iodinated VEGF to Image Tumor Angiogenesis in a LS180 Tumor Xenograft Model. Yoshimoto M., Kinuya S., Kawashima A., Nishii R., Yokoyama K. and Kawai K. 

NUCLEAR MEDICINE AND BIOLOGY

 33 8 963-969 2006/08
 Recombinant Human Serum Albumin Dimer has High Blood Circulation Activity and Low Vascular Permeability in Comparison with Native Human Serum Albumin. Matsushita S., Chuang V.T., Kanazawa M., Tanase S., Kawai K., Maruyama T., Suenaga A. and Otagiri M. 

PHARMACEUTICAL RESEARCH

 23 5 882-891 2006/05
 Oxidation of Arg-410 Promotes the Elimination of Human Serum Albumin. Iwao Y., Anraku M., Yamasaki K., Kragh-Hansen U., Kawai K., Maruyama T. and Otagiri M. 

BIOCHIMICA ET BIOPHYSICA ACTA-PROTEIN STRUCTURE AND MOLECULAR ENZYMOLOGY

 1764 4 743-749 2006/04
 Detection of Maleate-induced Fanconi Syndrome by Decreasing Accumulation of 125I-3-Iodo--methyl-L-tyrosine in the Proximal Tubule Segment-1 Region of Renal Cortex in Mice: A Trial of Separate Evaluation of Reabsorption. Shikano N., Nakajima S., Kotani T., Itoh Y., Nishii R., Yoshimoto M., Flores II L.G., Saji H., Ishikawa N. and Kawai K. 

ANNALS OF NUCLEAR MEDICINE

 20 3 175-181 2006/03
 The Structural and Pharmacokinetic Properties of Oxidized Human Serum Albumin, Advanced Oxidation Protein Products (AOPP). Iwao Y., Anraku M., Hiraike M., Kawai K., Nakajou K., Kai T., Suenaga A. and Otagiri M. 21 2 140-146 2006/02
 Effect of Percutaneous Endoscopic Gastrostomy on Gastrointestinal Motility: Evaluation by Gastric-emptying Scintigraphy. Wakamatsu H., Nagamachi S., Nishii R., Higaki K., Kawai K., Kamimura K., Fujita S., Futami S. and Tamura S. 

NUCLEAR MEDICINE COMMUNICATIONS

 29 6 562-567 2008/06
 Bucolome, a Potent Binding Inhibitor for Furosemide, Alters the Pharmacokinetics and Diuretic Effect of Furosemide: Potential for Use of Bucolome to Restore Diuretic Response in Nephrotic Syndrome. Takamura N., Maruyama T., Chosa E., Kawai K., Tsutsumi Y., Uryu Y., Yamasaki K., Deguchi T. and Otagiri M. 

DRUG METABOLISM AND DISPOSITION

 33 4 596-602 2005/04
 Inhibitory Effects of Amino-acid Fluids on Drug Binding to Site II of Human Serum Albumin in vitro. Yamasaki K., Kuga N., Takamura N., Furuya Y., Hidaka M., Iwakiri T., Nishii R., Okumura M., Kodama H., Kawai K. and Arimori K. 

BIOLOGICAL & PHARMACEUTICAL BULLETIN

 28 3 549-552 2005/03
 Regional Distribution of Manganese, Iron, Copper and Zinc in the Brains of 6-Hydroxydopamine-indeced Parkinsonian Rats. Tarohda T., Ishida Y., Kawai K., Yamamoto M. and Amano R. 383 2 224-234 2005/02
 Alteration of Striatal [11C]Raclopride and 6-[18F]Fluoro-L-3,4-dihydroxyphenylalanine Uptake Precedes Development of Methamphetamine-induced Rotation Following Unilateral 6-Hydroxydopamine Lesions of Medial Forebrain Bundle in Rats. Ishida Y., Kawai K., Magata Y., Abe H., Yoshimoto M., Takeda R., Hashiguchi H., Mukai T. and Saji H. 

NEUROSCIENCE LETTERS

 389 1 30-34 2005/01
 Cerebral Blood Flow Abnormalities Induced by Transient Hypothyroidism after Thyroidectomy. —Analysis by Tc-99m-HMPAO and SPM96 —. Nagamachi S., Jinnouchi S., Nishii R., Ishida Y., Fujita S., Futami S., Kodama T., Tamura S. and Kawai K. 

ANNALS OF NUCLEAR MEDICINE

 18 6 469-477 2004/11
 Changes in Dopamine D2 Receptors and 6-[18F]Fluoro-L-3,4-dihydroxyphenylalanine Uptake in the Brain in 6-Hydroxydopamine Lesioned Rats. Ishida Y., Kawai K., Magata Y., Takeda R., Hashiguchi H., Abe H., Mukai T. and Saji H. 1 2-3 109-112 2004/07
 Renal Accumulation and Excretion of Radioiodinated 3-Iodo-α-methyl-L-tyrosine. Shikano N., Kawai K., Nakajima S., Nishii R., Flores II L.G., Kubodera A., Kubota N., Ishikawa N. and Saji H. 

ANNALS OF NUCLEAR MEDICINE

 18 3 263-270 2004/05
 Transcellular Transport of Radioiodinated 3-Iodo-α-methyl-L-tyrosine across Monolayers of Kidney Epithelial Cell Line LLC-PK1. Shikano N., Kawai K., Nakajima S., Kubodera A., Kubota N., Ishikawa N. and Saji H. 

ANNALS OF NUCLEAR MEDICINE

 18 3 227-234 2004/05
 Transcellular Transport of 4-Iodo-L-meta-tyrosine via System L across Monolayers of Kidney Epithelial Cell Line LLC-PK1. Shikano N., Kawai K., Nakajima S., Kubodera A., Kubota N., Ishikawa N. and Saji H. 

NUCLEAR MEDICINE AND BIOLOGY

 31 4 477-482 2004/04
 Transport of 99mTc-MAG3 via Rat Renal Organic Anion Transporter 1. Shikano N., Kanai Y., Kawai K., Ishikawa N. and Endou H. 

JOURNAL OF NUCLEAR MEDICINE

 45 1 80-85 2004/01
 A Novel Radiopharmaceutical for Detection of Malignant Melanoma Based on Melanin Formation: 3-Iodo-4-hydroxyphenyl-L-cystein. Nishii R., Kawai K., Flores II L.G., Kataoka H., Jinnouchi S., Nagamachi S., Arano Y. and Tamura S. 

NUCLEAR MEDICINE COMMUNICATIONS

 24 5 575-582 2003/05
 Varidation of the Chloramine-T Induced Oxidation of Human Serum Albumin as a Model for Oxidative Damege in vivo. Anraku M., Kragh-Hansen U., Kawai K., Maruyama T., Yamasaki Y., Takakura Y. and Otagiri M. 

PHARMACEUTICAL RESEARCH

 20 4 684-692 2003/04
 An Artificial Amino Acid, 4-Iodo-L-meta-tyrosine: Biodistribution and Excretion via Kidney. Shikano N., Kawai K., Flores II L.G., Nishii R., Kubota N., Ishikawa N. and Kubodera A. 

JOURNAL OF NUCLEAR MEDICINE

 44 4 625-631 2003/04
 Isoform Selectivity of 3-125I-iodo-α-methyl-L-tyrosine Membrane Transport in Human L-Type Amino Acid Transporters. Shikano N., Kanai Y., Kawai K., Inatomi J., Kim D.K., Ishikawa N. and Endou H. 

JOURNAL OF NUCLEAR MEDICINE

 44 2 244-246 2003/02
 Characterization of 3-[125I]Iodo-α-methyl-L-tyrosine Transport via Human L-Type Amino Acid Transporter 1. Shikano N., Kanai Y., Kawai K., Ishikawa N. and Endou H. 

NUCLEAR MEDICINE AND BIOLOGY

 30 1 31-37 2003/01
 Prediction of Plasma Concentration-Time Curve of Orally Administered Theophylline Based on a Scintigraphic Monitoring of Gastrointestinal Transit in Human Volunteers. 

INTERNATIONAL JOURNAL OF PHARMACEUTICS

 233 1-2 179-190 2002/02
 Serial Change in 123I-MIBG Myocardial Scintigraphy in Non-insulin-dependent Diabetes Mellitus. 

ANNALS OF NUCLEAR MEDICINE

 16 1 33-38 2002/02
 The Correlation between 99mTc-MIBI Uptake and MIB-1 as a Nuclear Proliferation Marker in Glioma : A Comparative Study with 201Tl. Nagamachi S., Jinnouchi S., Nabeshima K., Nishii R., Flores II L.G., Kodama T., Kawai K., Tamura S., Yokogami K., Samejima T. and Wakisaka S. 

NEURORADIOLOGY

 43 12 1023-1030 2001/12
 Regulation of 123I-IMP Cerebral Accumulation by Competitive Displacement of Serum Protein Binding. 

JOURNAL OF LABELLED COMPOUNDS & RADIOPHARMACEUTICALS

 44 462-464 2001/05
 Evaluation of Absorption Kinetics of Orally Administered Theophylline in Rats Based on Gastrointestinal Transit by Gamma Scintigraphy. 

JOURNAL OF PHARMACEUTICAL SCIENCES

 90 4 464-473 2001/04
 A New Probe for the Cerebral Dopaminergic Presynaptic Function: 6-Radioiodinated L-meta-Tyrosine. 

JOURNAL OF CEREBRAL BLOOD FLOW AND METABOLISM

 20 1 207-212 2000/02
 Evaluation of DOPA Decarboxylase Activity in Presynaptic Dopaminergic Neuron with 6-Radioiodinated L-meta-Tyrosine. 

JOURNAL OF LABELLED COMPOUNDS & RADIOPHARMACEUTICALS

 42 420-422 1999/11
 Brain Uptake of Iodinated L-meta-Tyrosine, a Metabolically Stable Amino Acid Derivative. 

NUCLEAR MEDICINE COMMUNICATIONS

 20 2 153-157 1999/02
 Assessment of the Radiochemical Design of Antibodies with a Metabolizable Linkage for Target-selective Radioactivity Delivery. 

BIOCONJUGATE CHEMISTRY

 9 4 497-506 1998/07
 A Novel Radioiodination Reagent for Protein Radiopharmaceuticals with L-Lysine as a Plasma-stable Metabolizable Linkage to Liberate m-Iodohippuric Acid after Lysosomal Proteolysis. 

JOURNAL OF MEDICINAL CHEMISTRY

 40 16 2643-2652 1997/07
 Synthesis and Evaluation of Radioiodinated 6-Iodo-L-DOPA as a Cerebral L-Amino Acid Transport Marker. Kawai K., Ohta H., Kubodera A., Channing M.A. and Eckelman W.C. 

NUCLEAR MEDICINE AND BIOLOGY

 23 3 251-255 1996/03
 Synthesis of Polymer-bound 6-Mercuric Carboxylate DOPA Precursors and Solid Phase Labeling Method of 6-Radioiodinated L-DOPA. Kawai K., Ohta H., Channing M.A., Kubodera A. and Eckelman W.C.lman W.C. 

APPLIED RADIATION AND ISOTOPES

 47 1 37-44 1996/01
 Canine SPECT Studies for Cerebral Amino Acid Transport by Means of 123I-3-iodo-α-methyl-L-tyrosine and Preliminary Kinetic Analysis. Kawai K., Fujibayashi Y., Yonekura Y., Tanaka K., Saji H., Konishi J., Kubodera A. and Yokoyama A. 

ANNALS OF NUCLEAR MEDICINE

 9 1 47-50 1995/02
 Synthesis of Polymer-bound 6-Thiolatomercury and 6-Mercuric Sulfonate DOPA Precursors and Their Halodemercuration Reactivity. Kawai K., Channing M.A., Kiesewetter D.O. and Eckelman W.C. 

NUCLEAR MEDICINE AND BIOLOGY

 22 1 37-43 1995/01
 An Artificial Amino Acid Radiopharmaceutical for Single Photon Emission Computed Tomographic Study of Pancreatic Amino Acid Transports: 123I-3-iodo-alpha-methyl-L-tyrosine. Kawai K., Fujibayashi Y., Yonekura Y., Konishi J., Saji H., Kubodera A. and Yokoyama A. 

ANNALS OF NUCLEAR MEDICINE

 6 3 169-175 1992/04
 A Strategy for the Study of Cerebral Amino Acid Transport Using 123I-labeled Amino Acid Radiopharmaceutical: 3-Iodo-alpha-methyl-L-tyrosine. Kawai K., Fujibayashi Y., Saji H., Yonekura Y., Konishi J., Kubodera A. and Yokoyama A. 

JOURNAL OF NUCLEAR MEDICINE

 32 5 819-824 1991/05
 Myocardial Uptake of Radioiodinated Methyl-branched Fatty Acids: Acute Inhibition of Beta-oxidation and Chronic Myocardial Damage. Yonekura Y., Fujibayashi Y., Kawai K., Tamaki N., Yamamoto K., Matsumori A., Ohkusa T., Yokoyama A., Kawai C. and Konishi J. 21 226-228 1990/05
 Monoiodo-D-tyrosine, an Artificial Amino Acid Radiopharmaceutical for Selective Measurement of Membrane Amino Acid Transport in the Pancreas. Kawai K., Fujibayashi Y., Saji H., Konishi J., Kubodera A. and Yokoyama A. 

NUCLEAR MEDICINE AND BIOLOGY

 17 4 369-376 1990/04
 Problems of [S-methyl-11C]-L-methionine as a Protein Synthesis Marker in the Pancreas. Fujibayashi Y., Kawai K., Yonekura Y., Matsumoto K., Konishi J. and Yokoyama A. 

ANNALS OF NUCLEAR MEDICINE

 4 1 29-33 1990/02
 New Approach for the Search of Exploitable Function of Amino Acid as for Pancreatic Radiopharmaceutical. Fujibayashi Y., Kawai K., Saji H., Torizuka K. and Yokoyama A. 

JOURNAL OF LABELLED COMPOUNDS & RADIOPHARMACEUTICALS

 23 1363-1365 1986/12
 A Radiopharmaceutical for Pancreatic Exocrine Functional Diagnosis: Zn-62-EDDA Metabolism in Pancreas. Fujibayashi Y., Saji H., Kawai K., Unuma Y., Miyata S., Okuno T., Hosotani R., Inoue K., Adachi H., Horiuchi K., Torizuka K. and Yokoyama A. 

NUCLEAR MEDICINE AND BIOLOGY

 12 6 447-451 1986/06
 Zn-62-EDDA: A Radiopharmaceutical for Pancreatic Functional Diagnosis. Fujibayashi Y., Saji H., Yomoda I., Kawai K., Horiuchi K., Adachi H., Torizuka K. and Yokoyama A. 

NUCLEAR MEDICINE AND BIOLOGY

 12 6 439-446 1986/06
 [I-125] Radioiodinated Metaraminol: A New Platelet-specific Labeling Agent. Ohmomo Y., Yokoyama A., Kawai K., Arano Y., Horiuchi K., Tanaka C., Saji H. and Torizuka K. 

EUROPEAN JOURNAL OF NUCLEAR MEDICINE

 10 5-6 269-275 1985/05
Conference Presentations
Others
Arts and Fieldwork
Patent
○Method of Measuring Binding Site on Plasma Protein of Plasma Protein-Binding Drug and Method of Measuring Plasma Protein Mutation(No:JP4236050,US7175991,EP1557671,TW I 33071)
○Preparation for Controlling Binding of Drug to Plasma Protein(No:TW I 306762)
○Method of the Administration of Drugs having Binding Affinity with Plasma Protein and Preparation to be used in the Method(country:USA, EU, Canada)(No:JP4343473,US7029653,EP1197227,CA2376159)
Theme to the desired joint research
Grant-in-Aid for Scientific Research
○「脳内アミノ酸代謝機能の画像診断を目的とした放射性診断薬の開発に関する基礎研究」(1994-1994) 
○「脳内アミノ酸代謝機能の画像診断を目的とした放射性診断薬の開発に関する基礎研究」(1995-1995) 
○「脳内神経伝達機能の画像診断を目的とした放射性診断薬の開発に関する基礎研究」(1996-1996) 
○「癌の免疫核医学診断・治療を目的とする腫瘍部位解裂性ヨウ素標識試薬の開発」(1997-1999) 
○「脳内神経伝達機能の画像診断を目的とした新規放射性診断薬の開発に関する基礎研究」(1997-1998) 
○「脳内ドーパミン神経機能診断を目的とする放射性診断薬の開発と診断法の確立」(1998-1999) 
○「脳内神経伝達機能の画像診断を可能にする新規放射性診断薬の開発に関する研究」(1999-2001) 
○「腫瘍特異的代謝亢進に基づく癌の内部照射治療を可能にするヨウ素標識薬剤の開発」(2000-2002) 
○「術後甲状腺機能低下症に起因する鬱状態における脳血流変化に関する研究」(2000-2002) 
○「アイソフォーム選択的アミノ酸トランスポーター画像診断薬の実現」(2001-2003) 
○「がんの内用放射線治療薬剤の開発研究」(2001-2001) 
○「脳内神経変性疾患の早期検出を可能にする新規放射性診断薬の開発に関する研究」(2002-2004) 
○「腫瘍内アミノ酸・アミン代謝を利用した癌の内部照射治療薬剤の検索」(2002-2004) 
○「低酸素腫瘍を標的とする内部照射治療薬剤に関する研究」(2002-2004) 
○「分子イメージングによる核医学診断のための放射性医薬品の創薬戦略に関する研究」(2003-2003) 
○「transporter 遺伝子導入による腫瘍の内照射療法および核医学画像診断法の開発」(2003-2005) 
○「癌細胞膜アビジン発現とスカベンジャー受容体内在化による特異的普遍的内照射法の開発」(2004-2006) 
○「脳内神経変性疾患に対する再生医療効果判定を可能にする新規放射性診断薬の開発」(2005-2007) 
○「ポストFDGを担う腫瘍診断用ポジトロン放出核種標識人工アミノ酸製剤の探索」(2005-2007) 
○「アイソフォーム特異的アミノ酸トランスポーター放射性機能診断薬の実現」(2005-2007) 
○「薬物の経口吸収動態を制御する生理学的因子の解析とその吸収挙動予測への応用」(2005-2006) 
○「シグナル伝達を指標にした分子イメージングによる癌分子標的薬剤治療効果予測法の開発」(2006-2008) 
○「悪性神経内分泌腫瘍に対する血管新生阻害下内用療法:基礎研究から臨床応用へ」(2007-2010) 
○「小腸粘膜における初回通過効果の解析とその薬物経口吸収挙動の予測への応用」(2007-2008) 
○「腫瘍血管新生の可視化を可能にする分子イメージング剤の開発」(2007-2009) 
○「脳内神経変性疾患に対する再生医療・遺伝子治療効果判定に有用な放射性診断薬の開発」(2008-2011) 
○「ヒストン脱アセチル化酵素(HDAC)阻害に基づく癌分子標的PET診断法の開発」(2008-2010) 
○「量子医療技術による機能イメージング法のリハビリテーション医療への応用に関する研究」(2008-2010) 
○「ヒト培養細胞の機能性分子発現解析に基づくポストFDG腫瘍診断薬の設計戦略の構築」(2009-2011) 
○「不安定プラークの早期・特異的同定:プレターゲティング法による組織因子イメージング」(2011-2012) 
○「HDAC分子標的エピジェネティクスPET診断の基礎及び臨床的応用」(2011-2014) 
○「細胞の遺伝子発現解析に基づく機能性分子発現系を利用した腫瘍診断薬の設計戦略の検証」(2012-2014) 
○「半導体検出器を搭載した最新型小動物用SPECT/CT装置における定量測定法の確立」(2012-2014) 
○「精神神経疾患の個体差を克服する個別化薬物療法に有用な分子標的放射性診断薬の開発」(2013-2016) 
○「動脈硬化の治療戦略に役立つ核医学イメージング法:EBMのための実験的研究」(2014-2017) 
○「癌関連トランスポーター発現解析に基づく機能性分子発現系による腫瘍診断薬の開発戦略」(2015-2016) 
○「抗がん剤の個別化医療を可能にするSPECTを利用した高精度多剤耐性予測法の確立」(2015-2017) 
○「プロスタグランジン輸送体を作用標的とする新規抗炎症薬の提唱」(2015-2016) 
○「PET分子画像診断によるEGFR阻害癌分子標的薬個別化医療」(2016-2020) 
○「個別化薬物療法最適化の基盤となる薬物代謝酵素活性を評価する核医学画像診断法の確立」(2018-2020) 
○「副作用が懸念される薬物の腎尿細管分泌機序の解明と新規腎機能核医学画像測定法の開発」(2018-2020) 
Competitive research funding,Contribution
Collaborative research,Consignment study
Classes (Bachelors)
○Radiation Hygiene and Safety Management(2017)
○Radioisotope in In-Vitro and In-Vivo Techniques(2017)
○Radiopharmaceutical Science(2017)
○Radiobiology(2017)
○Laws and Regulations Related to Radiation(2017)
○Radiation Protection and Safety Experiment(2017)
○Radiation Hygiene and Safety Management(2016)
○Radioisotope in In-Vitro and In-Vivo Techniques(2016)
○Radiopharmaceutical Science(2016)
○Radiobiology(2016)
○Laws and Regulations Related to Radiation(2016)
○Radiation Protection and Safety Experiment(2016)
Classes (Graduate Schools)
○Processing & Anal. for Biofunctional Imaging: Res.(2017)
○Analytics for Physical Function: Lecture(2017)
○Analytics for Functional Imaging: Lecture(2017)
○Analytics for Functional Imaging: Seminar(2017)
○Analytics for Functional Imaging: Research(2017)
○Research Design in Medical Radiation Science: Lec.(2017)
○Analytics for Physical Function: Seminar(2017)
○Processing & Anal. for Biofunctional Imaging: Res.(2016)
○Analytics for Physical Function: Seminar(2016)
○Research Design in Medical Radiation Science: Lec.(2016)
○Research Design in Health Science: Lecture(2016)
○Analytics for Physical Function: Lecture(2016)
○Molecular Medical Oncology(2016)
○Analytics for Functional Imaging: Research(2016)
○Analytics for Functional Imaging: Lecture(2016)
○Analytics for Functional Imaging: Seminar(2016)
International Project
International Students
Lecture themes
Others (Social Activities)