Professor UMINO Susumu
Faculty, Affiliation
Faculty of Geosciences and civil Engineering,Institute of Science and Engineering
Vice Dean of the College of Science and Engineering
Dean of the Division of Natural System
College and School Educational Field
Division of Geosciences and Civil Engineering, Graduate School of Natural Science and Technology
Division of Natural Sciences, Graduate School of Natural Science and Technology
Division of Environmental Design, Graduate School of Natural Science and Technology
Division of Natural System, Graduate School of Natural Science and Technology
Course in Earth and Planetary Science, School of Geosciences and Civil Engineering, College of Science and Engineering
Laboratory
Department of Earth Sciences TEL:076-264-6522 FAX:076-264-6545
Academic Background
【Academic background(Doctoral/Master's Degree)】
The Graduate School of the University of Tokyo Doctor Graduate School, Division of Natural Science Geology, PhD course 198703 Completed
The Graduate School of the University of Tokyo Master Graduate School, Division of Natural Science Geology, Master course 198303 Completed
【Academic background(Bachelor's Degree)】
The University of Tokyo Department of Geology 198103
【Degree】
Doctor of Philosophy
Career
1987-1988 Research Fellow of the Japan Science Promotion Society Faculty of Science Research Fellow(1987/04/01-1988/03/31)
1988-1992 Assistant Professor, Faculty of Science, Shizuoka University Faculty of Science Assistant Professor(1988/04/01-1992/05/31)
1992-1993 Lecturer, the Faculty of Science, Shizuoka University Faculty of Science Lecturer(1992/06/01-1993/03/31)
1993-2004 Associate Professor, Faculty of Science, Shizuoka University Faculty of Science Associate Professor(1993/04/01-2004/03/31)
2004-2008 Professor, Faculty of Science, Shizuoka University Faculty of Science Professor(2004/04/01-2008/03/31)
2008- Professor, Graduate School of Natural Science and Technology Natural Science and Techonology(2008/04/01-)
Year & Month of Birth
Academic Society
Geological Society of Japan
Geological Society of Japan
Japan Drilling Earth Science Consortium
Geological Society of Japan
Geological Society of Japan
Volcanological Society of Japan
Japan Association of Mineralogical Sciences
American Geophysical Union
Award
○Japan Association of Mineralogical Sciences Award(2018/09/20)
Specialities
Petrology/Mineralogy/Economic geology、Geology、Solid Earth Geophysics
Speciality Keywords
Volcano, Magma, Ocean-floor Drilling, Mohole, boninite, subduction zone, mantle
Research Themes
Formation of oceanic crust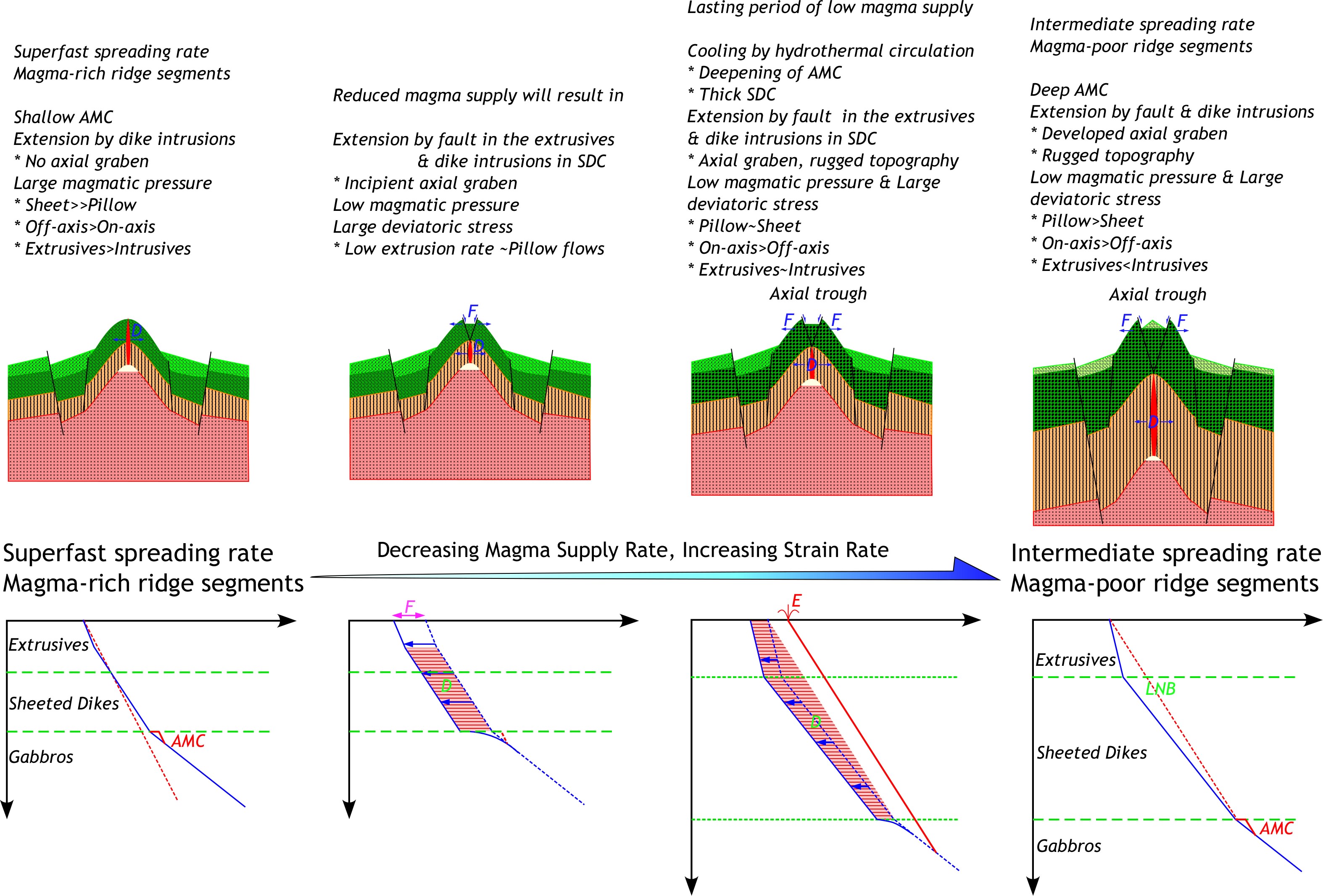 Mid-ocean ridge ridges are the globaly largest volcanic systems that comprise 80% of the total budget of the terrestrial volcanism. They gobern material circulations between the earth's surface and the interior via plate subduction. The world fastest spreading East Pacific Rise produces 50% of the present ocean floor, whose magma plumbing system plays the major role in the global volcanism and the material circulation. I am tackling this fast-spreading ridge system and the mechanism of ocean crust formation by using submersible dives and deep ocean drilling (Integrated Ocean Drilling Program) of the present ocean floor and through field studies on ophiolites that exposes gigantic bodies of anciant oceanic crust and mantle.
Lava eruptions and lava flow emplacement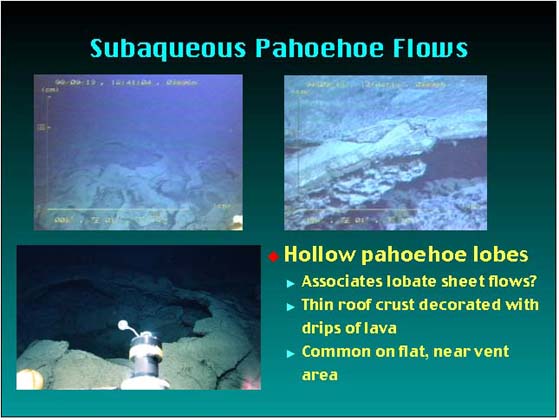 80% of Erth's volcanic activity is concentrated in the mid-ocean ridges under deep water, and majority of eruptions of oceanic arc volcanoes take place on the seafloor. Furthermore, extraterrestrial volcanism such as on the Moon and Venus takes the form of lava extrusions. It is, therefore, essential to understand how lava-forming eruptions occur and the mechanism that governs lava flow behavior.
Evolution of juvenile island-arc volcanoes and subduction zone system
Books
 Umino, S., Kusano, Y., Miyashita, S., and Adachi, Y. Architecture and evolution of the oceanic crust: Fast-spreading ridge system. Kaiyo Pub.Co. Ltd. 2022
 Umino, S., Teagle, D.A., Dohn't, S., Moore, G.F., and Ildefonse, B. Off-Hawaii ocean crust drilling project: Creating a pilot hole for mantle drilling.  Kaiyo Pub.Co. Ltd. 2022
 Umino, S., Ishizuka, O. and Kanayama, K. Geology of the Hahajima Rettō District. Geological Map of Japan 1:50,000, Hahajima Retto. Geological Survey of Japan, AIST 2016/05
 Boninite and the Birth of Island Arc Asahi News Paper Pub. 2012/03
 Geology of The Bonin Islands --- The Origin of Boninite and Seafloor Tectonics Asakura Pub. Ltd. 4 2006/01
 Geology of the Chichijima Retto District  Geological Survey of Japan 1-71 2007/05
 Geological Map of Japan 1:200,000, Ogasawara Shoto Geological Survey of Japan 2009/10
 Geology and development of the Ogasawara islands - Generation of boninite magma and island arc Natural Parks Foundation 40-41 2010/03
  The Hard Yards: Deep basement drilling of an in situ section of oceanic crust formed at a superfast spreading rate. Recent results from IODP Expedition 309 to Hole 1256D, Eastern Equatorial Pacific InterRidge 14 8-11 2005/10
 Geography and Geology of Ogasawara The Map Center 430 6-7 2008/07
 From ocean to ark: how is a subduction zone established? 81 8 765-771 2011/08
Papers
 Origin and age of magmatism in the northern Philippine Sea basins. Ishizuka, O., Tani, K., Taylor, R.N., Umino, S., Sakamoto, I., Yokoyama, Y., shimoda, G., Harigane, Y., Ohara, Y., Conway, C., Perez, A., and Sekimoto, S. 

Geochemistry, Geophysics, Geosystems

 doi: 10.1029/2021GC010242 2022/03/15
 Tectonics of boninites: Subduction initiation and mantle evolution Susumu Umino, Yuki Kusano 

Chigaku Zasshi

 130 4 599-614 2021/08/25
 Compositions and classification of fractionated boninite-series melts from the Izu-Bonin-Mariana Arc: A machine learning approach Valetich, M.J., Le Losq, C., Arculus, R., Umino, S., and Mavrogenes, J. 

Journal of Petrology

 62 1-20 2021/04/28
 Workshop Report: Exploring Deep Oceanic Crust off Hawaiʻi Valetich, M.J., Le Losq, C., Arculus, R., Umino, S., and Mavrogenes, J. 

Scientific Drilling

 29 69-82 2021/04/26
 Proceedings of the Oman Drilling Project  Kelemen, P.B., Matter, J.M., Teagle, D.A.H., Coggon, J.A., and the Oman Drilling Project Science Team 2020/04/24
 Geochemical evolution of arc and slab following subduction initiation: a record from the Bonin Islands, Japan.  Ishizuka, O., Taylor, R.N., Umino, S., and Kanayama, K. 

Journal of Petrology

 2020
 Tectonics of boninites: Subduction initiation and mantle evolution Susumu Umino 

Japanese magazine of mineralogical and petrological sciences

 2019/04/27
 The conversion tectonics from spreading to subduction: Paleostress analysis of dike swarms during the subduction initiation in the Oman Ophiolite Susumu Umino, Yuki Kusano, Atsushi Yamaji, Takahiro Fudai, Akihiro Tamura, Syoji Arai 

Geological Society of America Bulletin

 2019/11/12
 Workshop report on hard-rock drilling into mid-Cretaceous Pacific oceanic crust on the Hawaiian North Arch Tomoaki Morishita, Susumu Umino, Jun-ichi Kimura, Mikiya Yamashita, Shigeaki Ono, Frieder Klein, Michael O. Garcia 

Scientific Drilling

 26 47-58 2019/12/02
 An overview of world ophiolite studies in the world by Japanese researchers(Accepted on 23 Jan 2018) 

Journal of Geological Society of Japan

 8 593-601 2018/08
 Evolution of chalcophile elements in the magmas of the Bonin Islands. Valetich, M.J., Mavrogenes, J., Arculus, R., and Umino, S. 

Chemical Geology

 https://doi.org/10.1016/j.chem 2018/07
 Boninite and boninite-series volcanics in northern Zambales ophiolite: doubly-vergent subduction initiation along Philippine Sea Plate margins. Perez, A., Umino, S., Yumul Jr., G.P., and Ishizuka, O. 

Solid Earth

 9 doi.org/10.5194/se-9-713-2018 2018/06
 Did boninite originate from the heterogeneous mantle with recycled ancient slab?  Umino, S., Kanayama, K., Kitamura, K., Tamura, A., Ishizuka, O., Senda, R., and Arai, S. 

Island Arc

 doi: 10.1111/iar.12221 2018/01
 Contribution of slab-derived fluid and sedimentary melt in the incipient arc magmas with development of the paleo-arc in the Oman Ophiolite. Kusano, Y., Umino, S., Shinjo, R., Ikei, A., Adachi, Y., Miyashita, S., and Arai, S. 

Chemical Geol.

 449 206-225 2016/12
 Drilling to Earth's mantle. Umino, S. 

Journal of Japan Society of Civil Engineers, Ser. A2

 18 2-10 2016/02
  Thermal and chemical evolution of the subarc mantle revealed by spinel-hosted melt inclusions in boninite from the Ogasawara (Bonin) Archipelago, Japan. Umino, S., Kitamura, K., Kanayama, K., Tamura, A., Sakamoto, N., Ishizuka, O. and Arai, S. 

Geology

 43 151-154 2015/02
 Evidence for hydrothermal activity in the earliest stages of intraoceanic arc formation: implication to ophiolite-hosted hydrothermal activity. Ishizuka, O., Umino, S., Taylor, R.N. and Kanayama, K. 

Economic Geology

 109 2159-2177 2014/12
 Drilling to Earth's mantle. Kusano, Y. and Umino, S. (trans.) 

Parity

 29 4-11 2014/05
 Challenging to the oceanic lower crust: results of ODP Hole 1256D (Exp. 309/312/335). Miyashita, S. and Umino, S. 

Chikyu Monthly

 64 74-80 2014/04
 Evolution of volcanism and magmatism during initial arc stage: Constraints for the tectonic setting of the Oman ophiolite, Tectonic Evolution of the Oman Mountains. Kusano, Y. Hayashi, M., Adachi, Y., Umino, S. and Miyashita, S. 

Special Publication, Geological Society of London

 329 177-193 2014/03
 Shallow submarine volcano group in the early stage of island arc development: geology and petrology of small islands south off Hahajima main island, the Ogasawara Islands. Kanayama, K., Umino, S., and Ishizuka, O. 

JOURNAL OF ASIAN EARTH SCIENCES

 85 1-25 2014/01
 Drilling to Earth's mantle. Umino, S., Nealson, K. and Wood, B. 

Physics Today

 66 8 36-41 2013/08
 Emplacement mechanism of off-axis large submarine lava field from the Oman Ophiolite. Umino, S. 

JOURNAL OF GEOPHYSICAL RESEARCH

 117 B11210 DOI: 10.1111/iar.120 2012/11
 Eocene volcanism during the incipient stage of Izu–Ogasawara Arc: Geology and petrology of the Mukojima Island Group, the Ogasawara Islands. Kanayama, K., Umino, S., and Ishizuka, O. 

Island Arc

 in press 2012/10
 Lava accretion system around mid-ocean ridges: Volcanic stratigraphy in the Wadi Fizh area, northern Oman ophiolite. Kusano, Y., Adachi, Y., Miyashita, S. and Umino, S. 

Geochem. Geophys. Geosyst.

 13 Q05012, doi:10.1029/ 2012/05
 Implications of volcanic activity in the central Mariana Trough median valley, based on the deep-towed side-scan sonar imagery and manned submersible observations. Asada, M., Fujiwara, T. and Umino, S. 

Bull. Volcanol. Soc. Japan

 57 1-18 2012/01
 The timescales of subduction initiation and subsequent evolution of an oceanic island arc. Ishizuka, O., Tani, K., Reagan, M.K., Kanayama, K., Umino, S., Harigane, Y., Sakamoto, I., Miyajima, Y., Yuasa, M. and Dunkley, D.J. 

EARTH AND PLANETARY SCIENCE LETTERS

 306 229-240 2011/05
 The timescales of subduction initiation and subsequent evolution of an oceanic island arc Ishizuka, Osamu;Tani, Kenichiro;Reagan, Mark K.;Kanayama, Kyoko;Umino, Susumu;Harigane, Yumiko;Sakamoto, Izumi;Miyajima, Yuki;Yuasa, Makoto;Dunkley, Daniel J. 

EARTH AND PLANETARY SCIENCE LETTERS

 306 42067 229-240 2011/05
 Lava deposition history in ODP Hole 1256D: Insights from log-based volcanostratigraphy. 

Geochemistry, Geophysics, Geosystems

 Q05003, doi: 10.1029 2009GC002933 2010/05
 Major element composition of the Daidokutsu pumice recovered from submarine cave Daidokutsu, Ie Island Okinawa, Japan 

Geoscience reports of Shizuoka University

 36 0 27-29 2009/10
 Determination of the volcanostratigraphy of oceanic crust formed at superfast spreading ridge: electrofacies analyses of ODP/IODP Hole 1256D. Tominaga, M., Teagle, D.A.H., Alt, J.C. and Umino, S. 

Geochemistry, Geophysics, Geosystems

 Q01003, doi:10.1029 2008GC002143 2009/01
 Observation of sediments in a back-arc basin spreading center of the Mariana Trough using a subbottom profiler installed on the Shinkai 6500. 

JAMSTEC Rep. Res. Dev.

 8 29-36 2008/08
 A submersible study of the Mariana Trough back-arc spreading center at 17°N Fujiwara, T., Umino, S., Asada, M., Koike, Y., Kanamatsu, T., Kimoto, K. and Okada, S. 

JAMSTEC Rep. Res. Dev.

 8 61-73 2008/08
 Simulations of measures to control lava flows. Fujita, E., Hidaka, M., Goto, A. and Umino, S. 

BULLETIN OF VOLCANOLOGY

 doi 10.1007 s00445-008-0229-7 2008/07
 The origin of the sheeted dike complex at superfast spread East Pacific Rise revealed by deep ocean crust drilling at ODP Hole 1256D. Umino, S., Crispini, L., Tartarotti, P., Teagle, D.A.H., Alt, J.C., Miyashita, S., Banerjee, N.R., IODP Expedition 309 and 312 Scientific Parties 

Geochemistry, Geophysics, Geosystems

 2007GC001760RR 2008/05
 Do Off-ridge Volcanoes on the East Pacific Rise Originate from the Moho Transition Zone? Susumu UMINO, Nobuo GESHI, Hidenori KUMAGAI and Kiyoyuki KISIMOTO 117 190-219 2008/03
 Architecture of Oceanic Crust and its Formation Process 

Chigaku Zasshi (Jounal of Geography)

 117 1 168-189 2008/02
 Discrete plumbing systems and heterogeneous magma sources of a 24 km3 off-axis lava field on the western flank of East Pacific Rise, 14°S. Geshi, N., Umino, S., Kumagai, H., Sinton, J.M., White, S.M., Kishimoto, K. and Hilde, T.W. 

Earth Planet. Sci. Lett.

 258 61-72 2007/06
 Characteristics of lava flows in Fuji Volcano. Umino, S. 2007/03
 Textural variation of Units 1256C-18 and 1256D-1 lava pond, with special reference to recrystallization of the base of Unit 1256C-18 

Proceedings of the Ocean Drilling Program, Scientific Results

 206 2007/03
 Characteristics of Lava flows of Fuji volcano Umino, S. 2007/03
 Transition from seamount chain to intraplate volcanic ridge at the East Pacific Rise White, S.M., Umino, S. and Kumagai, H. 

GEOLOGY

 34 293-296 2006/12
 ODP-IODP Site 1256 (East Pacific Rise): an in-situ section of upper oceanic crust formed at a superfast spreading rate Crispini, L., Tartarotti, P. and Umino, S. 

Ofioliti

 31 117-127 2006/11
 ODP-IODP Site 1256 (East Pacific Rise): an in-situ section of upper oceanic crust formed at a superfast spreading rate Tartarotti, P., Crispini, L. and the IODP Expeditions 309 and 312 Shipboard Scientific Parties 

Ofioliti

 31 107-116 2006/11
 Formation and Evolution of Oceanic Lithosphere: New Insights on Crustal Structure and Igneous Geochemistry from ODP/IODP Sites 1256, U1309, and U1415 Ildefonse, Beno?t; Abe, Natsue; Godard, Marguerite M.; Morris, Antony; Teagle, Damon A H; Umino, Susumu 

Developments in Marine Geology

 7 449-505 2014/01/01 
 Drilling to Gabbro in Intact Ocean Crust Wilson, D.S. et al. 

Science

 312 1016-1020 2006/05
 Evidence for hydrothermal activity in the earliest stages of intraoceanic arc formation: Implications for ophiolite-hosted hydrothermal activity Ishizuka, Osamu; Umino, Susumu; Taylor, Rex Neil; Kanayama, Kyoko 

Economic Geology

 109 8 2159-2177 2014/01/01 
 Emplacement of subaerial pahoehoe lava sheet flows into water: 1990 Kūpaianaha flow of Kilauea Volcano at Kaimū Bay, Hawai`i. Umino, S., Nonaka, M. and Kauahikaua, J. 

BULLETIN OF VOLCANOLOGY

 69 125-139 2006/04
 Discovery of Sediment Layer Containing Pumice Grains in Submarine Cave Sediment in Coral Reef of Okinawa Islands 

The Quaternary research

 45 2 141-144 2006/04
Conference Presentations
Frontiers of sampling the mantle by drilling to the Moho.(conference:International Symposium, Frontier of Understanding Earth's Interior and Dynamics, Tohoku Univ.)(2022/08/08)
Muographic study of the oceanic crust-mantle structure of the Oman Ophiolite. (conference:Muographers 2022 General Assembly)(2022/12/13)
Drilling Mature Oceanic Crust on North Arch off Hawaii (951-Full: Chikyu)(conference:Perspectives of Scientific Ocean Drilling for Post-IODP ages)(2022/03/03)
Mohole to Mantle M2M Drilling Project and 951-Full Proposal: Drilling Mature Oceanic Crust on North Arch Off-Hawaii(conference:Japan Earth Planet. Sci. Joint Meeting 2022)(2021/06/03)
Understanding the spreading and formation of oceanic plates by drilling in the upper crust off Hawaii(conference:Virtual GEOSEA XVI and GeoCon 2021)(2021/12/07)
Tectonic setting leading to subduction initiation of Izu-Bonin-Mariana arc – new implications from the Philippine Sea basins- (conference:American Geophysical Union 2018 Fall Meeting)(2018/12/10)
Episodic mantle convection inferred by the differentiation ages of depleted suboceanic mantle (conference:2018 Annual Meeting of Japan Association of Mineralogical Sciences)(2018/09/20)
Episodic mantle convection inferred by the differentiation ages of depleted suboceanic mantle (conference:2018 Japan Earth Planet. Sci. Joint Meeting)(2018/05/22)
Conversion tectonics from spreading to subduction: Paleostress field analysis of dike swarms of the V2 arc volcanism in the Oman Ophiolite (conference:2018 Japan Earth Planet. Sci. Joint Meeting)(2018/05/21)
Petrology of V2 stage dykes In the northern Oman Ophiolite(conference:2018 Japan Earth Planet. Sci. Joint Meeting)(2018/05/21)
Lower crustal section of the Oman Ophiolite drilled in Hole GT1A, ICDP Oman Drilling Project (conference:2018 Japan Earth Planet. Sci. Joint Meeting)(2018/05/21)
Lithological and petrophysical variation of the lower crustal section from the ICDP Oman drilling project Holes GT1A and GT2A (conference:2018 Japan Earth Planet. Sci. Joint Meeting)(2018/05/21)
Fine-grained gabbroic layers in the lower and middle crustal sections of the Oman Ophiolite (Holes GT1A and GT2A), ICDP Oman Drilling Project (conference:2018 Japan Earth Planet. Sci. Joint Meeting)(2018/05/21)
Crustal and upper mantle structure deduced from seismic refraction and reflection data on the Northeast Hawaiian arch. (conference:2018 Japan Earth Planet. Sci. Joint Meeting)(2018/05/21)
Geodynamic reconstruction of Eocene subduction initiation along Philippine Sea Plate margins (conference:2018 Japan Earth Planet. Sci. Joint Meeting)(2018/05/20)
Lower crustal section of the Oman Ophiolite drilled in Hole GT1A, ICDP Oman Drilling Project(conference:American Geophysical Union 2017 Fall Meeting)(2017/12/14)
Overview of Hole GT2A: Drilling middle gabbro in Wadi Tayin massif, Oman ophiolite(conference:American Geophysical Union 2017 Fall Meeting)(2017/12/14)
Listvenite logging on D/V CHIKYU: Hole BT1B, Oman Drilling Project(conference:American Geophysical Union 2017 Fall Meeting)(2017/12/14)
Listvenite formation from peridotite: Insights from Oman Drilling Project hole BT1B and preliminary reaction path model approach(conference:American Geophysical Union 2017 Fall Meeting)(2017/12/14)
X-ray Fluorescence Core Scanning of Oman Drilling Project Holes BT1B and GT3A Cores on D/V CHIKYU(conference:American Geophysical Union 2017 Fall Meeting)(2017/12/14)
Initial results on the physical property measurement of ChikyuOman cores: listvenite, serpentinite and the metamorphic sole from ICDP Hole BT1B(conference:American Geophysical Union 2017 Fall Meeting)(2017/12/14)
Preliminary biological sampling of GT3 and BT1 cores and the microbial community dynamics of existing subsurface wells(conference:American Geophysical Union 2017 Fall Meeting)(2017/12/14)
Drilling the leading edge of the mantle wedge and the underlying metamorphic sole of the Samail Ophiolite: Hole BT1B, Oman Drilling Project(conference:American Geophysical Union 2017 Fall Meeting)(2017/12/14)
Overview of Hole GT3A: The sheeted dike/gabbro transition(conference:American Geophysical Union 2017 Fall Meeting)(2017/12/14)
Oman Drilling Project Phase I Borehole Geophysical Survey(conference:American Geophysical Union 2017 Fall Meeting)(2017/12/14)
Initial report of the physical property measurement, ChikyuOman core description Phase I: sheeted dike and gabbro boundary from ICDP Holes GT1A, GT2A and GT3A(conference:American Geophysical Union 2017 Fall Meeting)(2017/12/14)
Paleomagnetism of the Oman Ophiolite: New Results from Oman Drilling Project Cores(conference:American Geophysical Union 2017 Fall Meeting)(2017/12/14)
Gabbroic lithologies of the dike-gabbro transition, Hole GT3A, Oman Drilling Project(conference:American Geophysical Union 2017 Fall Meeting)(2017/12/14)
Metamorphism Near the Dike-Gabbro Transition in the Ocean Crust Based on Preliminary Results from Oman Drilling Project Hole GT3A(conference:American Geophysical Union 2017 Fall Meeting)(2017/12/14)
M2M MoHole ― Toward the First Mantle Drilling(conference:Fall Meeting of Japan Mineral. Petrol. Soc.)(2016/09/24)
From Birth to Death: Fate of The Extremely High-T Subduction Zone of The Oman Ophiolite.(conference:2016 Japan Earth Planet. Sci. Joint Meeting)(2016/05/23)
Is High-Silica Boninite of Recycled Slab Origin? (conference:アジア・大洋州地球科学会)(2015/08/14)
M2M-MoHole Project ? Mantle Quest thorough Ultradeep Ocean-floor Drilling by Chikyu. (conference:18 th Symposium on Applied Mechanics, Special Lecture)(2015/05/17)
The last frontier on the Earth developed by Ocean Drilling Science.(conference:60th Anniversary Symposium, Volcanological Society of Japan)(2014/11/03)
Fate of high-T subduction zone and the obduction of the Oman Ophiolite.(conference:Asia Oceania Geosciences Society)(2014/07/28)
Prolonged vs. Failed Subduction Zone.(conference:Goldschmidt Conference)(2014/06/11)
Insight Into the Thermal Structure of the Upper Oceanic Crust Using Crystal-size Geothermometer - Method. (conference:Asia Oceania Geosciences Society - American Geophysical Union Joint Assembly)(2012/08/17)
Others
 Off-Hawaii ocean crust drilling project: creating a pilot hole for mantle drilling Umino, S., Teagle, D.A.H., D'Hondt, S., Moore, G.F., and Ildefonse, B. 

Chikyu Monthly Special Volume

 72 22-29 2022/03/15
 Architecture and evolution of the oceanic crust: Fast-spreading ridge system Umino, S., Kusano, Y., Miyashita, S., and Adachi, Y. 

Chikyu Monthly Special Volume

 72 40-47 2022/03/15
Arts and Fieldwork
Patent
Theme to the desired joint research
Grant-in-Aid for Scientific Research
○「プレート拡大の仕方と海洋地殻構造を規制する要因の解明」(2020-2022) 
○「巨大海底溶岩流の定置過程の解明」(2013-2015) 
○Grants-in-Aid for Scientific Research B「Subduction initiation of oceanic plate and the birth of subduction zones」(2021-2024) 
○「オフリッジ火山から高速拡大海嶺のモホ遷移帯マグマプロセスを探る」(2010-2013) 
○「海洋プレート最上部マントル近傍の含水量と流入水の起源解明に向けて」(2019-2021) 
○「オフリッジ火山から高速拡大海嶺のモホ遷移帯マグマプロセスを探る」(2010-) 
○「大河流域を規制する地球物理・地質学的構造」(2008-) 
○「シート状岩脈群の結晶粒径変化による中央海嶺系上部地殻温度構造の推定」(2006-2008) 
○「無人岩マグマは高温プルームではなく,リサイクルしたスラブ起源か」 
○「オフィオライトはなぜ短命な沈み込み帯活動を伴うのか」
○「巨大海底溶岩流の定置過程の解明」(2013-2015)
○「熱水循環を駆動する拡大軸セグメント内の温度構造の解明」
Competitive research funding,Contribution
Collaborative research,Consignment study
Classes (Bachelors)
○Earth and Planetary Science Research (2) B(2022)
○Earth and Planetary Science Research (2) A(2022)
○Earth and Planetary Science Research (1) B(2022)
○Earth and Planetary Science Research (1) A(2022)
○Review of Literature on Earth and Planetary Science (2) B(2022)
○Review of Literature on Earth and Planetary Science (2) A(2022)
○Review of Literature on Earth and Planetary Science (1) B(2022)
○Review of Literature on Earth and Planetary Science (1) A(2022)
○Seminar on Earth and Planetary Science (2) D(2022)
○Seminar on Earth and Planetary Science (2) C(2022)
○Seminar on Earth and Planetary Science (2) B(2022)
○Seminar on Earth and Planetary Science (2) A(2022)
○Petrological Experiments B(2022)
○Petrological Experiments A(2022)
○Methods for Geological Field Work B(2022)
○Petrology B(2022)
○Petrology A(2022)
○Petrogenesis and Earth History B(2022)
○Petrogenesis and Earth History A(2022)
○Geological Filed Trip 1(2022)
○Treatment of Geological Materials B(2022)
○Treatment of Geological Materials A(2022)
○Applied Geochemical Experiments B(2022)
○Applied Geochemical Experiments A(2022)
○Geological Field Work B(2022)
○Seminar on Earth and Planetary Science (1) D(2022)
○Seminar on Earth and Planetary Science (1) C(2022)
○Seminar on Earth and Planetary Science (1) B(2022)
○Seminar on Earth and Planetary Science (1) A(2022)
○Practice in Geology(2022)
○Earth Sciences 2(2021)
○Practice in Geology(2021)
○Earth Science Research (4)(2021)
○Earth Science Research (3)(2021)
○Earth Science Research (2)(2021)
○Earth Science Research (1)(2021)
○Review of Literature on Earth Science (4)(2021)
○Review of Literature on Earth Science (3)(2021)
○Review of Literature on Earth Science (2)(2021)
○Review of Literature on Earth Science (1)(2021)
○Seminar on Earth Science 2(4)(2021)
○Seminar on Earth Science 2(3)(2021)
○Seminar on Earth Science 2(2)(2021)
○Seminar on Earth Science 2(1)(2021)
○Petrological Experiments B(2021)
○Petrological Experiments A(2021)
○Methods for Geological Field Work B(2021)
○Methods for Geological Field Work A(2021)
○Geological Filed Trip 2(2021)
○Petrology B(2021)
○Petrology A(2021)
○Petrogenesis and Earth History B(2021)
○Petrogenesis and Earth History A(2021)
○Geological Filed Trip 1(2021)
○Treatment of Geological Materials B(2021)
○Treatment of Geological Materials A(2021)
○Applied Geochemical Experiments B(2021)
○Applied Geochemical Experiments A(2021)
○Geological Field Work A(2021)
○Earth Sciences 2A(2021)
○Seminar on Earth and Planetary Science (1) C(2021)
○Seminar on Earth and Planetary Science (1) B(2021)
○Seminar on Earth and Planetary Science (1) D(2021)
○Seminar on Earth and Planetary Science (1) A(2021)
○Petrology A(2021)
○Petrology B(2021)
○Seminar on Earth and Planetary Science (1) A(2020)
○Geological Field Work A(2019)
○Seminar on Earth Science 2(4)(2019)
○Review of Literature on Earth Science (1)(2019)
○Review of Literature on Earth Science (2)(2019)
○Review of Literature on Earth Science (3)(2019)
○Review of Literature on Earth Science (4)(2019)
○Earth Science Research (1)(2019)
○Earth Science Research (2)(2019)
○Earth Science Research (3)(2019)
○Earth Science Research (4)(2019)
○Special Lecture B(2019)
○Internship(2019)
○Fundamentals of Petrology A(2019)
○Treatment of Geological Materials(2019)
○Applied Geochemical Experiments(2019)
○Seminar on Earth Science 1(3)(2019)
○Presentation and Debate (Freshman Seminar II)(2019)
○Specialized Topics in Earth Sciences(2019)
○Seminar on Earth Science 2(3)(2019)
○Geological Field Trip 1(2019)
○Geological Filed Trip 2(2019)
○Introduction to Geosciences and Civil Engineering B(2019)
○Fundamentals of Petrology B(2019)
○Petrological Experiments A(2019)
○Petrological Experiments B(2019)
○Earth Sciences 2(2019)
○Practice in Geology(2019)
○Freshman Seminar I(2019)
○Petrology A(2019)
○Petrology B(2019)
○Advanced Petrology A(2019)
○Advanced Petrology B(2019)
○Seminar on Earth Science 1(1)(2019)
○Seminar on Earth Science 1(2)(2019)
○Seminar on Earth Science 1(4)(2019)
○Seminar on Earth Science 2(1)(2019)
○Seminar on Earth Science 2(2)(2019)
○Tectonics of the Earth(2018)
○Petrological Experiments(2018)
○Seminar on Earth Science 1(3)(2018)
○Seminar on Earth Science 1(2)(2018)
○Seminar on Earth Science 1(1)(2018)
○Advanced Petrology B(2018)
○Advanced Petrology A(2018)
○Petrology B(2018)
○Petrology A(2018)
○Earth Science Research (2)(2018)
○Earth Science Research (1)(2018)
○Review of Literature on Earth Science (2)(2018)
○Review of Literature on Earth Science (1)(2018)
○Seminar on Earth Science 2(2)(2018)
○Seminar on Earth Science 2(1)(2018)
○Seminar on Earth Science 1(1)(2018)
○Geological Field Work A(2018)
○Presentation and Debate (Freshman Seminar II)(2018)
○Geological Filed Trip 2(2018)
○Seminar on Earth Science 1(4)(2018)
○Applied Geochemical Experiments(2018)
○Treatment of Geological Materials(2018)
○Geological Field Trip 1(2018)
○Methods for Geological Field Work(2018)
○Internship(2018)
○Practice in Geology(2018)
○Earth Sciences 2(2018)
○Freshman Seminar I(2018)
○GS English Language for Undergraduates I (English for Science and Engineering)(2018)
○GS English Language for Undergraduates II (English for Science and Engineering)(2018)
○Methods for Geological Field Work(2017)
○Advanced Petrology(2017)
○Geological Field Work A(2017)
○Earth Sciences 2(2017)
○Practice in Geology(2017)
○Treatment of Geological Materials(2017)
○Petrology(2017)
○Applied Geochemical Experiments(2017)
○Geological Filed Trip 2(2017)
○Specialized Topics in Earth Sciences(2016)
○Advanced Petrology(2016)
○Methods for Geological Field Work(2016)
○Geological Filed Trip 2(2016)
○Applied Geochemical Experiments(2016)
○Petrology(2016)
○Treatment of Geological Materials(2016)
○Earth Sciences 2(2016)
○Guide to Biology and Earth Sciences(2016)
○Petrological Experiments(2016)
○Tectonics of the Earth(2016)
○Geological Field Work A(2016)
○Practice in Geology(2016)
○Applied Geochemical Experiments(2014)
○Petrology(2014)
○Applied Geochemical Experiments(2013)
○Petrology(2013)
○Applied Geochemical Experiments(2012)
○Development of the Earth(2012)
○Development of the Earth(2011)
○Petrology(2011)
○Applied Geochemical Experiments(2011)
○Earth Sciences 2(2011)
○Petrological Experiments(2011)
○Earth Sciences 2(2010)
○Practice in Geology(2010)
○Review of Literature on Earth Science(2010)
○Earth Science Research(2010)
○Applied Geochemical Experiments(2010)
○Petrology(2010)
○Development of the Earth(2010)
○Petrological Experiments(2010)
○Petrology(2009)
○Earth Science Research(2009)
○Applied Geochemical Experiments(2009)
○Review of Literature on Earth Science(2009)
○Earth Sciences 2(2009)
○Development of the Earth(2009)
Classes (Graduate Schools)
○Advanced Seminar(2022)
○Advanced Seminar(2022)
○Volcanology(2022)
○Fundamentals of Earth and Environmental Sciences B(2022)
○Evolution of the Earth and Planets B(2022)
○Evolution of the Earth and Planets A(2022)
○Research Ethics(2022)
○Magmatology 1(2021)
○Special Lecture on Earth and Environmental Science(2021)
○Evolution of the Earth B(2021)
○Fundamentals of Earth and Environmental Sciences B(2021)
○Fundamentals of Earth and Environmental Sciences A(2021)
○International Research Internship(2021)
○International Research Internship(2021)
○Advanced course for biology,bio and chemical engineerings, and geoscience(2021)
○Advanced course for biology,bio and chemical engineerings, and geoscience(2021)
○Advanced Seminar(2021)
○Advanced course for biology,bio and chemical engineerings, and geoscience(2021)
○Advanced course for biology,bio and chemical engineerings, and geoscience(2021)
○Volcanology(2021)
○Volcanology(2021)
○Volcanology(2021)
○Volcanology(2021)
○Subseafloor Structure(2021)
○Magmatology II(2021)
○Ocean Lithospheric Sciences(2021)
○Ocean Lithospheric Sciences(2021)
○Ocean Lithospheric Sciences(2021)
○Ocean Lithospheric Sciences(2021)
○Magmatology II(2021)
○Magmatology II(2021)
○Magmatology II(2021)
○Research Ethics(2021)
○Research Ethics(2021)
○Subseafloor Structure(2021)
○Evolution of the Earth A(2021)
○Research Ethics(2021)
○Volcanology(2021)
○Evolution of the Earth B(2021)
○Evolution of the Earth A(2021)
○Volcanology(2021)
○Volcanology(2020)
○Advanced course for biology,bio and chemical engineerings, and geoscience(2020)
○Advanced course for biology,bio and chemical engineerings, and geoscience(2020)
○Fundamentals of Earth and Environmental Sciences B(2020)
○Magmatology II(2020)
○Special Lecture on Earth and Environmental Science(2020)
○Evolution of the Earth B(2020)
○Ocean Lithospheric Sciences(2020)
○Ocean Lithospheric Sciences(2020)
○Magmatology II(2020)
○Magmatology II(2020)
○Volcanology(2020)
○Advanced course for biology,bio and chemical engineerings, and geoscience(2020)
○International Research Internship(2020)
○Subseafloor Structure(2020)
○Research Ethics(2020)
○Fundamentals of Earth and Environmental Sciences A(2020)
○Evolution of the Earth A(2020)
○Volcanology(2020)
○Ocean Lithospheric Sciences(2020)
○Magmatology II(2020)
○International Research Internship(2020)
○Advanced course for biology,bio and chemical engineerings, and geoscience(2020)
○Advanced Seminar(2020)
○Volcanology(2020)
○Ocean Lithospheric Sciences(2020)
○Ocean Lithospheric Sciences(2019)
○Advanced course for biology,bio and chemical engineerings, and geoscience(2019)
○Advanced course for biology,bio and chemical engineerings, and geoscience(2019)
○Volcanology(2019)
○Volcanology(2019)
○Volcanology(2019)
○Volcanology(2019)
○Magmatology II(2019)
○Magmatology II(2019)
○Magmatology II(2019)
○Ocean Lithospheric Sciences(2019)
○Ocean Lithospheric Sciences(2019)
○Ocean Lithospheric Sciences(2019)
○Research Ethics(2019)
○Research Ethics(2019)
○Exercise of Earth and Environmental Sciences(2019)
○Magmatology 1(2019)
○Fundamentals of Earth and Environmental Sciences B(2019)
○Research Skills A(2019)
○Magmatology II(2019)
○Exercise of Earth and Environmental Sciences(2019)
○Special Lecture(2019)
○Special Lecture on Earth and Environmental Science(2019)
○Evolution of the Earth A(2019)
○Evolution of the Earth B(2019)
○Fundamentals of Earth and Environmental Sciences A(2019)
○Research Skills B(2019)
○Research Work of Earth and Environmental Sciences(2019)
○Research Work of Earth and Environmental Sciences(2019)
○Fostering the independence of researchers(2019)
○Fostering the independence of researchers(2019)
○Advanced course for biology,bio and chemical engineerings, and geoscience(2019)
○Advanced course for biology,bio and chemical engineerings, and geoscience(2019)
○Evolution of the Earth(2018)
○Evolution of the Earth(2018)
○Evolution of the Earth A(2018)
○Special Lecture on Earth and Environmental Science(2018)
○Exercise of Earth and Environmental Sciences(2018)
○Research Work of Earth and Environmental Sciences(2018)
○Research Skills B(2018)
○Research Skills A(2018)
○Subseafloor Structure(2018)
○International Research Internship(2018)
○Ocean Lithospheric Sciences(2018)
○Evolution of the Earth B(2018)
○Research Ethics(2018)
○Advanced course for biology,bio and chemical engineerings, and geoscience(2018)
○Volcanology(2018)
○Magmatology II(2018)
○Evolution of the Earth(2017)
○Evolution of the Earth(2017)
○Evolution of the Earth A(2017)
○Volcanology(2017)
○Volcanology(2017)
○Volcanology(2017)
○Volcanology(2017)
○Evolution of the Earth B(2017)
○Magmatology 1(2017)
○Evolution of the Earth(2016)
○Evolution of the Earth(2016)
○Volcanology(2016)
○Subseafloor Structure(2016)
○Evolution of the Earth B(2016)
○Evolution of the Earth A(2016)
○Special Lecture on Earth and Environmental Science(2016)
○Evolution of the Earth(2015)
○Evolution of the Earth(2014)
○Evolution of the Earth(2013)
○Oceanfloor Earth Science(2012)
○Research Skills A(2012)
○Research Skills B(2012)
○Physical Volacanology(2012)
International Project
International Students
Lecture themes
○Chikyu and MoHole
○World Natural Heritage "Ogasawara Islands
Others (Social Activities)