Professor Hirohisa Nagatani
Faculty, Affiliation
Faculty of Chemistry, Institute of Science and Engineering Analytical Chemistry Laboratory
College and School Educational Field
Division of Material Chemistry, Graduate School of Natural Science and Technology
Division of Material Chemistry, Graduate School of Natural Science and Technology
Course in Chemistry, School of Chemistry, College of Science and Engineering
Laboratory
Analytical Chemistry Laboratory
Academic Background
【Academic background(Doctoral/Master's Degree)】
Osaka University Doctor Graduate School of Science Department of Chemistry 199903 Completed
Osaka University Master Graduate School of Science 199603 Completed
【Degree】
Doctor of Science
Career
Professor, Faculty of Chemistry, Institute of Science and Engineering, Kanazawa University(2018/10/01-)
Associate Professor, Faculty of Chemistry, Institute of Science and Engineering, Kanazawa University(2011/01/01-2018/09/30)
Visiting Professor, Ecole Polytechnique Fédérale de Lausanne, Switzerland(2010/08/01-2010/10/31)
Assistant Professor, Department of Applied Chemistry, Faculty of Engineering, Nagasaki University(2007/04/01-2010/12/31)
Research Associate, Department of Applied Chemistry, Faculty of Engineering, Nagasaki University(2005/10/01-2007/03/31)
Research Associate, Department of Natural Sciences, Hyogo University of Teacher Education(2002/04/01-2005/09/30)
Assistant, Ecole Polytechnique Fédérale de Lausanne, Switzerland(2001/10/01-2002/03/31)
JSPS Research Fellow, Ecole Polytechnique Fédérale de Lausanne, Switzerland(1999/07/01-2001/09/30)
JSPS Research Fellow, Osaka University(1998/04/01-1999/06/30)
Year & Month of Birth
Academic Society
The Japan Society for Analytical Chemistry
The Japan Society for Analytical Chemistry
The Japan Society for Analytical Chemistry
The Japan Society for Analytical Chemistry





The Polarographic Society of Japan
The Polarographic Society of Japan
International Society of Electrochemistry
The Electrochemical Society of Japan
The Chemical Society of Japan
Japan Association of Solvent Extraction
Award
○The Japan Society for Analytical Chemistry Award for Young Scientists(2007/09/20)
○Hot Article Award Analytical Sciences(2009/04/10)
Specialities
Analytical chemistry
Speciality Keywords
Surface Spectroscopy,Spectroelectrochemistry,Liquid/Liquid Interface
Research Themes
Spectroelectrochemical Study of Charge Transfer Mechanism at Liquid/Liquid Interfaces

The interfacial behavior of ionic dyes at the polarized liquid/liquid interface is studied by spectroelectrochemical techniques. By analyzing the appropriate optical signal instead of the overall current responses, the interfacial behavior of the target dye species could be studied in the absence of the interference with non-chromophoric species. A lock-in detection of ac-modulated optical signals under the potential-modulation superimposed on a linear potential sweep improves the sensitivity and the selectivity to the interfacial phenomena of dye species.

Potential-modulated fluorescence (PMF) spectroscopy has been applied for the ion-transfer reaction across the liquid/liquid interface. The high sensitivity of PMF spectroscopy to interfacial phenomena, especially adsorption, has allowed us to investigate the various fluorescent species, such as porphyrin, xanthene, and pyrene derivatives. The combination of PMF spectroscopy and conventional electrochemical techniques could uncover the interfacial adsorption and transfer mechanisms.
Dynamic Control of Ion Transfer Reaction through Association with Dendritic Polymers at Liquid/Liquid Interfaces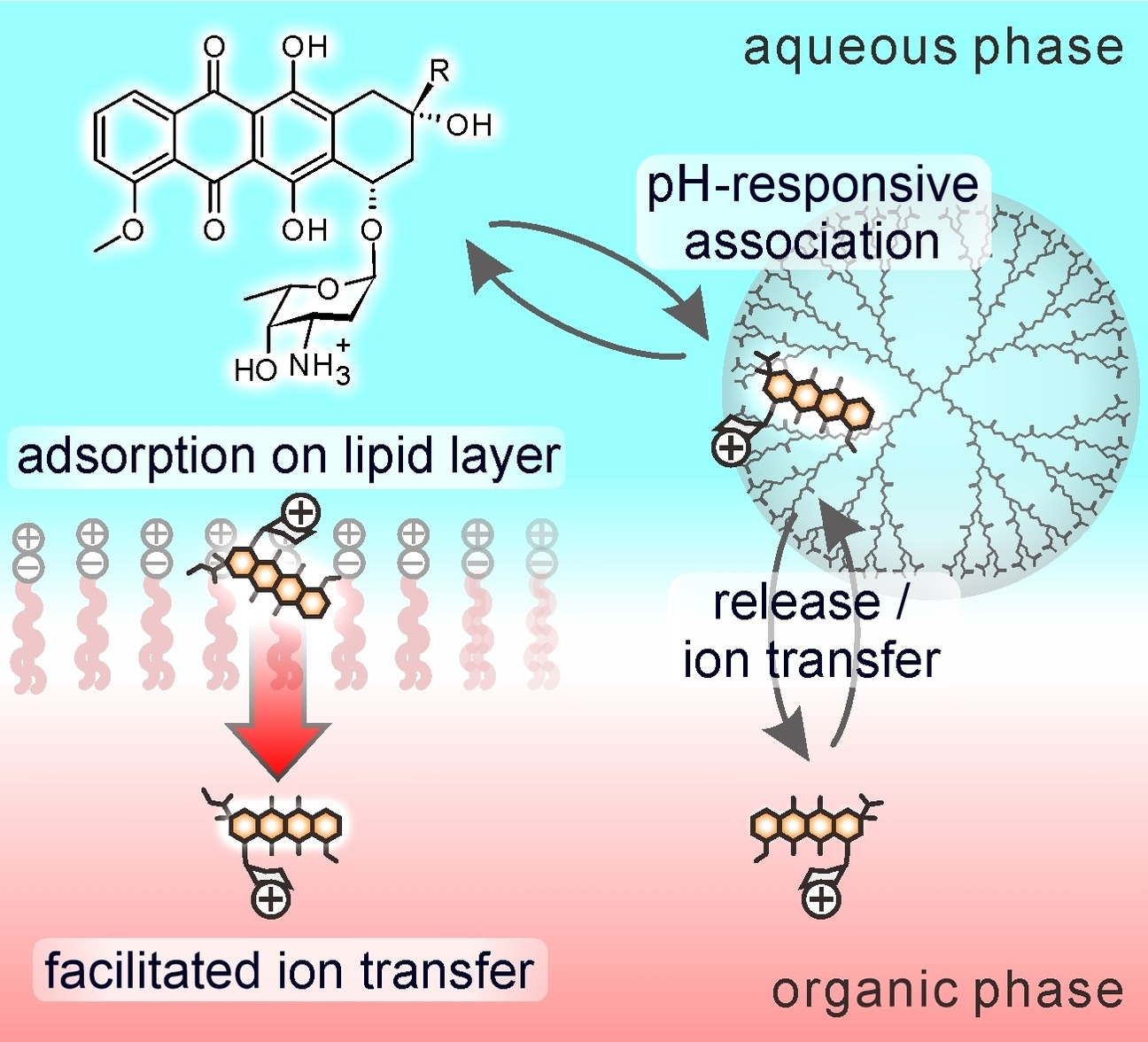 The phase transfer feature of chemical species is mainly attributed to their functional groups and charged states. Dendritic polymers such as dendrimer can associate with ionic species through the encapsulation into its internal cavity and the interaction with its terminal functional groups.

We apply the dendritic polymer as functional molecular carrier to control the ionic distribution and reactivity at liquid/liquid interfaces and on membrane surfaces. It has been demonstrated that ionic species including functional dyes, drugs, bio-related substances associate with dendritic polymers and their charge transfer mechanism are controllable by tuning external stimuli. In particular, the potential- and pH-responsive drug loading and release on biomimetic membrane surfaces have promise as functional drug delivery systems.
Photoelectrochemical reactivity of metal nanoparticles at liquid/liquid interfaces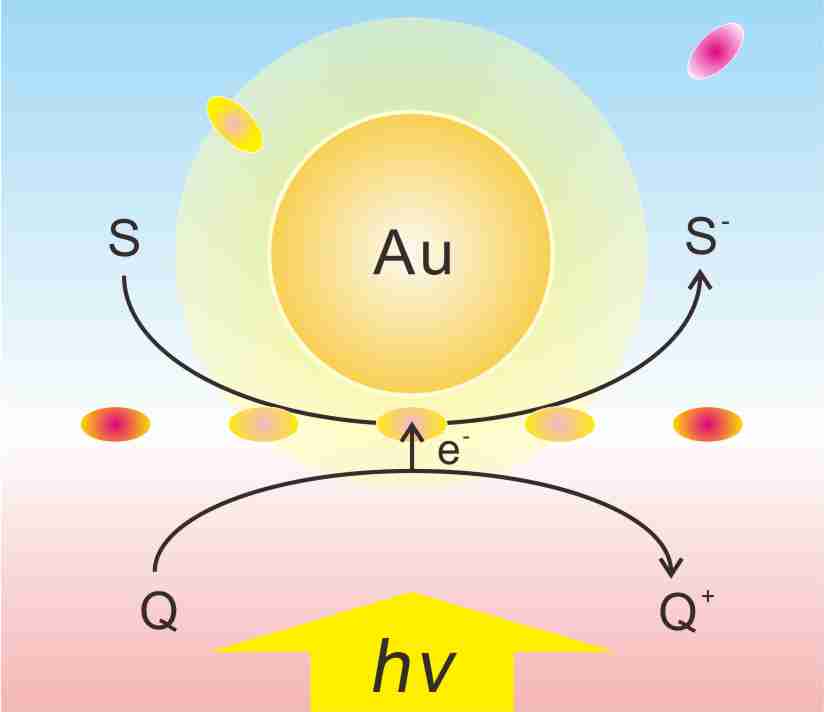 In a heterogeneous photoinduced electron transfer reaction between hydrophilic dyes and lipophilic quenchers across a liquid/liquid interface, the hydrophile-lipophile intermediate ion pair can be formed only in the interfacial region. The product-separation process of the intermediate takes place effectively at the interface.

Recently, we have demonstrated that a photocurrent arising from the photoreduction of metalloporphyrin is significantly enhanced in the presence of gold nanoparticles (Au-NPs). The photocurrent enhancement is dependent on the concentration of Au-NPs, the excitation wavelength, and the polarization angle of the excitation light, respectively. The photocurrent enhancements could be correlated with Au-NPs acting as sensitizers involving the localized surface plasmon (LSP) effect to improve the photoreaction yield. We further investigate the photoreactivity of metal nanoparticles, e.g. Au-NPs, gold core-silver shell nanoparticles etc., electrochemically adsorbed at the liquid/liquid interface.
Books
 Hirohisa Nagatani Handbook of Porphyrin Science, Vol.34, Chapter 176 World Scientific Publishing 2014/09
Papers
 Transfer Mechanism of Anthracycline Antibiotics and Their Ion Association with PAMAM Dendrimer at Liquid|Liquid Interfaces T. Takami, S. Kanai, Y. Nishiyama, H. J. Lee, H. Nagatani 

ChemElectroChem

 9 13 e202200359 2022/07/14
 Molecular diffusion and aggregate formation of photoproducts from ketoprofen in aqueous solutions Yoshio Nishiyama, Hirohisa Nagatani 

Chemical Physics Letters

 795 139511 2022/05/16
 A soft on/off switch based on the electrochemically reversible H–J interconversion of a floating porphyrin membrane Andrés F. Molina-Osorio, Sho Yamamoto, Iván Robayo-Molina, Alonso Gamero-Quijano, Hirohisa Nagatani, Micheál D. Scanlon 

Chemical Science

 12 30 10227-10232 2021/07/01
 A light-switching pyrene probe to detect biomolecular phase separation Masaharu Hazawa, Shogo Amemori, Yoshio Nishiyama, Yoshihiro Iga, Yuki Iwashima, Akiko Kobayashi, Hirohisa Nagatani, Motohiro Mizuno, Kenji Takahashi, Richard W. Wong 

iScience

 24 8 102865 2021/08/20
 Size Evaluation of Gold Nanoparticles Using Transient Grating Method with Deep-UV Excitation Pulses Yoshio Nishiyama, Ayame Sasai, Hirohisa Nagatani 

Chemical Physics Letters

 778 138763 2021/09
 Interfacial Association of Ferritin with Anionic Fluorescent Probe at the 1,2-dichloroethane/Water Interface Hiroki Sakae, Koji Takasuga, Takashi Yokoyama, Hirohisa Nagatani 

Journal of Electroanalytical Chemistry

 888 115175 2021/05/01
 Phase-stable optical activity measurement by common-path spectral interferometry Yoshio Nishiyama, Shoichi Ishikawa, Hirohisa Nagatani 

Optics Letters

 45 20 5868-5871 2020/10/15
 Aggregation-Induced Emission of Water-Soluble Tetraphenylethene Derivatives at Polarized Liquid|Liquid Interfaces Nabara, M.; Yamamoto, S.; Nishiyama, Y.; Nagatani, H. 

LANGMUIR

 36 35 10597-10605 2020/09/08
 Dehydration-fragmentation mechanism of cathinones and their metabolites in ESI-CID Matsuta, S.; Shima, N.; Kakehashi, H.; Ishikawa, A.; Asai, R.; Nitta, A.; Wada, M.; Nakano, S.; Kamata, H.; Nishiyama, Y.; Nagatani, H.; Imura, H.; Katagi, M. 

Journal of Mass Spectrometry

 55 9 e4538 2020/05/06
 Synergistic ion-pair extraction and separation of trivalent lanthanoid ions with 4-isopropyltropolone and 1,10-phenanthroline into o-dichlorobenzene Takuya YAMASHITA, Yoshio NISHIYAMA, Kotaro MORITA, Hirohisa NAGATANI, Hisanori IMURA 

ANALYTICAL SCIENCES

 36 4  479-484  2020/04/10
 Ion transfer and adsorption of water-soluble metal complexes of 8-hydroxyquinoline derivatives at the water|1,2-dichloroethane interface Sho Yamamoto, Shohei Kanai, Marie Takeyama, Yoshio Nishiyama, Hisanori Imura, Hirohisa Nagatani 

Journal of Electroanalytical Chemistry

 856 113566 2020/01/01
 Anomalous Lanthanoid(III) Species Extracted with 4-isopropyltropolone and Neutral Ligands in an Ionic Liquid Yohei Higuchi, Yoshio Nishiyama, Hirohisa Nagatani, Hisanori Imura 

Monatsh. Chem.

 150 821-829 2019/04/30
 Mechanistic Analysis of Ion Association between Dendrigraft Poly-L-lysine and 8-Anilino-1-naphthalenesulfonate at Liquid|Liquid Interfaces Hirohisa Nagatani, Masataka Fujisawa, Hisanori Imura 

LANGMUIR

 24 10 3237-3243 2018/02/19
 Synergistic extraction equilibrium of lanthanoid(III) ions with benzoylacetone and a neutral ligand in an ionic liquid M. Hatakeyama, Y. Nishiyama, H. Nagatani, H. Okamura, H. Imura 

Solv. Extr. Res. Devel., Jpn.

 25 2 79-89 2018/05/11
 Potential-Induced Aggregation of Anionic Porphyrins at Liquid|Liquid Interfaces Sho Yamamoto, Hirohisa Nagatani, Hisanori Imura 

LANGMUIR

 33 39 10134–10142 2017/10
 Determination of the electrostatic potential of oil-in-water emulsion droplets by combined use of two membrane potential-sensitive dyes T. Iwata, H. Nagatani, T. Osakai 

ANALYTICAL SCIENCES

 33 7 813-819 2017/07
 Molecular association between flavin derivatives and dendritic polymers at the water|1,2-dichloroethane interface H. Sakae, M. Fujisawa, H. Nagatani, H. Imura 

JOURNAL OF ELECTROANALYTICAL CHEMISTRY

 782 288-292 2016/12
 Potential-Dependent Adsorption and Orientation of meso-Substituted Porphyrins at Liquid|Liquid Interfaces Studied by Polarization-Modulation Total Internal Reflection Fluorescence Spectroscopy Sho Yamamoto, Hirohisa Nagatani, Kotaro Morita, Hisanori Imura 

JOURNAL OF PHYSICAL CHEMISTRY C

 120 13 7248–7255 2016/04/07
 Facilitated Transfer of Alkali and Alkaline Earth-metal Ions to the Oil|Water Interface Where the Fluorescent Dye diOC2(3) is Adsorbed  M. Moriguchi, H. Nagatani, K. Eda, T. Osakai 

Bunseki Kagaku

 65 2 71-77 2016/02
 Ion transfer and adsorption behavior of ionizable drugs affected by PAMAM dendrimers at the water|1,2- dichloroethane interface Hiroki Sakae, Hirohisa Nagatani, Hisanori Imura 

Electrochim. Acta

 191 631–639 2016/02/10
 Photoinduced Electron Transfer of PAMAM Dendrimer–Zinc(II) Porphyrin Associates at Polarized Liquid|Liquid Interfaces Hirohisa Nagatani, Hiroki Sakae, Taishi Torikai, Takamasa Sagara, Hisanori Imura 

LANGMUIR

 31 22 6237–6244 2015/06
 Photoluminescent Detection of Nitrite with Carbon Nanodots Prepared by Microwave-assisted Synthesis K. Morita, A. Kobayashi, H. Nagatani, H. Imura 

ANALYTICAL SCIENCES

 31 6 481–485 2015/06
 Combined use of two membrane-potential-sensitive dyes for determination of the Galvani potential difference across a biomimetic oil/water interface T. Yoshimura, H. Nagatani, T. Osakai 

Analytical and Bioanalytical Chemistry

 406 14 3407-3414 2014/04
 Coordination structure of bromide ions associated with hexyltrimethylammonium cations at liquid/liquid interfaces under potentiostatic control as studied by total-reflection X-ray absorption fine structure H. Nagatani, M. Harada, H. Tanida, H. Sakae, H. Imura 

JOURNAL OF CHEMICAL PHYSICS

 140 10 101101 2014/03
 Highly selective synergism for the extraction of lanthanoid (III) ions with β-diketones and trioctylphosphine oxide in an ionic liquid H. Okamura, H. Takagi, T. Isomura, K. Morita, H. Nagatani, H. Imura 

ANALYTICAL SCIENCES

 30 3 323-325 2014/03
 Spectroelectrochemical characterization of dendrimer-porphyrin associates at polarized liquid|liquid interfaces H. Sakae, H. Nagatani, K. Morita, H. Imura 

LANGMUIR

 30 3 937-945 2014/01
 X-ray analysis literatures 2012 

Advances in X-ray chemical analysis

 44 41-72 2013/03
 Valence discriminative detection of metal cations by a chromotropic acid-grafted glassy carbon electrode Kotaro Morita, Kenichi Shibata, Hirohisa Nagatani, Naoki Hirayama, Hisanori Imura 

ANALYTICAL SCIENCES

 29 1 95-99 2013/01
 Potential-modulated fluorescence spectroscopy of zwitterionic and dicationic membrane-potential-sensitive dyes at the 1,2-dichloroethane/water interface T. Osakai, T. Yoshimura, D. Kaneko, H. Nagatani, S.-H. Son, Y. Yamagishi, and K. Yamada 

Analytical and Bioanalytical Chemistry

 404 3 785-792 2012/08
 Interfacial Self-Assembly of Water-Soluble Cationic Porphyrins for the Reduction of Oxygen to Water A. J. Olaya, D. Schaming, P.-F. Brevet, H. Nagatani, H.-J. Xu, M. Meyer, H. H. Girault 

ANGEWANDTE CHEMIE-INTERNATIONAL EDITION

 51 26 6447 –6451 2012/06
 X-ray analysis literatures 2011 

Advances in X-ray chemical analysis

 43 1-31 2012/03
 Self-Assembled Molecular Rafts at Liquid|Liquid Interfaces for Four-Electron Oxygen Reduction A. J. Olaya, D. Schaming, P.-F. Brevet, H. Nagatani, T. Zimmermann, J. Vanicek, H.-J. Xu, C. P. Gros, J.-M. Barbe and H. H. Girault 

JOURNAL OF THE AMERICAN CHEMICAL SOCIETY

 134 1 498-506 2012/01
 Photocurrents at polarized liquid|liquid interfaces enhanced by a gold nanoparticle film D. Schaming, M. Hojeij, N. Younan, H. Nagatani, H. J. Lee, and H. H. Girault 

PHYSICAL CHEMISTRY CHEMICAL PHYSICS

 13 39 17704-17711 2011/10
 Gold nanoparticles-enhanced photocurrent at a dye-sensitized liquid|liquid interface H. Nagatani, S. Tonari, T. Shibata, and T. Sagara 

ELECTROCHEMISTRY COMMUNICATIONS

 13 9 985-988 2011/09
 X-ray analysis literatures 2010 

Advances in X-ray chemical analysis

 42 17-43 2011/03
 Polarized total-reflection X-ray absorption fine structure of zinc(II) porphyrin at the heptane-water interface H. Nagatani, H. Tanida, M. Harada, M. Asada, and T. Sagara 

JOURNAL OF PHYSICAL CHEMISTRY C

 114 43 18583-18587 2010/11
 Encapsulation of anilinonaphthalenesulfonates in carboxylate-terminated PAMAM dendrimer at the polarized water|1,2-dichloroethane interface H. Nagatani, T. Sakamoto, T. Torikai, and T. Sagara 

LANGMUIR

 26 22 17686-17694 2010/11
 X-ray analysis literatures 2009 

Advances in X-ray chemical analysis

 41 1-23 2010/03
 Potential-modulated fluorescence spectroscopy of the membrane potential-sensitive dye di-4-ANEPPS at the 1,2-dichloroethane/water interface T. Osakai, J. Sawada, and H. Nagatani 

Analytical and Bioanalytical Chemistry

 395 4 1055-1061 2009/10
 X-ray absorption fine structure of bromide ions attracted by cationic surfactants at the heptane-water interface H. Tanida, H. Nagatani, and M. Harada 

Journal of Physics: Conference Series

 190 012061 2009/05
 Extended X-ray absorption fine structure of copper(II) complexes at the air-water interface by a polarized total-reflection X-ray absorption technique H. Nagatani, H. Tanida, I. Watanabe, and T. Sagara 

ANALYTICAL SCIENCES

 25 4 475-480 2009/04
 X-ray analysis literatures 2008 

Advances in X-ray chemical analysis

 40 21-43 2009/03
 Potential-Dependent Adsorption of Amphoteric Rhodamine Dyes at the Oil/Water Interface as Studied by Potential-Modulated Fluorescence Spectroscopy T. Osakai, H. Yamada, H. Nagatani, and T. Sagara 

JOURNAL OF PHYSICAL CHEMISTRY C

 111 26 9480-9487 2007/09
 Spectroelectrochemical analysis of ion-transfer and adsorption of the PAMAM dendrimer at a polarized liquid|liquid interface H. Nagatani, T. Ueno, and T. Sagara 

ELECTROCHIMICA ACTA

 53 22 6428-6433 2008/09
 Potential-modulation spectroscopy at solid/liquid and liquid/liquid interfaces H. Nagatani and T. Sagara 

ANALYTICAL SCIENCES

 23 9 1041-1048 2007/09
 An electroreflectance approach to study out the puzzling state of myoglobin in a DDAB film on a pyrolytic graphite electrode surface T. Sagara, T. Sakai, and H. Nagatani 

ELECTROCHEMISTRY COMMUNICATIONS

 9 8 2018-2022 2007/08
 Development of the total-reflection XAFS method for the liquid-liquid interface H. Tanida, H. Nagatani, and M. Harada 

Journal of Physics: Conference Series

 833 012019 2007/06
 Interfacial behavior of sulforhodamine 101 at the polarized water/1,2-dichloroethane interface studied by spectroelectrochemical techniques H. Nagatani, S. Suzuki, D. J. Fermín, H. H. Girault, and K. Nakatani 

Analytical and Bioanalytical Chemistry

 386 3 633-638 2006/10
 Direct spectroelectrochemical observation of interfacial species at the polarized water/1,2-dichloroethane interface by ac potential modulation technique H. Nagatani, T. Ozeki, and T. Osakai 

JOURNAL OF ELECTROANALYTICAL CHEMISTRY

 588 1 99-105 2006/05
 Interfacial behavior of tetrapyridylporphyrin monolayer arrays J. L. Ruggles, G. J. Foran, H. Tanida, H. Nagatani, Y. Jimura, I. Watanabe, and I. R. Gentle 

LANGMUIR

 22 2 681-686 2006/01
 Zinc(II) porphyrins at the air-water interface as studied by polarized total-reflection X-ray absorption fine structure H. Nagatani, H. Tanida, T. Ozeki, and I. Watanabe 

LANGMUIR

 22 1 209-212 2006/01
 Photoinduced electron transfer of 5,10,15,20-tetraphenylporphyrinato zinc(II) at the polarized water/1,2-dichloroethane interface H. Nagatani, S. Dejima, H. Hotta, T. Ozeki, and T. Osakai 

ANALYTICAL SCIENCES

 20 11 1575-1579 2004/11
 A true electron-transfer reaction between 5,10,15,20-tetraphenylporphyrinato cadmium(II) and the hexacyanoferrate couple at the nitrobenzene/water interface T. Osakai, S. Ichikawa, H. Hotta, and H. Nagatani 

ANALYTICAL SCIENCES

 20 11 1567-1573 2004/11
 Interfacial nanochemistry in liquid-liquid extraction systems H. Watarai, S. Tsukahara, H. Nagatani, and A. Ohashi 

BULLETIN OF THE CHEMICAL SOCIETY OF JAPAN

 76 8 1471-1492 2003/08
 Adsorption and aggregation of meso-tetrakis(4-carboxyphenyl)porphyrinato zinc(II) at the polarized water|1,2-dichloroethane interface H. Nagatani, Z. Samec, P.-F. Brevet, D. J. Fermín, and H. H. Girault 

JOURNAL OF PHYSICAL CHEMISTRY B

 107 3 786-790 2003/01
 Polarized total-reflection x-ray absorption fine structure for self-assembled monolayer of zinc porphyrin at air-water interface H. Tanida, H. Nagatani, and I. Watanabe 

JOURNAL OF CHEMICAL PHYSICS

 118 23 10369-10371 2003/06
 Surface second harmonic generation of cationic water-soluble porphyrins at the polarized water|1,2-dichloroethane interface H. Nagatani, A. Piron, P.-F. Brevet, D. J. Fermín, and H. H. Girault 

LANGMUIR

 18 17 6647-6652 2002/08
 Transfer and adsorption of 1-pyrene sulfonate at the water|1,2-dichloroethane interface studied by potential modulated fluorescence spectroscopy K. Nakatani, H. Nagatani, D. J. Fermín, and H. H. Girault 

JOURNAL OF ELECTROANALYTICAL CHEMISTRY

 518 1 1-5 2002/01
 A kinetic model for adsorption and transfer of ionic species at polarized liquid|liquid interfaces as studied by potential modulated fluorescence spectroscopy H. Nagatani, D. J. Fermín, and H. H. Girault 

JOURNAL OF PHYSICAL CHEMISTRY B

 105 39 9463-9473 2001/10
 Mechanistic aspects associated with the oxidation of L-ascorbic acid at the 1,2-dichloroethane|water interface T. Osakai, H. Jensen, H. Nagatani, D. J. Fermín, and H. H. Girault 

JOURNAL OF ELECTROANALYTICAL CHEMISTRY

 510 1-2 43-49 2001/09
 Photoinduced electron transfer at liquid|liquid interfaces. Part IV. Orientation and reactivity of zinc tetra(4-carboxyphenyl) porphyrin self-assembled at the water vertical bar 1,2-dichloroethane junction H. Jensen, J. J. Kakkassery, H. Nagatani, D. J. Fermín, and H. H. Girault 

JOURNAL OF THE AMERICAN CHEMICAL SOCIETY

 122 44 10943-10948 2000/11
 Kinetic study of Ni(II) and Zn(II) complexation with a pyridylazo extractant by a centrifugal liquid membrane method Y. Yulizar, A. Ohashi, H. Nagatani, and H. Watarai 

ANALYTICA CHIMICA ACTA

 419 1 107-114 2000/08
 Adsorption behavior of charged zinc porphyrins at the water/1,2-dichloroethane interface studied by potential modulated fluorescence spectroscopy H. Nagatani, R. A. Iglesias, D. J. Fermín, P.-F. Brevet, and H. H. Girault 

JOURNAL OF PHYSICAL CHEMISTRY B

 104 29 6869-6876 2000/07
 Heterogeneous fluorescence quenching reaction between (5,10,15,20-tetraphenylporphyrinato)zinc(II) and methylviologen at dodecane-water interface H. Nagatani and H. Watarai 

CHEMISTRY LETTERS

 28 7 701-702 1999/07
 Direct spectrophotometric measurement of demetalation kinetics of 5,10,15,20-tetraphenylporphyrinatozinc(II) at the liquid-liquid interface by a centrifugal liquid membrane method H. Nagatani and H. Watarai 

ANALYTICAL CHEMISTRY

 70 14 2860-2865 1998/07
 Formation and interfacial adsorption of the μ-oxo dimer of (5,10,15,20-tetraphenylporphyrinato)iron(III) in dodecane/aqueous acid systems H. Nagatani and H. Watarai 

Journal of the Chemical Society-Faraday Transactions

 94 2 247-252 1998/01
 Specific adsorption of metal complexes of tetraphenylporphyrin at dodecane-water interface H. Nagatani and H. Watarai 

CHEMISTRY LETTERS

 26 2 167-168 1997/02
 Two-phase stopped flow measurement of the protonation of tetraphenylporphyrin at the liquid-liquid interface H. Nagatani and H. Watarai 

ANALYTICAL CHEMISTRY

 68 7 1250-1253 1996/04
 Chelate Formation and Ion-Association at Liquid-Liquid Interface H. Watarai, M. Gotoh, and H. Nagatani 

Value Adding Through Solvent Extraction (Proceedings of ISEC'96)

 1 249-253 1996/01
Conference Presentations
Dynamic Control of Charge Transfer Reactions at Liquid|Liquid Interfaces(conference:7th Ertl Symposium on Catalysis in Electrochemistry)(2022/10/27)
Direct Characterization of Water-Soluble AIEgens at Liquid|Liquid Interfaces(conference:ASIANALYSIS XV)(2021/10/17)
Specific Aggregation Behavior of Water-Soluble AIEgens at Liquid|Liquid Interfaces(conference:72th Annual Meeting of the International Society of Electrochemistry)(2021/09/01)
Spectroelectrochemical study of ferritin-anionic fluorescent probe association at the 1,2-dichloroethane/water interface(conference:72th Annual Meeting of the International Society of Electrochemistry)(2021/08/29)
Electrochemically Reversible H-J Interconversion of a Floating Film of Porphyrin Nanostructures at an Electrified Liquid-Liquid Interface(conference:72th Annual Meeting of the International Society of Electrochemistry)(2021/08/29)
Spectroelectrochemical Analysis of Mitoxantrone across a Biomimetic Liquid|Liquid Interface(conference:72th Annual Meeting of the International Society of Electrochemistry)(2021/08/29)
A Soft On/Off Switch Based on the Electrochemically Reversible H-J Interconversion of a Porphyrin Membrane at an Electrified Liquid|Liquid Interface(conference:239th ECS Meeting with the 18th International Meeting on Chemical Sensors)(2021/05/30)
Spectroelectrochemical analysis of charge transfer reaction at liquid|liquid interfaces(conference:The 2nd Kazan-Kanazawa Joint Symposium on Chemistry)(2021/01/28)
Charge Transfer Reaction Controlled by Molecular Association with Dendritic Polymers at liquid|liquid interfaces (conference:SPBU–KU Joint Symposium on Science & Technology)(2019/10/17)
Potential-Induced Ion Adsorption and Association at Liquid|Liquid Interfaces as Studied by Light Polarization-Modulation Techniques(conference:5th Ertl Symposium on Catalytic & Adsorption Reactions in Chemical ProcessEs)(2018/11/26)
Spectroelectrochemical Responses of Aggregation-Induced Emission Dye at Polarized Liquid|Liquid Interfaces(conference:4th International Symposium on Center of Excellence for Innovative Material Sciences Based on Supramolecules)(2018/10/18)
Spectroelectrochemical Analysis of Transmembrane Mechanism of Anthracycline Derivatives at Biomimetic Liquid|Liquid Interface(conference:4th International Symposium on Center of Excellence for Innovative Material Sciences Based on Supramolecules)(2018/10/18)
Photoisomerization-Dependent Interfacial Behavior of Water-Soluble Azobenzene Derivatives at Liquid|Liquid Interfaces(conference:4th International Symposium on Center of Excellence for Innovative Material Sciences Based on Supramolecules)(2018/10/18)
Molecular Interaction between Metal Complexes of 8-Quinolinol-5-sulfonate and PAMAM Dendrimers at Liquid|Liquid Interfaces(conference:4th International Symposium on Center of Excellence for Innovative Material Sciences Based on Supramolecules)(2018/10/18)
Synergic Ionic-Liquid Extraction of Lanthanoid(III) with Tropolone and Hydrophobic Neutral Ligands(conference:The 21st International Solvent Extraction Conference (ISEC2017))(2017/11/06)
Photoisomerization and Adsorption Behavior of Water-Soluble Azobenzene Derivatives at Liquid|Liquid Interfaces(conference:3rd International Symposium on Center of Excellence for Innovative Material Sciences Based on Supramolecules)(2017/11/16)
Adsorption Behavior of Water-Soluble 8-Quinolinol Complexes at Liquid|Liquid Interfaces(conference:3rd International Symposium on Center of Excellence for Innovative Material Sciences Based on Supramolecules)(2017/11/16)
Transmembrane Mechanism of Anthracycline Derivatives at Biomimetic Liquid|Liquid Interfaces Studied by Potential-Modulated Fluorescence Technique(conference:3rd International Symposium on Center of Excellence for Innovative Material Sciences Based on Supramolecules)(2017/11/16)
Molecular Encapsulation and Association of Ionic Species with Dendritic Polymers at Liquid|Liquid Interfaces(conference:Tyndall National Institute)(2017/08/31)
Spectroelectrochemical Analysis of Charge Transfer and Adsorption of Ionic Species at Liquid|Liquid Interfaces(conference:Bernal Institute Research Forum)(2017/08/29)
Molecular Encapsulation and Association of Ionic Species with Dendritic Polymers at Liquid|Liquid Interfaces(conference:Ewha Chemistry and Nanoscience International Symposium (ECNIS) 2017)(2017/05/18)
Encapsulation Behavior of Anionic Florescence Probe in Poly-L-Lysine Dendrigraft at Polarized Liquid|Liquid Interfaces (conference:2nd International Symposium on Center of Excellence for Innovative Material Sciences Based on Supramolecules)(2016/10/26)
Potential-Dependent Adsorption of Water-Soluble Porphyrins at Liquid|Liquid Interfaces Studied by a Novel Spectroscopic Technique (conference:2nd International Symposium on Center of Excellence for Innovative Material Sciences Based on Supramolecules)(2016/10/26)
Heterogeneous Photoinduced Electron Transfer at Polarized Liquid|Liquid Interfaces in the Presence of Gold Nanoparticles (conference:2nd International Symposium on Center of Excellence for Innovative Material Sciences Based on Supramolecules)(2016/10/26)
Chiral Separation of 3-Methoxy-2-methyl-4-phenylbutyric Acid by Cyclodextrin-Modified Capillary Zone Electrophoresis (conference:2nd International Symposium on Center of Excellence for Innovative Material Sciences Based on Supramolecules)(2016/10/26)
Molecular Encapsulation and Association of Ionic Species with Dendrimers at Polarized Liquid|Liquid Interfaces(conference:Pacific Rim Meeting on Electrochemical and Solid-State Science (PRiME) 2016)(2016/10/04)
Interfacial Behavior of Fluorescent Species Associated with Dendritic Polymers at Polarized Liquid|Liquid Interfaces(conference:Pacific Rim Meeting on Electrochemical and Solid-State Science (PRiME) 2016)(2016/10/05)
Extraction Equilibrium of Lanthanoid(III) Ions with β-Diketones and Hydrophobic Oxygen Donors in an Ionic Liquid(conference:International Symposium on Lanthanide Coordination Chemistry)(2016/06/04)
Interfacial Mechanism of Flavin Derivatives Affected by Dendritic Polymers at Liquid|Liquid Interfaces(conference:The First International Symposium on Center of Excellence for Innovative Material Sciences Based on Supramolecules)(2016/03/10)
Particle Size-Dependent Photocurrent Enhancement by Gold Nanoparticles at Liquid|Liquid Interfaces(conference:The First International Symposium on Center of Excellence for Innovative Material Sciences Based on Supramolecules)(2016/03/10)
Charge Transfer Mechanism of Organic Molecules Associated with Dendrimers at Polarized Liquid/Liquid Interfaces(conference:Pittcon2016)(2016/03/07)
Potential-Dependent Adsorption of Water-Soluble Porphyrins at Liquid/Liquid Interfaces Studied by Polarization-Modulation Total Internal Reflection Fluorescence Spectroscopy(conference:Pittcon2016)(2016/03/08)
Potential-Dependent Encapsulation of Ionic Species in Charged Dendrimers at Liquid|Liquid Interfaces(conference:2nd Asian Symposium on Analytical Sciences (2nd ASAS))(2015/09/09)
Potential-dependent adsorption of water-soluble porphyrins at liquid|liquid interfaces studied by polarization-modulation total internal reflection fluorescence spectroscopy(conference:2nd Asian Symposium on Analytical Sciences (2nd ASAS))(2015/09/09)
Photoluminescent properties of carbon nanodots prepared by pyrolytic synthesi(conference:Royal Society of Chemistry Tokyo International Conference 2015)(2015/09/03)
Selective Characterization of Dye Species Adsorbed at Liquid|Liquid Interfaces by Polarization-Modulation Spectroscopy(conference:48th Heyrovský Discussion)(2015/06)
Spectroelectrochemical Characterization of Ionic Dyes at Liquid|Liquid Interfaces by Polarization-Modulation Total Internal Reflection Fluorescence Spectroscopy(conference:65th Annual Meeting of the International Society of Electrochemistry)(2014/08/31)
Ion Transfer and Adsorption Behavior of Organic Ions Associated with PAMAM Dendrimers at Liquid|Liquid Interfaces(conference:65th Annual Meeting of the International Society of Electrochemistry)(2014/08/31)
Total-Reflection XAFS Analysis at Polarized Liquid/Liquid Interfaces(conference:The Twelfth Asian Conference on Analytical Sciences)(2013)
Spectroelectrochemical Analysis of Encapsulation Behavior of Anionic Porphyrins in PAMAM Dendrimers at Liquid|Liquid Interfaces(conference:The Twelfth Asian Conference on Analytical Sciences)(2013)
Potential-Modulated Fluorescence Spectroscopy of Membrane Potential-Sensitive Dye Di-2-ANEPEQ at the 1,2-Dichloroethane/Water Interface(conference:Shikata Discussion 2011)(2011)
Spectroelectrochemical Study of Dendrimers at a Polarized Liquid/Liquid Interface(conference:Shikata Discussion 2011)(2011)
Polarized Total-Reflection X-Ray Absorption Spectroscopy at the Liquid-Liquid Interface(conference:IUPAC International Congress on Analytical Sciences 2011 (ICAS2011))(2011)
Encapsulation of Anionic Dyes in PAMAM Dendrimer at a Polarized Liquid/Liquid Interface(conference:IUPAC International Congress on Analytical Sciences 2011 (ICAS2011))(2011)
Others
 Mechanism and Potential Applications of Aggregation-Induced Emission at Liquid-Liquid Interfaces Hirohisa Nagatani 

POLYMERS

 71 9 475–476 2022/09/01
 Potential modulation spectroscopy for the adsorption process at a liquid/liquid interface NAGATANI Hirohisa 

The Polarographic Society of Japan

 54 2 123-127 2008/09/01
 Preparation of pH Measuring Films by Transparency Sheets for Ink-Jet Printers 53 11 637-638 2005/11
 Metal Complex Spread on Liquid Surface Studied by Polarization-dependent X-ray Absorption Spectroscopy 71-72 2004/07
Arts and Fieldwork
Patent
Theme to the desired joint research
Grant-in-Aid for Scientific Research
○Grant-in-Aid for Scientific Research (C) (JSPS)「Mechanistic analysis and dynamic control of phase-transfer and transmembrane processes of drugs associated with stimuli-responsive carriers」(2023-2025) 
○Grant-in-Aid for Scientific Research (C) (JSPS)「Mechanistic analysis and reaction control of ionizable drugs and their conjugates with dendritic polymers in a biomimetic membrane system 」(2019-2021) 
○Grant-in-Aid for Scientific Research (C) (JSPS)「Charge transfer control at liquid/liquid interfaces and spectroscopic analysis based on molecular association with dendritic polymers」(2016-2018) 
○Grant-in-Aid for Scientific Research (B) (JSPS)「Absolute determination methods for trace organic and inorganic species in biological and environmental samples」(2013-2016) 
○Grant-in-Aid for Challenging Exploratory Research (JSPS)「Separation of lanthanoid ions by green extraction systems with natural ligand and ionic liquid」(2013-2014) 
○Grant-in-Aid for Scientific Research (C) (JSPS)「Specific reaction of dendrimers at liquid/liquid interfaces and its application to electrochemical separation and detection systems」(2012-2014) 
○Grant-in-Aid for Scientific Research (B) (JSPS)「Structure analysis of adsorbed molecules or ions at liquid-liquid interface by total-reflection X-ray absorption spectroscopy」(2009-2012) 
○Grant-in-Aid for Young Scientists (B) (MEXT)「Electrochemical control of the molecular encapsulation behavior and charge transfer reaction of the dendrimer at the liquid/liquid interface」(2009-2010) 
○Grant-in-Aid for Scientific Research (C) (MEXT)「Total-reflection XAFS of metal complex adsorbed at liquid-liquid interface」(2006-2007) 
○Grant-in-Aid for Young Scientists (B) (MEXT)「Specific adsorption of proteins and characterization of interfacial species at liquid/liquid interfaces」(2005-2006) 
○Grant-in-Aid for Scientific Research of Priority Areas (B) (MEXT)「 」(2002-2003) 
○Grant-in-Aid for JSPS Research Fellows (MEXT)「Adsorption states of porphyrin compounds and their photoinduced electron transfer at liquid/liquid interfaces」(2000-2001) 
○Grant-in-Aid for JSPS Research Fellows (MEXT)「Adsorption reaction of porphyrin compounds at the liquid/liquid interface」(1998-1999) 
Competitive research funding,Contribution
Collaborative research,Consignment study
Classes (Bachelors)
○Presentation and Debate (Freshman Seminar II)(2022)
○Research Work in Chemistry(2022)
○Literature Survey in Chemistry(2022)
○Analytical Chemistry III(2022)
○Experiments in Basic Chemistry A(2022)
○Experiments in Basic Chemistry C(2022)
○Analytical Chemistry A(2022)
○Analytical Chemistry B(2022)
○Introduction to Region-studies(2022)
○Experiments in Basic Chemistry A(2021)
○Presentation and Debate (Freshman Seminar II)(2021)
○Research Work in Chemistry(2021)
○Literature Survey in Chemistry(2021)
○Analytical Chemistry I(2021)
○Analytical Chemistry II(2021)
○Analytical Chemistry III(2021)
○Experiments in Basic Chemistry C(2021)
○Spectrochemical analysis(2021)
○Lecture on Life in Campus and Society(2021)
○Introduction to Region-studies(2021)
○Introduction to Region-studies(2021)
○Specialized Topics in Chemistry(2021)
○Research Work in Chemistry(2020)
○Literature Survey in Chemistry(2020)
○Introduction to Region-studies(2020)
○Experiments in Basic Chemistry A(2020)
○Experiments in Basic Chemistry C(2020)
○Analytical Chemistry III(2020)
○Analytical Chemistry II(2020)
○Analytical Chemistry I(2020)
○Presentation and Debate (Freshman Seminar II)(2020)
○Freshman Seminar I(2020)
○Spectrochemical analysis(2020)
○Research Work in Chemistry(2019)
○Literature Survey in Chemistry(2019)
○Introduction to Region-studies(2019)
○Experiments in Basic Chemistry C(2019)
○Experiments in Basic Chemistry A(2019)
○Analytical Chemistry III(2019)
○Analytical Chemistry II(2019)
○Analytical Chemistry I(2019)
○Spectrochemical analysis(2019)
○Safety in Chemistry(2019)
○Presentation and Debate (Freshman Seminar II)(2019)
○Freshman Seminar I(2019)
○Presentation and Debate (Freshman Seminar II)(2018)
○Freshman Seminar I(2018)
○Introduction to Region-studies(2018)
○Safety in Chemistry(2018)
○Literature Survey in Chemistry(2018)
○GS English Language for Undergraduates I (English for Science and Engineering)(2018)
○GS English Language for Undergraduates II (English for Science and Engineering)(2018)
○Analytical Chemistry III(2018)
○Experiments in Basic Chemistry C(2018)
○Research Work in Chemistry(2018)
○Spectrochemical analysis(2018)
○Introduction of Chemistry A(2018)
Classes (Graduate Schools)
○Research Work(2022)
○Seminar in Chemistry I(2022)
○Surface and Interface Analysis(2022)
○Seminar in Material Analysis(2022)
○Seminar in Material Analysis(2022)
○Instrumental Analytical Chemistry(2022)
○Seminar in Material Analysis(2022)
○Material Analysis Chemistry II(2022)
○Seminar in Material Analysis(2022)
○Analytical Chemistry for Education(2022)
○Instrumental Analytical Chemistry(2022)
○Mathematical/Nanomaterial Science and Engineering(2022)
○Seminar in Chemistry I(2021)
○Research Work(2021)
○Material Analysis Chemistry II(2021)
○Seminar in Material Analysis(2021)
○Instrumental Analytical Chemistry(2021)
○Analytical Chemistry for Education(2021)
○Seminar in Chemistry I(2020)
○Research Work(2020)
○Analytical Chemistry for Education(2020)
○Surface and Interface Analysis(2020)
○Seminar in Material Analysis(2020)
○Instrumental Analytical Chemistry(2020)
○Material Analysis Chemistry II(2020)
○Analytical Chemistry for Education(2019)
○Surface and Interface Analysis(2019)
○Seminar in Chemistry I(2019)
○Research Work(2019)
○Material Analysis Chemistry II(2019)
○Instrumental Analytical Chemistry(2019)
○Seminar in Material Analysis(2019)
○Seminar in Material Analysis(2018)
○Seminar in Chemistry III(2018)
○Seminar in Chemistry II(2018)
○Research Ethics(2018)
○Instrumental Analytical Chemistry(2018)
○Seminar in Chemistry I(2018)
○Fostering the independence of researchers(2018)
○Research Work(2018)
○Material Analysis Chemistry II(2018)
○Surface and Interface Analysis(2018)
International Project
International Students
Lecture themes
Others (Social Activities)