Professor KANOH, Shigeyoshi
Faculty, Affiliation
Faculty of Chemistry, Institute of Science and Engineering
College and School Educational Field
Laboratory
 TEL:076-234-4782 FAX:076-234-4800
Academic Background
【Academic background(Doctoral/Master's Degree)】
Kanazawa University Master 197703 Completed
【Academic background(Bachelor's Degree)】
Kanazawa University 197503
【Degree】
Doctor of Engineering
Career
Kanazawa University(1977/04/01-1986/09/30)
Kanazawa University(1986/10/01-1990/07/31)
Kanazawa University(1990/08/01-2003/10/30)
Kanazawa University Graduate School of Natural Science and T(2003/11/01-)
Year & Month of Birth
1951/10
Academic Society
The Chemical Society of Japan


Award
Specialities
Cationic ring-opening polymeri、Polymer chemistry、Synthetic chemistry、Polymer/Textile materials
Speciality Keywords
Cationic ring-opening polymeri Anionic living polymerization
Research Themes
Development of Novel Chiral π-Conjugated (Macro)molecular Systems

The purpose of this study is to develop novel chiral π-conjugated (macro)molecular systems, which can detect the chirality of target molecules as changes in their absorption, luminescence, visible color, or electrical properties.
Development of chiral recognition materials through chemical modifications of polysaccharides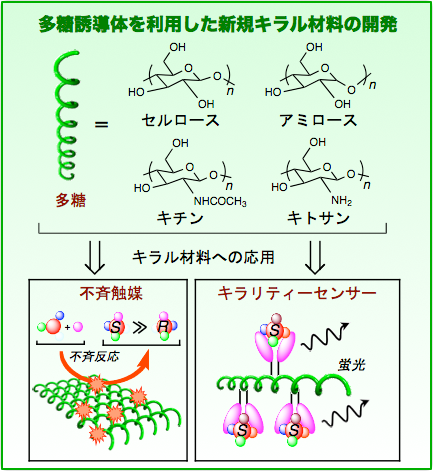 For human's further progress in coexistence with nature, the effective utilization of renewable material, biomass, has been getting more and more important. Polysaccharides, such as cellulose and amylase, are not only biomass existing in abundance, but also polymer materials with a precisely controlled structure. In this research project, we intend to develop new functional polymers with chiral recognition ability through chemical modifications of these renewable resources, polysaccharides.
Development of Photoelectric Conversion Materials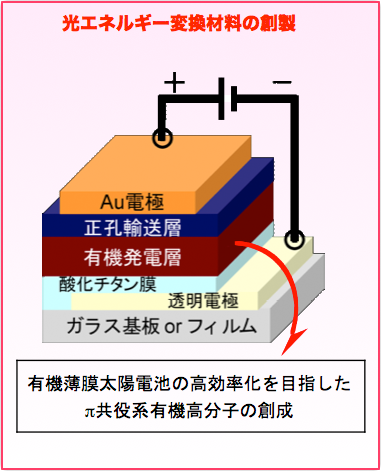 My main topic is the further improvement of conversion efficiency for practical application of organic thin film solar batteries. The key to accomplishing high efficiency is the optical energy conversion material that composes the organic power-generating tier of organic thin-film solar-power batteries. The conjugated polymer that is generally used for the organic power-generating tier is currently unable to utilize solar light efficiently because of its inability to absorb the long-wave length region of solar light. I therefore aim to generate a new conjugated polymer with a narrow band gap that can absorb long-wave length solar light for application as an optical energy conversion material. My current study is being carried out in collaboration with the lab of TAKAHASHI Mitsunobu in the Division of Material Chemistry, and we intend to develop a practical organic thin film solar battery.
Books
Papers
 Anomalous Cyclodimerization of 3-Phenyl-3-(phthalimidomethyl)oxetane via Monomer Isomerization and Consecutive Cation Transfer 

MACROMOLECULES

 31 22 7988-7991 1998/11
 Cationic Monomer-Isomerization Polymerization of Oxetanes Having an Ester Substituent, to Give Polyorthoester or Polyether 

MACROMOLECULAR CHEMISTRY AND PHYSICS

 203 3 511-521 2002/02
 Cationic Polymerization of 3-Phenyl-3-(phthalimidomethyl)oxetane Leading with Quantitative Dehydration to an Oligo(indene) Having the C-C Backbone 

MACROMOLECULES

 32 4 1304-1307 1999/02
 Chemoselective Isomerization of Amide-Substituted Oxetanes with Lewis Acid to Give Oxazine Derivatives or Bicyclic Amide Acetals 

Journal of the Chemical Society, Chemical Communications

 1998 1 43-44 1998/01
 Controlled Precipitation Polymerization of Phthalimidomethyloxirane in Cationic Ring-Opening Isomerization Manner 

MACROMOLECULES

 35 3 651-657 2002/01
 Double Isomerization of Oxetane Amides to Azetidine Esters with Ring Expansion and Contraction 

The Journal of the Organic Chemistry

 65 7 2253-2256 2000/04
 Monomer-Isomerization Polymerization of 3-Methyl-3-(phthalimidomethyl)oxetane with Two Different Ring-Opening Courses 

MACROMOLECULES

 32 8 2438-2448 1999/04
 Partial Acetalization of Cyclic Imides Using an Intramolecular Oxetanyl Group 

Synthesis

 1997 9 1077-1080 1997/09
 Preparation and Characterization of Polyoxetane Resins Anchoring the Pendant Spacer-Separated Hydroxamic Acide Residue 

POLYMER JOURNAL

 31 2 143-149 1999/02
 Preparation and Characterization of Side-Chain Liquid-Crystalline Polyoxetanes Anchoring a Pendant Spacer-Separated Mesogen at the Tertiary-Like C-3 Carbon of the Oxetane Unit 

BULLETIN OF THE CHEMICAL SOCIETY OF JAPAN

 71 2 433-442 1998/02
 Preparation and Diazo-Coupling Reaction of the Pendant Spacer-Separated Aniline Residue Based on a Polyoxetane Network 

Reactive and Functional Polymers

 37 1-3 65-76 1998/03
 Preparation of Polyoxeatane Resins Anchoring Pendant Oligo(oxyethylene) Chains and Uses as a Polymer Solvent for Alkali Metal Ions 

POLYMER JOURNAL

 33 10 754-764 2001/10
 Side-Chain Liquid-Crystalline Polyoxetanes with a Spacer-Separated Azobenzene Moiety. III. Preparation and Characterization of Polyoxetanes Anchoring the Mesogen Cores of a p-Spacer-Substituted Phenyl 4-(4-Alkoxyphenylazo)benzoate in the Side Chain 

BULLETIN OF THE CHEMICAL SOCIETY OF JAPAN

 70 7 1649-1657 1997/07
 Substituent Effect on the Cationic Monomer-Isomerization Polymerization of (Cyclic Imide)-Substituted Oxetanes with Two Different Ring-Opening Courses 

MACROMOLECULAR CHEMISTRY AND PHYSICS

 202 12 2489-2503 2001/08
 Enantioselectiove Reduction of Ketones with Optically Active 2,2\'-Diamino-6,6\'-dimethylbiphenyl-Lithium Aluminum Hydride Complex 

TETRAHEDRON LETTERS

 20 47 4565- 1979/11
 Synthesis and Application of Polymer Having Chiral Biphenyldi-amines as Pendant Group 1980 1 301-3 1980/01
 Asymmetric Reduction of Aromatic Ketones with Borane-Amine Complexes Modified with Optically Pure 2,2\'-Dihydroxy-6,6\'-dimethylbiphenyl 

TETRAHEDRON LETTERS

 24 14 1513- 1983/03
 Asymmetric Selection Polymerization of (RS)-a-Methylbenzyl Methacrylate with Axially Chiral Catalysts Prepared from Grignard Reagents and Biphenyl Derivatives 

POLYMER BULLETIN

 10/5 6 163-7 1983/08
 Chiral Hydride Reagents Containing (R/S)-2,2\'-Dihydroxyl-6,6\'-dimethylbiphenyl for Reduction of Alkyl Phenyl Ketones 1984 6 899-2 1984/06
 Axially Chiral Catalysts for the Preparation of Optically Active Poly(triphenylmethyl methacrylate) 

MACROMOLECULAR CHEMISTRY AND PHYSICS

 187 1 53-59 1984/06
 Enantioselective Polymerization of (R,S)-a-Methylbenyl Methacrylate Initiated with Products Resulting from Grignard Reagents and Axially Dissymmetric ... 

MACROMOLECULAR CHEMISTRY AND PHYSICS

 188 3 463-4 1987/03
 Asymmetric Polymerization of Triphenylmethyl Methacrylate by C_2-Chiral Catalysts 

JOURNAL OF POLYMER SCIENCE PART A-POLYMER CHEMISTRY

 25 6 1603- 1987/06
 Optical Resolution and Absolute Configuration of Axially Dissymmetric 2,2\'-Dihydroxy-6,6\'-dimethylbiphenyl 

BULLETIN OF THE CHEMICAL SOCIETY OF JAPAN

 60 6 2307- 1987/06
 Highly Asymmetric-Selective and Stereoselective Polymerization of (RS)-a-Methybenbyl Methacrylate with Cyclohexylmagnesium Bromide-Axially Chiral... 

POLYMER JOURNAL

 19 9 1047- 1987/09
 Practical Method for the Synthesis and Optical Resolution of Axially Dissymmetric 6,6\'-Dimethyl-biphenyl-2,2\'-dicarboxylic Acid 

BULLETIN OF THE CHEMICAL SOCIETY OF JAPAN

 60 10 3659- 1987/10
 Convenient Optical Resolution of Axially Chiral 1,1\'-Binaphthyl-2,2\'-dicaroboxylic Acid 

BULLETIN OF THE CHEMICAL SOCIETY OF JAPAN

 61 3 1032- 1988/03
 Chiral Discrimination toward Racemic Alcohols through Host/Guest Inclusion with Axially Chiral 1,1\'-Binaphthyl-2,2\'-dicarboxylic Acid 

CHEMICAL COMMUNICATIONS

 1988 6 405-4 1988/03
 A Facile Synthesis of Oxetane Derivatives for Preparing Cross-Linked Polyoxetane Resins Bearing the Bromide at the Spacer End 

BULLETIN OF THE CHEMICAL SOCIETY OF JAPAN

 61 5 1653- 1988/05
 Asymmetric Carbonyl Addition and Asymmetric Polymerization Assisted by Axially Chiral Diamines Give Disparate Ligand/Product Configurational Correlations 

BULLETIN OF THE CHEMICAL SOCIETY OF JAPAN

 61 6 2244- 1988/06
 New Chiral Catalyst, t-Butyllithium Complexed with Axially Chiral Diamine, for the Asymmetric Polymerizations of Triphenylmethyl Methacrylate and Its... 

POLYMER JOURNAL

 20 7 539- 1988/07
 Oxetane Derivatives and Their Polymers for Designing Functional Polymers Containing a Soft, Somewhat Polar Polyether Network as a Polymer Support 

BULLETIN OF THE CHEMICAL SOCIETY OF JAPAN

 62 5 1572- 1989/05
 Polymer Reactions of the Pendant Alkyl Bromides of Sobuble and Insoluble Polyoxetanes for the Preparation of Chemically Modified Polyethers 

POLYMER JOURNAL

 21 6 451-4 1989/06
 Use of Polyoxetane Resin-Supported Quaternary Onium Salts as a Polymeric Phease-Transfer Catalysts for Preparing Ethers from Hydroxy Compounds and Alkyl Halides 

BULLETIN OF THE CHEMICAL SOCIETY OF JAPAN

 62 8 2553- 1989/08
 Preparation of Polyoxetene-Polystyrene Composite Resin and Their Use as Polymeric Supports of Phase-Transfer Catalysts 

POLYMER JOURNAL

 21 12 937- 1989/12
 Development of Peptide Resins for Efficient Recovery of Uranium from Seawater 1990 297- 1990/12
 Side-Chain Liquid-Crystalline Polyoxetanes with a Spacer-Separated Azobenzene Moiety. I. Preparation and Characterization 

BULLETIN OF THE CHEMICAL SOCIETY OF JAPAN

 66 6 1778- 1993/06
 Preparation and Characterization of Polyoxetane Resins Having a Primary Amino Group at the Side Chain-End through Moderately Long Spacer Arms 

POLYMER JOURNAL

 25 12 1283- 1993/12
 Side-Chain Liquid-Crystalline Polyoxetanes with a Spacer-Separated Azobenzene Moiety. II. 

BULLETIN OF THE CHEMICAL SOCIETY OF JAPAN

 70 1 175- 1997/01
 Side-Chain Liquid-Crystalline Polyoxetanes with a Spacer-Separated Azobenzene Moiety. III. 

BULLETIN OF THE CHEMICAL SOCIETY OF JAPAN

 70 7 1649- 1997/07
 Partial Acetalization of Cyclic Imides Using an Intramolecular Oxetanyl Group 1997 9 1077- 1997/09
 Chemoselective Isomerization of Amide-Substituted Oxetanes with Lewis Acid to Give Oxazine Derivatives or Bicyclic Amide Acetals 

CHEMICAL COMMUNICATIONS

 1998 1 43-44 1998/01
 Preparation and Characterization of Side-Chain Liquid-Crystalline Polyoxetanes Anchoring a Pendant Spacer-Separated Mesogen at the Tertiary-Like C-3... 

BULLETIN OF THE CHEMICAL SOCIETY OF JAPAN

 71 2 433- 1998/02
 Preparation and Diazo-Coupling Reaction of the Pendant Spacer-Separated Aniline Residue Based on a Polyoxetane Network 

REACTIVE & FUNCTIONAL POLYMERS

 37 1-3 65-73 1998/06
 Anomalous Cyclodimerization of 3-Phenyl-3-(phthalimidomethyl)oxetane via Monomer Isomerization and Consecutive Cation Transfer 

MACROMOLECULES

 31 22 7988- 1998/07
 Preparation and Characterization of Polyoxetane Resins Anchoring the Pendant Spacer-Separated Hydroxamic Acide Residue 

POLYMER JOURNAL

 31 2 143- 1999/02
 Isomerization of Cyclic Ethers Having a Carbonyl Functional Group: New Entries into Different Heterocyclic Compounds 58 35 7049-7064 2002/08
 Unusual Cyclodimerization of Small Cyclic Ethers via Neighboring Carbonyl-Group Participation and Cation Transfer 58 35 7065-7064 2002/08
 Preparation and Properties of Aqueous Dispersible Polyurethane 19 1-6 2003/07
 Preparation of Polyoxetane Resins Having Polyoxirane Segments in the Pendant and Cross-Linking Chains and Uses as Polymeric Solvents for Alkali-Metal Ions 34 12 944-953 2002/12
 Coordinate Anionic Ring-Opening Polymerization of Oxetanes with Aluminum Benzyl Alcoholate Bis(2,6-di-tert-butyl-4-methylphenolate) 

JOURNAL OF POLYMER SCIENCE PART A-POLYMER CHEMISTRY

 42 18 4570-4579 2004/08
 Preparation and Shelf-Life Stability of Aqueous Polyuretane Dispersion 

MACROMOLECULAR SYMPOSIA

 216 1 229-240 2004/08
 Preparation of Aqueous Polyurethane Dispersions Shunji Sugano, Charoen Chinwanitcharoen, Shigeyoshi Kanoh, Toshiro Yamada, Shunichi Hayashi, Kaoru Tada 239 1 51-57 2006/06
 In situ preparation of poly(ethylene terephthalate)/titanium dioxide nanocomposites Lifei Hao, Shigeji Konagaya, Shigeyoshi Kanoh, Guang Li, Toshiro Yamada 

Journal: Materials Science: An Indian Journal

 2 126-133 2006/11
 Synthesis of Polysaccharide Derivatives Bearing Pyridine N-Oxide Groups and Their Use as Asymmetric Organocatalysts 

React. Funct. Polym.

 71 10 1055-1058 2011/10
 Synthesis and Characterization of Thieno[3,4-b]thiophene-Based Copolymers Bearing 4-Substituted Phenyl Ester Pendants: Facile Fine-Tuning of HOMO Energy Levels 

Macromolecules

 44 17 6659-6662 2011/08
Conference Presentations
Arts and Fieldwork
Patent
Theme to the desired joint research
Grant-in-Aid for Scientific Research
Classes (Bachelors)
○Organic Structure Determination(2016)
○Laboratory Course V(2016)
○Laboratory Course V(2016)
Classes (Graduate Schools)
○Theory of Precise Control in Polymerization(2017)
○Introduction of Material Program(2017)
○Theory of Precise Control in Polymerization(2017)
○Theory of Precise Control in Polymerization(2017)
○Theory of Precise Control in Polymerization(2017)
○Introduction of Material Program(2016)
○Theory of Precise Control in Polymerization(2016)
○Fine Synthetic Polymer Chemistry(2016)
○Synthetic Chemistry of Polymeric Materials(2016)
International Project
International Students
Lecture themes
Others (Social Activities)