Assistant Professor ITATANI, Tomoya
Faculty, Affiliation
Faculty of Health Sciences, Institute of Medical, Pharmaceutical and Health Sciences
College and School Educational Field
Division of Health Sciences, Graduate School of Medical Science
Department of Nursing,School of Health Sciences, College of Medical, Pharmaceutical and Health Sciences
Laboratory
 TEL:076-265-2577
Academic Background
Career
Kanazawa University Faculty of Health Science, Institute of Medical, Pharmaceutical and Health Sciences. Assistant Professor(2015/06/01-)
Year & Month of Birth
1975/11
Academic Society


Japan Academy of Home Care






The Japan Statistics Society
Japanese Association of Certified Social Worker
Award
○日本看護学教育学会 Best Practice Award(2021/09/18)
○日本看護学教育学会 Best Practice Award(2021/09/18)
Specialities
Community health nursing
Speciality Keywords
Home care, Home healthcare, Integrated community care, end of life care, GIS, geographic information systems
Research Themes
Multicultural sensitive support of interaction through consideration of preferences including non-standard treatment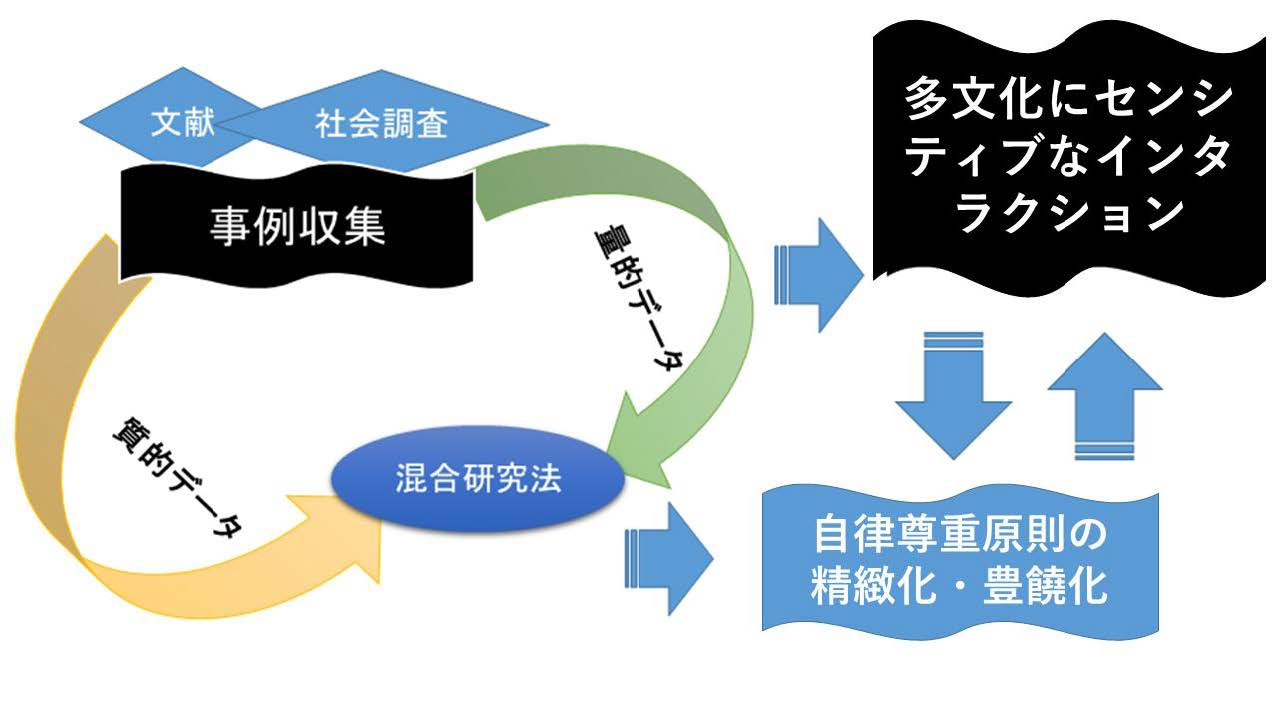 The model of resident participating community development for healthy end-of-life care in Noto, a society with numerous deaths
Noto area of ​​Ishikawa prefecture has been becoming a multi-death society. According to national statistics, most of the places of death are hospitals, and it is thought that the same is true in the Noto area. On the other hand, the average length of stay in hospital is decreasing. There is not a sufficient number of places for nursing care in the Noto area, and there is concern about the occurrence of so-called nursing refugees. In the Noto area, there are few home care support clinics and home-visit nursing stations, so the environment for home care is not sufficient. There is an urgent need to create a care system. In this research, we will conduct an awareness survey of residents in the Noto area regarding nursing care and a community-based exchange meeting. We will also create a cooperative system for residents regarding the maintenance of home medical care / long-term care and nursing care as a "healthy end-of-life care environment". Then, we will create a model of works from series of those activities for community development.
Development of a party-participation-type disaster preparedness system through the fusion of medical care children's participation and technology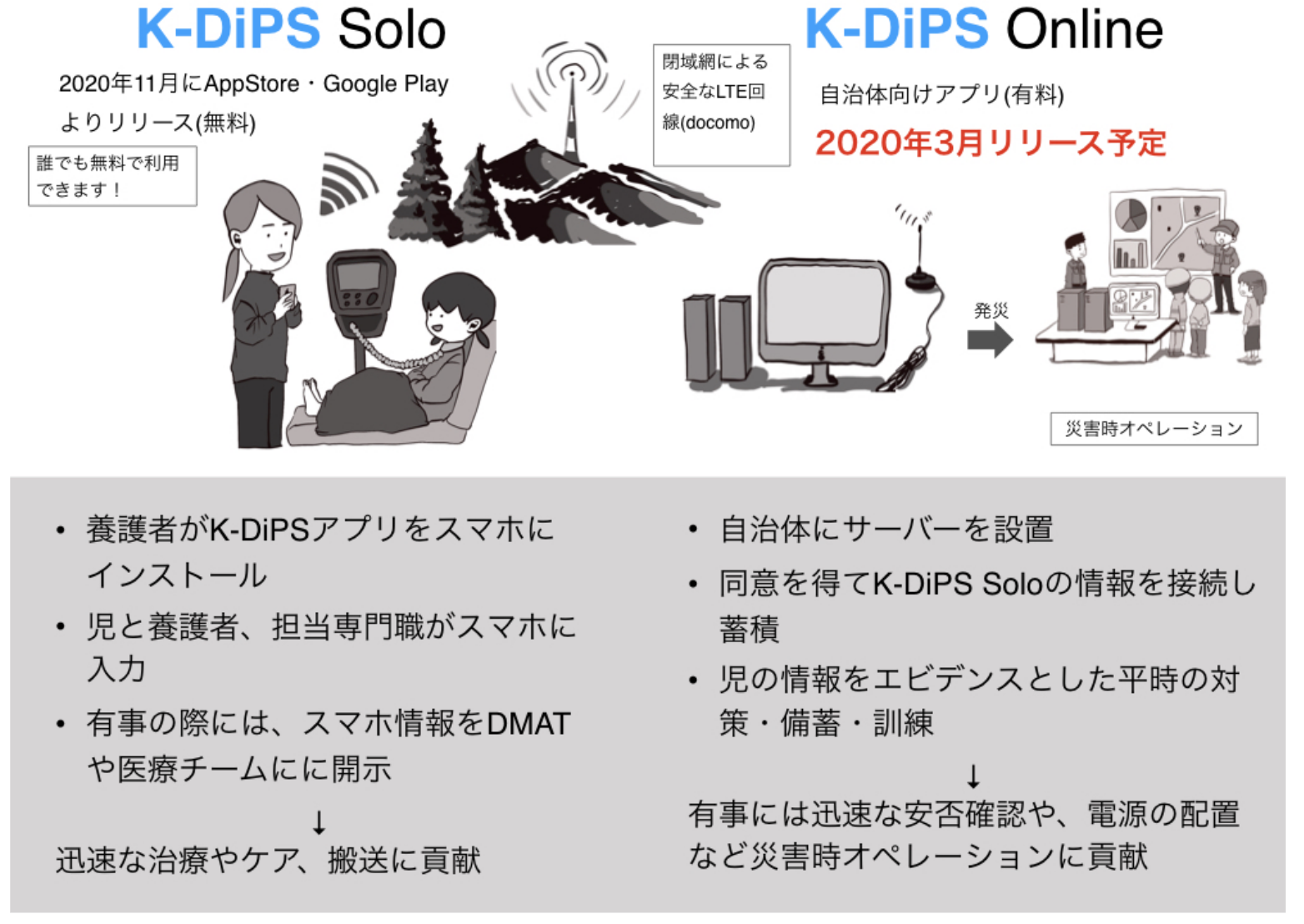 Development of a disaster stockpiling application that recognizes medical supplies for children with medical care on an iPad and manages them with IoT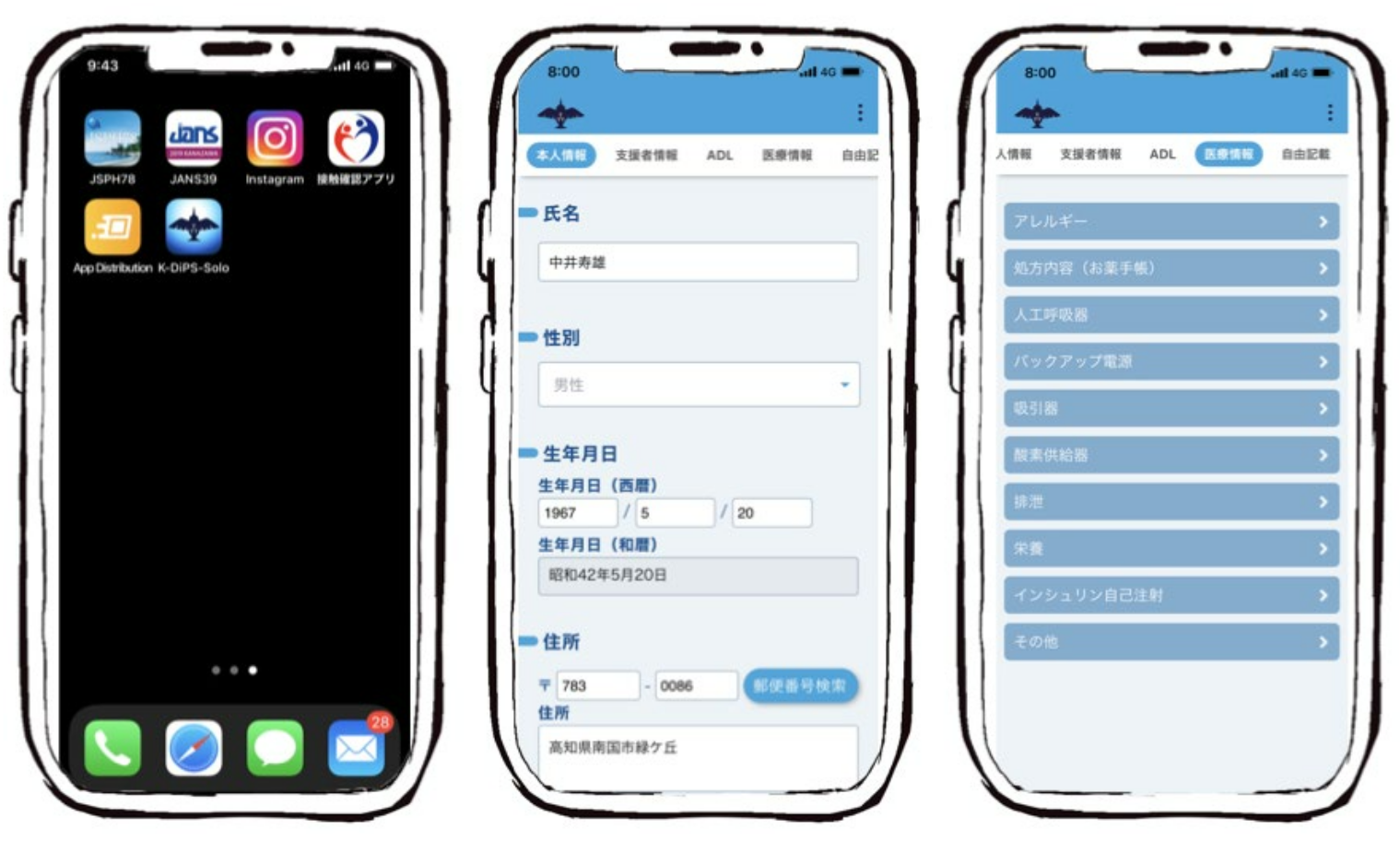 Development of real-time visualization system of regional needs and community support project using Geographic Information Systems.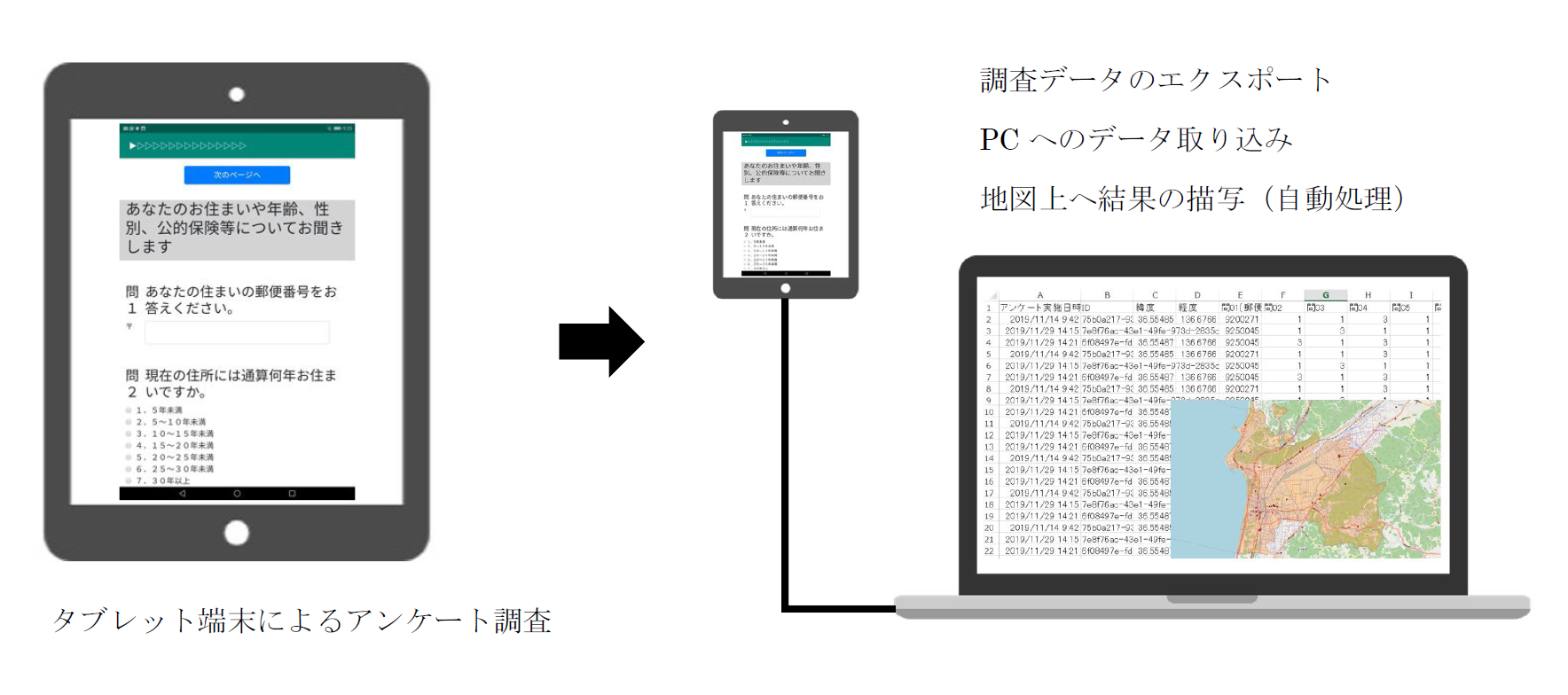 Construction of activity indicators for self-help and mutual aid for the elderly with dementia in group homes and development of regional revitalization
Development of disaster crisis management system for children with developmental disabilities using information and communication technology
Features of the care plan based on the basic qualifications of care support specialists for people with dementia at home and a new concept
Development of disaster preparedness check sheets by home care workers and supporters who require medical treatment
Disaster health management support and educational program construction for home caregivers and long-term care families
Books
 Community-based integrated care and area management.- Possibility of health city development utilizing visualization of data- 2019/03
Papers
 Factors Related to Preparedness for Emergency Hemodialysis in the Event of a Natural Disaster Reiko Nihonyanagi, Keiko Tsukasaki, Tomoya Itatani, Hisao Nakai 

Medicine

 2022/03/25
 Factors affecting the care management of behavioral and psychological symptoms of dementia among care managers in Japan Kuniko Ishii, Keiko Tsukasaki, Kaoru Kyota, Tomoya Itatani, Daisuke Toda, Hisao Nakai 

Journal of Wellness and Health Care

 45 2 47-57 2022/02/01
 Research on willingness to participate in places where local residents gather -How to increase the number of participants in the long-term care prevention / daily life support comprehensive project-  Chika Togami, Tomoya Itatani 2021/12/13
 Predicting the Number of Suicides in Japan Using Internet Search Queries: Vector Autoregression Time Series Model Kazuya Taira, Rikuya Hosokawa, Tomoya Itatani, Sumio Fujita  

JMIR Public Health Surveill

 7 12 e34016 2021/12/07 
 Descriptive epidemiological study by connecting health examination and medical expenses data using virtual data integration tool "DYNATREK" Tomoya Itatani, Kohei Hirako, Hikaru Samuta 23 12 92-94 2021/11/01
 Construction of an evacuee placement model for tsunami shelters considering physical distancing to prevent COVID-19 infection Hisao Nakai, Tomoya Itatani, Ryo Horiike 

Progress in Disaster Science

 11 2021/06/26 
 Model Comparisons of the Cost Effectiveness of Rubella Vaccination Method in Japanese Adults Tomoya Itatani, Ryo Horiike, Hisao Nakai, Kazuya Taira, Chika Honda, Fumie Shirai, Kaoru Konishi 

Vacciens (IF4.422)

 9 3 2021/03/08 
 Needs of Children with Neurodevelopmental Disorders and Geographic Location of Emergency Shelters Suitable for Vulnerable People during a Tsunami Hisao Nakai, Tomoya Itatani, Seiji Kaganoi, Aya Okamura, Ryo Horiike, Masao Yamasaki 

Environmental Research and Public Health (IF 2.84)

 18 4 2021/02/14 
 Interdisciplinary groups perform better than intradisciplinary groups in online group discussion activities Taro Yamashita, Shuji Osawa, Kunio Ota, Takahiro Minami, Yuma Morisaki, Yutaro Takahashi, Tomoya Itatani, Satoshi Hara, Toshikatsu Tamai, Makoto Fujiu, Hideki Nomura, Rie Okamoto 

Medical Education Online (IF1.70)

 26 1 1886649-1886655 2021/02/01 
 Residents living in communities with higher civic participation report higher self-rated health Moeko Noguchi-Shinohara, Kohei Hirako, Hiromasa Tsujiguchi, Tomoya Itatani, Kiyoko Yanagihara, Hikaru Samuta, Hiroyuki Nakamura 

PLos One

 15 10 e0241221 2020/10/23 
 Disaster evacuation intentions of persons with mental health problems receiving employment support in Japan Hisao NAKAI, Tomoya ITATANI, Yoshie NISHIOKA, Erina HAMADA 

Health Emergency and Disaster Nursing

 2020/08/05
 Perspectives of Home Health Nursing Care Users and Their Nurses on User Satisfaction in A Prefecture Sachiyo Honjo, Kaoru Kyota, Tomoya Itatani, Keiko Tsukasaki 

Journal of Japan Primary Care Association

 43 1 5-10 2020/03/25
 A basic survey for all residents in Hakui City, Ishikawa Prefecture and development of a "Matching system of regional needs and resources" Tomoya Itatani, Kohei Hirako, Hikaru Samuta 22 1 78-81 2020/01/12
 Effects of maintaining web-based diaries by caregivers on adherence to care regimens in preschoolers with asthma. 

Journal for Specialists in Pediatric Nursing

 24 4 e12263 2019/10/10
 Using GIS to simulate tsunami evacuation guidance signs for the hearing impaired Ryo Horiike, Hisao Nakai, Tomoya Itatani, Fumie Shirai, Kaoru Konishi 

PLos One

 14 6 e0217512 2019/06/06
 Development of "Participant-type disaster preparedness system: K-DiPS" by the participation of people who need to be aware of disasters and professionals Hisao Nakai, Kenichiro Fukushima, Hideto Takebe, Hiroaki Azehara, Satoshi Nishi, Tomoya Itatani, Ryo Horiike 21 5 88-90 2019/05/12
 An Investigation into the Geographical Characteristics of Difficult Areas of Food Access in Mountainous Regions Using a Geographic Information System Ryo Horiike, Tomoya Itatani, Hisao Nakai, Fumie Shirai 

Japanese Journal of Cancer and Chemotherapy

 46 6 142-143 2019/05/01
 Investigation of the actual conditionsof users of a home-visiting bathing service based onthe long-term care insurance care ranking and factors affecting thejudgment of bathing possibility Kazuya Taira, Tomoya Itatani, Kei Kamide, Mikiko Ito 

Japanese Journal of Geriatrics

 56 1 51-58 2019/01/25 
 Using GIS to identify factors that impede escape from a tsunami: Case study of mentally handicapped individuals registered with Employment Support Offices for the Disabled Hisao Nakai, Tomoya Itatani, Ryo Horiike 

Journal of Japan Society of Disaster Nursing

 20 2 37-47 2018/12/31
 Disaster preparedness among families of older adults taking oral medications Kaoru Kyota, Keiko Tsukasaki, Tomoya Itatani 

Journal Home Health Care Services Quarterly

 37 4 1-11 2018/12/01
 Development of matching system of regional needs and resources using geographic information system Tomoya Itatani, Kaoru Kyota, Keiko Tsukasaki, Ryo Horiike 

Regional Caring

 20 7 89-91 2018/07/12
 Tsunami evacuation simulation using geographic information systems for homecare recipients depending on electric devices Hisao Nakai, Tomoya Itatani, Ryo Horiike, Kaoru Kyota, Keiko Tsukasaki 

PLOS ONE

 13 6 e0199252 2018/06/21 
 A Study on the Number of Offices for Home-Visit/Outpatient Day Long-Term Care in Noto Area, Based on Estimated Population―Analysis Using the Geographic Information System― Tomoya Itatani, Ryo Horiike, Hisao Nakai, Kaoru Kyota, Keiko Tsukasaki,  

Japanese Journal of Cancer and Chemotherapy

 45 4 29-31 2018/03/01
 Identifying the Regional Features in the Visiting Nursing Station Trade Area Using GIS Ryo Horiike, Tomoya Itatani, Hisao Nakai, Fumie Shirai 

Japanese Journal of Cancer and Chemotherapy

 45 4 27-28 2018/03/01
 The correlation between attitudes toward evacuation in the event of a natural disasters and the status of home health care of family caregivers Seika Nishiyama, Mizuki Hamo, Keiko Tsukasaki, Riho Kimura , Hiromi Sugihara , Yuri Hayashi, Yurina Miyazaki, Natsumi Yokogawa, Kaoru Kyota, Tomoya Itatani 

Journal of Wellness and Health Care

 41 2 179-182 2018/01/31
 Predictors of potentially harmful behaviour by family caregivers towards patients treated for behavioural and psychological symptoms of dementia in Japan Daisuke Toda, Keiko Tsukasaki, Tomoya Itatani, Kaoru Kyota, Shoryoku Hino, Tatsuru Kitamura 

PSYCHOGERIATRICS

 2017/07/10 
 Content Analysis of Student Essays after Attending a Problem-Based Learning Course: Facilitating the Development of Critical Thinking and Communication Skills in Japanese Nursing Students Tomoya Itatani, Kyoko Nagata, Kiyoko Yanagihara, Noriko Tabuchi  

Healthcare

 5 3 2017/08/22 
 Influences of care dependency on attitudes toward evacuation among elderly community residents Kaoru Kyota, Tomoya Itatani, Keiko Tsukasaki 

Journal of the Tsuruma Health Science Society, Kanazawa University.

 40 23-32 2017/02/20
 Awareness of the necessity of support provided at the time of a natural disaster among the elderly living in the community and influencing factors- Implementation of disaster prevention health education for individual elderly people - Kaori Yamamoto, Manaka Sugita, Nozomi Sasaki, Sae Shimizu, Yukie Taka, Sayako Harada, Saki Minami, Yuka Yamamoto, Yutaka Yushita, Keiko Tsukasaki, Kaoru Kyota, Tomoya Itatani 

Journal of the Tsuruma Health Science Society, Kanazawa University

 40 2 77-84 2017/02/20
 A Study of Job Retention among Nurses Engaged in Home-Visit Bathing Services Tomoya Itatani, Kazuya Taira, Mikiko Ito 

Japanese Journal of Cancer and Chemotherapy

 43 Supplement Ⅰ 71-73 2016/12/01
 Factors Related to Evacuation Intentions of Power-Dependent Home Care Patients in Japan Hisao Nakai, Keiko Tsukasaki, Kaoru Kyota, Tomoya Itatani, Reiko Nihonyanagi 

Journal of Community Health Nursing

 33 4 196-208 2016/10/17 
 Load on low back muscles during home care activities: experimental study involving novice caregivers Kaoru Kyota, Keiko Tsukasaki, Katsuyuki Shibata, Tomoya Itatani, Teruhiko Kido 

Journal of the Tsuruma Health Science Society Kanazawa University

 40 1 45-54 2016/07/29
 Development of a population transition statistics visualization tool and utilization in community assessment training Okamoto Rie, Omote Shizuko, Ichimori Akie, Ohata Yuki Itatani Tomoya, Kyota Kaoru, Tsukasaki Keiko, Kido Teruhiko 

Journal of the Tsuruma Health Science Society, Kanazawa University

 40 1 103-106 2016/07/29
 Disaster preparedness and factors associated with evacuation behavior recognition in community-dwelling elderly Kyota Kaoru, Itatani Tomoya, Tsukasaki Keiko, Sasaki Nozomi, Shimizu Sae, Sugita Manaka, Taka Yukie, Harada Sayako, Minami Saki, Yamamoto Kaori, Yamamoto Yuka, Yushita Yutaka 

Journal of the Tsuruma Health Science Society, Kanazawa University

 40 1 83-91 2016/07/29
 Cost-benefit analysis of the rubella vaccination in Japan to prevent congenital rubella syndrome: analyses from three perspectives Tomoya Itatani, Chika Honda, Kazuo Hayakawa, Kaoru Konishi 

Biomedical Research and Clinical Practice

 1 2 27-35 2016/04/08 
 Strengthening Cooperation between Medical and Nursing Care - A Collaborative Meeting of Home Care Doctors and Care Managers in Shinjuku-City Tomoya Itatani 

Japanese Journal of Cancer and Chemotherapy

 42 14 3-4 2015/12/01
 Cost-effectiveness analysis of a pertussis vaccination programme for Japan considering intergenerational infection Tomoya Itatani, Sachiko Shimizu, Maya Iwasa, Yasushi Ohkusa, Kazuo Hayakawa 

Vaccine

 6 31 2891-7 2013/04/06 
Conference Presentations
Descriptive Epidemiological Study on Medical Expenses by Combining Medical Examination and Medical Receipt Data in Hakui City, Ishikawa Prefecture(conference:6th International Conference of Global Network of Public Health Nursing)(2022/01/08)
Medical needs of disaster vulnerable people(conference:The first international workshop on Integrated Community Care-system and Area Management: Supports for the socially vulnerable at the time of natural disasters. 2020.10.13. web conference.)(2020/10/13)
Home visiting bathing services-Unique long-term care featuring Japanese culture-(conference:8th French-Japanese International Bioethics Conference)(2018/08/02)
Status and evaluation of in home-visit bathing services offered under long-term care insurance in Japan: A survey of service users.(conference:TNMC&WANS International Nursing Research Conference)(2017/10/20)
Status and Problems in Home-visit Bathing Service offerd under Nursing-care Insurance(conference:The 15th East Asian Forum of Nursing scholars (EAFONS) International Conference)(2013/02/21)
Others
Arts and Fieldwork
Patent
Theme to the desired joint research
○End of life care
Grant-in-Aid for Scientific Research
○「予防型地域政策のための統合データベースの開発と共創的域学連携プロセスの研究」(2021-2023) 
○「Covid-19の下でのSCの変化が高齢者医療・介護に及ぼす影響に関する調査分析」(2021-2023) 
○「予防型地域政策のための統合データベースの開発と共創的域学連携プロセスの研究 」(2021-2023) 
○「Covid-19の下でのSCの変化が高齢者医療・介護に及ぼす影響に関する調査分析」(2021-2023) 
○「非標準的治療等の選好の検討を通した多文化にセンシティブなインタラクションの支援」(2021-2024) 
○「医療的ケア児の医療物資をiPadで画像認識しIoTで管理する災害備蓄アプリの開発」(2020-2022) 
○「グループホームにおける認知症高齢者の自助・互助の活動指標の構築と地域創生の発展」(2018-2021) 
○「多死を迎える能登の健やかな看取り環境創造のための住民参加型まちづくりモデル」(2020-2023) 
○「医療的ケア児の参画とテクノロジーの融合による当事者参画型災害備えシステムの開発」(2020-2023) 
○「在宅認知症者に対する介護支援専門員の基礎資格によるケアプランの特徴と新担当構想」(2017-2019) 
○「情報通信技術を用いた発達障害児災害危機管理システムの開発」(2017-2019) 
○「GISによる地域支援事業と地域ニーズのリアルタイム可視化システムの開発」(2016-2019) 
○「医療処置を要する在宅療養者と支援者による災害備えチェックシートの開発」(2014-2016) 
○「在宅療養者と介護家族に対する災害時の健康管理支援と教育プログラムの構築」(2013-2017) 
Competitive research funding,Contribution
Collaborative research,Consignment study
Classes (Bachelors)
○Advanced Nursing: Clinical Practice(2021)
○Nursing Research: Practice(2021)
○Medical care Welfare Administration Theory(2021)
○Statistics for Health: Skills Laboratory(2021)
○Home Health Nursing(2021)
○Introductory Statistics for Nursing(2021)
○Public Health Nursing: Laboratory Practice(2021)
○Introduction to Community Health Care and Welfare Systems(2021)
○Public Health Nursing: Laboratory Practice(2021)
○Home Health Nursing: Laboratory Practice(2021)
○Public Health Nursing: Practice(2021)
○Home Health Nursing: Practice(2021)
○Fundamental community health nursing: practice(2021)
○Epidemiology: Skills Laboratory(2021)
○Epidemiology: Skills Laboratory(2020)
○Public Health Nursing: Laboratory Practice(2020)
○Introductory Statistics for Nursing(2020)
○Fundamental community health nursing: practice(2020)
○Medical care Welfare Administration Theory(2020)
○Home Health Nursing: Laboratory Practice(2020)
○Public Health Nursing: Practice(2020)
○Home Health Nursing: Practice(2020)
○Public Health Nursing: Laboratory Practice(2020)
○Statistics for Health: Skills Laboratory(2020)
○Home Health Nursing(2020)
○Introduction to Community Health Care and Welfare Systems(2020)
○Home Health Nursing(2019)
○Home Health Nursing: Practice(2019)
○Statistics for Health: Skills Laboratory(2019)
○Introductory Statistics for Nursing(2019)
○Fundamental community health nursing: practice(2019)
○Community diagnosis for nursing practice(2019)
○Epidemiology: Skills Laboratory(2019)
○Public Health Nursing: Laboratory Practice(2019)
○Nursing Research: Practice(2019)
○Introduction to Community Health Care and Welfare Systems(2019)
○Public Health Nursing: Laboratory Practice(2019)
○Public Health Nursing: Practice(2019)
○Advanced Nursing: Clinical Practice(2019)
○Introduction to Social Security(2019)
○Medical care Welfare Administration Theory(2019)
○Home Health Nursing: Laboratory Practice(2019)
○Introduction to Community Health Care and Welfare Systems(2018)
○Statistics for Health: Skills Laboratory(2018)
○Home Health Nursing(2018)
○Public Health Nursing: Laboratory Practice(2018)
○Home Health Nursing: Laboratory Practice(2018)
○Public Health Nursing: Practice(2018)
○Fundamental community health nursing: practice(2018)
○Epidemiology and Statistics for Health: Skills Laboratory(2018)
○Public Health Nursing: Laboratory Practice(2018)
○Nursing Research: Practice(2018)
○Home Health Nursing: Practice(2018)
○Advanced Nursing: Clinical Practice(2018)
○Epidemiology and Statistics for Health: Skills Laboratory(2017)
○Home Health Nursing: Laboratory Practice(2017)
○Home Health Nursing: Laboratory Practice(2017)
○Nursing Research: Practice(2017)
○Statistics for Health: Skills Laboratory(2017)
○Home Health Nursing(2017)
○Public Health Nursing: Laboratory Practice(2017)
○Home Health Nursing: Laboratory Practice(2017)
○Guidance for Community Health Nursing(2017)
○Statistics for Health: Skills Laboratory(2017)
○Introduction to Community Health Care and Welfare Systems(2017)
○Home Health Nursing: Practice(2017)
○Guidance for Community Health Nursing(2017)
○Public Health Nursing: Practice(2017)
○Public Health Nursing: Practice(2017)
○Public Health Nursing: Laboratory Practice(2017)
○Fundamental community health nursing: practice(2017)
○Introductory Statistics for Nursing(2017)
○Introduction to Region-studies(2016)
○Home Health Nursing: Laboratory Practice(2016)
○Home Health Nursing: Practice(2016)
○Public Health Nursing: Laboratory Practice(2016)
○Epidemiology: Skills Laboratory(2016)
○Public Health Nursing: Practice(2016)
○Fundamental community health nursing: practice(2016)
○Presentation and Debate (Freshman Seminar II)(2016)
○Freshman Seminar I(2016)
○Guidance for Community Health Nursing(2016)
○Introductory Statistics for Nursing(2016)
○Home Health Nursing(2016)
○Statistics for Health: Skills Laboratory(2016)
Classes (Graduate Schools)
○Public Health and Home Care Nursing: Seminar(2021)
○Public Health and Home Care Nursing: Lecture(2021)
○Preventive Medicine(2021)
○Preventive Medicine(2020)
○Public Health and Home Care Nursing: Lecture(2020)
○Preventive Medicine(2019)
○Public Health and Home Care Nursing: Seminar(2019)
○Public Health and Home Care Nursing: Lecture(2019)
○Preventive Medicine(2018)
○Public Health and Home Care Nursing: Seminar(2018)
○Public Health and Home Care Nursing: Lecture(2018)
○Preventive Medicine(2017)
○Public Health and Home Care Nursing: Seminar(2017)
○Public Health and Home Care Nursing: Seminar(2017)
○Public Health and Home Care Nursing: Seminar(2017)
○Public Health and Home Care Nursing: Lecture(2017)
○Preventive Medicine(2016)
International Project
International Students
Lecture themes
Others (Social Activities)