Professor TORII Kazuyuki
Faculty, Affiliation
Faculty of Geosciences and civil Engineering,Institute of Science and Engineering  Department of Environmental Design
College and School Educational Field
Division of Environmental Engineering Design, Graduate School of Natural Science and Technology
Division of Environmental Science and Engineering, Graduate School of Natural Science and Technology
School of Environmental Design, College of Science and Engineering
Laboratory
Civil Engineering Materials Laboratory TEL:076-234-4620 FAX:076-234-4620
Academic Background
【Academic background(Doctoral/Master's Degree)】
Kanazawa University Master 197803 Completed
【Academic background(Bachelor's Degree)】
Kanazawa University  197503
【Degree】
Ph. D
Career
Kanazawa University Faculty of Science & Engineering Professor(1996/08/01-)
Year & Month of Birth
1953/02
Academic Society




Japan Society of Corrosion Engineering
Japan Society of Prestressed Concrete Engineers
Award
Japan Society of Prestressed Concrete Engineers
○Best paper Prize of Japan Society for Prestressed Concrete Engineers(2016/05/24)
○Best paper Prize of Japan Society for Prestressed Concrete Engineers(2016/05/24)
○Environmental Prize of Japan Society for Civil Engineers(JSCE)(2015/05/25)
○SMCT International Conference Excellent Papers award(2013/08/20)
○Best Paper Award of Japanese Materials Society (2011/05/24)
○JCI Contribution Award(2009/05/30)
○JCI Technical Award(2007/05/25)
○JCA Best Paper Award(2005/05/25)
○Best Paper of AAR Conference Award(2000/06/22)
○Best Paper of AAR Conference Award(2000/06/22)
○ Excellent paper of AAR Conference(1992/07/25)
○ Excellent paper of AAR Conference(1992/07/25)
○ Excellent paper of AAR Conference(1992/07/25)
○ Excellent paper of AAR Conference(1992/07/25)
○ Excellent paper of AAR Conference(1992/07/25)
Specialities
Civil engineering materials/Construction/Construction management
Speciality Keywords
Concrete Technology ,Civil Engineering Materials, Maintenance Engineering,Durability of Concrete, Alkali Silica Reaction
Research Themes
Durability of Concrete Structures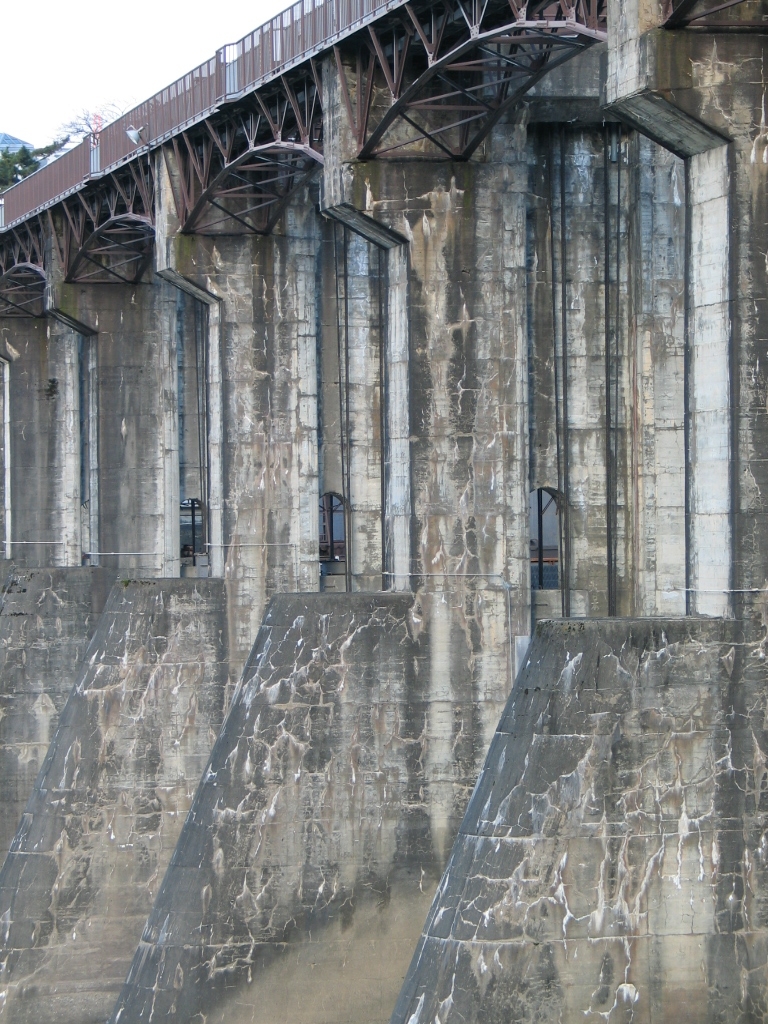 In the Hokuriku District, steel corrosion and alkali-silica reaction (ASR) due to salt damage have become a significant problem with regard to the durability of concrete structures. As a Ministry of Land, Infrastructure, Transport and Tourism Bridge Doctor, Fukui Prefecture Bridge Life Extension Task Force Chair, and Ishikawa Prefecture ASR Task Force Chair, I address the problems of salt damage and maintenance of ASR-deteriorated bridges. The picture shows the cracked condition of a dam with ASR. The development of technology for inspection and diagnosis, and repair and reinforcement of such structures has become important.
Effective Utilization of Industrial By-products as a Material for Concrete
In the Hokuriku District, there are coal-fired power plants in Toyama, Ishikawa, and Fukui Prefectures, and the use of the large amount of coal ash (clinker ash, fly ash) that is generated by them as a construction material has become a problem. I have worked for many years on its use as a road material (subbase and filling material) and concrete mixture material with regard to its effective use as a construction material. The picture shows the exterior appearance of a concrete sample model. There are 36 similar models exposed on piers of Toyama New Port, and I examine age-related deterioration of fly ash containing concrete.
Strength Development of Ultra High-strength Concrete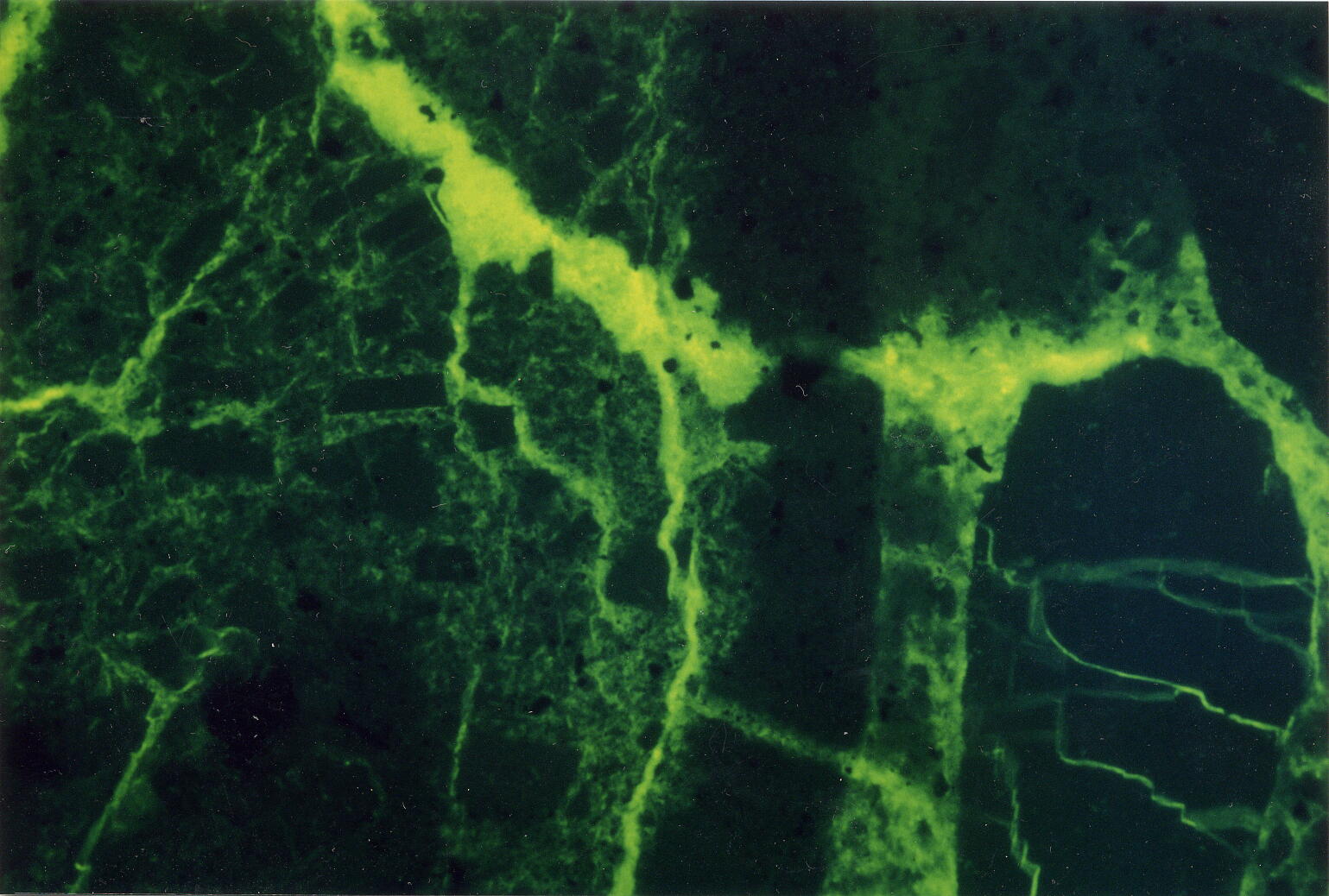 High-strength concrete over 100MPa has become available as a construction material with the development of high-performance AE water-reducing agent and silica fume cement. I have been researching the microscopic structure and strength-developing mechanism of high-strength concrete, and aim to promote the use of concrete of both excellent strength and durability for long bridges and high-rise buildings. The picture shows the condition of emerging microscopic cracks of fluorescent resin paint impregnating concrete. I believe the mechanism of concrete deterioration can be explained through quantification of such cracks and spaces.
Utilization of Industrial By-products as a Concrete Material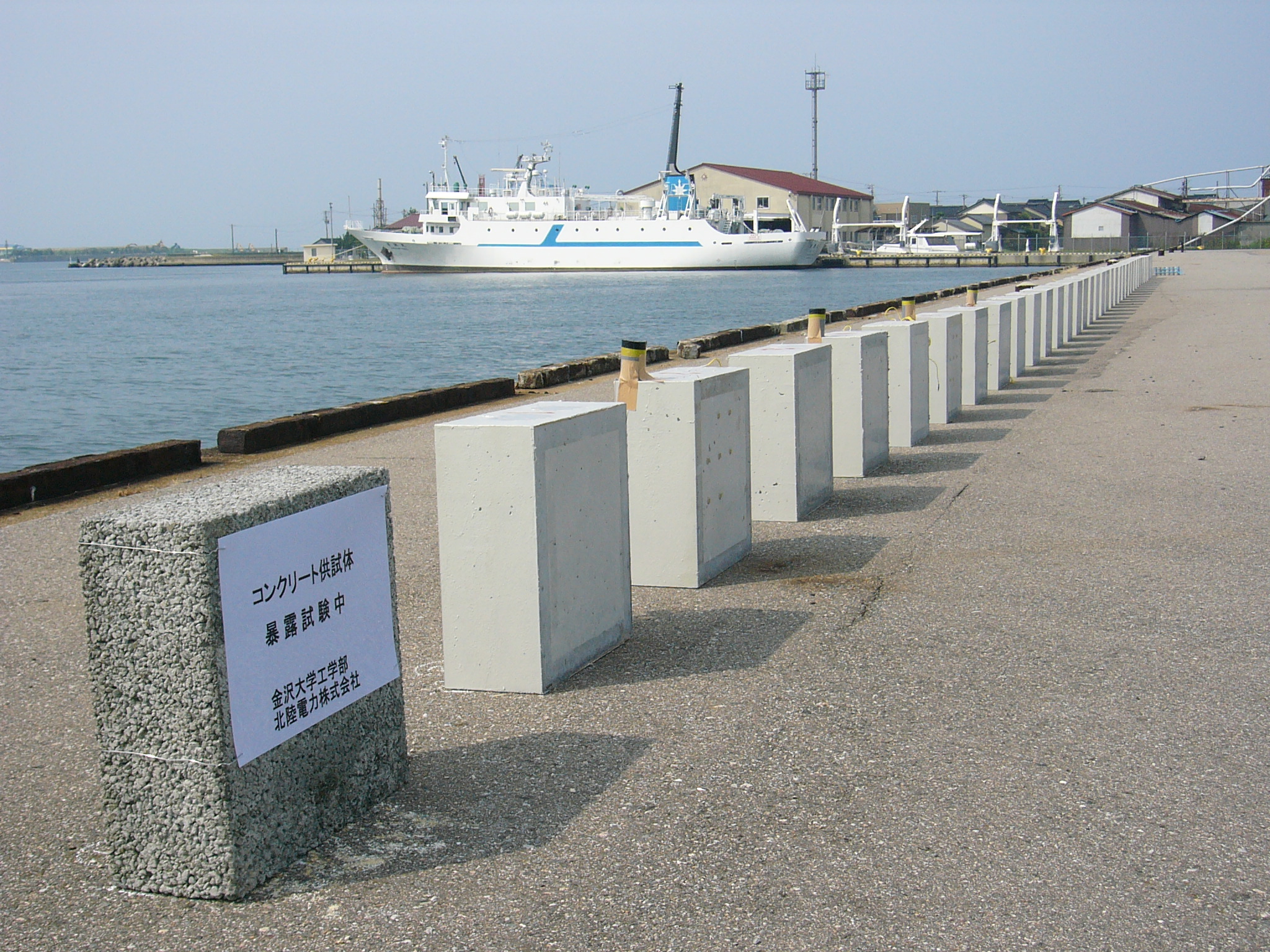 There are coal-fired power plants operating in Toyoma, Ishikawa and Fukui prefectures in the Hokuriku District, and efficient use of the coal ash (clinker ash, fly ash) that is produced in those plants as construction material has been attracting attention from the perspective of local production for local consumption. As part of a research project conducted in collaboration with Hokuriku Electric Power, I study the durability of concrete mixed with fly ash. The picture shows the exterior view of test models exposed at Toyama New Port. I monitor age-related deterioration of the concrete test models by electrochemical measurement.
Maintenance and renewal of Infrastructure
Books
Papers
 Beneficial Effect of Fly Ash on Chloride Diffusivity of Hardened Cement Paste 

Int. J. of Cement and Concrete Research

 29 4 585-590 1999/04
 Characterization of Ecocement Pastes and Mortars Produced from Incinerated Ashes 

Int. J. of Cement and Concrete Research

 31 3 431-436 2001/03
 Combined Effects of Carbonation and Chlorides on Steel Corrosion in Ecocement Mortars 

コンクリート工学年次論文集

 24-1 565-570 2001/07
 Evaluation of Resistance to Chloride Penetration of Various Concretes Using Rapid Chloride Permeability Test (AASHTO T277-83), 

Concrete Library International

 32 1998/12
 A Preliminary Study on Chloride Induced Steel Corrosion of Ecocement Mortar Produced from Incinerator Ash under Wetting and Drying Conditions 

Proc. of 3 rd Ineter. Conf. on Concrete under Severe Conditions

 1 293-300 2001/06
 A Study on the Corrosive Behavior of Steel Bars in Ecocement-Blastfurnace Slag Mortars 

コンクリート工学年次論文報告集

 22-2 1003-1008 1999/06
 Application of Rapid Chloride Permeability Test to Evaluate the Chloride Ion Penetration into Concrete 

Proc. of 4th Inter Conf. on Durability of Concrete

 1 421-436 1997/08
 Chloride Induced Corrosion of Steel Bars Embedded in Ecocement-Blast furnace Slag 

Proc. of 7th Inter Conf. on Fly Ash, Silica Fume, Slag and Natural Pozzolans in Concrete

 2 681-690 2001/08
 Chloride Penetration into Concretes Incorporating Mineral Admixtures in Marine Environment 

Proc. of 6th Inter Conf. on Fly Ash, Silica Fume, Slag and Natural Pozzolans in Concrete

 2 701-706 1998/06
 Corrosive Behavior of Steel Bars Embedded in Cement Mortars Using Different Types of Ecocement 

コンクリート工学年次論文集

 23-1 157-162 2000/06
 Evaluation of Chloride Permeability of Concretes Incorporation Blast-Furnace Slag Using Electric Migration Test 

Proc of 2nd Inter. RILEM/CSIRO/ACRA Conf. on Rehabilitation of Concrete Structures

 489-497 1998/09
 Evaluation of Chloride Permeability of Surface Coating Materials by Rapid Chloride Permeability Test, 

Proc. of 2nd East Asia Sympo. on Polymers in Concrete

 381-390 1997/05
 Evaluation of Resistance to Chloride Penetration of Repair Materials 

Proc of 2nd Inter. RILEM/CSIRO/ACRA Conf. on Rehabilitation of Concrete Structures

 608-617 1998/09
 Influence of Cathodic Protection on Expansion and Structural Behavior of RC Beams Containing Alkali-Reactive Aggregates 

Proc. of East Asia Alkali Aggregate Reaction Seminar

 231-242 1997/11
 Influence of Migrating Corrosion Inhibitor on Steel Corrosion in Concrete in Cyclic ponding Test 

Proc. of 6th Inter. Conf. on Structural Failure, Durability and Retrofitting

 135-141 2000/09
 Interfacial Effects of Cathodic Protection on Alkali-Silica Reaction in Reinforced Concrete Beams 

Proc. of 5th Inter. Conf. on Durability of Concrete

 2 859-872 2000/06
 Mechanical Properties and Durability Aspects of High-volume Fly Ash Porous Concretes 

Proc. of the 20th Biennial Conference of the Concrete Institute of Australia

 665-671 2001/09
 Monitoring of Chloride Induced Corrosion of Rebars Embedded in Ecocement Mortars 

Proc. of Inter. Conf. on Infrastructure Regeneration and Rehabilitation

 543-552 1999/06
 Rehabilitation for ASR Affected Reinforced Concrete Piers, Proc. of 9th Inter 

Conf. on Durability of Building Materials and Components

 1 231?238 2002/03
 Strengthening Method for ASR Affected Concrete Piers Using Prestressing Steel Wire 

Proc. of 11th Inter. Conf. on AAR in Concrete

 1225-1233 2000/06
 Strengthening Method with Prestressing Steel Wires for ASR-Damaged Reinforced Concrete Columns 

Proc of 2nd Inter. RILEM/CSIRO/ACRA Conf. on Rehabilitation of Concrete Structures

 38-47 1998/09
 The Benificial Effect of Blast-Furnace Slag on Chloride Induced Corrosion of Steel Bars Embedded in Mortars 

Proc. of 6th Inter. Conf. on Structural Failure, Durability and Retrofitting

 157-164 2000/09
 Compatibility between Ecocement Produced from Incinerator Ash and Reactive Aggregates in ASR Expansion of Mortars 

CEMENT AND CONCRETE RESEARCH

 33 4 571-577 2003/04
 Strengthening and Repair Methods of RC Piers Deteriorated by Alkali-silica Reaction, Proc. of Inter. Seminar on Road Construction Materials 1 42-53 2003/10
 A Proposal for Rehabilitation of ASR-affected Bridge Piers with Fractured Steel Bars Daidai, T., Torii, K. 2008/06
 The Alkali-leaching Property of Sands and Inspection on Alkali-leaching from Aggregate in Structures Nomura, M., Torii, K. 1054-1063 2008/06
 Strengthening and Monitoring Techniques for ASR-affected Footing of Bridge Pier Okuyama, K., Ishii, K., Okuda, Y., Torii, K. 1064-1073 2008/06
 Suppressing Effect of Various Mineral Admixtures on Combined Deterioration Caused by ASR and Chloride Attack Sannoh, C., Torii, K. 1166-1175 2008/06
 A Survey on ASR-affected Bridge Piers with Fracture of Steel Bars on Noto Expressway Torii, K., Wasada, S.,Sasatani, T., Minato, T. 1017-1022 2008/06
 Mechanisms of Fracture of Steel Bars in ASR-affected Bridge Piers Torii, K., Yamato, H., Andrade, O., Tarui, T. 2 1139-1146 2008/09
 Alkali-silica Reactivity of Recycled Aggregate Concretes with Andesite Crushed Stone Sato, Y. Torii, K., Sugiyama, A., Shimizu, K. 2  1155-1162 2008/09
 Comparison of Cl- and I- ion Diffusivity Through Hardened Pozzolanic Cement Pastes Osvaldo, A., Mihara,M., Torii,K 31 1 217 2009/07
 The Sodium and Chloride Ion Diffusivity of Hardened high Volume Pozzolanic Cement Pastes Osvaldo, A., Mihara, M., Torii,K 

Proc. of 4th International Conference on Construction Materials: Performance Innovations and Structural Implications

 1088 2009/08
 The Mechanisms of Brittle Fracture of Steel bar due to Excessive ASR Expansion of Concrete Torii,K., Yamato,H 

Proc. of 4th International Conference on Construction Materials: Performance Innovations and Structural Implications

 103 2009/08
 The Mechanisms of Alkali Silica Reaction Induced by Sodium Salts Released from Radioactive Waste Materials Osvaldo, A., Torii, K. 439
 A Survey on Reactive Aggregates and ASR-deteriorated Bridges on Noto Expressway in Ishikawa Prefecture Minato, T., Torii, K. 507 2010/11
 The Characteristic Feature of Fracture of Steel Reinforcement in ASR-deteriorated Concrete Structures 

Int. J. of Corrosion Engineering

 59 4 59 2010/11
 The Mechanisms of Alkali Silica Reaction in Mortars Immersed in Sodium Sulphate and Phosphate Solutions Osvaldo, A., Nomura, M., Yamato. A., Torii, K. 33 10 1025 2011/07
 The Mechanisms of ASR in Concrete Exposed to Deicers and its Preventive Measures by Pozzolans Osvaldo, A., Torii, K. 2011/07
 The Cracking of Prestressed and Precast Concrete Members Deteriorated by Alkali-Silica Reaction 2011/08
 The Chloride Ionic Diffusivity of Hardened Low alkaline Pozzolanic Cemen Osvaldo, A., Torii, K. 2011/07
 The Assessment on ASR of Aggregates and ASR Mitigation Effect by Fine Fly Ash Hashimoto, T., Torii, K. 

Journal of Advanced Concrete Technology

 42 2 65-71 2015/09
 The Strengthening of an ASR-afffcted Water Intake Tower in a Hydro-Electric Dam by Using Post-tensioned Tendons and the Long-term Monitoring of Tower Torii, K., Kubo, T., Sannoh, T, Kanitani, M. 

Journal of Advanced Concrete Technology

 14 384-396 2016/08
 ASR Found in Thailand and Tropical regions of southeast Asia Hirono, S., Ando, Y, Satoh, T., Yamada, K., Kagimoto, H., Torii, K. 

Proceedings of 15th ICAAR Conference

 CD-R 10pages 2016/07
 The Reinforcement of An ASR Affected Intake Tower Using Post-tensioned Tendons Kubo. T., Shibata, T., Sannoh, C., Torii, K. 

Proceedings of 15th ICAAR Conference

 CD-R 10pages 2016/07
 The Alkali-Silica Reactivity of Volcanic Aggregates and Its Preventive Measure Using Fine Fly Ash, Torii, K., Hashimoto, T., Kubo, T., Sannoh, C. 

Proc. of 14th EASEC

 CD-R 10pages 2016/01
 The Cathodic Protection of Concrete Structures in Japan and Applicability of RC Slab Damaged by De-icing Salt Ura, S. , Aoyama, T., Ishii, K., Torii, K. 

Proc. of 14th EASEC

 CD-R 10pages 2016/01
 ASR Problems in Japan and a Message from ASR Found in Thailand Hirono, S., Yamada, K., Ando, Y., Torii, K. 

Proceedings of 14th Inter. Conf. on Cement Chemistry

 CD-R 10pages 2015/10
 The Effectiveness of Mineral Admixtures and Low Water to Cement Ratio in Concrete for Immobilizing Cesium, Sodium and Iodine from Radioactive Waste Material Prasetia, I., Torii, K. 

Proceedings of Inter. Conf. on Concrete 2015

 CD-R 10pages 2015/09
 Attempts to Implement the Use of Concrete Produced from Dredged Seabed Sand and Fly Ash Blended with Seawater in the Hokuriku District Sannoh, C., Kubo, T., Fukudome, K., Torii, K. 

Proceedings of 39th Inter. Conf. on Our World in Concrete & Structure

 CD-R 8pages 2015/09
 A Comparative Study on Ion Diffusivity of Sodium Chloride and Calcium Chloride through Hardened Cement Paste Tsuda, M., Torii, K. 

Proceedings of Inter. Conf. of Regeneration and Conseavation of Concrete Structure

 CD-R 8pages 2015/07
 State of the Art in Repair and Strengthening Method of Deteriorated Concrete Bridge Structures in Japan Prasetia, I., Torii, K. 

Proceeding of ASEA-SEC 2

 CD-R 6pages 2014/10
 Comparison of ion Diffusivity of Sodium Chloride Through Hardened Cement Paste Tsuda, M., Torii, K. 

Proceedings of 6th Inter. Conf. of Asian Concrete Federation

 CD-R 6pages 2014/09
 The Field Survey on Actual Situation of ASR-affected Tunnels and its Countermeasures in Hokuriku District, Japan Asada, M., Torii, K. 

Proceedings of 6th Inter. Conf. of Asian Concrete Federation

 CD-R 6pages 2014/09
 The Measurement of Ion Diffusivity of Cesium and Sodium Iodide through Cement Pastes from Radioactive Waste Material Prasetia, I., Yamato, H., Torii.K. 

Proceedings of 6th Inter. Conf. of Asian Concrete Federation

 CD-R 6pages
 The Suppressing Effect of Flyashes on Alkali-silica Reaction of RC Specimens Exposed on Seashore Sannoh, C., Torii, K. 

Proceedings of 6th Inter. Conf. of Asian Concrete Federation

 CD-R 6pages
 The effect of Fly Ashes on the ASR Mitigation in Concrete with Combination of Calcium Carbonate Aggregate and Andesite Aggregate Prasetia, I., Nakajima, T., Torii, K. 

Proceedings of the Japan Concrete Institute

 36 1 1096-1101 2014/07
 A Development of Environmentally-Friendly and Highly-Durable Concrete Using Classified Fly Ash Hashimoto, T., Kubo,T., Sannoh. C., Torii, K. 

Proceedings of Concrete Innovation Conference CIC2014

 CD-R 12 pages 2014/07
 The Development of Highly Durable Concrete Using Classified Fine Fly Ash in Hokuriku District Hashimoto,T., Torii,K. 

Journal of Advanced Concrete Technology

 11 312-321
 Diffusion Properties of Sodium and Lithium Silicates through Cement Pastes and its Mitigating Effect on Alkali-silica Reaction 

Proceedings of Mechanics and Physics of Creep, Shrinkage, and Durability of Concrete

 142-149 2013/09
 The diagnosis of Severely Damaged RC bridge Piers with Fracture of Steel Bars due to Alkali-silica Reaction Komatsubara, A., Nomura, M., Torii, K. 

Proceedings of the 3rd International Conference on Sustainable Construction Materials and Technologies

 CDR 10pages
 Evaluation of Maintenance Methods for ASR-damaged Structures in Hokuriku district, Japan Nomura, M.,Komatsubara, A., Torii, K, 

Proceedings of the 3rd International Conference on Sustainable Construction Materials and Technologies

 CD-R 10pages 2013/08
 The Mitigating Effect of ASR Expansion in PC Girder and PCa Product by Using High-quality Fly Ash Prasetia, I, Torii, K. 

Proceedings of the 3rd International Conference on Sustainable Construction Materials and Technologies

 CDR 10pages 2013/08
 The Effective Utilization of Classified Fine Fly Ashes for Production of Highly-Durable Concrete Torii, K., Hashimoto, T., Kubo, T., Sannoh, C. 

Proceedings of the 3rd International Conference on Sustainable Construction Materials and Technologies

 CD-R 10pages 2013/08
 The Suppressing Effect of Fly Ash on ASR under Outdoor Exposure Conditions at the Seashore Sannoh, C., Hashimoto, T., Torii, K. 

Proceedings of the 3rd International Conference on Sustainable Construction Materials and Technologies

 CD-R 8pages
 The Mitigation Effects of Lithium and Sodium Compounds on Alkali-silica Reaction of Concretes 35 1 1027-1032 2013/07
 The Combined Deterioration of Prestressed Concrete bridge Girders Caused by Alkali-Silica Reaction and Chloride Induced Steel Corrosion Asada, M., Ishii, K., Torii, K. 

Proceedings of the 7th International Structural Engineering and Construction Conference

 479-489 2013/07
 Corrosion Characteristics of Reinforcement in Concrete Structures Subjected to ASR and Seawater Attack in Marine Environment CD-R (8pages)  2012/06
 The Maintenance and Rehabilitation Techniques for ASR Affected Bridge Piers with Fracture of Steel Bars CD-R (8pages)  2012/06
 The Maintenance and Rehabilitation Techniques for ASR Affected Bridge Piers with Fracture of Steel Bars CD-R (8pages)  2012/06
Conference Presentations
The Effective Utilization of Classified Fine Fly Ashes for Production of Highly-Durable Concrete(conference:SCMT-3)
Arts and Fieldwork
Patent
Theme to the desired joint research
○Production of Highly-Durable Concretes using Classified Fine Fly Ashes
○Inspection of Concrete Structures
○Rehabilitation for ASR Affected Structures
○Effective Utilization of fly Ashes as Construction Materials
Grant-in-Aid for Scientific Research
○「交流インピーダンス法によるコンクリートの鉄筋腐食の新しい検査法の開発」(1995-1996) 
○「PCコンファインド工法によるASR損傷鉄筋コンクリート橋脚の補強に関する研究」(1997-1998) 
○「直流電流作用下のRC構造物におけるアルカリ骨材反応の促進機構に関する実証的研究」(1998-2000) 
○「都市ゴミ焼却灰より作製したセメントのキャラクタリゼーションと鉄筋腐食性状」(2000-2001) 
○「我が国で最初のプレストレストコンクリート橋(長生橋、泰平橋)の解体調査」(2001-2003) 
○「鉄筋破断が発生したASR劣化橋脚の調査診断及び補強技術の実用化のための研究開発」(2004-2006) 
○「再生骨材におけるASRに関連した問題解決のための基礎研究」(2007-2009) 
○「放射性廃棄物中の高濃度アルカリ塩によるセメント硬化体の長期劣化現象と対策の提案」(2009-2011) 
○「高品質フライアッシュの活用によるpC橋梁・PCa製品の高耐久化への技術開発」(2012-2015) 
○「PCa電柱に発生した縦ひび割れの原因解明とその防止技術の開発」(2015-2017) 
Classes (Bachelors)
○Construction Materials 2(2017)
○Maintenance Engineering(2017)
○Highway Engineering(2017)
○Graduation thesis Or Design(2017)
○Construction Materials 1(2017)
○Practice of Environmental Design(2017)
○Maintenance Engineering(2016)
○Graduation thesis Or Design(2016)
○Graduation thesis Or Design(2016)
○Construction Materials 2(2016)
○Highway Engineering(2016)
○Construction Materials 1(2016)
Classes (Graduate Schools)
○Environmental Materials(2017)
○Design and Maintenance of Structures A(2017)
○Environmental Materials(2017)
○Environmental Materials(2017)
○Environmental Materials(2017)
○Exercise on Civil Engineering(2017)
○Design and Maintenance of Structures B(2017)
○Theme Project(2017)
○Theme Project(2017)
○Theme Project(2016)
○Theme Project(2016)
○Design and Maintenance of Structures B(2016)
○Design and Maintenance of Structures A(2016)
○Exercise on Civil Engineering(2016)
○Environmental Materials(2016)
International Project
International Students
Lecture themes
Others (Social Activities)