Associate Professor HASHIMOTO Takanori
Faculty, Affiliation
Faculty of Medicine, Institute of Medical, Pharmaceutical and Health Sciences
Associate Professor
College and School Educational Field
Division of Medical Sciences, Graduate School of Medical Science
Division of Medical Science, Graduate School of Medical Science
School of Medicine, College of Medical, Pharmaceutical and Health Sciences
Laboratory
Department of Psychiatry and Neurobiology TEL:076-265-2301 FAX:076-234-4254
Academic Background
【Academic background(Doctoral/Master's Degree)】
Graduate School for Advanced Studies Doctor School of Life Science Department of Physiological Sciences 199203 Completed
【Academic background(Bachelor's Degree)】
Niigata University School of Medicine 198903
【Degree】
M.D.
Ph.D.
Career
Research Associate, Laboratory of Neurochemistry, National Institute for Physiological sciences, Okazaki/Japan National Institute for Physiological Sciences(1992/04/01-1993/03/31)
Research Scientist, Mind Articulation Project, Japan Science and Technology Corporation, Tokyo/Japan(1997/04/01-2000/08/31)
Postdoctoral Fellow, Department of Psychiatry, University of Pittsburgh(2000/09/07-2003/06/30)
Assistant Professor, Department of Psychiatry, University of Pittsburgh(2003/07/01-2007/04/30)
Year & Month of Birth
Academic Society
The Japanese Society of Psychiatry and Neurology
Society for Neuroscience
Society of Biological Psychiatry
Japan Neuroscience Society
Award
○Best Research Award(2009/02/07)
○Young Investigator Award(2006/07/01)
○The Sidney R Baer JR Prize(2005/10/30)
○Young Investigator Award(2004/07/01)
○Travel Award for Excellent Presentation(2005/08/05)
○Best Poster Award(2003/02/01)
○Best Oral Presentation Award at WPIC Research Day(2003/06/07)
Specialities
Pathophysiology of Cognitive Deficits in Schizophrenia
Speciality Keywords
Schizophrenia, Cerebral Cortex, Pathophysiology
Research Themes
Neural Basis of Cognitive Dysfunction in Schizophrenia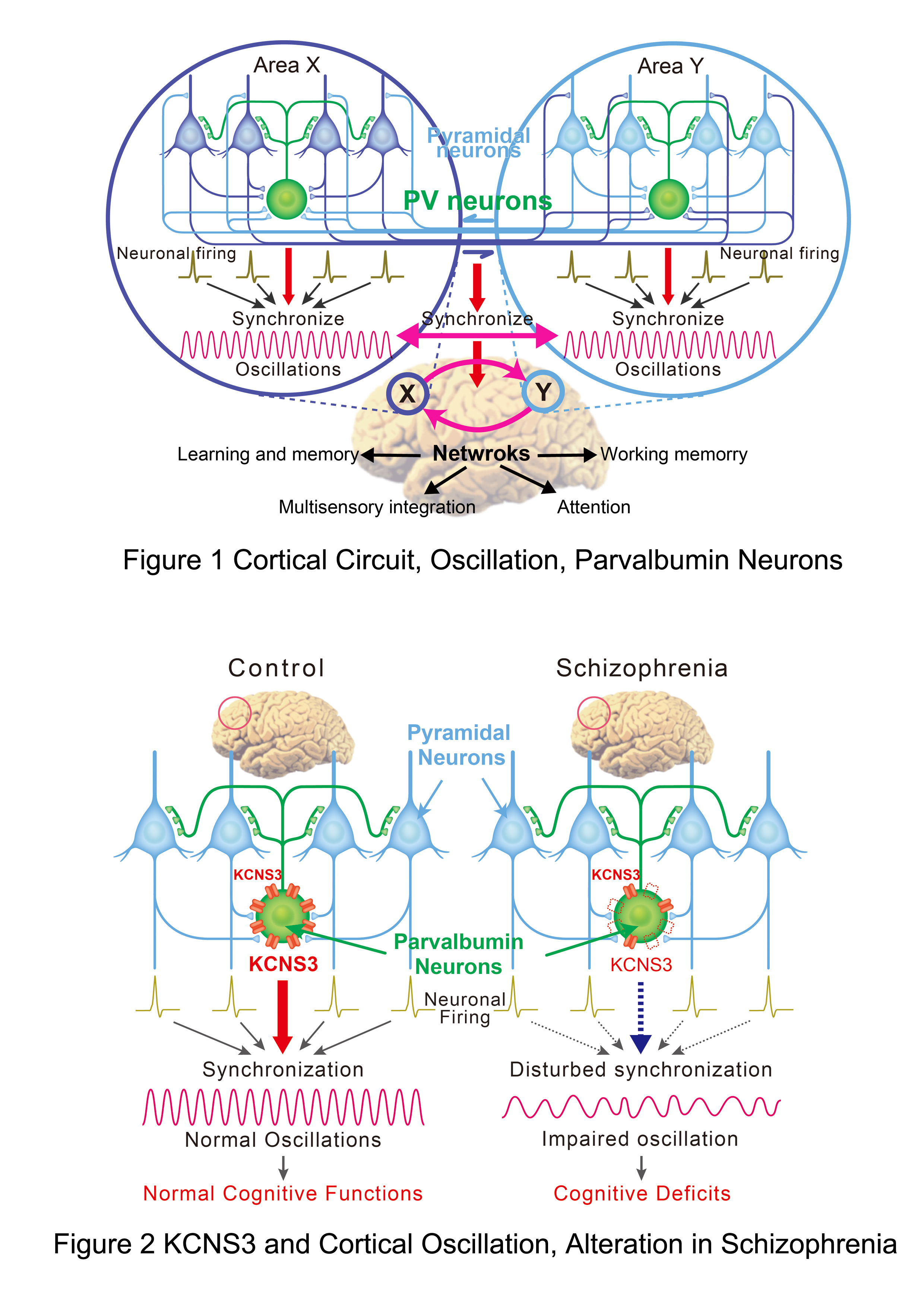 Schizophrenia is a severe mental disorder that affects about 1% of the world's population. The pathogenesis of this illness is thought to start during early brain development and affected individuals often come to clinical attention during late adolescence and early adulthood. Psychotic symptoms, such as delusion, hallucination, and disorganized behavior, are a striking feature of this disorder. However, even more serious problem for patients is chronic impairments in social and occupational functioning, and these impairments are associated with cognitive deficits. Patients typically exhibit deficits in diverse cognitive functions, such as sensory processing, working memory, and executive function. They are resistant to currently available treatments and they are a key determinant of patients' functional outcome.

Human cognitive functions are mediated by neural networks that consist of multiple brain regions, including different areas of the cerebral cortex. These areas are connected by axons of projecting neurons, and information processing within each and across these areas is facilitated by neural oscillations, which reflect coordinated activities of local neuron assemblies. Neural oscillations were shown to promote local information processing and global information processing through their inter-areal synchronization. Neural oscillations depend on one of the three subsets of cortical GABA neurons, that is the parvalbumin (PV)-expressing subset. PV neurons furnish divergent inhibitory innervations to neighboring pyramidal neurons and can synchronize firing of these neurons (Figure 1).

KCNS3 encodes a voltage-gated potassium channel subunit and is selectively expressed in PV neurons in the human cerebral cortex. KCNS3 subunit-containing potassium channels make EPSP fast in PV neurons and appear to contribute to neural oscillations (Figure 2). We have recently found that KCNS3 and KCNB1 expression levels were lower in prefrontal PV neurons in schizophrenia. Reduced KCNS3 subunit-containing channels could make EPSP slow in PV neurons and contribute to abnormal neural oscillations and cognitive deficits in schizophrenia.

In order to prove our hypothesis of KCNS3 in the pathophysiology of schizophrenia and to identify molecular targets of new therapeutic intervention for cognitive impairments, we are currently generating genetically engineered mice with PV neuron selective knockout of Kcns3. We will analyze neural oscillations and cognitive functions in these mice.
Books
 Hashimoto T, Lewis DA (Eds:Tamminga CA, Ivleva EI, Reininghas U, Van Os J) Dimensions of Psychosis: Comprehwnsive Conceptualization and Treatments Oxford University Press 2020
 Lewis DA, Hashimoto T, Maldonado-Aviles JG, Morris H Cortical Deficits in Schizophrenia: From Genes to Function  Springer 2008
 Hashimoto T and Lewis DA The Postmortem Brain in Psychiatric Research  Kluwer Academic Publishers 2002
Papers
 Kcns3 deficiency disrupts Parvalbumin neuron physiology in mouse prefrontal cortex: Implications for the pathophysiology of schizophrenia Miyamae T, Hashimoto T, Abraham M, Kawabata R, Koshikizawa S, Bian Y, Nishihata Y, Kikuchi M, Ermentrout GB, Lewis DA, Gonzalez-Burgos G 

Neurobiology of Disease

 online publication adead of pr online publication adead of pr 105382 2021
 Expression of Transcripts Selective for GABA Neuron Subpopulations across the Cortical Visuospatial Working Memory Network in the Healthy State and Schizophrenia Tsubomoto M, Kawabata R, Zhu X, Minabe Y, Chen K, Lewis DA, Hashimoto T 

Cerebral Cortex

 29 3540-3350 2019
 Oxytocin and excitation/inhibition balance in social recognition. Lopatina OL, Komleva YK, Gorina YV, Olovyannikova RY, Trufanova LV, Hashimoto T, Takahashi T, Kikuchi M, Minabe Y, Higashida H, Salmina AB 

Neuropeptides

 72 1-11 2018
 Comprehensive association analysis of 27 genes from the GABAergic system in Japanese individuals affected with schizophrenia 2. Balan S, Yamada K, Iwayama Y, Hashimoto T, Toyota T, Shimamoto C, Maekawa M, Takagai S, Wakuda T, Kameno Y, Kurita D, Yamada K, Kikuchi M, Hashimoto T, Kanahara N, Yoshikawa T 

Schizophrenia Research

 185 33-40 2017
 Cortical gene expression after a conditional knockout of 67 kDa glutamic acid decarboxylase in parvalbumin neurons Georgiev D, Yoshihara T, Kawabata R, Matsubara T, Tsubomoto M, Minabe Y, Lewis DA, Hashimoto T 

Schizophrenia Bulletin

 42 992-1002 2016
 Reduced prefrontal activation during performance of the Iowa Gambling Task in patients with bipolar disorder Ono Y, Kikuchi M, Hirosawa T, Hino S, Nagasawa T, Hashimoto T, Munesue T, Minabe Y 

Psychiatry Research

 233 1-8 2015
 Reduced long-range functional connectivity in young children with autism spectrum disorder Kikuchi M, Yoshimura Y, Hiraishi H, Munesue T, Hashimoto T, Tsubokawa T, Takahashi T, Suzuki M, Higashida H, Minabe Y 

Socal Cognitive and Affective Neuroscience

 10 248-254 2015
 Lower gene expression for KCNS3 potassium channel subunit in parvalbumin-containing neurons in the prefrontal cortex of subjects with schizophrenia  Georgiev D, Arion D, Enwright JF, Kikuchi M, Minabe Y, Corradi JP, Lewis DA, Hashimoto T 

American Journal of Psychiatry

 171 62-71 2014
 Deficit in transcriptional regulators in cortical parvalbumin neurons in schizophrenia  Volk DW*, Matsubara T*, Li S, Sengupta EJ, Georgiev D, Minabe Y, Sampson A, Hashimoto T, Lewis DA.  

American Journal of Psychiatry

 169 1082 2012
 Selective Expression of KCNS3 Potassium Channel α-Subunit in Parvalbumin-Containing GABA Neurons in the Human Prefrontal Cortex Georgiev D, González-Burgos G, Kikuchi M, Minabe Y, Lewis DA and Hashimoto T. 

PLoS ONE

 7 e43904 2012
 Oxytocin attenuates feelings of hostility depending on emotional context and individuals' characteristics Hirosawa T, Kikuchi M, Higashida H, Okumura E, Ueno S, Shitamichi K, Yoshimura Y, Munesue T, Tsubokawa T, Haruta Y, Nakatani H, Hashimoto T, Minabe Y.  

Scientific Reports

 2 384 2012
 Frontal areas contribute to reduced global coordination of resting-state gamma activities in drug-naive patients with schizophrenia Kikuchi M, Hashimoto T, Nagasawa T, Hirosawa T, Minabe Y, Yoshimura M, Strik W, Dierks T, Koenig T 

Schizophrenia Research

 130 187 2011
 Lamina-specific Alterations in Cortical GABAA Receptor Subunit Expression in Schizophrenia Beneyto M, Abbott A ,Hashimoto T, Lewis DA 

Cerebral Cortex

 21 999-1101 2011
 Neurovascular coupling in the human somatosensory cortex: a single trial study Kikuchi M, Shitamichi K ,Ueno S, Yoshimura, Remijn GB, Nagao K, Munesue T, Iiyama K, Tsubokawa T, Haruta Y, Inoue Y, Watanabe K, Hashimoto T, Higashida H, Minabe Y.  

Neuroreport

 21 1106 2010
 Alteration of Cortical GABA Neurons and Network Oscillations in Schizophrenia 

Current Psychiatry Report

 12 335 2010
 Protracted Postnatal Developmental Trajectories of GABAA Receptor α1 and α2 subunit Expression in Primate Prefrontal Cortex Hashimoto T, Nugyen QL, Rotaru D, Keenan T, Arion D, Beneyto M, Gonzalez-Burgos G, Lewis DA 

Biological Psychiatry

 65 1015 2009
 Altered Markers of Tonic Inhibition in the Dorsolateral Prefrontal Cortex of Subjects with Schizophrenia. Maldonado-Avilés JG, Curley AA, Hashimoto T, Lewis DA 

American Journal of Psychiatry

 166 450 2009
 A neonatal ventral hippocampal lesion causes functional deficits in adult prefrontal cortical neurons Tseng K, Lewis B, Hashimoto T,Sesack S, Kloc M, Lewis DA, and O'Donnell P 

Journal of Neuroscience

 28 12691 2008
 Reduced cortical cannabinoid 1 receptor mRNA and protein expression in schizophrenia Eggan SM, Hashimoto T, Lewis DA 

Arch Gen Psychiatry

 165 772-784 2008
 Conserved Regional Patterns of GABA-Related Transcript Expression in the Neocortex of Subjects with Schizophrenia Hashimoto T, Bazmi HH ,Mirnics K, Wu Q, Sampson AR, and Lewis DA 

American Journal of Psychiatry

 165 479-489 2008
 Alterations in somatostatin mRNA expression in the dorsolateral prefrontal cortex of subjects with schizophrenia Morris HM, Hashimoto T, Lewis DA 

Cerebral Cortex

 18 1575-1587 2008
 Alterations in GABA-Related Transcriptome in the Dorsolateral Prefrontal Cortex of Subjects with Schizophrenia Hashimoto T, Arion D, Unger T, Maldonado-Avilés JG, Morris HM, Volk DW, Mirnics K, and Lewis DA 

Molecular Psychiatry

 13 147-161 2008
 Cell and Receptor Type-Specific Alterations in Markers of GABA Neurotransmission in the Prefrontal Cortex of Subjects with Schizophrenia. Lewis DA, Hashimoto T, Morris HM. 

Neurotoxicology

 14 237-248 2008
 Deciphering the Disease Process of Schizophrenia: The Contribution of Cortical GABA Neurons. Lewis DA, Hashimoto T 

Intertnational Review of Neurobiology

 78 109-131 2007
 Inhibition and Timing in Cortical Neural Circuits Gonzalez-Burgos, G, Hashimoto T, Lewis DA 

American Journal of Psychiatry

 164 12 2007
 Specificity and timing of neocortical transcriptome changes in response to BDNF gene ablation during embryogenesis or adulthood Glorioso C, Sabatini M, Unger T, Hashimoto T, Monteggia LM, Lewis DA, Mirnics K 

Molecular Psychiatry

 11 633-648 2006
 Molecular Mechanisms Contributing to Dendritic Spine Alterations in the Prefrontal Cortex of Subjects with Schizophrenia Hill JJ, Hashimoto T and Lewis DA 

Molecular Psychiatry

 11 557-566 2006
 BDNF Val66Met polymorphism and GAD67 mRNA expression in the prefrontal cortex of subjects with schizophrenia Hashimoto T and Lewis DA 

American Journal of Psychiatry

 163 534-537 2006
 Cortical Inhibitory Neurons and Schizophrenia Lewis DA, Hashimoto T, Volk DW 

Nature Review Neuroscience

 6 312-324 2005
 Analysis of Pyramidal Neuron Morphology in an Inducible Knockout of Brain Derived Neurotrophic Factor Hill J, Kolluri N, Hashimoto T, Wu Q, Sampson AR, Monteggia LM, and Lewis DA 

Biological Psychiatry

 57 932-934 2005
 Relation of brain-derived neurotrophic factor and its receptor TrkB to altered inhibitory prefrontal circuitry in schizophrenia Hashimoto T, Bergen SE, Nguyen QL, Xu B, Monteggia LM, Pierri JN, Sun Z, Sampson AR, and Lewis DA 

Journal of Neuroscience

 25 372-383 2005
 GABA neurons in the human prefrontal cortex Hashimoto T, Volk DW, Lewis DA 

American Journal of Psychiatry

 161 1764 2004
 Selective alterations in prefrontal cortical GABA neurotransmission in schizophrenia: a novel target for the treatment of working memory dysfunction. Lewis DA, Volk DW, Hashimoto T 

Psychopharmacology (Berl)

 174 143-150 2004
 Gene expression deficits in a subclass of GABA neurons in the prefrontal cortex of subjects with schizophrenia Hashimoto T, Volk DW, Eggan, SM, Mirnics K, Pierri, JN, Sun Z, Sampson AR, and Lewis DA 

Journal of Neuroscience

 26 6315-6326 2003
 Selective zif268 mRNA induction in the perirhinal cortex of macaque monkeys during formation of visual pair-association memory Tokuyama W, Okuno H, Hashimoto T, Li YX, and Miyashita Y 

Journal of Neurochemistry

 81 60-70 2002
 Differential induction of brain-derived neurotrophic factor mRNA in rat inferior olive subregions following unilateral labyrinthectomy Li YX, Tokuyama W, Okuno H, Miyashita Y and Hashimoto T 

Neuroscience

 106 385-394 2001
 Spatio-temporal dynamics of BDNF mRNA induction in the vestibulo-olivary network during vestibular compensation Li YX, Hashimoto T, Tokuyama W, Miyashita Y and Okuno H 

Journal of Neuroscience

 21 2738-2748 2001
 BDNF upregulation during declarative memory formation in the monkey inferior temporal cortex Tokuyama W, Okuno H, Hashimoto T, Li YX and Miyashita Y 

Nature Neuroscience

 3 1134-1142 2000
 Expression of brain-derived neurotrophic factor and their receptor messenger RNAs in monkey rhinal cortrex Hashimoto T, Okuno H, Tokuyama W, Li YX, Miyashita Y 

Neuroscience

 95 1003-1010 2000
 Quantification of neurotrophin-3 mRNA in the rat hippocampal subregions using the RT-PCR-based coamplification method Tokuyama W, Hashimoto T, Li YX, Okuno H, Miyashita Y 

Brain Research Protocols

 4 407-414 1999
 Quantitative evaluation of neurotrophin and trk mRNA expression in visual and limbic areas along the occipito-temporo-hippocampal pathway in adult macaque monkeys Okuno H, Tokuyama W, Li YX, Hashimoto T, Miyashita Y 

Journal of Comparative Neurology

 408 378-398 1999
 Highest trkB mRNA expression in the entorhinal cortex among hippocampal subregions in the adult rat: contrasting pattern with BDNF mRNA expression Tokuyama W, Hashimoto T, Li YX, Okuno H, Miyashita Y 

Molecular Brain Research

 62 206-215 1998
 Psychotomimetic-induction of tissue plasminogen activator mRNA in corticostriatal neurons in rat brain Hashimoto T, Kajii Y, Nishikawa T 

European Journal of Neuroscience

 10 3387-3399 1998
 Neurochemical analysis of the tyrosine hydroxylase expression in methamphetamine-sensitized rats Fukamauchi F, Ishimaru M, Hashimoto T, Obata K. 

Annals of the New York Academy of Sciences

 801 371-376 1996
 Methamphetamine-induced dopaminergic hyperactivity is not accompanied with increase in tyrosine hydroxylase mRNA of the rat midbrain Ishimaru M, Hashimoto T, Obata K, Fukamauchi F 

Neuroscience Letter

 191 107-110 1995
 Increase of tyrosine hydroxylase and its mRNA in the rat substantia nigra pars reticulata by diazepam and picrotoxin Stork O, Hashimoto T, Obata K 

Neuroscience Research

 19 73-80 1994
 Haloperidol activates tyrosine hydroxylase gene-expression in the rat substantia nigra, pars reticulata Stork O, Hashimoto T, Obata K 

Brain Research

 633 213-222 1994
 Stimulus-transcription coupling can be studied in situ hybridization of brain slice preparation: selective c-fos expression in Hippocampal CA3 pyramidal cells Sekino,Y, Hashimot T, Obata K 

Proceedings of the Japan Academy Series B-Physical and Biological Sciences

 63 191-195 1992
 Induction of somatostatin by kainic acid in pyramidal and granule cells of the rat hippocampus Hashimoto T, Obata K 

Neuroscience Research

 12 514-527 1991
Conference Presentations
Others
Arts and Fieldwork
Patent
Theme to the desired joint research
Grant-in-Aid for Scientific Research
○「統合失調症の認知機能障害を来たす脳リズム活動破綻へのミトコンドリア機能変化の関与」(2020-2022) 
○「統合失調症の抑制性介在ニューロン変化へのμ型オピオイド受容体の関与」(2019-2021) 
○「統合失調症における免疫炎症過程亢進と大脳皮質ニューロンの変化」(2017-2019) 
○「統合失調症の急性期におけるオープンダイアローグを用いた介入について」(2017-2019) 
○Grant-in-Aid for Scientific Research (B)「Cognitive Deficits and Oxytocin Signaling in Parvalbumin Neurons in Schizophrenia」(2016-2018) 
○Grant-in-Aid for Scientific Research on Innovative Areas「Neural Network Dysfunction in Schizophrenia and KCNS3 Deficits in Parvalbumin Neurons」(2015-2016) 
○Grant-in-Aid for Challenging Exploratory Research「GABRA1 GABA Receptor Gene and Alterations in Cortical Inhibitory Neurons in Schizophrenia」(2014-2015) 
○Grant-in-Aid for Scientific Research (B)「Kv9.3 Potassium Channel Subunit and Cortical Dysfunction in Schizophrenia」(2013-2015) 
○Grant-in-Aid for Scientific Research on Innovative Areas「Survey of Altered Kv9.3 Potassium Channel Subunit Expression across Brain Regions in Subjects with Schizophrenia」(2013-2014) 
○Grant-in-Aid for Challenging Exploratory Research「 Analysis of Basal Ganglia Neurons in Schizophrenia」(2012-2013) 
○Grant-in-Aid for Host Researcher of Foreign Postdoctoral Fellow「Identification of affected cortical GABA neuron subsets in schizophrenia」(2009-2010) 
○Grant-in-Aid for Challenging Exploratory Research「Cortical Functional Connectivity in Schizophrenia」(2010-2011) 
○Grant-in-Aid for Scientific Research (B)「Molecular mechanism of altered cannabinoid signaling in the pathophysiology of schizophrenia」(2009-2011) 
Competitive research funding,Contribution
Collaborative research,Consignment study
Classes (Bachelors)
Classes (Graduate Schools)
○Dementia Conference 2(2017)
○Special Lectures of Dementia(2017)
○Dementia Conference 2(2017)
○Dementia Conference 3(2017)
○Dementia Conference 3(2017)
○Treatment and Prevention of Dementia(2017)
○General Psychiatry(2017)
○Dementia Conference 4(2017)
○Dementia Conference 1(2017)
○Dementia Conference 4(2017)
○Dementia Conference 1(2017)
○Treatment and Prevention of Dementia(2017)
○General Psychiatry(2017)
○Neuroscience Seminar(2016)
○Dementia Conference 4(2016)
○Dementia Conference 2(2016)
○Dementia Conference 4(2016)
○General Psychiatry(2016)
○Dementia Conference 1(2016)
○Special Lectures of Dementia(2016)
○Dementia Conference 3(2016)
○Treatment and Prevention of Dementia(2016)
○Treatment and Prevention of Dementia(2016)
○Dementia Conference 2(2016)
○Dementia Conference 3(2016)
○General Psychiatry(2016)
○Dementia Conference 1(2016)
International Project
International Students
Lecture themes
Others (Social Activities)