Professor IWAMI Masafumi
Faculty, Affiliation
Faculty of Biological Science and Technology,Institute of Science and Engineering
Director General of the University Library
College and School Educational Field
Division of Natural Sciences, Graduate School of Natural Science and Technology
Division of Natural System, Graduate School of Natural Science and Technology
Course in Biosystems, School of Biological Science and Technology, College of Science and Engineering
Laboratory
Insect Molecular Biology
Academic Background
【Academic background(Doctoral/Master's Degree)】
Nagoya University Master Graduate School, Division of Natural Science 198403 Completed
【Academic background(Bachelor's Degree)】
Nagoya University 198203
【Degree】
Doctor of Science
Career
Kanazawa University University Library Director General(2022/04/01-)
Kanazawa University Graduate School of Biological Science and Technology Professor(2022/04/01-)
Kanazawa University School of Biological Science and Technology Professor(2018/04/01-)
Kanazawa University Graduate School of Natural Science and Technology Professor(2012/04/01-)
Kanazawa University Center for High School and University Articulation Director(2019/04/01-2022/03/31)
Kanazawa University Advisor to the President(2014/04/01-2022/03/31)
Kanazawa University University Library Director General(2018/04/01-2020/03/31)
Kanazawa University Institute of Science and Engineering Vice Dean(2016/04/01-2020/03/31)
Kanazawa University Graduate School of Natural Science and Technology Head(2014/04/01-2016/03/31)
Kanazawa University Institute of Science and Engineering Vice Dean(2014/04/01-2016/03/31)
Kanazawa University Institute of Science and Engineering Head and Professor(2012/04/01-2014/03/31)
Kanazawa University Institute of Science and Engineering Head(2008/04/01-2012/03/31)
Kanazawa University Institute of Science and Engineering Head(2008/04/01-2018/03/31)
Kanazawa University Department of Biology, Faculty of Science Department Head(2007/11/16-2012/03/31)
Kanazawa University Graduate School of Natural Science and Technology Associate Professor(2004/04/01-2005/06/30)
Kanazawa University Graduate School of Natural Science and Technology Professor(2005/07/01-2018/03/31)
Kanazawa University Advanced Science Research Center Associate Professor(2003/04/01-2004/03/31)
Yamaguchi University School of Science(2002/04/01-2003/03/31)
Tokyo University of Agriculture and Technology Graduate School of Agriculture Lecturer(1999/05/01-1999/09/30)
Kanazawa University School of Natural Science and Technology Associate Professor(1998/04/01-2003/03/31)
Kanazawa University Faculty of Science Department of Biology Associate Professor(1993/01/01-1998/03/31)
Kobe University Graduate School of Science Lecturer(1990/04/01-1990/09/30)
Nagoya University Department of Biology, School of Science Assistant Professor(1987/04/01-1992/12/31)
Meiji Dairies corporation Meiji Institute of Healthscience(1984/04/01-1987/03/31)
Year & Month of Birth
Academic Society
Molecular Biology Society of Japan
The Zoological Society of Japan
Award
○Zoological Science Award(2019/09/13)
○Zoological Science Award(1998/09/27)
○Kato Memorial Bioscience Foundation(1998/03/13)
○Ciba-Geigy Foundation (Japan) for the Promotion of Science(1995/03/16)
○Takeda Science Foundation(1992/10/01)
○Takeda Science Foundation(1992/10/01)
Specialities
Insect science、Molecular biology
Speciality Keywords
gene, brain, biotechnology, hormone, silkworm moth
Research Themes
Molecular Studies on Insect Molting and Metamorphosis: Focusing on insect insulin-related hormones.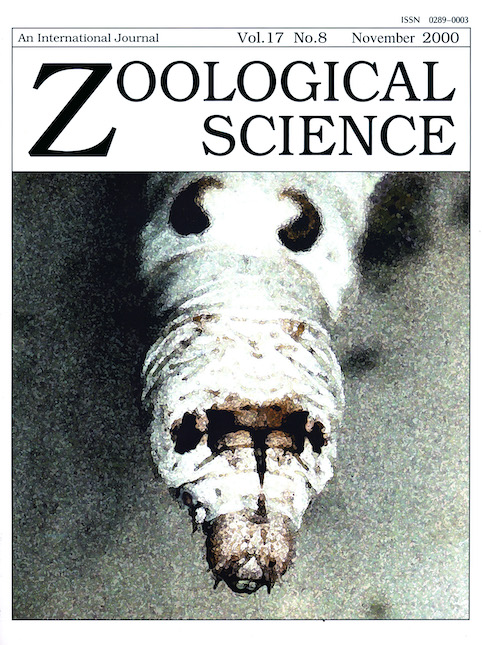 Insulin was discovered as a key regulator of blood sugar level in 1922. In invertebrates, an insulin-like peptide, now named as bombyxin, was first isolated from the silkworm, Bombyx mori, with its prothoracicotropic activity to the saturniid moth, Samia cynthia ricini, in 1984. We study the molecular aspects of insulin and insulin-like (-related) peptides and then focus on their physiological functions in respect of sugar and lipid metabolisms, hormone biosynthesis, and developmental control such as body size and lifespan. Our goal is to make it clear that insulin and insulin-like peptide of arthropods are not just the hormones that regulate blood sugar levels but the strategic key hormones of growth and development. The functions of insulin and insulin-like peptide have been evaluated for hypotrehalosemic and hypoglycemic activities, ecdysteroidogenesis, juvenile hormone synthesis and secretion, lipid metabolism. In addition, they have been now recognized as main regulators of growth, lifespan, and reproduction.
Endocrine Control of Insect Growth and Development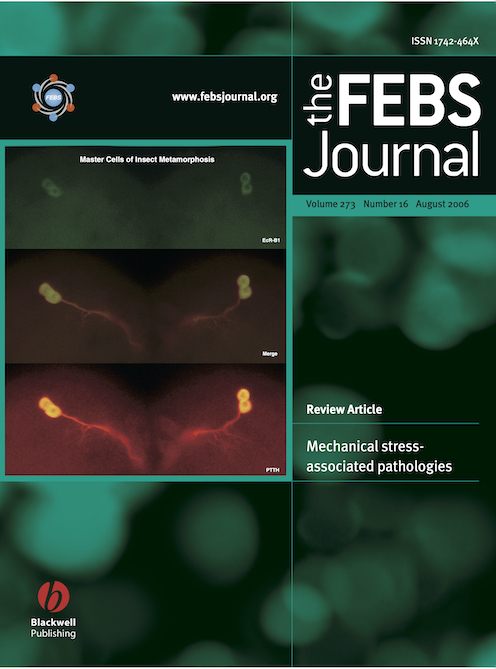 The steroid hormone 20-hydroxyecdysone (20E) initiates insect molting and metamorphosis through binding with a heterodimer of two nuclear receptors, the ecdysone receptor (EcR) and ultraspiracle (USP). Expression of the specific isoforms EcR-A and EcR-B1 governs steroid-induced responses in the developing cells of the silkworm Bombyx mori. Here, whole-mount in situ hybridization and immunohistochemistry revealed that EcR-A and EcR-B1 mRNAs and proteins were exclusively located in two pairs of lateral neurosecretory cells in the larval brain known as the prothoracicotropic hormone (PTTH)- producing cells (PTPCs). In the pupal brain, EcR-A and EcR-B1 expression was detected in tritocerebral cells and optic lobe cells in addition to PTPCs. As PTTH controls ecdysone secretion by the prothoracic gland, these results indicate that 20E-responsive PTPCs are the master cells of insect metamorphosis. [From FEBS J., 273 (16), 3861--3868]
Molecular cloning and structure analysis of bombyxin, an insect insulin-related peptide, gene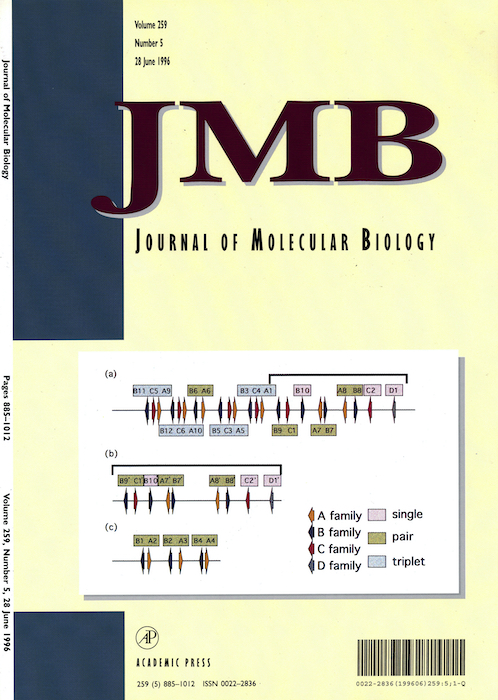 Bombyxin is a 5 kDa secretory brain peptide that belongs to the insulin family. Bombyxin of the silkmoth Bombyx mori can induce adult development when injected into brain-removed dormant pupae of the saturniid moth Samia cynthia ricini by activating the prothoracic glands to synthesize and release ecdysone. The Bombyx bombyxin gene encodes a precursor consisting of the signal peptide, B chain, C peptide, and A chain, in that order from the N terminus. So far, over 40 bombyxin genes have been identified in Bombyx, and they are classified into at least 10 families. Most of the bombyxin genes have no introns and cluster in unique distribution patterns. The gene arrangement in the cluster has been classified into three categories: gene pairs, gene triplets, and single genes. Nucleotide sequence analysis indicates that equal and unequal crossings-over and duplications may have generated these unique distribution patterns. The Bombyx bombyxin genes are expressed predominantly in the brain and at low levels in a number of other tissues. The bombyxin genes are expressed in four pairs of the medial neurosecretory cells of the brain. [Form J Mol. Biol., 259, 926–937 and Zool. Sci. 28, 609–616]
Glucose oxidase prevents programmed cell death of the silkworm anterior silk gland through hydrogen peroxide production.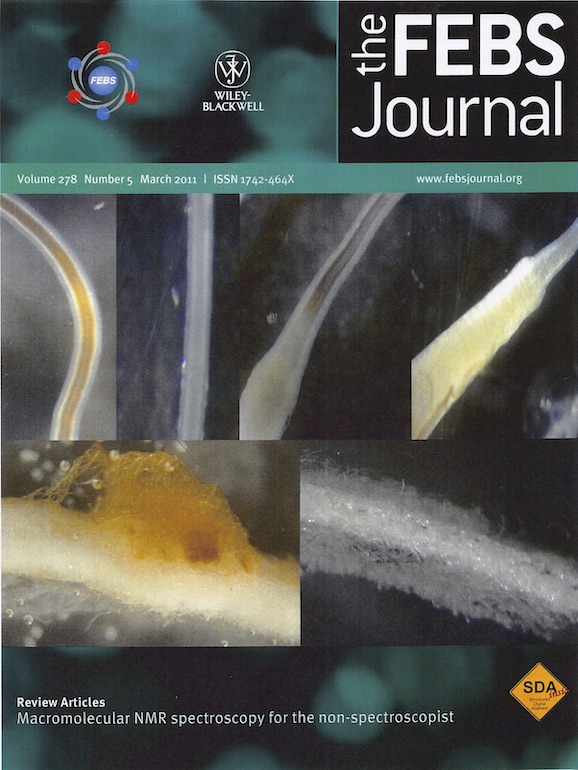 During pupal metamorphosis, the anterior silk glands (ASGs) of the silkworm Bombyx mori degenerate through programmed cell death (PCD), which is triggered by 20-hydroxyecdysone (20E). 20E triggers the PCD of the ASGs of day 7 fifth instar (V7) larvae but not that of V5 larvae. When V7 ASGs were cocultured with V5 ASGs in the presence of 20E, neither culture of ASGs underwent PCD. The 20E-induced PCD of V7 ASGs was also inhibited when they were incubated in conditioned medium that was prepared by incubating V5 ASGs for 48 h, an indication that V5 ASGs released an inhibitor of 20E-induced PCD during incubation. The inhibitor was purified from conditioned medium and identified as glucose oxidase (GOD). GOD catalyzes the oxidation of glucose to gluconolactone, and generates hydrogen peroxide as a byproduct. We found that hydrogen peroxide is the molecule that directly inhibits the action of 20E and may act to protect the ASGs from early execution of PCD during the feeding stage. GOD was localized in the inner cavity of the gland, and was discharged to the outside of the ASGs with the silk thread at the onset of spinning. Thus, the spinning behavior, occurring at the beginning of the prepupal period, plays an important role in controlling the time at which ASGs undergo PCD in response to 20E.
Books
 Multi-family genes encoding bombyxin and bombyxin-related peptides. In "Molecular Mechanism of Insect Metamorphosis and Diapause" Industrial Publishing & Consulting, Inc. 1995/12
 Molting and Metamorphosis Japan Scientific Societies Press, Springer-Verlag 1990/03
 Masafumi Iwami Hormone Handbook 2007/10
 Takumi Suzuki and Masafumi Iwami Hemolymph proteins and functional peptides. In "Recent advances in insects and other arthropods" Bentham Science Publishers 2012/06
 Insect neuropeptides: chemistry, biology, and action American Chemical Society 1991/12
 Bacillus subtilis: Molecular biology and industrial application Kodansha, Elsevier 1989/01
 New Trends in Hepatology Medical Tosho 1986/12
Papers
 [Cover Article] Glucose oxidase prevents programmed cell death of the silkworm anterior silk gland through hydrogen peroxide production. Hiroto Matsui, Motonori Kakei, Masafumi Iwami, Sho Sakurai 

FEBS JOURNAL

 278 5 776-785 2011/03
 EcR expression in the prothoracicotropic hormone-producing neurosecretory cells of the Bombyx mori brain: an indication of the master cells of insect metamorphosis Monwar Hossain, Sakiko Shimizu, Haruhiko Fujiwara, Sho Sakurai, and Masafumi Iwami 

FEBS JOURNAL

 273 16 3861-3868 2006/08
 [Cover Invited Review] Bombyxin: an insect brain peptide that belongs to the insulin family. Masafumi Iwami 

ZOOLOGICAL SCIENCE

 17 8 1035-1044 2000/08
 Multiple gene copies for bombyxin, an insulin-related peptide of the silkmoth Bombyx mori 

JOURNAL OF MOLECULAR BIOLOGY

 259 5 926-937 1996/06
 Molecular cloning of the Bombyx mori prothoracicotropic hormone 

SCIENCE

 247 4948 1333-1335 1990/03
 Structure and organization of four clustered genes that encode bombyxin, an insulin-related brain secretory peptide of the silkmoth Bombyx mori 

PROCEEDINGS OF THE NATIONAL ACADEMY OF SCIENCES OF THE UNITED STATES OF AME

 86 18 6843- 1989/09
 UGA is read as tryptophan in Mycoplasma capricolum 

PROCEEDINGS OF THE NATIONAL ACADEMY OF SCIENCES OF THE UNITED STATES OF AME

 82 8 2306- 1985/04
 Ecdysteroid ingestion suppresses carbohydrate hydrolysis in larvae of the silkworm Bombyx mori Takumi Suzuki, Masafumi Iwami 

The Science of Nature (Former Naturwissenschaften)

 107 4 27 2020/06
 Sequential changes in the regulatory mechanism of carbohydrate digestion in larvae of the silkworm, Bombyx mori. Takumi Suzuki, Masafumi Iwami 

Journal of Comparative Physiology B: Biochemical, Systemic, and Environmental Physiology

 191 3 439–453 2021/05
 Occurrence of unmodified adenine and uracil at the first position of anticodon in threonine tRNAs in Mycoplasma capricolum 

PROCEEDINGS OF THE NATIONAL ACADEMY OF SCIENCES OF THE UNITED STATES OF AME

 84 21 7398- 1987/11
 cDNA structure and expression of bombyxin, an insulin-like brain secretory peptide of the silkmoth Bombyx mori 

JOURNAL OF BIOLOGICAL CHEMISTRY

 264 13 7681- 1989/05
 A novel family C of the genes that encode bombyxin, an insulin-related brain secretory peptide of the silkmoth Bombyx mori 

INSECT BIOCHEMISTRY AND MOLECULAR BIOLOGY

 30 3 295- 1990/03
 Nucleotide sequence of the rrnB 16S ribosomal RNA gene from Mycoplasma capricolum 

MOLECULAR AND GENERAL GENETICS

 196 2 317- 1984/02
 Visualization of neural activity in insect brains using a conserved immediate early gene, Hr38. Nozomi Fujita, Takumi Nishiuchi, Makoto Sato, Masafumi Iwami, Taketoshi Kiya 

CURRENT BIOLOGY

 23 20 2063–2070 2013/10
 Refinement of ectopic protein expression through the GAL4/UAS system in Bombyx mori: Application to behavioral and developmental studies. Chiho Hara, Koudai Morishita, Seika Takayanagi-Kiya, Akihisa Mikami, Keiro Uchino, Takeshi Sakurai, Ryohei Kanzaki, Hideki Sezutsu, Masafumi Iwami, and Taketoshi Kiya 

SCIENTIFIC REPORTS

 7 11795 2017
 Establishment of tools for neurogenetic analysis of sexual behavior in the silkmoth, Bombyx mori. Taketoshi Kiya, Koudai Morishita, Keiro Uchino, Masafumi Iwami, and Hideki Sezutsu 

PLoS One

 9 11 e113156 2014/11
 Mapping of Courtship Behavior-Induced Neural Activity in the Thoracic Ganglia of Silkmoth Bombyx mori by an Immediate Early Gene, Hr38 Morishita, K., Iwami, M., Kiya, T 

ZOOLOGICAL SCIENCE

 35 3 276-280 2018/06
 Mapping of courtship behavior-induced neural activity in the thoracic ganglia of silkmoth, Bombyx mori, by an immediate early gene, Hr38. Koudai Morishita, Masafumi Iwami, and Taketoshi Kiya 

ZOOLOGICAL SCIENCE

 35 3 276-280 2017
 Identification and characterization of novel genes expressed preferentially in the corpora allata or corpora cardiaca during the juvenile hormone synthetic period in the silkworm, Bombyx mori. Syusaku Taguchi, Masafumi Iwami, and Taketoshi Kiya 

ZOOLOGICAL SCIENCE

 34 5 398-405 2017
 Phorbol esters can persistently replace interleukin-2 (IL-2) for the growth of a human IL-2-dependent T-cell line 

JOURNAL OF CELLULAR PHYSIOLOGY

 136 2 319- 1988/02
 Pupal commitment and its hormonal control in wing imaginal discs 

JOURNAL OF INSECT PHYSIOLOGY

 48 10 933- 2002/10
 The oncogenicity of Avian Adenoviruses. IV. 

VIROLOGY

 169 2 447- 1989/02
 Rectal sac distention is induced by 20-hydroxyecdysone in the pupa of Bombyx mori Takumi Suzuki, Sho Sakurai, Masafumi Iwami 

JOURNAL OF INSECT PHYSIOLOGY

 55 3 250-254 2009/03
 Presence of membrane ecdysteroid receptor in the anterior silk gland of the silkworm, Bombyx mori 

EUROPEAN JOURNAL OF BIOCHEMISTRY

 271 15 3171-3179 2004/07
 Developmental profile of annexin IX and its possible role in programmed cell death of the Bombyx mori anterior silk gland Yu Kaneko, Keiko Takaki, Masafumi Iwami, and Sho Sakurai 

ZOOLOGICAL SCIENCE

 23 6 533-542 2006/06
 Intracellular mobilization of Ca2+ by the insect steroid hormone 20-hydroxyecdysone during programmed cell death in silkworm anterior silk glands Manaporn Manaboon, Masatoshi Iga, Masafumi Iwami, Sho Sakurai 

JOURNAL OF INSECT PHYSIOLOGY

 55 2 123-129 2009/02
 Physiological requirements for 20-hydroxyecdysone-induced rectal sac distention in the pupa of Bombyx mori. Takumi Suzuki, Sho Sakurai, Masafumi Iwami 

JOURNAL OF INSECT PHYSIOLOGY

 56 6 673-677 2010/06
 Nongenomic action of an in sect steroid hormone in steroid-induced programmed cell death. Masatoshi Iga, Masafumi Iwami, Sho Sakurai 

MOLECULAR AND CELLULAR ENDOCRINOLOGY

 263 1 18-28 2007/01
 Transcription element responsible for the brain cell-specific expression of the bombyxin gene that encodes an insect insulin-related peptide 

ZOOLOGICAL SCIENCE

 18 4 543-549 2001
 The genome of a lepidopteran model insect, the silkworm Bombyx mori Qingyou Xia, Zhonghuai Xiang, Kazuei Mita, Masafumi Iwami and 96 persons 

INSECT BIOCHEMISTRY AND MOLECULAR BIOLOGY

 38 12 1036-1045 2008/12
 Membrane-bound sorbitol-6-phosphatase in fat body cells controls the dynamics of sorbitol-6-phosphate, a major hemolymph sugar in the silkworm Yasunori Oda, Masafumi Iwami, and Sho Sakurai 

INSECT BIOCHEMISTRY AND MOLECULAR BIOLOGY

 35 11 1289-1292 2005/11
 Essential tyrosine residues in 3-ketosteroid-delta 1-dehydrogenase from Rhodococcus rhodochrous 

JOURNAL OF BIOCHEMISTRY

 126 4 662-667 1999
 Cell-specific expression of enhanced GFP under the control of neuropeptide gene promoters in the brain of the silkworm, Bombyx mori, using BmNPV-derived vectors 

INSECT BIOCHEMISTRY AND MOLECULAR BIOLOGY

 33 1 7-12 2003/01
 Juvenile hormone delays the initiation of rectal sac distention by disrupting ecdysteroid action in the silkworm, Bombyx mori Takumi Suzuki, Sho Sakurai, Masafumi Iwami 

PESTICIDE BIOCHEMISTRY AND PHYSIOLOGY

 97 3 199-203 2010/06
 Bombyxin F1 gene: structure and expression of a new bombyxin family gene that forms a pair with bombyxin B10 gene 

ZOOLOGICAL SCIENCE

 14 4 615-622 1997
 Possible involvement of proteinaceous and non-proteinaceous trehalase inhibitors in the regulation of hemolymph trehalose concentration in Bombyx mori Nujira Tatun, Tippawan Singtripop, Shingo Osugi, Na Chiangmai Siriluk, Masafumi Iwami, Sho Sakurai 

APPLIED ENTOMOLOGY AND ZOOLOGY

 44 1 85-94 2009/03
 Solubilization of the ecdysone binding protein from anterior silk gland cell membranes of the silkworm, Bombyx mori Mohamed Elmogy, Masafumi Iwami, Sho Sakurai 

ZOOLOGICAL SCIENCE

 24 10 971-977 2007/11
 3-ketosteriod-delta1-dehydrogenase of Rodococcus rhodochrous: sequencing of the genomic DNA and hyperexpression, purification, and characterization of the recombinant enzyme 

JOURNAL OF BIOCHEMISTRY

 124 5 1024-1032 1998
 Dynamics of hemolymph sorbitol-6-phosphate and its control by ecdysteroid in the larvae of the silkworm, Bombyx mori 

INSECT BIOCHEMISTRY AND MOLECULAR BIOLOGY

 27 6 461-468 1997
 Ecdysteroid-inducible genes in the programed cell death during insect metamorphosis 

INSECT BIOCHEMISTRY AND MOLECULAR BIOLOGY

 31 4-5 321-331 2001
 Death commitment in the anterior silk gland of the silkworm, Bombyx mori. 

JOURNAL OF INSECT PHYSIOLOGY

 51 1 17-25 2005/01
 Expression of 20-hydroxyecdysone-induced genes in the silkworm brain and their functional analysis in post-embryonic development Monwar Hossain, Sakiko Shimizu, Masahiro Matsuki, Masanori Imamura, Sho Sakurai, Masafumi Iwami 

INSECT BIOCHEMISTRY AND MOLECULAR BIOLOGY

 38 11 1001-1007 2008/11
 Hormonal regulation of two isoforms of Ets transcription factor E74 gene in programmed cell death in the silkworm anterior silk gland. Takayuki Sekimoto, Masafumi Iwami, Sho Sakurai 

INSECT MOLECULAR BIOLOGY

 16 5 581-590 2007/10
 Structure and expression of bombyxin E1 gene, a novel family gene that encodes bombyxin-IV, an insect insulin-related neurosecretory peptide 

Comparative Biochemistry and Physiology B

 117B 3 409-416 1997
 Purification and characterization of hemolymph 3-oxoecdysteroid 3beta-reductase of the silkworm, Bombyx mori 

INSECT BIOCHEMISTRY AND MOLECULAR BIOLOGY

 26 3 249- 1996/03
 Insect prothoracicotropic hormone: a new member of the vertebrate growth factor superfamily 

FEBS LETTERS

 376 3 251-6 1995/03
 A novel member of bombyxin gene family: structure and expression of bombyxin G1 gene, an insulin-related peptide gene of the silkmoth Bombyx mori 

DEVELOPMENT GENES AND EVOLUTION

 208 7 407-410 1998
 Bombyxin gene expression in tissues other than brain detected by reverse transcription-polymerase chain reaction (RT-PCR) and in situ hybridization 

CELLULAR AND MOLECULAR LIFE SCIENCES

 52 9 882-7 1996/09
 A rapid increase in cAMP in response to 20-hydroxyecdysone in the anterior silk glands of the silkworm, Bombyx mori, Mohamed Elmogy, Jun Terashima, Masatoshi Iga, Masafumi Iwami, Sho Sakurai 

ZOOLOGICAL SCIENCE

 23 8 715-719 2006/08
 Organization of ribosomal RNA genes in Mycoplasma capricolum 

MOLECULAR AND GENERAL GENETICS

 196 2 311- 1984/02
 Bombyxin-related peptides: cDNA structure and expression in the brain of the hornworm Agrius convoluvuli 

INSECT BIOCHEMISTRY AND MOLECULAR BIOLOGY

 26 1 25-32 1996/01
 Ecdysteroid control of cell cycle and cellular commitment in Bombyx mori wing discs Takashi Koyama, Masafumi Iwami, Sho Sakurai 

MOLECULAR AND CELLULAR ENDOCRINOLOGY

 213 2 155-166 2004/01
 Coordinate responses of transcription factors to ecdysone during programmed cell death in the anterior silk gland of the silkworm, Bombyx mori Takayuki Sekimoto, Masafumi Iwami, and Sho Sakurai 

INSECT MOLECULAR BIOLOGY

 15 3 281-292 2006/06
 Commencement of pupal commitment in late penultimate instar and its hormonal control in wing imaginal discs of the silkworm, Bombyx mori Takashi Koyama, Yoshikazu Obara, Masafumi Iwami, Sho Sakurai 

JOURNAL OF INSECT PHYSIOLOGY

 50 2 123-133 2004/02
 Role of ecdysteroids in the dynamics of insect haemolymph sugar 

ZOOLOGICAL SCIENCE

 17 6 785-789 2000
 Gene transfer into insect brain and cell-specific expression of bombyxin gene 

DEVELOPMENT GENES AND EVOLUTION

 209 7 447-450 1999
 Involvement of adipokinetic hormone in the homeostatic control of haemolymph trehalose concentration in the larvae of Bombyx mori 

ARCHIVES OF INSECT BIOCHEMISTRY AND PHYSIOLOGY

 45 4 156-165 2000
 Steroid monooxygenase of Rodococcus rhodochrous: sequencing of the genomic DNA and hyperexpression, purification, and characterization of the recombinant enzyme 

JOURNAL OF BIOCHEMISTRY

 126 3 624-631 1999
 Cloning of a gene encoding bombyxin, an insulin-like brain secretory peptide of the silkmoth Bombyx mori with prothoracicotropic activity 

DEVELOPMENT GROWTH & DIFFERENTIATION

 31 1 31-37 1989/01
 Steroidal regulation of hydrolyzing activity of the dietary carbohydrates in the silkworm, Bombyx mori. Takumi Suzuki, Sho Sakurai, Masafumi Iwami 

JOURNAL OF INSECT PHYSIOLOGY

 57 8 2011/08
 Programmed cell death trigerred by insect steroid hormone, 20-hydroxyecdysone, in the anterior silk gland of the silkworm, Bombyx mori 

DEVELOPMENT GENES AND EVOLUTION

 210 11 545-558 2000
 Identification of novel bombyxin genes from the genome of the silkmoth Bombyx mori and analysis of their expression. Abu F M Aslam, Taketoshi Kiya, Kazuei Mita, Masafumi Iwami 

ZOOLOGICAL SCIENCE

 28 8 609-616 2011/08
 Structure and expression of the gene for the prothoracicotropic hormone of the silkmoth Bombyx mori 

European Journal of Biochemistry

 220 2 633- 1994/02
 The ribosomal genes of Mycoplasma capricolum. Akira Muto, Masafumi Iwami, Syozo Osawa 他4名 1983/05
 Identification and characterization of a novel nuclear noncoding RNA, Fben-1, which is preferentially expressed in the higher brain center of the female silkworm moth, Bombyx mori. Syusaku Taguchi, Masafumi Iwami, Taketoshi Kiya 

Syusaku Taguchi, Masafumi Iwami, Taketoshi Kiya

 496 3 176–180 2011/06
 Structure and expression of the bombyxin-related peptide genes of the moth Samia cynthia ricini 

GENERAL AND COMPARATIVE ENDOCRINOLOGY

 86 2 257- 1992/02
 Identification of 20-hydroxyecdysone-inducible genes from larval brain of the silkworm, Bombyx mori, and their expression analysis. Anuradha Roy, Sakiko Shimizu, Taketoshi Kiya, Kazuei Mita, and Masafumi Iwami 

ZOOLOGICAL SCIENCE

 29 5 333-339 2012/05
 Hormonal regulation of the death commitment in programmed cell death of the silkworm anterior silk glands. Hiroto Matsui, Motonori Kakei, Masafumi Iwami, Sho Sakurai 

JOURNAL OF INSECT PHYSIOLOGY

 58 12 1575-1581 2012/12
 Ecdysteroid-inducible genes in the programed cell death during insect metamorphosis. 

Insect Biochemistry and Molecular Biology

 31 4-5 321-331 2001
 Identification and characterization of sexually dimorphic neurons that express the sex-determining gene doublesex in the brain of silkmoth Bombyx mori. MasamiNakata, Yusuke Kikuchi, Masafumi Iwami, Seika Takayanagi-Kiya, Taketoshi Kiya 

Insect Biochemistry and Molecular Biology

 129 103518 2021/02
Conference Presentations
Others
 Bombyxin: an insect brain peptide that belongs to the insulin family 17 8 1035-1044 2000/11
 The ribosomal genes of Mycoplasma capricolum 56 5-6 373- 1983/06
Arts and Fieldwork
Patent
Theme to the desired joint research
Grant-in-Aid for Scientific Research
○「Regulation of insect developmental timing by circadian rhythm signaling pathways」(2022-2024) 
○「前胸腺刺激ホルモン細胞の神経活動による昆虫発生タイミング制御機構の解明」(2018-2021) 
○「シングルセル内分泌学的手法による昆虫変態マスター細胞の検証」(2015-2017) 
○「昆虫変態の分子機構-インスリン様ペプチドの作用と代謝制御」(2010-2014) 
○「遺伝子発現を介さないエクジソンの分子作用機構」(2009-2011) 
○「昆虫プロインスリン (ボンビキシン)Cペプチドの新規ホルモンとしての位置づけ」(2007-2009) 
○「脳作動遺伝子の網羅的解析による昆虫変態機構の解明」(2006-2009) 
○「エクジソン膜受容体の分子特性と機能」(2005-2007) 
○「ステロイドホルモンによる脳の機能と形態の制御機構」(2003-2005) 
○「エクジステロイドによるカイコ前部絹系腺の予定細胞死の分子機構」(2002-2004) 
○「ボンビキシンの遺伝子転写機構と生理機能」(2001-2002) 
○「進化生物学の新材料の開発-介形虫における「ポア時計」の確立」(1999-2000) 
○「変態・休眠を支配するホルモン分子の動態と環境応答」(1998-2000) 
○「発生の場における蛹コミットメントと予定細胞死の内分泌支配」(1997-1999) 
○「変態・休眠を支配するホルモン分子の動態と環境応答」(1996-1997) 
○「昆虫インスリン様脳ペプチド(ボンビキシン族)の異所的発現の解析」(1994-1994) 
○「昆虫の神経ペプチドホルモン:分子と組織応答」(1994-1996) 
○「昆虫インスリン様分子の遺伝子クローニング」(1993-1993) 
○「前胸腺刺激ホルモンを中心とした昆虫脳ペプチド類の構造、機能および動態」(1989-1992) 
○「カイコ前胸腺刺激脳ホルモンの遺伝子解析」(1987-1988) 
Competitive research funding,Contribution
Collaborative research,Consignment study
Classes (Bachelors)
○Genes and Genetic Information A(2020)
○Genes and Genetic Information B(2020)
○Molecular Biology A(2020)
○Molecular Biology B(2020)
○Topics in Biology and Bioengineering A(2020)
○Morphology and Anatomy Lab(2020)
○Basic Biology Lab 1(2020)
○Basic Biology Lab 2(2020)
○Biology for Education(2020)
○Biology for Education(2020)
○Biology for Education(2020)
○Basic Biology Lab 1(2019)
○Genes and Genetic Information A(2019)
○Biology for Education(2019)
○Morphology and Anatomy Lab(2019)
○Biotechnology(2019)
○Basic Biology Lab 2(2019)
○Topics in Biology and Bioengineering A(2019)
○Genes and Genetic Information B(2019)
○Biology for Education(2019)
○Biology for Education(2019)
○Research Work in Biology(2)(2018)
○Biology for Education(2018)
○Genes and Genetic Information(2018)
○Research Work in Biology(1)(2018)
○Morphology and Anatomy Lab(2018)
○Biotechnology(2018)
○Research Seminar in Biology (2)(2018)
○Research Seminar in Biology (1)(2018)
○Morphology and Anatomy Lab(2017)
○Morphology and Anatomy Lab(2017)
○Research Seminar in Biology (1)(2017)
○Biology for Education(2017)
○Research Seminar in Biology (2)(2017)
○Research Work in Biology(1)(2017)
○Introduction to Biology, Material Engineering and Geosciences A(2017)
○Biotechnology(2017)
○Research Work in Biology(2)(2017)
○Biology for Education(2017)
○Genes and Genetic Information(2017)
○Morphology and Anatomy Lab(2017)
○Biology for Education(2017)
○Biology for Education(2016)
○Genes and Genetic Information(2016)
○Biology for Education(2016)
○Morphology and Anatomy Lab(2016)
○Research Work in Biology(1)(2016)
○Morphology and Anatomy Lab(2016)
○Biotechnology(2016)
○Research Work in Biology(2)(2016)
○Research Seminar in Biology (2)(2016)
○Research Seminar in Biology (1)(2016)
○Biology for Education(2016)
○Lecture on Life in Campus and Society(2012)
○Introduction to Biology, Material Engineering and Geosciences(2012)
○Recombinant DNA Technology Lab(2012)
○Biotechnology(2012)
○Genes and Genetic Information(2012)
○Introduction to Buology, Material Engineering and Geosciences(2010)
○Research Work in Biology 1(2010)
○Research Work in Biology 2(2010)
○Recombinant Dna Technology Lab(2010)
○Biotechnology(2010)
○Genes and Genetic Information(2010)
○Genes and Genetic Information(2009)
○Introduction to Buology, Material Engineering and Geosciences(2009)
○Guide to Biology and Earth Sciences(2009)
○Research Work in Biology 1(2009)
○Biotechnology(2009)
○Research Work in Biology 2(2009)
○Recombinant Dna Technology Lab(2009)
○Experiments in Biology(2009)
○Introduction to Bio-Medical Sciences(2009)
○Biotechnology(2008)
Classes (Graduate Schools)
○Insect Molecular Biology(2020)
○Integrated Systems Biology B(2020)
○Integrated Systems Biology A(2020)
○Integrated Systems Biology B(2019)
○Integrated Systems Biology A(2019)
○Insect Molecular Biology(2019)
○Integrated Systems Biology B(2018)
○Integrated Systems Biology A(2018)
○Insect Molecular Biology(2018)
○Integrated Systems Biology B(2017)
○Insect Molecular Biology(2017)
○Insect Molecular Biology(2017)
○Advanced course for biology,bio and chemical engineerings, and geoscience(2017)
○Advanced course for biology,bio and chemical engineerings, and geoscience(2016)
○International Research Internship(2016)
○Practice in Career Development(2016)
○Integrated Systems Biology B(2016)
○Integrated Systems Biology A(2016)
○International Research Internship(2016)
○Insect Molecular Biology(2016)
○Molecular Biology and Bioinformatics(2012)
○Basic Systems Biology(2012)
○Integrated Systems Biology(2012)
○Research work in Systems Biology(2012)
○Molecular and Developmental Biology(2012)
○Research Work(2011)
○Exercise in Life Science(2011)
○Seminar in High Science(2011)
○Molecular Biology and Bioinformatics(2010)
○Molecular and Developmental Biology(2010)
○Research Work(2010)
○Molecular and Developmental Biology(2010)
○Biological Sciences(2010)
○Seminar in High Science(2010)
○Exercise in Life Science(2010)
○Molecular and Developmental Biology(2009)
○Molecular Biology and Bioinformatics(2009)
○Seminar in High Science(2009)
○Biological Sciences(2009)
○Molecular and Developmental Biology(2009)
○Exercise in Life Science(2009)
International Project
International Students
Lecture themes
Others (Social Activities)