Associate Professor Kobayashi, Isao
Faculty, Affiliation
Faculty of Biological Science and Technology,Institute of Science and Engineering
College and School Educational Field
Division of Natural Sciences, Graduate School of Natural Science and Technology
Course in Aquatic Biology and Environmental Science, School of Biological Science and Technology, College of Science and Engineering
Laboratory
Laboratory of Stem Cell Development  TEL:076-264-6232 FAX:076-264-6232
Academic Background
【Academic background(Doctoral/Master's Degree)】
Nihon University Doctor Graduate School of Veterinary Medicine 2009 Completed
【Academic background(Bachelor's Degree)】
Nihon University Department of Veterinary Medicine 2006
【Degree】
Ph.D.
Career
Kanazawa University Faculty of Natural System, Institute of Science and Engineering Assistant Professor (Specialized in Research)(2015/11/01-)
University of California, San Diego Department of Cellular and Molecular Medicine Assistant Project Scientist(2015/04/01-2015/10/31)
University of California, San Diego Cellular and Molecular Medicine JSPS Postdoctoral Fellow for Research Abroad(2013/04/01-2015/03/31)
University of California, San Diego Cellular and Molecular Medicine JSPS Research Fellow (PD)(2011/10/01-2013/03/31)
Keio University Department of Cell Differentiation, School of Medicine JSPS Research Fellow (PD)(2009/04/01-2011/09/30)
Year & Month of Birth
1980/08
Academic Society
International Society of Experimental Hematology (ISEH)
Japan Society of Developmental Biologists
Japanese Society of Hematology
Award
○Christa Muller-Sieburg Award(2013/08)
Specialities
Stem Cell Biology、Developmental biology、Veterinary medical science、Hematology
Speciality Keywords
Hematopoietic Stem Cell, Zebrafish, Stem Cell Niche, Live Imaging, Blood
Research Themes
Identification and Characterization of Hematopoietic Stem Cell Niche in The Fish Kidney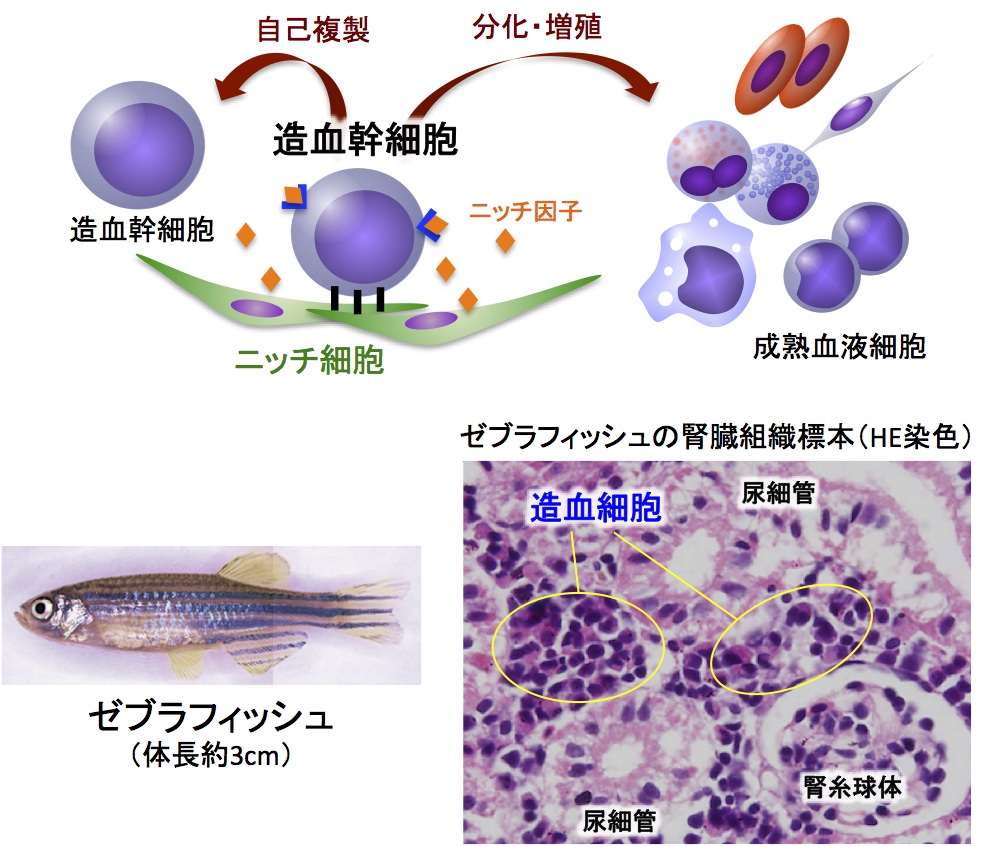 The homeostasis of the blood system is maintained by rare populations of multipotent hematopoietic stem cells (HSCs). HSCs are by far the most widely utilized human stem cells in the clinic in order to treat blood-related disorders, such as leukemia. HSCs are maintained by interactions with cells comprising their microenvironmental niche, which is established in the bone marrow in mammals. Despite the similarity of blood cell subsets, HSCs in teleost fish reside in the urinary organ, kidney, representing a very different environment relative to mammals. We will utilize comparative approaches for the study of HSC niches between zebrafish and mammals. Our ultimate goal is to define the required core components that regulate HSC dormancy, proliferation, and differentiation.
Elucidation of Regulatory Mechanisms Underlying Hematopoietic Stem Cell Development
A major goal of regenerative medicine is to instruct tissue-specific stem cells from induced pluripotent stem cells (iPSCs). Despite decades of efforts, however, generation of HSCs from iPSCs in vitro is not currently possible, indicating that an improved understanding of the native mechanisms of embryonic HSC specification is required. The zebrafish is a powerful genetic model for the study of HSCs. Its transparent embryos allow us to visualize the dynamics of developing HSCs using cell-specific transgenic animals. The movie shown here represents migration of angioblasts (green) along the ventral surface of somites (red). Utilizing "live-imaging" approaches in the zebrafish embryo, we will investigate when, where, and how HSC precursors are regulated by their environmental cells to establish HSC fate during embryogenesis.
Books
 Isao Kobayashi Zebrafish, Medaka, and Other Small Fishes Springer 2018
Papers
 Melatonin suppresses both osteoblast and osteoclast differentiation through repression of epidermal Erk signaling in the zebrafish scale. Jingjing Kobayashi-Sun, Nobuo Suzuki, Atsuhiko Hattori, Masaaki Yamaguchi, Isao Kobayashi* 

Biochem Biophys Res Commun

 530 4 644-650 2020
 Uptake of osteoblast-derived extracellular vesicles promotes the differentiation of osteoclasts in the zebrafish scale. Jingjing Kobayashi-Sun, Shiori Yamamori, Mao Kondo, Junpei Kuroda, Mika Ikegame, Nobuo Suzuki, Kei-ichiro Kitamura, Atsuhiko Hattori, Masaaki Yamaguchi, Isao Kobayashi* 

Commun Biol

 3 1 190 2020
 Impact of functional studies on exome sequence variant interpretation in early-onset cardiac conduction system diseases. Kenshi Hayashi*, Ryota Teramoto, Akihiro Nomura, Yoshihiro Asano, Manu Beerens, Yasutaka Kurata, Isao Kobayashi, Noboru Fujino, Hiroshi Furusho, Kenji Sakata, Kenji Onoue, David Y Chiang, Tuomas O Kiviniemi, Eva Buys, Patrick Sips, Micah L Burch, Yanbin Zhao, Amy E Kelly, Masanobu Namura, Yoshihito Kita, Taketsugu Tsuchiya, Bunji Kaku, Kotaro Oe, Yuko Takeda, Tetsuo Konno, Masaru Inoue, Takashi Fujita, Takeshi Kato, Akira Funada, Hayato Tada, Akihiko Hodatsu, Chiaki Nakanishi, Yuichiro Sakamoto, Toyonobu Tsuda, Yoji Nagata, Yoshihiro Tanaka, Hirofumi Okada, Keisuke Usuda, Shihe Cui, Yoshihiko Saito, Calum A MacRae, Seiji Takashima, Masakazu Yamagishi, Masa-aki Kawashiri, Masayuki Takamura 

Cardiovasc Res

 cvaa010 2020
 Dual role of Jam3b in early hematopoietic and vascular development. Isao Kobayashi*, Jingjing Kobayashi-Sun, Yuto Hirakawa, Madoka Ouchi, Koyuki Yasuda, Hiroyasu Kamei, Shigetomo Fukuhara, Masaaki Yamaguchi 

Development

 147 1 2020
 Enrichment of hematopoietic stem/progenitor cells in the zebrafish kidney. Isao Kobayashi*, Mao Kondo, Shiori Yamamori, Jingjing Kobayashi-Sun, Makoto Taniguchi, Kaori Kanemaru, Fumihiko Katakura, David Traver 

Sci Rep

 9 1 14205 2019
 Rap1b Promotes Notch-Signal-Mediated Hematopoietic Stem Cell Development by Enhancing Integrin-Mediated Cell Adhesion. Seung-Sik Rho, Isao Kobayashi, Eri Oguri-Nakamura, Koji Ando, Masakazu Fujiwara, Naomi Kamimura, Hiromi Hirata, Atsuo Iida, Yoshiko Iwai, Naoki Mochizuki, Shigetomo Fukuhara* 

Dev Cell

 49 5 681-696 2019
 Anteroposterior molecular registries in ectoderm of the echinus rudiment. Shinya Adachi, Iyo Niimi, Yui Sakai, Fuminori Sato, Takuya Minokawa, Makoto Urata, Atsuko Sehara-Fujisawa, Isao Kobayashi, Masaaki Yamaguchi* 

Dev Dyn

 247 12 1297-1307 2018
 RANKL, Ephrin-Eph and Wnt10b are key intercellular communication molecules regulating bone remodeling in autologous transplanted goldfish scales. Yuya Tazaki, Kayo Sugitani, Kazuhiro Ogai, Isao Kobayashi, Haruki Kawasaki, Takafumi Aoyama, Nobuo Suzuki, Yoshiaki Tabuchi, Atsuhiko Hattori, Kei-ichiro Kitamura* 

Comp Biochem Physiol A Mol Integr Physiol

 225 46-58 2018
 Effects of low-intensity pulsed ultrasound on osteoclasts: Analysis with goldfish scales as a model of bone. Taizo Hanmoto, Yoshiaki Tabuchi, Mika Ikegame, Takashi Kondo, Kei-ichiro Kitamura, Masato Endo, Isao Kobayashi, Hiroyuki Mishima, Toshio Sekiguchi, Makoto Urata, Azusa Seki, Sachiko Yano, Atsuhiko Hattori, Nobuo Suzuki* 

Biomed Res

 38 1 71-77 2017
 Effects of hyperglycemia on bone metabolism and bone matrix in goldfish scales. Kei-ichiro Kitamura*, Tadashi Andoh, Wakana Okesaku, Yuya Tazaki, Kazuhiro Ogai, Kayo Sugitani, Isao Kobayashi, Nobuo Suzuki, Wenxi Chen, Mika Ikegame, Atsuhiko Hattori 

Comp Biochem Physiol A Mol Integr Physiol

 203 152-158 2017
 Isolation and characterization of hematopoietic stem cells in teleost fish. Isao Kobayashi, Fumihiko Katakura, Tadaaki Moritomo* 

Dev Comp Immunol

 58 86-94 2016
 Gata2b is a restricted early regulator of hemogenic endothelium in the zebrafish embryo. Emerald Butko, Martin Distel, Claire Pouget, Bart Weijts, Isao Kobayashi, Kevin Ng, Christian Mosimann, Fabienne E. Poulain, Adam McPherson, Chih-Wen Ni, David L. Stachura, Natasha Del Cid, Raquel Espin-Palazon, Nathan D. Lawson, Richard Dorsky, Wilson K. Clements, David Traver* 

Development

 142 6 1050-1061 2015
 The somite: the central organ of the aortic hematopoiesis. Claire Pouget, Isao Kobayashi 

Medicine/Sciences

 31 1 25-27 2015
 Jam1a-Jam2a interactions regulate haematopoietic stem cell fate through Notch signalling. Isao Kobayashi, Jingjing Kobayashi-Sun, Albert D. Kim, Claire Pouget, Naonobu Fujita, Toshio Suda, David Traver* 

Nature

 512 7514 319-323 2014
 Comparative gene expression analysis of zebrafish and mammals identifies common regulators in hematopoietic stem cells. Isao Kobayashi*, Hiromasa Ono, Tadaaki Moritomo, Koichiro Kano, Teruyuki Nakanishi, Toshio Suda 

Blood

 115 2 e1-9 2010
 Kinetics of CD4+ and CD8alpha+ T-cell subsets in graft-versus-host reaction (GVHR) in ginbuna crucian carp Carassius auratus langsdorfii. Yasuhiro Shibasaki, Hideaki Toda, Isao Kobayashi, Tadaaki Moritomo, Teruyuki Nakanishi* 

Dev Comp Immunol

 34 10 1075-1081 2010
 Isolation and characterization of endosteal niche cell populations that regulate hematopoietic stem cells. Yuka Nakamura, Fumio Arai*, Hiroko Iwasaki, Kentaro Hosokawa, Isao Kobayashi, Yumiko Gomei, Yoshiko Matsumoto, Hiroki Yoshihara, Toshio Suda 

Blood

 116 9 1422-1432 2010
 Molecular cloning and expression analysis of T-bet in ginbuna crucian carp (Carassius auratus langsdorfii). Fumio Takizawa, Kyosuke Araki, Isao Kobayashi, Tadaaki Moritomo, Mitsuru Ototake, Teruyuki Nakanishi* 

Mol Immunol

 45 1 127-136 2008
 Characterization of teleost phagocyte NADPH oxidase: Molecular cloning and expression analysis of carp (Cyprinus carpio) phagocyte NADPH oxidase. Masayuki Mayumi, Yoko Takeda, Masataka Hoshiko, Ken Serada, Michihiro Murata, Tadaaki Moritomo*, Fumio Takizawa, Isao Kobayashi, Kyosuke Araki, Teruyuki Nakanishi, Hideki Sumimoto 

Mol Immunol

 45 6 1720-1731 2008
 Characterization and localization of side population (SP) cells in zebrafish kidney hematopoietic tissue. Isao Kobayashi, Kazuyuki Saito, Tadaaki Moritomo*, Kyosuke Araki, Fumio Takizawa, Teruyuki Nakanishi 

Blood

 111 3 1131-1137 2008
 Long-term hematopoietic reconstitution by transplantation of kidney hematopoietic stem cells in lethally irradiated clonal ginbuna crucian carp (Carassius auratus langsdorfii). Isao Kobayashi*, Sawako Kuniyoshi, Kazuyuki Saito, Tadaaki Moritomo, Tomoko Takahashi, Teruyuki Nakanishi 

Dev Comp Immunol

 32 8 957-965 2008
 In vivo characterization of primitive hematopoietic cells in clonal ginbuna crucian carp (Carassius auratus langsdorfii). Isao Kobayashi*, Hiroko Kusakabe, Hideaki Toda, Tadaaki Moritomo, Tomoko Takahashi, Teruyuki Nakanishi 

Vet Immunol Immunopathol

 126 1-2 74-82 2008
 Isolation of side population cells from ginbuna carp (Carassius auratus langsdorfii) kidney hematopoietic tissues. Isao Kobayashi, Tadaaki Moritomo*, Mitsuru Ototake, Teruyuki Nakanishi 

Dev Comp Immunol

 31 7 696-707 2007
 Demonstration of hematopoietic stem cells in ginbuna carp (Carassius auratus langsdorfii) kidney. Isao Kobayashi, Mayuko Sekiya, Tadaaki Moritomo*, Mitsuru Ototake, Teruyuki Nakanishi 

Dev Comp Immunol

 30 11 1034-1046 2006
 Regulation of Hematopoietic Stem Cell Development by Notch Signaling Isao Kobayashi 

Saiboukougaku

 35 1 2016
 Jam1a - Jam2a interactions regulate hematopoietic stem cell fate through Notch signaling Isao Kobayashi, David Traver 

Jikkenigaku

 33 1 68-71 2015
 Jam1a - Jam2a interactions regulate hematopoietic stem cell fate through Notch signaling Isao Kobayashi, David Traver 

Life Science Shinchakuronbun Review First Author's

 2014
 Application of clonal ginbuna for regenerative medicine Tadaaki Moritomo, Isao Kobayashi, Fumihiko Katakura, Takuya Yamaguchi 

Nihonkessenshiketsugakkaishi

 21 1 42-44 2010
 Identification of Hematopoietic Stem Cells in teleost fish Isao Kobayashi, Tadaaki Moritomo 

Ketsueki-shuyouka

 58 4 449-454 2009
Conference Presentations
Identification of hematopoietic stem cell niches in the zebrafish kidney.(conference:Hematology Meeting)(2020/02)
The Sinusoidal Endothelium Functions as a Hematopoietic Niche in the Zebrafish Kidney(conference:ISEH 48th Annual Scientific Meeting)(2019/08)
Jam3b regulates hemato-vascular development through the repression of the Erk signaling pathway(conference:ISEH 47th Annual Scientific Meeting)(2018/08)
Cell-to-cell interaction between endothelial-hematopoietic precursors and somites regulates developmental specification of hematopoietic stem cells through Notch signaling(conference:International Society of Experimental Hematology)(2013)
Hematopoietic stem cells marked by Junctional adhesion molecule 1 (jam1) are localized along bilateral collecting tubules in zebrafish kidney(conference:International Society of Experimental Hematology)(2010)
Comparative gene expression analysis of hematopoietic stem cells between fish and mammals (conference:The 6th Annual Meeting of Hematology for Young Investigators)(2010)
Hematopoietic stem cells localize on the surface of renal tubules in zebrafish kidney(conference:The 71st Annual Meeting of the Japanese Society of Hematology)(2009)
Characterization of hematopoietic stem cells in adult fish kidney(conference:The 7th Stem Cell Symposium)(2009)
Gene expression profile of zebrafish hematopoietic stem cells(conference:The 41st Annual Meeting of Japanese Society of Developmental Biologists)(2008)
Characterization and localization of side population (SP) cells in zebrafish kidney hematopoietic tissue(conference:The 40th Annual Meeting of Japanese Society of Developmental Biologists)(2007)
Others
Arts and Fieldwork
Patent
Theme to the desired joint research
Grant-in-Aid for Scientific Research
○「造血幹細胞の形成過程におけるインテグリン由来シグナル伝達経路の役割解明」(2019-2021) 
○「ウロコ骨折モデルによる破骨細胞産生新規カップリング因子の同定と分泌時相の解明」(2018-2020) 
○「背側大動脈における造血幹細胞の発生動態の解析」(2017-2018) 
○「栄養環境センサーを分子基軸とした脊椎側弯症に対する発症・進行予測技術の開発」(2017-2019) 
Competitive research funding,Contribution
Collaborative research,Consignment study
Classes (Bachelors)
○Developmental Biology B(2019)
○Developmental Biology Lab(2019)
○Guide to Biology and Bioengineering B(2019)
○Basic Biology Lab 2(2019)
○Experiments in Biology(2019)
○Basic Biology Lab 1(2019)
○Developmental Biology Lab(2018)
○Experiments in Biology(2018)
○Guide to Biology and Bioengineering B(2018)
○Experiments in Biology(2017)
○Experiments in Biology(2017)
○Developmental Biology Lab(2017)
○Gene・Genome・Neuron・Time・Life(2016)
○Gene・Genome・Neuron・Time・Life(2016)
○Experiments in Biology(2016)
○Experiments in Biology(2016)
○Developmental Biology Lab(2016)
Classes (Graduate Schools)
○Integrated Systems Biology B(2018)
○Integrated Systems Biology A(2018)
○Integrated Systems Biology A(2017)
○Integrated Systems Biology B(2017)
○Basic Systems Biology B(2016)
International Project
International Students
Lecture themes
Others (Social Activities)