Professor TADA Yukio
Faculty, Affiliation
Faculty of Mechanical Engineering, Institute of Science and Engineering
College and School Educational Field
Division of Mechanical Science and Engineering, Graduate School of Natural Science and Technology
Division of Mechanical Science and Engineering, Graduate School of Natural Science and Technology
Course in Energy and Mechanical Systems Engineering, School of Mechanical Engineering, College of Science and Engineering
Laboratory
Thermal Science Lab. TEL:076-234-4740 FAX:076-234-4743
Academic Background
【Academic background(Doctoral/Master's Degree)】
Kanazawa University Master Graduate School, Division of Engineering 198503 Completed
【Academic background(Bachelor's Degree)】
Kanazawa University 198303
【Degree】
Doctor of Engineering
Career
Year & Month of Birth
Academic Society
The Japan Society of Mechanical Engineers
Heat Transfer Society of Japan
Heat Transfer Society of Japan
The Japan Society of Mechanical Engineers

The Japan Society of Mechanical Engineers








Award
○JSRAE Technology Award(1997/05/15)
○JSRAE Technology Award(1997/05/15)
○HTSJ Technology Award(1999/05/15)
○JSRAE Technology Award(2011/05/16)
○International Forum on Heat Transfer 2012, Best Presentation Award(2012/11/13)
○International Forum on Heat Transfer 2012, Best Presentation Award(2012/11/13)
○International Forum on Heat Transfer 2012, Best Presentation Award(2012/11/13)
○JSRAE Technology Award(2014/05/13)
○JSRAE Technology Award(2016/05/18)
○JSRAE Technology Award(2016/05/18)
○JSRAE Technology Award(2016/05/18)
○JSRAE Technology Award(2016/05/18)
Specialities
Thermal Engineering
Speciality Keywords
Thermal Energy Conversion, Active Control of Solidification, Micro-solidification, Heat Transfer Enhancement
Research Themes
Development of Thermoacoustic Engine and Refrigerator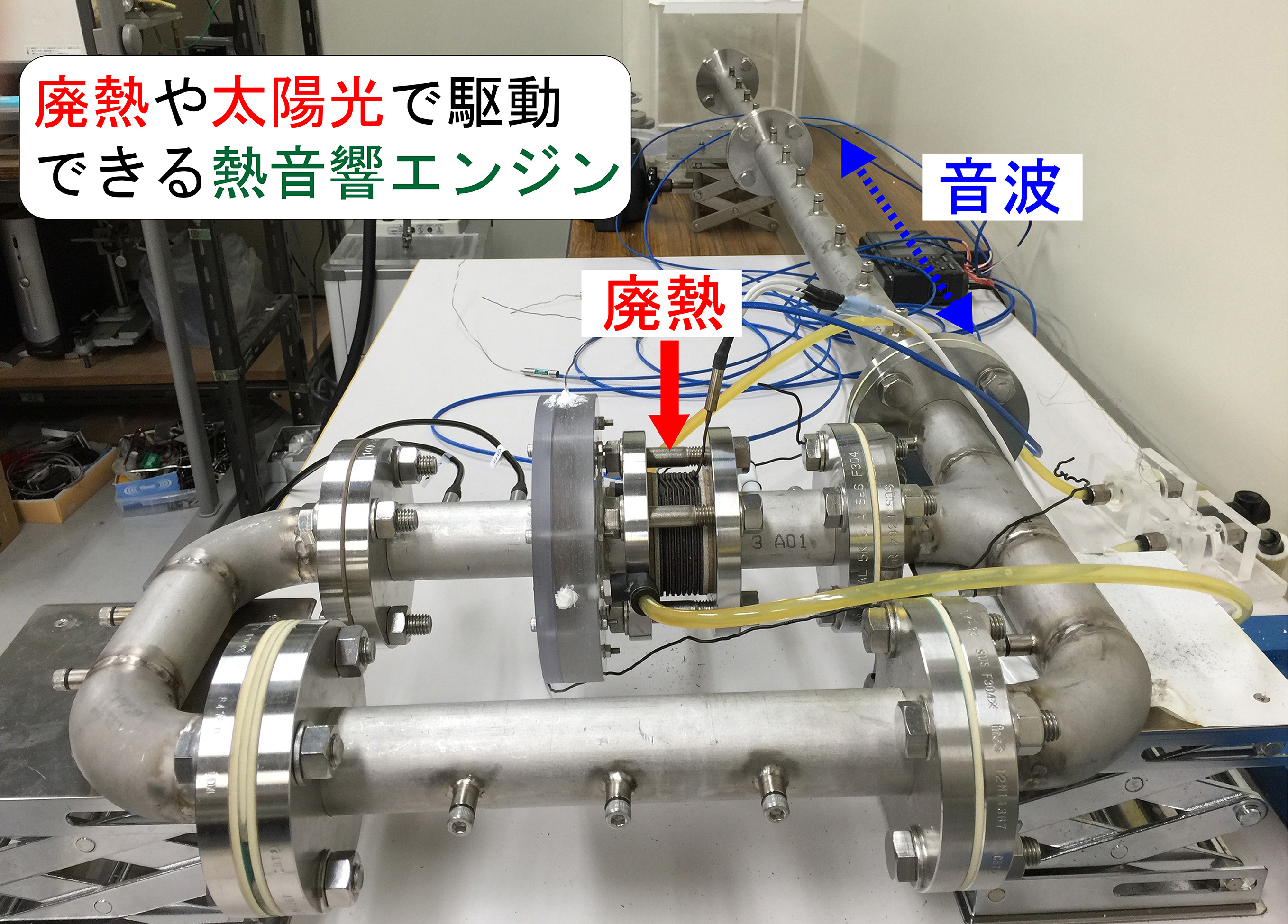 Development of energy conversion techniques utilizing waste heat of low-temperature range is an important issue. Thermoacoustic engines, which are based on thermal interactions between oscillating gas and narrow flow channels having a steep temperature gradient, are one of promising devices because of their availability for various energy sources and simple structure with non-moving parts. I study the performance enhancement by improve the prime mover in thermoacoustic engine. The new thermoacoustic engine utilizing evaporation and condensation of liquid have been also proposed and studied.

<Thermoacustic engine>
https://www.stream.kanazawa-u.ac.jp/v/VNvQ8qK17bJ4
Development of high-quality freezing and thawing technology of biological tissue and food

We examine the freezing process of biological tissues and food products from the perspectives of micro-heat transfer and the mechanisms of freezing injury. More specifically, we construct freezing-unfreezing models in terms of aggregation of intra- and extracellular elements, and study hierarchical handling that links micro-heat transfer and life and death of cells and quality change of food products. We are also developing active control techniques for supercooling during solidification. We are also developing high quality thawing technique.

<Active control of freezing with supercooling>
https://www.stream.kanazawa-u.ac.jp/v/kzBgykwD7a4V
Study on energy harvesting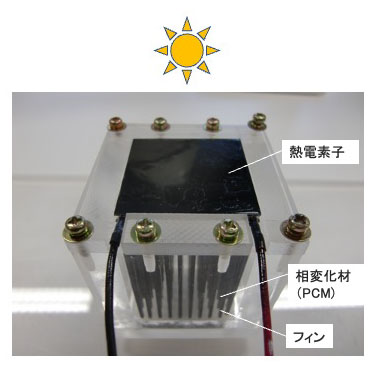 The efficient utilization of solar energy is important issue to shift to a sustainable society. However, the solar radiation in infrared band is not converted into electric energy efficiently, and the electric power generation during nighttime is difficult. In this study, the solar energy harvesting by utilizing stacked thermoelectric generators with phase change material (PCM) has been investigated. The electric power generation by solar radiation during daytime, and electric power generation by solar heat energy stored in PCM during nighttime were achieved. The design of the system structure has been studied in relation to heat transfer engineering.
Solidification of Multi-component Systems and Mico-scale Heat Transfer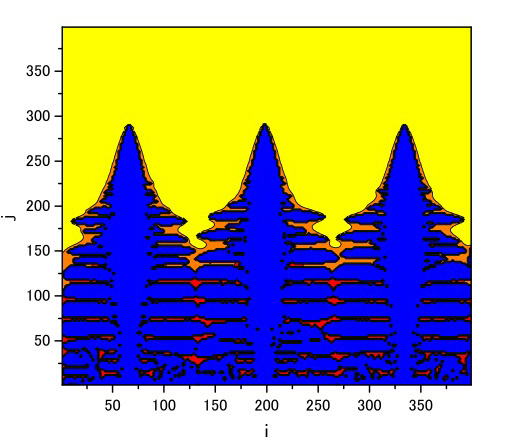 In the solidification of multicomponent systems such as material manufacture and freezing of biological materials and food products, there appears a solid-liquid coexisting zone (mush region) that spatially introduces excreted solution between areas of liquid and solid phases. We study the formation mechanism of mush regions and microfixation as a basis for the creation of new materials.
Development of Active Heat Transfer Enhancement Techniques
The development of heat transfer enhancement and control techniques is the basis for efficient use of energy. Our laboratory is developing various heat transfer enhancement techniques, for example, enhancing convection heat transfer utilizing electric-field generated ionic wind and enhancing heat transfer by controlling electric-field generated gas-solid flows.
Books
Papers
 Heat Transfer Enhancement in a Convective Field by Applying Ionic Wind 

JOURNAL OF ENHANCED HEAT TRANSFER

 4 1 71-86 1997/01
 Microsolidification Process in Multicomponent Systems 

MICROSCALE THERMOPHYSICAL ENGINEERING

 6 4 253-266 2002/10
 Micro-behavior and Viability of Biological Cell during Freezing 71 702 602-609 2005/02
 Continuous Production of Ice Slurry by Solute Concentration with Ultrasonic Vibration 22 1 63-72 2005/03
 Heat transfer enhancement in a gas–solid suspension flow by applying electric field Y.Tada, S.Yoshioka, A.Takimoto, Y.Hayashi 

International Journal of Heat and Mass Transfer

 93 778-787 2016/02
 Numerical Simulation of Thermoacoustic Cooling in Loop-tube Type Cooler with Branch Resonator T.Kyoden, Y.Tada, A.Takimoto, H.Onishi 

Transaction of the JSRE

 30 4 341-352 2014/04
 Heat Transfer and Solidification Process of Alloy Melt with Supercooling (II:Solidification model) H.Yoshioka, Y.Tada, Y.Hayashi 

Acta Materialia

 54 3 765-771 2006/02
 Heat Transfer and Viability of Cell during Freezing of Biological Tissue 

Proceedings of the Int. Conference on New Frontiers in Biomechanical Engineering

 357-360 1997/08
 Cooling Performance and Sound Characterisitcs of Double-Loop Type ThermoacousticCooler with Branch Resonator T.Kyoden, Y.Tada, Y.Iida 

Transaction of the JSRE

 32 4 441-451 2015/12
 Simulation Experiment of Freezing of Biological Tissue 

Proceeding of 3rd World Congressof Biomechanics

 180 1998/01
 Formation of Mushy Region in Freezing of Aqueous Solution 

Thermal Science and Engineering

 6 1 147-151 1998/01
 Development of Concentration Field and Cryatal Growth in Mushy Zone Y. Tada, Y.Hayashi, H.Yoshioka 

Procceding of International Conference on Solid-Liquid Phase Change \'98

 56-61 1998/08
 Micro-solidification Process of Multui-component System 

Proceeding of the International Conference on Heat Transfer and Transport Phenom

 284-291 2000/10
 Micro-solidificaiton of Ternary Solution with Supercooling 9 1 1-12 2001/01
 Micro-Heat Transfer of Solidification of Alloy Melts with Supercooling 13 1 23-32 2001/01
 Growth of Mushy Zone during Solidification of Supercooled Alloy Melts (Experiment for primary arm spacing selection during two-dimensional solidification)  H.Yoshioka, Y.Tada, R.Yanagitani, Y.Hayashi 

Thermal Science and Engineering

 22 2 34-41 2013/04
 Simulation Experiment on Freezing of Biological Cell by Utilizing Arttificial Membrane 

Thermal Science and Engineering

 9 4 31-32 2001/07
 Microbehavior and Intracellular Ice Formation during Freezing of Biological Cell 

Proceeding of Twelfth International Heat Transfer Conference

 249-254 2002/08
 Microstructural control of bismuth tellurium alloys by solidification with undercooling H.Yoshioka, Y.Kurabe, Y.Tampa, T.Kyoden, Y.Tada 

Materialia

 21 101276 2021/11/20
 Crystal Growth and its Morphorogy in the Mushy Zone H.Yoshioka, Y.Tada and Y.Hayashi 

ACTA MATERIALIA

 52 6 1515-1523 2004/04
 Development of Deodorization System in Room Air by Photocatalyst with Condensation Process A.Takimoto, H. Onishi, K. Miyata, Y.Tada 

Thermal Science & Engineering

 12 3 51-52 2004/07
 Microscale Heat and Mass Transfer during Freezing of Food Y.Tada, Y.Hayshi, A.Takimoto 

Proceedings of The First International Forum on Heat Transfer

 2004/10
 Heat Transfer and Solidification Process of Alloy Melt with Supercooling (I:Experimental results) H.Yoshioka, Y.Tada, Y.Hayashi 

Acta Materialia

 51 2 757-763 2006/02
 Trapped and Swept Phenomenon of Biological Cell during Freezing Y.Tada, A.Takimoto, H.Onishi and A.Oomori 

Proceeding of Cryomedicine 2004

 29 2006/07
 Heat Transfer and Damage during Freezing of Food Y.Tada, Y.Hayshi and A.Takimoto 

JOURNAL OF BIOMECHANICS

 39 Supplement 2006/08
 Active Control of Ice Formation by Utilizing Ultrasonic Irradiation Y.Tada, A.Takimoto, Y.Hayashi 

Proceedings of 13th International Heat Transfer Conference

 SOL05 2006/08
 ACTIVE CONTROL OF FREEZING OF BIOLOGICAL TISSUE BY UTILIZING HIGH-FREQUENCY ULTRASONIC VIBRATION Y.Tada, K.Nishikawa, H.Onishi and M.Haruki 

The 29th International Symposium on Transport Phenomena

 ISTP29 191 2018/11
 Mechanism of Heat Transfer Enhancement in Gas-Solid Suspension Flow by Appling Electric Field Y.Tada, A.Takimoto, Y.Hayashi 

Proceedings of 17th International Symposium on Transport Phenomena

 1C IV4 2006/09
 Heat Transfer Characteristics of Finless Tube Heat Exchanger under Frost Conditions with Mist Deposition H.Onishi, H.Nakano, Y.Tada and A.Takimoto 

Proc. of The Second International Forum on Heat Transfer

 paper No 241 2008/09
 Continuous Production of Ice Slurry by Utilizing Ultrasonic Irradiation Y.Tada, A.Takimoto, T.Fujita and H.Onishi 

Proc. of The Second International Forum on Heat Transfer

 paper No 154 2008/09
 Ice Formation and Its Removal Phenomena around Vertical Cooled Cylinder in Ultrasonic Field Y.Tada, A.Takimoto and T.Fujita, K.Kudou and H.Onishi 

Proc. of The Seventh JSME-KSME Thermal and Fluids Engineering Conference

  paper No.D333 2008/10
 Heat Transfer Performance of Finless Flat Tube Heat Exchanger H.Onishi, H.kyono, Y.Tada and A.Takimoto 

Proc. of The Seventh JSME-KSME Thermal and Fluids Engineering Conference

  paper No.A313 2008/10
 Effectiveness of Ultra-fine Structural Surface for Mist Cooling Heat Transfer 

Transaction of JSME

 78 785 121 2012/01
 Effect of Ultrasonic Irradiation on Ice Formation in Biological Tissue Y.Tada, Y.Satou, M.Kurokawa, A.Takimoto and H.Onishi 

Proceeding of 14th International Heat Transfer Conference

 paper No.IHTC14-2280 2010/08
 Heat Transfer Performance of Finless Heat Exchager Using Airfoil-Shaped Tubes with Extended Leading or Trailing Edge Section H.Onishi, A. Yamamoto, Y.Tada and A.Takimoto 

Proceeding of 15th International Heat Transfer Conference

 paper No.IHTC15-9942 2014/08
 Heat Transfer Performance of Finless Flat Tube Heat Exchanger With Vortex Generator H.Onishi, H.Yonekura, Y.Tada and A.Takimoto 

Proceeding of 14th International Heat Transfer Conference

 paper No.IHTC14-2323 2010/08
 Volume of fluid-based numerical analysis of a pump-driven phase change heat transport device Hajime Onishi, Takeaki Goto, Masashi Haruki, Yukio Tada 

International Journal of Heat and Mass Transfer

 186 778-787 2021/12/13
 Experimental Investigation on Frost Formation Characteristics of Adsorbent-coated Flat Plate H.Onishi, Hao Shen, K.Nakano, M.Haruki and Y.Tada 

Transaction of the JSRE

 38 2 163-272 2021/06/30
 Experimental Study on Frost Formation Characteristics of Adsorbent-coated Heat Exchanger H.Onishi, K.Nakano, M.Haruki and Y.Tada 

Transaction of the JSRE

 37 4 459-469 2020/10/17
 Enhancing thermal conductivities of hexagonal boron nitride/fluorinated polyimide composite materials using direct current electrical fields M. Haruki, J.Tada, R. Funaki, H. Onishi and Y. Tada 

Thermochimica Acta

 684 178941 2019/11/23
 CFD simulation study of the flow conditions of supercritical CO2 in a tubular reactor M.Haruki, K.Okumura, H.Onishi and Yukio Tada 

J. Supercrit. Fluids.

 152 104541 2019/05/26
 Thermal conductivity and reactivity of Mg(OH)2 and MgO/expanded graphite composites with high packing density for chemical heat storage M. Haruki, K.Saito, K.Takai, M.Fujita, H. Onishi and Y. Tada 

Thermochimica Acta

 680 178338 2019/07/26
 Generation of Monodispersed Spherical Thermosensitive Gels and Their Swelling and Shrinking Behaviors in Aqueous Polymeric Solutions Raden Rinova Sisworo, Masato Hasegawa, Kousuke Nakashima, Yu Norimatsu, Yukio Tada 

Applied Science

 10 6 2016 2020/03/16
 Effective thermal conductivity for nanocarbon/polyimide and carbon nanofiber/hexagonal boron nitride/polyimide composites M.Haruki, K.Tanaka, J.Tada, H.Onishi and Yukio Tada 

Polymer composites

 0 0 0 2018/12/04
 Enhancing the effective thermal conductivity of Kapton-type polyimide sheets via the use of hexagonal boron nitride M. Haruki, J. Tada, K. Tanaka, H. Onishi and Y. Tada 

Thermochimica Acta

 662 10 1-7 2018/04/08
 FFECT OF DIFFERENT MICROCHANNEL DIAMETERS INSIDE OF AIRFOIL-SHAPED TUBE ON REFRIGERANT DISTRIBUTION AND EVAPORATION CHARACTERISTICS H. Onishi, D. Tokumoto, M. Haruki and Y. Tada 

The 29th International Symposium on Transport Phenomena

 ISTP29 192 2018/11
 Experimental Study on Heat Transfer Characteristics of Fin with Built-in Self-oscillating Heat Pipe H. Onishi, T. Yoshibata, Y. Tada 

Proceedings of the 4th International Forum on Heat TransferProceedings of Ninth JSME-KSME Thermal and Fluids Engineering Conference

 Paper No.TFEC9- 1644 2017/10/27
 Cooling Performance and Sound Characterisitcs of Double-Loop Type ThermoacousticCooler with Branch Resonator H.Yoshioka, T.Simamoto, Y.Tada 

Transaction of the JSRE

 34 4 89-93 2017/03/01
 Heat Transfer Characteristics of Fin-and=Tube Heat Exchanger using Airfoil -Shaped Tube H.Onishi, H.Kikuchi, Y.Tada 

Proceedings of the 4th International Forum on Heat Transfer

 Paper No.IFHT2016-1990 2016/11/02
 Development of Thermoacoustic Engine by Utilizing Gas-Liquid Phase Change Y.Tada, H.Onishi, T,KYoden 

Proceedings of the 4th International Forum on Heat Transfer

 Paper No.IFHT2016-1880 2016/11/02
 MIcro-Solidification of Bi-Te Alloy Melts with Non-uniform Supercoolig H.Yoshioka, T,Kato, Y.Tada 

Proceedings of the 4th International Forum on Heat Transfer

 Paper No.IFHT2016-1850 2016/11/02
 Quantative Prediction of Freeze-Thaw Damage in Food by Using MIrcoscale Heat and Mass Transfer Model Y. Tada, N.Naka, H. Onishi 

Proceeding of the 27th International Symposium on Transport Phenomena

 Paper No.ISTP27-137 2016/09/22
 Selective Acoustic Amplification in Circular Pipe with Narrow Channels subject to Temperature Gradient T.Kyoden, Y.Tada, Y.Iida 

Proceedings of the 4th International Forum on Heat Transfer

 Paper No.IFHT2016-1873 2016/11/02
 Heat Transfer and Damage during Freezing and Thawing of Food Yukio Tada 

Journal of Heat Transfer Society of Japan

 56 234 25 2017/01/01
 Experimental Investigation on Heat Transfer Performance of Finless Flat Tube Heat Exchanger for Refrigerator under Frost Conditon 31 2 187-198 2014/06
 High Performance Photocatalyst Deodorization Method Activated by Visible Ray LED 30 1 13-19 2013/03
 Fine Particle and Bacteria Collection System by Negative Ions and Ozone with Mist Formation 29 1 23 2012/03
 Growth of Mushy Zone during Solidification of Supercooled Alloy Melts (Experiment for primary arm spacing selection during two-dimentional solidification) 

Thermal Science and Engineering

 20 3 41-49 2012/07
 Thermoacoustic Cooling by Utilizing Traveling Wave in Looped Tube with Branch Resonator T.Kyoden, Y.Tada, A.Takimoto and H.Onishi 

Proc. of The Third International Forum on Heat Transfer

 paper No. 78 2012/11
 Effects of Amplitude-Modulated Ultrasonic Vibration on Supercooling of Water Y.Tada, A.Takimoto, Y.Yoshida and H.Onishi 

Proc. of The Third International Forum on Heat Transfer

 paper No. 75 2012/11
 Symmetric Airfoil-shaped Tube Heat Exchanger H.Onishi, H.Yonekura, H.Kikuchi, Y.Tada and A.Takimoto 

Proc. of The Third International Forum on Heat Transfer

 paper No. 126 2012/11
Conference Presentations
Effect of Heat Input Method in Phase-change Thermoacoustic Engine with Evaporator(conference:Thermal Engineering Conference 2022)(2022/10/08)
Thawing of Frozen Tissue by Utilizing High-frequency Ultrasonic Wave(Effect of ultrasonic irradiation method) (conference:Japan Society of Refrigerating and AirConditioning Engineers Annual Conference)(2022/09/07)
Oscillation Characteristics of Thermoacoustic Engine with Wet Stack(conference:Thermal Engineering Conference 2021)(2021/10/10)
Active Control of Supercooling Region in Biological Tissue by Utilizing High-frequency Ultrasonic Wave (conference:Japan Society of Refrigerating and AirConditioning Engineers Annual Conference)(2021/09/10)
Oscillation Characteristics of Wet-type Thermoacoustic Engine with Evaporator(conference:Thermal Engineering Conference 2020)(2020/10/10)
Thawing of Frozen Tissue by Utilizing High-frequency Ultrasonic Wave (Effect of Ultrasonic Power) (conference:Thermal Engineering Conference 2020)(2020/10/10)
Theoretical Analysis of Electric Generation by Stacked Thermoelectric Generator with Latent Heat Storage (conference:Thermal Engineering Conference 2018)(2018/10/21)
Effect of system geometry on thermoacoustic amplification in looped tube with branch resonator (conference:Thermal Engineering Conference 2022)(2022/10/08)
Study of Thermoacoustic Amplification Effect and Measurement of Acoustic Impedance in Looped Tube with Branched Resonator(conference:Thermal Engineering Conference 2021)(2021/10/10)
Oscillation characteristics of thermoacoustic engine by utilizing multi-mesh type regenerator(conference:57th National Heat Transfer Symposium of Japam)(2020/06/03)
Thermoacoustic amplification effect in branched resonator connected to looped tube (Acoustic impedance analysis for amplification effect)(conference:57th National Heat Transfer Symposium of Japam)(2020/06/03)
Effect of the length of different diameter parallel micro channels in airfoil-shaped tube on refrigerant distribution and evaporation characteristics(conference:57th National Heat Transfer Symposium of Japam)(2020/06/03)
Effect of Interconnecting Channels on Heat Transfer Characteristics of Fin with Built-in Self-oscillating Heat Pipe(conference:Thermal Engineering Conference 2020)(2020/10/10)
Thawing of Frozen Tissue by Utilizing High-frequency Ultrasonic Wave (Selective heating effect of ultrasonic wave for ice layer) (conference:apan Society of Refrigerating and AirConditioning Engineers Annual Conference)(2019/09/12)
Improvement of effective thermal conductivity using AC-electrical field treatment for carbon nanofiber/fluorinated polyimide composite material(conference:Thermal Engineering Conference 2019)(2019/10/12)
Oscillation characteristics of cascade thermoacoustic engine with vapor-liquid phase change(conference:Thermal Engineering Conference 2019)(2019/10/12)
Oscillation characteristics of thermoacoustic engine by utilizing multi-mesh type regenerator(conference:56th National Heat Transfer Symposium of Japam)(2019/05/30)
Control of voids in chemical heat storage material using volatile compound(conference:56th National Heat Transfer Symposium of Japam)(2019/05/30)
Numerical study on flow and heat transport in oscillating heat pipe under small temperature difference(conference:56th National Heat Transfer Symposium of Japam)(2019/05/30)
Thawing of Frozen Tissue by Utilizing High-frequency Ultrasonic Vibration(conference:Thermal Engineering Conference 2018)(2018/10/21)
Thermoacoustic Amplification of Sound in Looped Tube with Branch Resonator(conference:Thermal Engineering Conference 2018)(2018/10/21)
Thermal conductivity and reactivity of chemical heat storage material consisting of lanthanum sulfate and expanded graphite(conference:Thermal Engineering Conference 2018)(2018/10/21)
Effect of inner diameter ratio of different diameter parallel micro channels in airfoil-shaped tube on refrigerant distribution and evaporation characteristics(conference:Thermal Engineering Conference 2018)(2018/10/21)
Development of High-quality Thawing of Food Tissue by Utilizing High-frequency Ultrasonic Vibration (2018/05/12)
ACTIVE CONTROL OF FREEZING OF BIOLOGICAL TISSUE BY UTILIZING HIGH-FREQUENCY ULTRASONIC VIBRATION(conference:The 29th International Symposium on Transport Phenomena)(2018/11/01)
FFECT OF DIFFERENT MICROCHANNEL DIAMETERS INSIDE OF AIRFOIL-SHAPED TUBE ON REFRIGERANT DISTRIBUTION AND EVAPORATION CHARACTERISTICS(conference:The 29th International Symposium on Transport Phenomena)(2018/11/01)
Effects of stack structure on oscillation characteristics of thermoacoustic engine with gas-liquid phase change (conference:55th National Heat Transfer Symposium of Japam)(2018/05/30)
Improvement effect of heat conduction resistance of airfoil-shaped tube with extended section heat exchanger by bridges(conference:55th National Heat Transfer Symposium of Japam)(2018/05/30)
Development of thermoacoustic engine and refrigerator(2017/11/11)
Effects of stack structure on oscillation characteristics of thermoacoustic engine with gas-liquid phase change (2017/11/10)
Fundamental Investigation on Frost Formation Characteristics of Adsorbent Coated Heat Exchanger (conference:Japan Society of Refrigerating and AirConditioning Engineers Annual Conference)(2017/09/26)
Active Control of Freezing of Biological Tissue by Utilizing High-frequency Ultrasonic Vibration(conference:apan Society of Refrigerating and AirConditioning Engineers Annual Conference)(2017/09/26)
Effect of Bridge on Heat Transfer characteristics of Airfoil-shaped Tube with Extended Section Heat Exchanger (conference:Japan Society of Refrigerating and AirConditioning Engineers Annual Conference)(2017/09/26)
Energy Harvesting by Utilizing Stacked Thermoelectric Generator with Latent Heat Storage(conference:The 22nd National Symposium on Power and Energy Systems)(2017/06/14)
Heat Transfer Characteristics of Fin-and-ube Heat Exchanger using Airfoil -Shaped Tube(conference:The 4th International Forum on Heat Transfer)(2016/11/02)
Selective Acoustic Amplification in Circular Pipe with Narrow Channels subject to Temperature Gradient(conference:The 4th International Forum on Heat Transfer)(2016/11/02)
Development of Thermoacoustic Engine by Utilizing Gas-Liquid Phase Change(conference:The 4th International Forum on Heat Transfer)(2016/11/02)
Micro-Solidification of Bi-Te Alloy Melts with Non-uniform Supercoolig(conference:The 4th International Forum on Heat Transfer)(2016/11/02)
Quantative Prediction of Freeze-Thaw Damage in Food by using MIrcoscale Heat and Mass Transfer Model(conference:The 27th International Symposium on Transport Phenomena)(2016/09/22)
Experimental Study on Refrigerant Distribution and Evaporation Characteristics of different diameter micro channels in airfoil-shaped Tube (conference:Thermal Engineering Conference 2016)(2016/10/02)
Performance Improvement of Thermoacoustic Engine by Utilizing Multi-mesh Type Regenerator (conference:Thermal Engineering Conference 2016)(2016/10/22)
Effect of Tube Arrangement on Heat Transfer Performance on Finless Flat Tube Heat Exchanger for Air Conditoner under Frost Condition(conference:53th National Heat Transfer Symposium of Japam)(2016/05/26)
Performance Improvement of Thermoacoustic Engine by Utilizing Multi-mesh Type Regenerator (conference:53th National Heat Transfer Symposium of Japam)(2016/05/26)
Active Control of Freezing of Biological Tissue by utilizing High-frequency Ultrasonic Vibration (2016/11/19)
Others
Arts and Fieldwork
Patent
Theme to the desired joint research
○Study on thermal energy conversion
○Study on freezing and thawing techniques
Grant-in-Aid for Scientific Research
○「生体細胞の凍結・解凍におけるミクロ挙動と生存状態の推定」(1998-1998) 
○「食品凍結における伝熱と品質変化を連結する階層的研究」(1999-2001) 
○「パルス超音波を利用した凝固制御による生体・食品の低損傷・凍結保存技術の開発」(2004-2005) 
○「超音波を利用した凝固制御による生体組織のガラス化保存技術の開発」(2006-2007) 
○「高周波超音波振動と交番磁場を併用した過冷却の促進による食品の高品質冷凍技術の開発」(2017-2019) 
○2022「高周波超音波と交番磁場を利用した過冷却制御による食品の高品質凍結・解凍技術の開発」(2020-2022) 
Competitive research funding,Contribution
Collaborative research,Consignment study
Classes (Bachelors)
○Thesis Report(2017)
○Heat Transfer(2017)
○Applied Heat Transfer(2017)
○Introduction to Engineering(2017)
○Seminar in Mechanical Engineering(2017)
○Environmental Measurements and Instrumentation(2017)
○Thermodynamics I and Exercise(2017)
○Applied Heat Transfer(2016)
○Environmental Measurements and Instrumentation(2016)
○Heat Transfer(2016)
Classes (Graduate Schools)
○Green Energy Conversion(2017)
○Advanced Thermal Energy System(2017)
○Energy Conversion Engineering B(2017)
○Energy Conversion Engineering A(2017)
○Energy Conversion Engineering A(2016)
○Energy Conversion Engineering B(2016)
○Green Energy Conversion(2015)
○Energy Conversion(2014)
International Project
International Students
Lecture themes
Others (Social Activities)