Professor OGOSHI Tomoki
Faculty, Affiliation
WPI Nano Life Science Institute
College and School Educational Field
Division of Environmental Engineering Design, Graduate School of Natural Science and Technology
Division of Electrical Engineering and Computer Science, Graduate School of Natural Science and Technology

Laboratory
Polymer Chemistry TEL:076-234-4775 FAX:076-234-4800
Academic Background
【Academic background(Doctoral/Master's Degree)】
Kyoto University Doctor Graduate School, Division of Engineering Department of Polymer Chemistry 200503 Completed
【Academic background(Bachelor's Degree)】
Kyoto University 200003
【Degree】
PhD, Engineering
Career
Research Fellow of Japan Society for the Promotion of Science Department of Engineering, Kyoto Univ. Research Fellow (DC1)(2002/04/01-2005/03/31)
Research Fellow of Japan Society for the Promotion of Science Graduate School of Science, Osaka Univ. Research Fellow(2005/04/01-2006/10/31)
Graduate School of Natural Science and Technology, Kanazawa University Department of Chemistry and Chemical Eng(2006/11/01-2007/03/31)
Assistant Professor(2008/04/01-)
Associate Professor(2010/03/01-)
Year & Month of Birth
1976/05
Academic Society
Polymer Chemistry of Japan
Japanese Chemical Society
The Society of Cyclodextrins, Japan
American Chemical Society
Award
○ACC2007 Poster Award (Gold Prize)(2007/05/20)
○Excellenct Oral Presentation(2008/04/10)
○The 22th Selected Lectures by Young Chemists(2009/03/28)
○Award for Encouragement of Research in Polymer Science; The Society of Polymer Science, Japan (2008)(2009/05/01)
○BCA(2016/10/17)
○Nozoe Memorial Award for Young Organic Chemists(2016/09/02)
○Lectureship Award (2017/02/01)
○Lectureship Award (2017/02/01)
○Lectureship Award (2017/02/01)
○2013 Cram Lehn Pedersen Prize(2012/07/09)
○The Chemical Society of Japan Award for Young Chemists(2012/03/26)
○HGCS Japan Award of Excellence 2010(2011/02/21)
○HGCS Japan Award of Excellence 2010(2011/02/21)
Specialities
Supramolecule、Polymer chemistry
Speciality Keywords
Supramolecular Chemistry, Hybrid Materials, Polymer Synthesis
Research Themes
Synthesis of Novel Macrocycles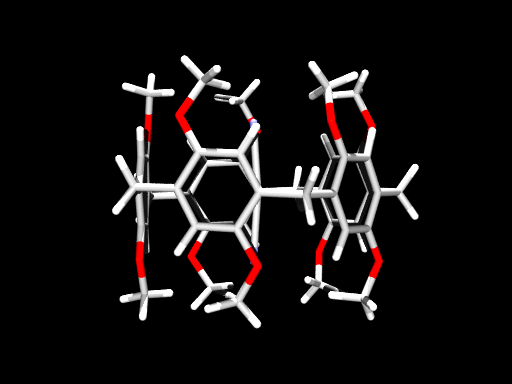 Condensation of 1,4-dimethoxybenzene (DMB) with paraformaldehyde gave novel para-bridged pentacyclic pillar DMB (DMpillar[5]arene). Moreover, para-bridged pentacyclic hydroquinone (Pillar[5]arene) was prepared. Pillar[5]arene formed 1:1 host-guest complexes with dialkyl viologen and alkyl pyridinium derivatives. However, pillar[5]arene did not form complexes with diadamantyl viologen derivative, since bulky adamantyl group was unable to thread cavity of pillar[5]arene.
Macrocyclic Host-Carbon Nanotube Hybrids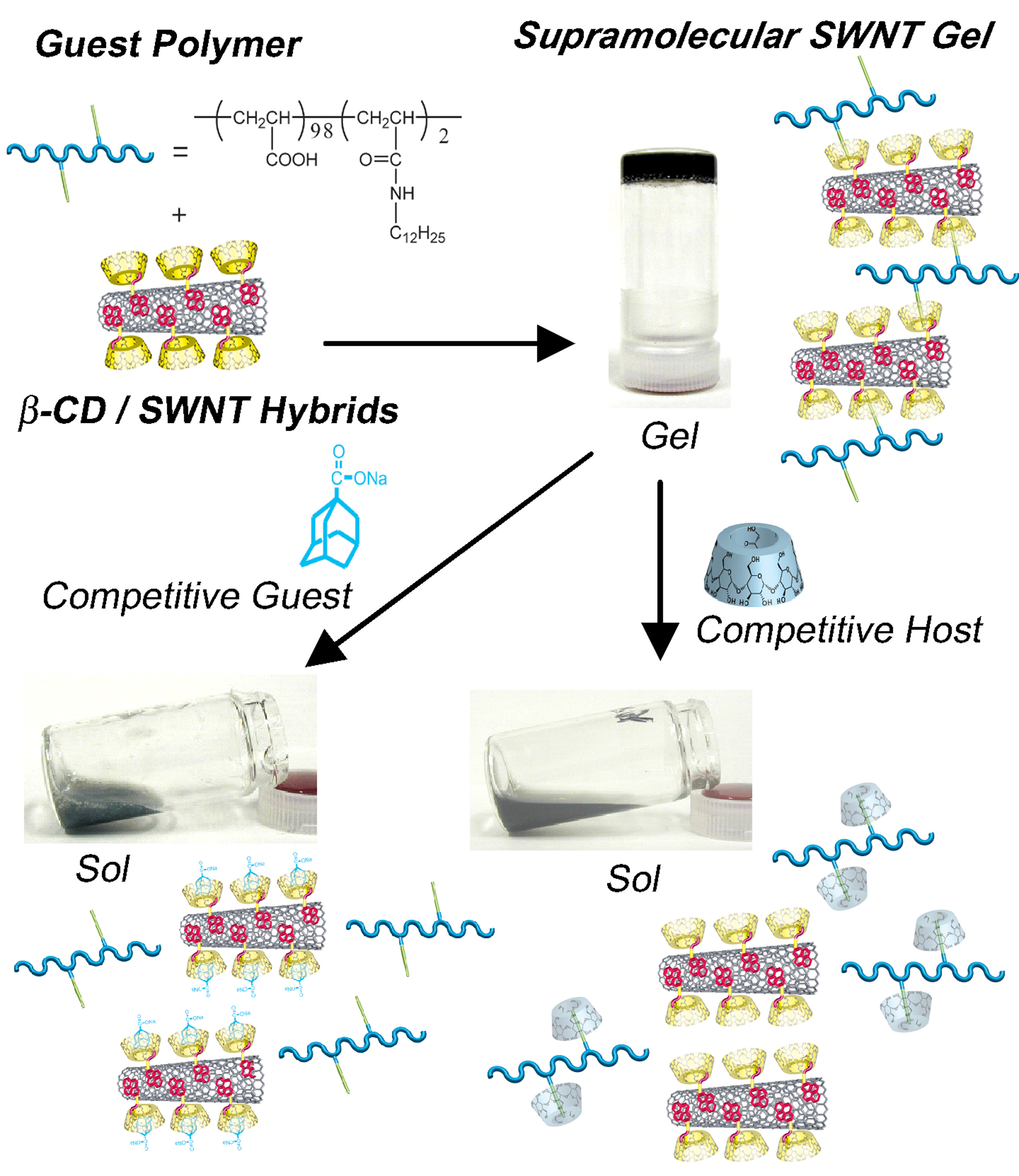 We have developed hybrids of single-walled carbon nanotubes (SWNTs) and macrocyclic host compounds such as cyclodextrins, cyclodextrin-guest complexes, water-soluble calixarenes and cucurbiturils. Since these macrocyclic hosts form host-guest complexes with various kinds of guests, cavities of the macrocycles around SWNT are able to capture guest molecules on SWNT surface. By utilizing host-guest interaction between CDs on SWNT surface and polymers carrying guest moieties, supramolecular SWNT hydrogels were successfully prepared. The supramolecular SWNT hydrogel exhibited gel to sol transition by adding competitive guest and host. Moreover, by using the hybrids of water-soluble calixarenes and SWNTs, supramolecular polymers comprised of SWNTs were constructed.
Hybrid Materials Based on Phenol Resin

We have developed new functional phenol resin materials by hybridization with inorganic nanoparticles, ionic liquids and carbon nanotubes.
Books
Papers
 Cyclodextrin-Grafted Poly(phenylene ethynylene) with Chemical-Responsive Properties Y. Takashima, H. Yamaguchi, A. Harada 

Chemical Communications

 35 9 3702-3704 2006/09
 Tapping Mode AFM Evidence for an Amorphous Reticular Phase in a Condensation-Cured Hybrid Elastomer: a,w-Dihydroxypoly(dimethylsiloxane)/Poly(diethoxysiloxane)/Fumed Silica Nanoparticles T. Fujiwara, M. Bertolucci, G. Galli, E. Chiellini, Y. Chujo, K. J. Wynne 

Journal of the American Chemical Society

 126 39 12284-12285 2004/10
 Synthesis of Organic-Inorganic Polymer Hybrids Having Interpenetrating Polymer Network Structure by Formation of Ruthenium-Bipyridyl Complex H. Itoh, K. M. Kim, Y. Chujo 

Macromolecules

 35 2 334-338 2002/01
 Synthesis of Photosensitive Organic-Inorganic Polymer Hybrids by Utilizing Caged Photoactivatable Alkoxysilane Y. Chujo 

Macromolecules

 37 16 5916-5922 2004/08
 Synthesis of Amorphous and Nanostructured Cationic Polyacetylene/Silica Hybrids by Using Ionic Interactions Y. Chujo 

Macromolecules

 38 22 9110-9116 2005/11
 Synthesis of Organic-Inorganic Polymer Hybrids by Means of Host-Guest Interaction Utilizing Cyclodextrin Y. Chujo 

Macromolecules

 36 3 654-660 2003/02
 Multiresponsive Photopatterning Organic-Inorganic Polymer Hybrids Using a Caged Photoluminescence Compound J. Miyake, Y. Chujo 

Macromolecules

 38 10 4425-4431 2005/05
 Chemically-Responsive Sol-Gel Transition of Supramolecular Single-Walled Carbon Nanotubes (SWNTs) Hydrogel Made by Hybrids of SWNTs and Cyclodextrins(CDs) Y. Takashima, H. Yamaguchi, A. Harada 

Journal of the American Chemical Society

 129 16 4878-4879 2007/04
 Supramolecular Single-walled Carbon Nanotubes (SWCNTs) Network Polymer Made by Hybrids of SWCNTs and Water Soluble Calix[8]arenes T. Yamagishi, Y. Nakamoto 

Chemical Communications

 47 4776 2007/12
 Star-Shaped Poly(2-methyl-2-oxazoline) Using by Reactive Bromoethyl Group Modified Calix[4]resorcinarene as a Macrocyclic Initiator 

Polymer bulletin

 59 6 731-737 2007/12
 Water Soluble Single-walled Carbon Nanotubes Using Inclusion Complex of Cyclodextrin with an Adamantane Derivative T. Yamagishi, Y. Nakamoto, A. Harada 

CHEMISTRY LETTERS

 36 8 1026-1027 2007/08
 Appearing, Disappearing and Reappearing of Fumed Silica Nanoparticles: Tapping Mode Evidence in a Condensation Cured Polydimethylsiloxane Hybrid Elastomer S. Inagi, J. Miyake, M. Bertolucci, T. Fujiwara, G. Galli, E. Chiellini, Y. Chujo, K. J. Wynne 

CHEMISTRY OF MATERIALS

 19 9 2141-2143 2007/05
 Synthesis of a Stimuli-Responsive P-Chiral Polymer Having Chiral Phosphorus Atoms and Azobenzene Moieties in the Main Chain Y. Ouchi, Y. Morisaki, Y. Chujo 

Chemistry - An Asian Journal

 2 3 397-402 2007/03
 Synthesis of Colloidal Polyoxazoline / Silica Hybrids Prepared in an Aqueous Solution Y. Chujo 

POLYMER

 43 11 4036-4041 2006/05
 Synthesis and Characterizations of UV-Induced Interpenetrating Polymer Network (IPN) Structure of Poly(urethane acrylate) (UA Polymer) / Silica Hybrids Y. Chujo, A. Esaki 

POLYMER JOURNAL

 37 9 686-693 2005/08
 Synthesis of Poly(vinylidene fluoride) (PVdF) / Silica Hybrids Having Interpenetrating Polymer Network Structure by Using Crystallization between PVdF Chains Y. Chujo 

JOURNAL OF POLYMER SCIENCE PART A-POLYMER CHEMISTRY

 43 16 3453-3460 2005
 Controlled Polymer Hybrids with Ladderlike Polyphenylsilsesquioxane as a Template by Utilizing the Sol-Gel Reaction of Phenyltrimethoxysilane 

JOURNAL OF POLYMER SCIENCE PART A-POLYMER CHEMISTRY

 43 2 473-478 2004
 Synthesis of Anionic Polymer / Silica Hybrids by Controlling pH in an Aqueous Solution Y. Chujo 

Journal of Material Chemistry

 15 2 315-322 2005/01
 Enhancement of Water-Solubility of Single-Walled Carbon Nanotubes by Formation of Host-Guest Complexes of Cyclodextrins with Various Guest Molecules M. Ikeya, T. Yamagishi, Y. Nakamoto, A. Harada 

JOURNAL OF PHYSICAL CHEMISTRY C

 112 34 13079-13083 2008/08
 Synthesis of Phenolic Polymer-Coated Gold Nanoparticles K. Umeda, T. Yamagishi, Y. Nakamoto 

POLYMER JOURNAL

 40 10 942-943 2008/10
 para-Bridged Symmetrical Pillar[5]arenes: Their Lewis Acid-Catalyzed Synthesis and Host-Guest Property S. Kanai, S. Fujinami, T. Yamagishi, Y. Nakamoto 

JOURNAL OF THE AMERICAN CHEMICAL SOCIETY

 130 15  5022-5023 2008/04
 Defection-Selective Solubilization and Chemically-Responsive Solubility Switching of Single-Walled Carbon Nanotubes with Cucurbit[7]uril A. Inagaki, T. Yamagishi, Y. Nakamoto 

CHEMICAL COMMUNICATIONS

 19 2245-2247 2008/04
 Formation of IPN Organic-Inorganic Polymer Hybrids Utilizing the Photodimerization of Thymine Y. Imai, K. Naka,Y. Chujo 

POLYMER BULLETIN

 45 1  9-16 2000/09
 Synthesis of Organic-Inorganic Polymer Hybrids Having Interpenetrating Polymer Network Structure by Formation of Ruthenium-Bipyridyl Complex H. Itoh, K. M. Kim, Y. Chujo 

POLYMER JOURNAL

 35 2 178-184 2003/02
 Synthesis and Characterization of Transparent Poly(2-methyl-2-oxazoline)(POZO)-Vanadium Oxide(V2O5) Hybrids with Reversible Formation K. M. Kim, Y. Chujo 

Journal of Material Chemistry

 13 9 2202-2207 2003/09
 Synthesis of Organic-Inorganic Polymer Hybrids Utilizing Amphiphilic Solvent as a Compatibilizer Y. Chujo 

Bulletin of the Chemical Society of Japan

 76 9 1865-1871 2003/09
 Controlled Polymer Hybrids with Ladderlike Polyphenylsilsesquioxane as a Template by Utilizing the Sol-Gel Reaction of Phenyltrimethoxysilane 

Journal of Polymer Science Part A: Polymer Chemistry

 43 2 473-478 2005/01
 Star-Shaped Poly(2-methyl-2-oxazoline) Using by Reactive Bromoethyl Group Modified Calix[4]resorcinarene as a Macrocyclic Initiator J. Jeerupan, S. Hiramitsu, K. Umeda, T. Nemoto, G. Konishi, T. Yamagishi, Y. Nakamoto 

Polymer Bulletin

 59 6 731-737 2008/01
 Green Polymerization of Phenol in Ionic Liquids T. Onodera, T. Yamagishi, Y. Nakamoto 

MACROMOLECULES

 41 22 8533-8536 2008/11
 Solubilization of Single-Walled Carbon Nanotubes by Entanglements between Them and Hyperbranched Phenolic Polymer T. Saito, T. Yamagishi, Y. Nakamoto 

CARBON

 47 1 117-123 2009/01
 Columnar Stacks of Star- and Tadpole-Shaped Polyoxazolines Having Triphenylene Moiety and Their Applications for Synthesis of Wire-Assembled Gold Nanoparticles S. Hiramitsu, T. Yamagishi, Y. Nakamoto 

MACROMOLECULES

 42 8 3042-3047 2009/04
 Through-Space p-Delocalized Pillar[5]arene K. Umeda, T. Yamagishi, Y. Nakamoto 

CHEMICAL COMMUNICATIONS

 32 4874-4876 2009/08
 Pillar-Shaped Macrocyclic Hosts Pillar[n]arenes: New Key Players for Supramolecular Chemistry 

Chem. Rev.

 116 7937
 Spherical Vesicles Formed by Co-Assembly of Cyclic Pentagonal Pillar[5]quinone with Cyclic Hexagonal Pillar[6]arene 

J. Am. Chem. Soc.

 138 8064
Conference Presentations
Others
 Organic-Inorganic Polymer Hybrids Prepared by Sol-Gel Method Y. Chujo 11 8 539-566 2005/08
 Chemical Sensors Based on Cyclodextrin 8  4961-4982 2008/08
Arts and Fieldwork
Patent
Theme to the desired joint research
Grant-in-Aid for Scientific Research
○「高度にナノ構造を制御した有機-無機ポリマーハイブリッドの創成」(2002-) 
○「超分子集合体を用いた有機-無機ハイブリッド材料の精密ナノ構造制御」(2005-) 
○「分子認識に基づく機能性超分子複合体の創成」(2007-) 
○「交互へテロ環状ホスト高分子を基とした特異的反応場の創成」(2008-) 
○「分子カプセルを利用した超分子構造体の作成と機能解発」(2008-) 
○「パラ位連結環状ホスト分子を基とした電子特異的分子チューブの創成」(2009-) 
○「ロタキサン型フェノール樹脂を基にした環動部位を有する熱硬化性樹脂の創成」(2011-2012) 
○「ロタキサン型フェノール樹脂を基にした環動部位を有する熱硬化性樹脂の創成」(2011-2012)
○「パラ位連結環状ホスト分子を基とした電子特異的分子チューブの創成」(2009-2010) 
Competitive research funding,Contribution
Collaborative research,Consignment study
Classes (Bachelors)
○Polymer Chemistry(2017)
○Polymer Chemistry(2017)
○Laboratory Course III(2017)
○Laboratory Course III(2017)
○Exercise III in Applied Chemistry(2017)
○Polymer Chemistry I(2017)
○Polymer Chemistry(2016)
○Polymer Chemistry(2016)
○Research Work in Applied Chemistry(2016)
○Problem-Based Learning(2016)
○Problem-Based Learning(2016)
○Problem-Based Learning III(2016)
○Exercise III in Applied Chemistry(2016)
○Laboratory Course III(2016)
○Solid State Physics(2016)
○Polymer Chemistry I(2016)
○Laboratory Course III(2016)
○Problem-Based Learning III(2016)
○Literature Survey in Chemistry(2016)
Classes (Graduate Schools)
○Supramolecular Material Chemistry(2017)
○Supramolecular Material Chemistry(2017)
○Supramolecular Material Chemistry(2017)
○Supramolecular Material Chemistry(2017)
○Advanced Biorefinery(2017)
○Functional Polymer Materials(2017)
○Introduction of Material Program(2017)
○Functional Supramolecular Chemistry(2017)
○Functional Polymer Materials(2016)
○Advanced Biorefinery(2016)
○Functional Supramolecular Chemistry(2016)
○Introduction of Material Program(2016)
○Supramolecular Material Chemistry(2016)
International Project
International Students
Lecture themes
Others (Social Activities)