Professor OSHIMA Masanobu
Faculty, Affiliation
WPI Nano Life Science Institute
College and School Educational Field
Division of Medical Sciences, Graduate School of Medical Science
Division of Natural Sciences, Graduate School of Natural Science and Technology
Division of Medicine, Graduate School of Medical Science
Division of Natural System, Graduate School of Natural Science and Technology

Laboratory
Division of Genetics TEL:076-264-6760 FAX:076-234-4519
Academic Background
【Academic background(Doctoral/Master's Degree)】
Hokkaido University Master Graduate School, Division of Veterinary Medicine 198803 Completed
【Academic background(Bachelor's Degree)】
Hokkaido University 198603
Career
Chugai Pharmaceutical Co Ltd(1988/10/01-1992/01/31)
Banyu Tsukuba Research Institute(1992/02/01-2000/05/31)
Merck Research Laboratories Human Genetics  Research Associate(1997-2000)
Kyoto University Graduate School of Medicine Department of Pharmacology(2000/06/01-2005/05/31)
Year & Month of Birth
1962/03
Academic Society

American Association of Cancer Research





Award
○JCA-Mauvernay Award(2012/09/20)
Specialities
Experimental pathology、Pathological medical chemistry
Speciality Keywords
organoids,metastasis/progression,mouse models,gastrointestinal cancer,inflammation/cancer,mouse model,genetics,inflammation and cancer
Research Themes
Inflammatory host responses in gastrointestinal tumorigenesis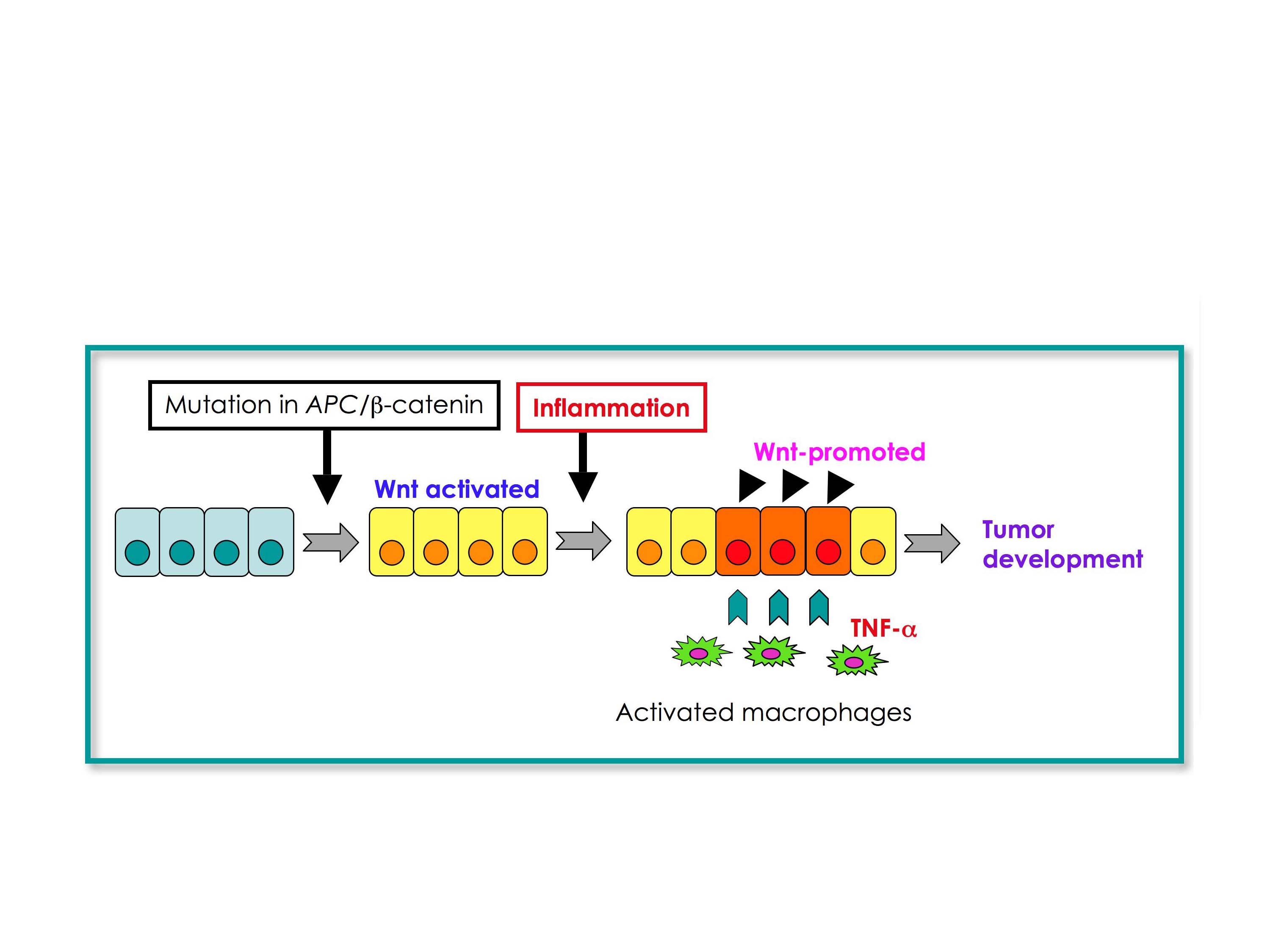 Inflammatory responses recruit and activate macrophages in gastric mucosa.
TNF-alpha derived from activated macrophages promote Wnt signaling activity
of surrounding gastric cancer cells, which contribute to gastric tumorigenesis.
Cooperation of Wnt signaling and COX-2 pathway in gastrointeitinal tumorigenesis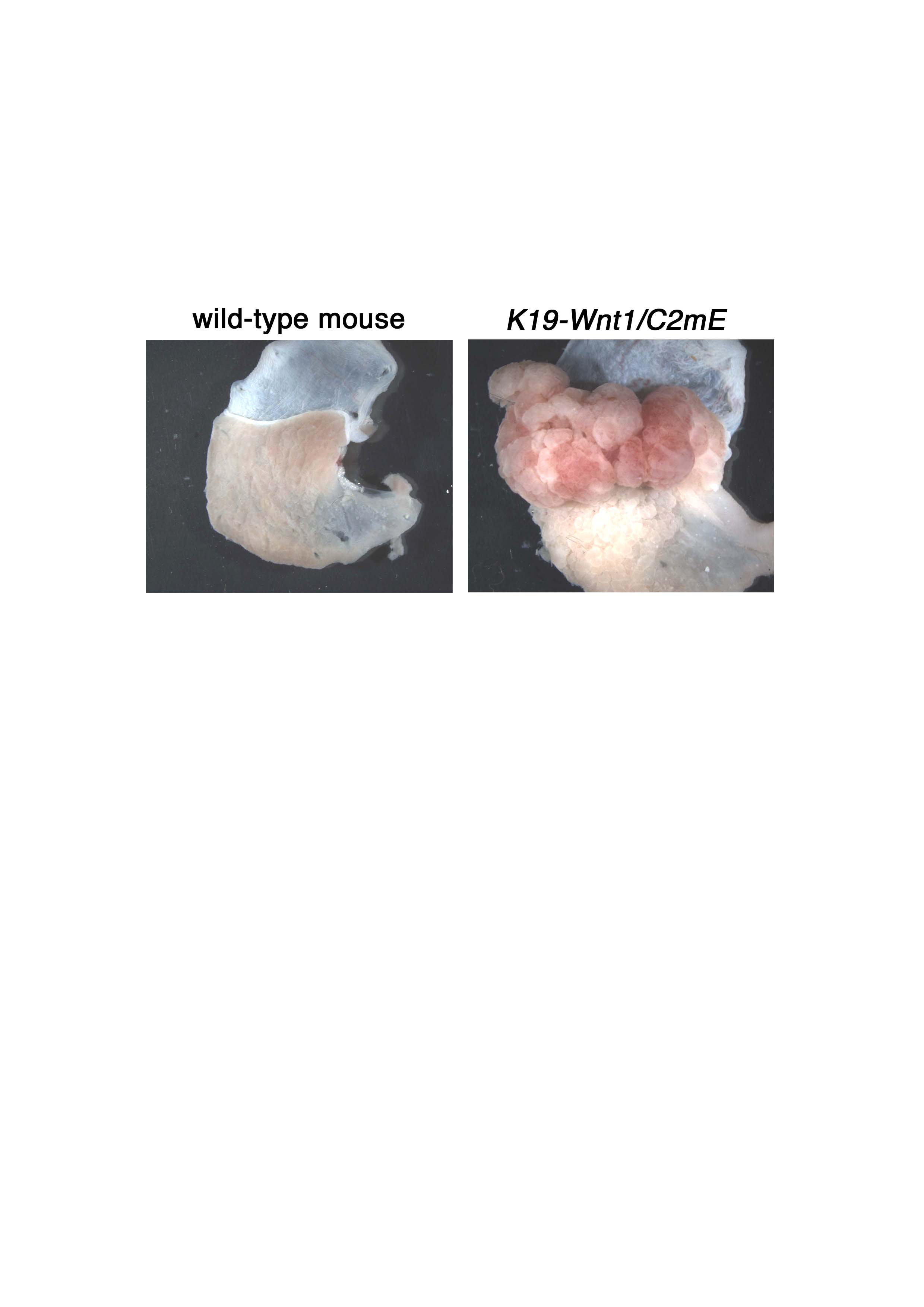 Although activation of Wnt signaling causes dysplastic changes of gastric epithelial cells, it is not enough for gastric tumor formation. Cooperation of Wnt and COX-2 pathway result ingastric tumor development.
We have genetically demonstrated such crosstalk in gastric cancer development by construction of K19-Wnt1/C2mE mice.
Books
Papers
 Loss of Apc heterozygosity and abnormal tissue building in nascent intestinal polyps in mice carrying a truncated Apc gene. 

PROCEEDINGS OF THE NATIONAL ACADEMY OF SCIENCES OF THE UNITED STATES OF AME

 92 10 4482-4486 1995/05
 Evidence against dominant negative mechanisms of intestinal polyp formation by Apc gene mutations 

CANCER RESEARCH

 55 12 2719-2822 1995/07
 TGF-beta receptor type II deficiency results in defects of yolk sac hematopoiesis and vasculogenesis 

DEVELOPMENTAL BIOLOGY

 179 297-302 1996/10
 Suppression of intestinal polyposis in Apc delta716 knockout mice by inhibition of cyclooxygenase 2 (COX-2) 

CELL

 87 5 803-809 1996/11
 Morphological and molecular processes of polyp formation in Apc delta716 knockout mice 

CANCER RESEARCH

 57 9 1644-1649 1997/05
 Intestinal polyposis in mice with a dominant stable mutation of the beta-catenin gene 

EMBO JOURNAL

 18 21 5931-5942 1999/11
 Chemoprevention of intestinal polyposis in the Apc delta716 mouse by rofecoxib, a specific cyclooxygenase-2 inhibitor 

CANCER RESEARCH

 61 4 1733-1740 2001/02
 Hyperplastic gastric tumors induced by activated macrophages in COX-2/mPGES-1 transgenic mice 

EMBO JOURNAL

 23 7 1669-1678 2004/04
 Hypergravity induces expression of cyclooxygenase-2 in the heart vessels 

BIOCHEMICAL AND BIOPHYSICAL RESEARCH COMMUNICATIONS

 330 3 928-933 2005/05
 Hyperplastic gastric tumors with spasmolytic polypeptide-expressing metaplasia (SPEM). 

CANCER RESEARCH

 65 9147 2005/10
 Increased Level of Serum Vascular Endothelial Growth Factor by Long-Term Exposure to Hypergravity Oshima M, Suzuki H, Guo X, Oshima H 

EXPERIMENTAL ANIMALS

 56 4 309-313 2007/07
 Platelet 12-lipoxigenase accelerates tumor promotion of mouse epidermal cells through enhancement of cloning efficiency. Piao Y, Du T, Oshima H, Jin J, Nomura M, Yoshimoto T, Oshima M 

CARCINOGENESIS

 2008/01
 Activated macrophages promote Wnt signaling through tumor necrosis factor-alpha in gastric tumor cell. Oguma K, Oshima H, Aoki M, Uchio R, Naka K, Nakamura S, Hirao A, Saya H, Taketo MM, Oshima M 

EMBO JOURNAL

 28 12 1671-1681 2008/06
 Stromal fibroblasts activated by tumor cells promote angiogenesis in mouse gastric cancer Guo X, Oshima H, Kitamura T, Taketo MM, Oshima M 

JOURNAL OF BIOLOGICAL CHEMISTRY

 283 28 19864-19871 2008/06
 Prostaglandin E2, Wnt and BMP in gastric tumor mouse models. Oshima H, Oguma K, Du YC, and Oshima M. 

Cancer Science

 100 10 1779-1785 2009/10
 Induction of prostaglandin E2 pathway promotes gastric hamartoma development with suppression of bone morphogenetic protein signaling Oshima H, Itadani H, Kotani H, Taketo MM, Oshima M. 

CANCER RESEARCH

 69 7 2729-2733 2009/04
 Wnt activation and PGE2 induction. Oshima H, and Oshima M. 

PATHOLOGY INTERNATIONAL

 2010/09
 Acceleration of intestinal polyposis through prostaglandin receptor EP2 in Apc delta716 knockout mice 

NATURE MEDICINE

 7 9 1048-1051 2001/09
 Prostaglandin E2 signaling and bacterial infection recruit tumor-promoting macrophages to mouse gastric tumors. 

GASTROENTEROLOGY

 140 4 596-607 2011/01
 Activation of epidermal growth factor receptor signaling by the prostaglandin E2 receptor EP4 pathway during gastric tumorigenesis. Oshima H, Popivanova BK, Oguma K, Kong D, Ishikawa T, and Oshima M.  

Cancer Sicence

 102 713-719 2011/04
 The inflammatory network in the gastrointestinal tumor microenvironment: lessons from mouse models Oshima H 

JOURNAL OF GASTROENTEROLOGY

 47 2 97 2012/02
 Induction and downregulation of Sox17 and its possible roles during the course of gastrointestinal tumorigenesis Du YC, Oshima H, Oguma K, Kitamura T, Itadani H, Fujimura T, Piao YS, Yoshimoto T, Minamoto T, Taketo MM, Oshima M. 

GASTROENTEROLOGY

 137 3 2009/09
 Inflammation-induced repression of tumor suppressor miR-7 in gastric tumor cells Kong D, Oshima Mほか12名 

ONCOGENE

 31 35 3949 2012/08
 The role of PGE2-associated inflammatory responses in gastric cancer development Oshim H 

Seminar in Immunopathology

 35 2 139 2013/03
 TNF-α/TNFR1 signaling promotes gastric tumorigenesis through induction of Noxo1 and Gna14 in tumor cells. Oshima H, ほか11名 

ONCOGENE

 2013/08
 Context-dependent activation of Wnt signaling by tumor suppressor RUNX3 in gastric cancer cells.  21. Ju X, Ishikawa T, Naka K, Ito K, Ito Y, and Oshima M. 

Cancer Science

 105 418-424 2014
 uppressing TGF-β signaling in regenerating epithelia in an inflammatory microenvironment is sufficient to cause invasive intestinal cancer. 22. Oshima H, Nakayama M, Han TS, Naoi K, Ju X, Maeda Y, Robine S, Tsuchiya K, Sato T, Taketo MM, and Oshima M. 

Cancer Research

 75 754-765 2015
 Myeloid differentiation factor 88 signaling in bone marrow-derived cells promotes gastric tumorigenesis by generation of inflammatory microenvironment Maeda Y, Echizen K, Oshima H, Yu L, Sakulsak N, Hirose O, Yamada Y, Taniguchi T, Jenkins BJ, Saya H, and Oshima M. 

Cancer Prevention Research

 9 3 253-263 2016/03/01
 Inflammation in gastric cancer: Interplay of the COX-2/prostaglandin E2 and Toll-like receptor/MyD88 pathways Echizen K, Hirose O, Maeda Y, Oshima M. 

Cancer Science

 107 4 391-397 2016/04/01
  Intestinal cancer progression by mutant p53 through the acquisition of invasiveness associated with complex glandular formation.  28. Nakayama M, Sakai E, Echizen K, Yamada Y, Oshima H, Han TS, Ohki R, Fujii F, Ochiai A, Robine S, Voon DC, Tanaka T, Taketo MM, and Oshima M. 

Oncogene

 36 5885-5896 2017
 Combined mutation of Apc, Kras and Tgfbr2 effectively drives metastasis of intestinal cancer.  29. Sakai E, Nakayama M, Oshima H, Kouyama Y, Niida A, Fujii S, Ochiai A, Nakayama KI, Mimori K, Suzuki Y, Hong CP, Ock CY, Kim SJ, and Oshima M. 

Cancer Reserach

 78 1334-1346 2018
 Stat3 is indispensable for damage-induced crypt regeneration but not for Wnt-driven intestinal tumorigenesis.  31. Oshima H, Kok SY, Nakayama M, Murakami K, Voon DC, Kimura T, and Oshima M. 

FASEB Journal

 33 1873-1886 2019
 p53 mutation in colon cancer Nakayama M, and Oshima M 

Journal of Molecular Cell Biology

 in press 2019
 Interleukin 1 upregulates microRNA-135b to promote inflammation-associated gastric carcinogenesis in mice.  33. Han TS, Voon DC, Oshima H, Nakayama M, Echizen K, Sakai E, Yong ZWE, Murakami K, Yu L, Minamoto T, Ock CY, Jenkins BJ, Kim SJ, Yang HK, and Oshima M. 

Gastroenterology

 in press 2019
 NF-B activation promotes gastric tumorigenesis through the expansion of SOX2-positive epithelial cells. 34. Echizen K, Horiuchi K, Aoki Y, Yamada Y, Minamoto T, Oshima H, and Oshima M. 

Oncogene

 in press 2019
Conference Presentations
Others
Arts and Fieldwork
Patent
Theme to the desired joint research
Grant-in-Aid for Scientific Research
○「大腸がん自然転移・再発モデルの開発による悪性化進展機構の研究」(2015-2018) 
○「炎症性微小環境の誘導機序および腫瘍免疫制御機序の研究」(2012-2014) 
○「上皮細胞腫瘍化と炎症反応の相互作用による消化管発がん機序」(2010-2014) 
○「疾患モデル動物を用いた環境発がん初期過程の分子機構および感受性要因の解明とその臨床応用に関する研究」(2010-2013) 
○「COX-2/PGE2経路と炎症反応による胃がん発生促進機序の研究」(2009-2011) 
○「スフェロイドを用いた胃上皮幹細胞の維持に作用するWnt標的分子の探索」(2009-2010) 
○「COX-2/PGE2経路と炎症反応による胃がん発生促進機序の研究」(2009-) 
○「スフェロイドを用いた胃上皮細胞の維持に作用するWnt標的分子の探索」(2009-) 
○「Wnt亢進とBMP抑制の相互作用による胃がん発生機序の研究」(2008-) 
○「胃癌発生過程でのPGE2によるWntシグナル活性化へ及ぼす影響の解明」(2007-) 
○「胃癌発生におけるWntシグナル亢進とCOX-2発現誘導の相互作用」(2005-) 
○「上皮細胞の分化増殖におけるCOX-2とmPGESの作用の解明」(2003-) 
○「時期特異的な全身性遺伝子発現トランスジェニックマウスシステムの開発」(2001-) 
○「WntおよびBMPシグナルの相互作用による胃粘膜上皮分化制御機構」(18-) 
Competitive research funding,Contribution
Collaborative research,Consignment study
○Anti-tumor effect of EP4 antagonist against gastric tumorigenesis(2008-2009)
○Evaluation of combination therapy of docetaxel and aurora kinase inhibitor against gastric cancer(2008-)
○Evaluation of K19-Nog/C2mE transgenic mice as human gastric cancer model(2007-2008)
○Gene pfofiling analysis using gastric cancer mouse model(2006-2007)
○Cardioprotective effect by gravity-induced COX-2(2005-2006)
○Effects on gravity on the epithelial tissue morphogenesis(2001-2003)
Classes (Bachelors)
Classes (Graduate Schools)
○Molecular Medical Oncology(2017)
○Molecular Genetics of Tumor Biology(2017)
○Itemized Lectures on Molecular Oncology(2017)
○Molecular Genetics of Tumor Biology(2017)
○Molecular Oncology(2017)
○Cancer molecular pathology 1(2017)
○Cancer molecular pathology 1(2017)
○Cancer molecular pathology 1(2017)
○Cancer molecular pathology 1(2017)
○Itemized Lectures on Molecular Oncology(2017)
○Itemized Lectures on Molecular Oncology(2017)
○Molecular Genetics of Tumor Biology(2017)
○Biology of Cancer 1A(2017)
○Biology of Cancer 1B(2017)
○Medical Sciences(2016)
○Biology of Cancer 1B(2016)
○Advanced Medical and Pharmaceutical Sciences(2016)
○Molecular Genetics of Tumor Biology(2016)
○Molecular Oncology(2016)
○Seminar on Tumor Biology(2016)
○Advanced Medical and Pharmaceutical Sciences(2016)
○Seminar on Tumor Biology(2016)
○Molecular Genetics of Tumor Biology(2016)
○Molecular Genetics of Tumor Biology(2016)
○Molecular Medical Oncology(2016)
○Biology of Cancer 1A(2016)
○Cancer molecular pathology 1(2016)
International Project
International Students
Lecture themes
Others (Social Activities)