Professor ANDO Toshio
Faculty, Affiliation
WPI Nano Life Science Institute
Nano Life Science institute (WPI-NanoLSI) Principal Investigator
Head of Imaging Research Division, Bio-AFM Frontier Research Center
College and School Educational Field
Division of Mathematical and Physical Science, Graduate School of Natural Science and Technology
Division of Mathematical and Physical Sciences, Graduate School of Natural Science and Technology

Laboratory
Biophysics Lab. TEL:076-264-5663 FAX:076-264-5739
Academic Background
【Academic background(Doctoral/Master's Degree)】
Waseda University Doctor Graduate School, Division of Science and Engineering Physics and Applied Physics 198003 Completed
【Academic background(Bachelor's Degree)】
Waseda University 197403
【Degree】
Doctor of Science
Career
Kanazawa University Natural Science & Technology(2003/04/01-)
Kanazawa University Faculty of Science(1996/07/01-2003/03/31)
Kanazawa University Faculty of Science(1992/08/01-1996/06/30)
Kanazawa University Faculty of Science(1986/04/01-1992/07/31)
University of California, San Francisco Cardiovascular Research Institute Assistant Research Biophysicist(1983/01/01-1986/03/31)
UC San Francisco, CVRI, Posdoc(1980/04/01-1982/12/31)
Year & Month of Birth
1951/03
Academic Society

American Physical Society

Jananese Socisty of Applied Physics
The Surface Science Society of Japan
Japanese Society of Microscopy
Award
○Medal with Purple Ribbon(2023/04)
○Toray Science and Technology Prize(2023/03)
○Toray Science and Technology Prize(2023/03)
○Toray Science and Technology Prize(2023/03)
○Harushie Inoue Prize(2016/07)
○Shimadzu Prize(2014/02)
○Doctor Honoris Causa(2014/11)
○Chairman's Prize of the Japanese Association of Invention(2013/06)
○Science & Technology Award(2013/04)
○Distinguished Contribution Award for Research and Education(2013/11)
○Kanazawa City Culture Prize(2012/11/03)
○University of Pennsylvania NBIC Research Excellence Award in Nanotechnology (2012/10/24)
○Award of the Japanese Society of Microscopy (2011/05/17)
○Yamazaki-Teiichi Prize(2010/09)
○Award of the Surface Science Society of Japan (2010/05/22)
○Sakaki Prize (JSPS)(2008/09/16)
○Best Paper Award of the Japan Society of Applied Physics(2007/09/07)
○2007 Distinguished Service Award of the President of Science Council of Japan(2007/06/16)
○2007 Distinguished Service Award of the President of Science Council of Japan(2007/06/16)
○Nanoprobe Technology Prize(2004/07/21)
○Nikkei BP Technology Prize(2003/04/04)
Specialities
Biophysics、Nanomaterials chemistry
Speciality Keywords
Scanning Probe Microscopy,Bio-imaging,High-speed atomic force microscopy,High-speed AFM,atomic force microscopy,motor proteins,Atomic Force Microscope,single-molecule analysis
Research Themes
Study on Motor Proteins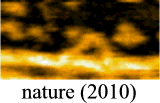 Motor proteins cordinate cell motility. We study them to understand their functional mechanism. For this purpose, we have been developing various techniques including high-speed AFM and fluorescence microscopy techniques. The left movie of walking myosin V comes from our paper published in Nature (Article) on November 4, 2010. Please look at other movies at our lab website.
Development and Biological Application of High-speed Atomic Force Microscopy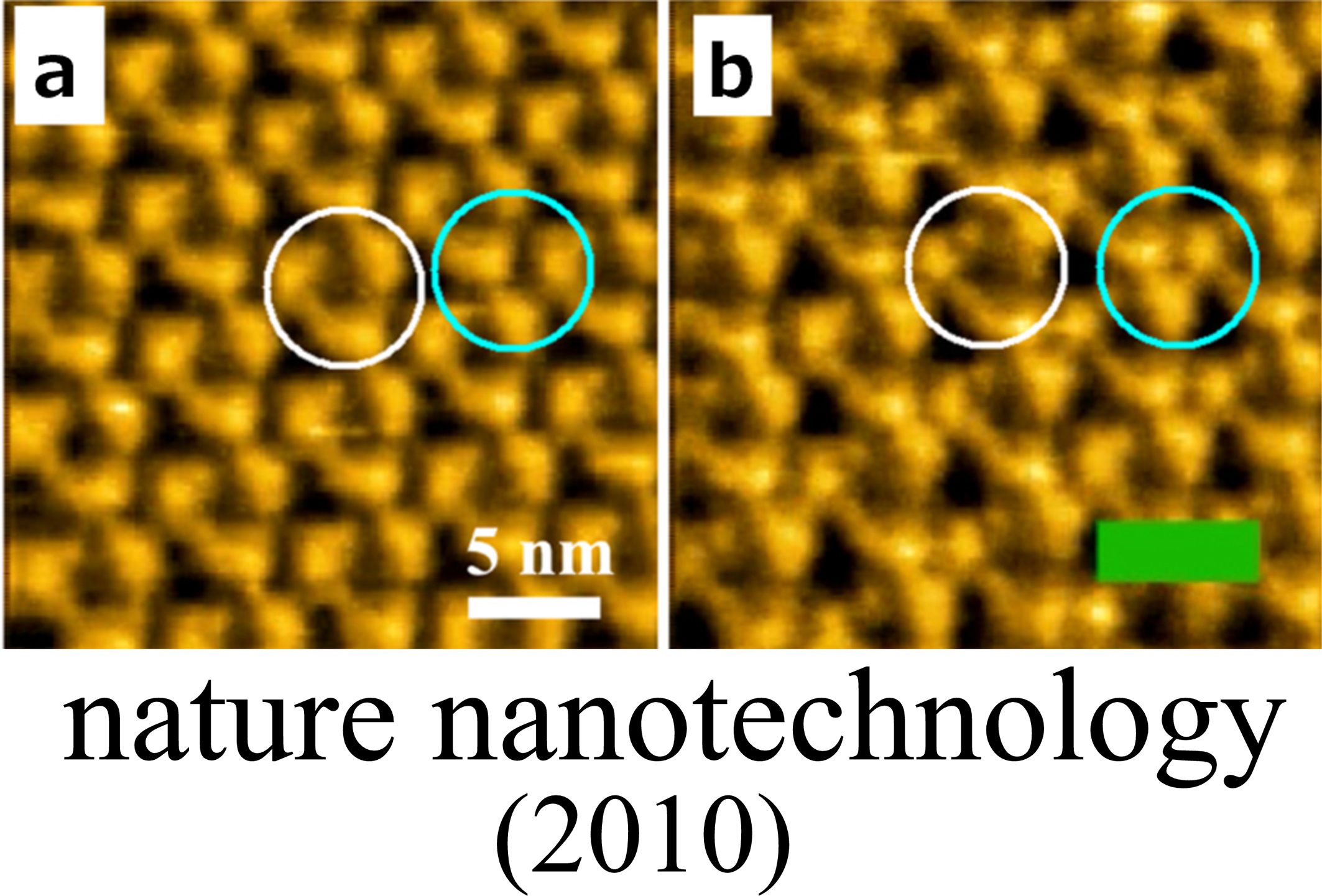 We have developed high-speed AFM capable of simultaneously recording the structure and dynamics of biological molecules at high spatiotemporal resolution. The capacity has now nearly reached the theoretical upper limit. Using this state-of-the-art microscopy, we are now imaging various functioning biomolecules in action to understand their functional mechanisms. The left images show dynamic structural changes of bacteriorhodopsin in response to light illumination (a, under dark; b, under light illumination).
Awards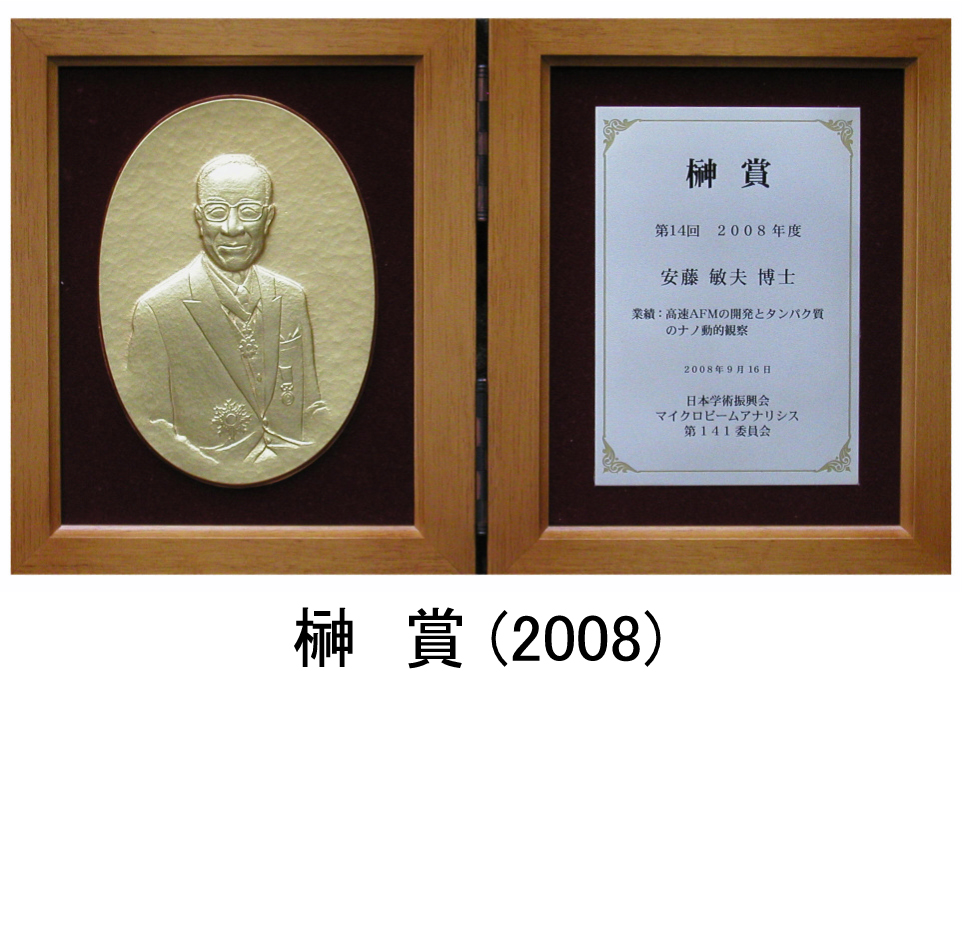 We have been awarded honorable prizes for the achievement of developing high-speed atomic force microscopy and its biological applications. This is the result of efforts by colleagues and many students in my lab.
2014.11.18 Doctor Honoris Causa from the Aix-Marseille Univ.
2014.2.17 Shimadzu Prize (Shimadzu Foundation for Promotion of Science & Technology)
2013.11.2 Distinguished Contribution Award for Research and Education, Kanazawa Univ.
2013.6.18 Chairman's prize of the Japanese Association of Invention
2013.4.16 Science & Technology Award of the Minister of Education, Culture, Sports, Science and Technology
2012.11.3 Kanazawa City Culture Prize
2012.10.24 Univ. of Pennsylvania NBIC Award for Research Excellence in Nanotechnology
2011.5.17 Best Paper Award of the Japanese Society of Microscopy
2010.9.16 Yamazaki-Teiichi Prize (Foundation for Promotion of Material Science and Technology of Japan)
2010.5.22 Award of the Surface Science Society of Japan
2008.9.16 Sakaki Prize (JSPS)
2007.9.4 Best Paper Award of the Japan Society of Applied Physics
2007.6.16 Distinguished Service Award of the President of Science Council of Japan
2005.11.3 Hokkoku Culture Prize
2004.7.21 Nanoprobe Technology Prize (JSPS)
2003.4.4 Nikkei BP Technology Prize

   
Books
 Toshio Ando High-speed atomic force microscopy in biology. Springer, Berlin, Heiderberg 2022/02
 Takayuki Uchihashi, Noriyuki Kodera, Toshio Ando  Noncontact Atomic Force Microscopy Vol.3 (Seizo Moprita, Franz J. Giessibl, Ernst Meyer, Roland Wiesendanger, Eds) Springer 2015
 Takayuki Uchihahsi, Noriyuki Kodera, Toshio Ando Atomic Force Microscopy in Nanobiology (Kunio Takeyasu Ed.)  Pan Stanford Publishing 2014
 Toshio Ando, Takayuki Uchihashi  Nanoscale Liquid Interfaces: Wetting, Patterning, and Force Microscopy at the Molecular Scale (Thierry ONDARÇUHU, Jean-Pierre Aimé Ed.) Pan Stanford Publishing 2013
 Takayuki Uchihashi, Noriyuki Kodera, Toshio Ando Single-molecule Studies of Proteins. Biophysics for the Life Sciences Vol 2 (Andres Oberhauser, ed)  Springer 2013
 Noriyuki Kodera, Toshio Ando Springer series Methods in Molecular Biology, vol. 897, part 1 "Experimental Tools for the Intrinsically Disordered Protein Analysis Springer 2012/01
 Techniques for developing high-speed AFM Springer 2011/07
 T. Ando Single Molecule Dynamics in Life Science Wiley-VCH 2008/08
 T. Ando, T. Uchihasi High-speed atomic force microscopy Springer-Verlarg  2009/09
 T. Ando Roadmap of Scanning Probe Microscopy Springer-Verlag  2006/06
 T. Uchihashi, T. Ando High-speed atomic force microscopy for dynamic biological imaging Pan Stanford Publishing Pte. Ltd. 2011/07
 Single-molecule Biology (Yoshie Harada & Shin'ichi Ishiwata Ed) 2014/09
Papers
 Structural and dynamics analysis of intrinsically disordered proteins by high-speed atomic force microscopy Noriyuki Kodera,Daisuke Noshiro,Sujit K. Dora,Tetsuya Mori,Johnny Habchi,David Blocquel,Antoine Gruet,Marion Dosnon,Edoardo Salladini,Christophe Bignon,Yuko Fujioka,Takashi Oda,Nobuo N. Noda,Mamoru Sato,Marina Lotti,Mineyuki Mizuguchi,Sonia Longhi,Toshio Ando 

Nature Nanotechnology

 16 2 181 2021/02 
 Geometrical Characterization of Glass Nanopipettes with Sub-10 nm Pore Diameter by Transmission Electron Microscopy Kazuki Shigyou,Linhao Sun,Riku Yajima,Shohei Takigaura,Masashi Tajima,Hirotoshi Furusho,Yousuke Kikuchi,Keisuke Miyazawa,Takeshi Fukuma,Azuma Taoka,Toshio Ando,Shinji Watanabe 

Analytical Chemistry

 92 23 15388 2020/12/01 
 High-Speed Atomic Force Microscopy Reveals Factors Affecting the Processivity of Chitinases during Interfacial Enzymatic Hydrolysis of Crystalline Chitin Mingbo Qu,Takahiro Watanabe-Nakayama,Shaopeng Sun,Kenichi Umeda,Xiaoxi Guo,Yuansheng Liu,Toshio Ando,Qing Yang 

ACS Catalysis

 10 22 13606 2020/11/20 
 Two-State Exchange Dynamics in Membrane-Embedded Oligosaccharyltransferase Observed in Real-Time by High-Speed AFM Yuki Kawasaki,Hirotaka Ariyama,Hajime Motomura,Daisuke Fujinami,Daisuke Noshiro,Toshio Ando,Daisuke Kohda 

Journal of Molecular Biology

 432 22 5951 2020/11
 Spatiotemporally tracking of nano-biofilaments inside the nuclear pore complex core Mahmoud Shaaban Mohamed,Masaharu Hazawa,Akiko Kobayashi,Laurent Guillaud,Takahiro Watanabe-Nakayama,Mizuho Nakayama,Hanbo Wang,Noriyuki Kodera,Masanobu Oshima,Toshio Ando,Richard W. Wong 

Biomaterials

 256 120198 2020/10
 High-Speed AFM Reveals Molecular Dynamics of Human Influenza A Hemagglutinin and Its Interaction with Exosomes Keesiang Lim,Noriyuki Kodera,Hanbo Wang,Mahmoud Shaaban Mohamed,Masaharu Hazawa,Akiko Kobayashi,Takeshi Yoshida,Rikinari Hanayama,Seiji Yano,Toshio Ando,Richard W. Wong 

Nano Letters

 20 9 6320 2020/09/09 
 Self- and Cross-Seeding on α-Synuclein Fibril Growth Kinetics and Structure Observed by High-Speed Atomic Force Microscopy. Takahiro Watanabe-Nakayama,Maika Nawa,Hiroki Konno,Noriyuki Kodera,Toshio Ando,David B Teplow,Kenjiro Ono 

ACS nano

 14 8 9979 2020/08/25
 Studies on the impellers generating force in muscle Toshio Ando 

Biophysical Reviews

 12 4 767 2020/08 
 Diversity of physical properties of bacterial extracellular membrane vesicles revealed through atomic force microscopy phase imaging. Yousuke Kikuchi,Nozomu Obana,Masanori Toyofuku,Noriyuki Kodera,Takamitsu Soma,Toshio Ando,Yoshihiro Fukumori,Nobuhiko Nomura,Azuma Taoka 

Nanoscale

 12 14 7950 2020/04/14
 Millisecond Conformational Dynamics of Skeletal Myosin II Power Stroke Studied by High-Speed Atomic Force Microscopy Oleg S. Matusovsky,Noriyuki Kodera,Caitlin MacEachen,Toshio Ando,Yu-Shu Cheng,Dilson E. Rassier 

ACS Nano

 15 2 2229 2021/02/23 
 Capturing transient antibody conformations with DNA origami epitopes Ping Zhang,Xiaoguo Liu,Pi Liu,Fei Wang,Hirotaka Ariyama,Toshio Ando,Jianping Lin,Lihua Wang,Jun Hu,Bin Li,Chunhai Fan 

Nature Communications

 11 1 2020/12 
 Biophysics in Kanazawa University Toshio Ando 

Biophysical Reviews

 2020/02
 High-speed near-field fluorescence microscopy combined with high-speed atomic force microscopy for biological studies. Takayuki Umakoshi,Shingo Fukuda,Ryota Iino,Takayuki Uchihashi,Toshio Ando 

Biochimica et biophysica acta. General subjects

 1864 2 129325-1 2020/02
 Phase separation organizes the site of autophagosome formation Yuko Fujioka,Jahangir Md. Alam,Daisuke Noshiro,Kazunari Mouri,Toshio Ando,Yasushi Okada,Alexander I. May,Roland L. Knorr,Kuninori Suzuki,Yoshinori Ohsumi,Nobuo N. Noda 

Nature

 578 7794 301 2020/02 
 Development of high-speed ion conductance microscopy Shinji Watanabe,Satoko Kitazawa,Linhao Sun,Noriyuki Kodera,Toshio Ando 

Review of Scientific Instruments

 90 12 123704 2019/12/01 
 Structure of the mitochondrial import gate reveals distinct preprotein paths Y. Araiso,A. Tsutsumi,J. Qiu,K. Imai,T. Shiota,J. Song,C. Lindau,L.-S. Wenz,H. Sakaue,K. Yunoki,S. Kawano,J. Suzuki,M. Wischnewski,C. Schütze,H. Ariyama,T. Ando,T. Becker,T. Lithgow,N. Wiedemann,N. Pfanner,M. Kikkawa,T. Endo 

Nature

 575 395 2019/10
 Thermally driven approach to fill sub-10-nm pipettes with batch production Linhao Sun,Kazuki Shigyou,Toshio Ando,Shinji Watanabe 

Anal. Chem.

 91 14080 2019/10
 Gliding machinery of Mycoplasma mobile visualized by High-speed AFM Kohei Kobayashi,Noriyuki Kodera,Yuhei Tahara,Takuma Toyonaga,Taishi Kasai,Toshio Ando,Makoto Miyata 

Microscopy

 54 2 67 2019/08 
 High-speed atomic force microscopy T. Ando 

Curr. Opin. Chem. Biol. 51, 105-112

 51 105 2019/08
 High-speed atomic force microscopy and its future prospects Toshio Ando 

Biophysical Reviews

 10 2 285 2018/04/01
 Structural insights into the substrate specificity switch mechanism of the type III protein export apparatus Y. Inoue,Y. Ogawa,M. Kinoshita,N. Terahara,M. Shimada,N. Kodera,T. Ando,K. Namba,A. Kitao,K. Imada,T. Minamino 

Structure

 27 6 965 2019/06
 Inner lumen proteins stabilize doublet microtubules in cilia and flagella. Mikito Owa,Takayuki Uchihashi,Haru-Aki Yanagisawa,Takashi Yamano,Hiro Iguchi,Hideya Fukuzawa,Ken-Ichi Wakabayashi,Toshio Ando,Masahide Kikkawa 

Nature communications

 10 1 1143 2019/03/08
 Structure of the UHRF1 Tandem Tudor Domain bound to a methylated non-histone protein, LIG1, reveals rules for binding and regulation S. Kori,L. Ferry,S. Matano,T. Jimenji,N. Kodera,T. Tsusaka,R. Matsumura,T. Oda,M. Sato,N. Dohmae N,T. Ando,Y. Shinkai,P. A. Defossez,K. Arita 

Structure

 27 3 485 2019/03
 Cationic polymethacrylate-copolymer acts as an agonist for β-amyloid and antagonist for amylin fibrillation B. R. Sahoo,T. Genjo,T. Watanabe-Nakayama,A. K. Stoddard,T. Ando,K. Yasuhara,C. A. Fierke,A. Ramamoorthy 

Chem. Sci.

 10 3976 2019/02
 The clustering-induction of RANKL molecules could stimulate early osteroblast differentiation E. Sone,D. Noshiro,Y. Ikebuchi,M. Nakagawa,M. Khan,Y. Tamura,M. Ikeda,M. Oki,R. Murali,T. Fujimori,T. Yoda,M. Honma,H. Suzuki,T. Ando,K. Aoki 

Biophys. Biochem. Res. Commun.

 509 2 435 2019/02
 Metastable asymmetrical structure of a shaftless V1 motor Shintaro Maruyama,Kano Suzuki,Motonori Imamura,Hikaru Sasaki,Hideyuki Matsunami,Kenji Mizutani,Yasuko Saito,Fabiana L. Imai,Yoshiko Ishizuka-Katsura,Tomomi Kimura-Someya,Mikako Shirouzu,Takayuki Uchihashi,Toshio Ando,Ichiro Yamato,Takeshi Murata 

Science Advances

 5 1 eaau8149 2019/01 
 Single-unit imaging of membrane protein-embedded nanodiscs from two oriented sides by high-speed atomic force microscopy T. Haruyama,Y. Sugano,N. Kodera,T. Uchihashi,T. Ando,Y. Tanaka,H. Konno,T. Tsukazaki 

Structure

 27 152 2019/01
 Free energy landscape and dynamics of supercoiled DNA by high-speed tomic force microscopy T. Brouns,H. De. Keersmaecker,S. Konrad,N. Kodera,T. Ando,J. Lipfert,S. De Feyter,W. Vanderlinden 

ACS Nano

 12 12 11907 2018/10
 Revealing circadian mechanisms of integration and resilience by visualizing clock proteins working in real time T. Mori,S. Sugiyama,M. Byme,C. H. Johnson,T. Uchihashi,T. Ando 

Nature Communications

 9 3245-1 2018/08
 Topical Review: The 2018 correlative microscopy techniques roadmap T. Ando,authors 

J. Phys. D: Appl. Phys.

 51 44 443001-1 2018/08
 Quantum-dot antibody conjugation visualized at the single-molecule scale with high-speed atomic force microscopy Takayuki Umakoshi,Hikari Udaka,Takayuki Uchihashi,Toshio Ando,Miho Suzuki,Takeshi Fukuda 

Colloids and Surfaces B: Biointerfaces

 167 267 2018/07/01
 Dynamic structural states of CIpB involved in its disaggregation function Takayuki Uchihashi,Yo-hei Watanabe,Yosuke Nakazaki,Takashi Yamasaki,Hiroki Watanabe,Takahiro Maruno,Kentaro Ishii,Susumu Uchiyama,Chihong Song,Kazuyoshi Murata,Ryota Iino,Toshio Ando 

NATURE COMMUNICATIONS

 9 2147-1 2018/06
 Substrate protein dependence of GroEL-GroES interaction cycle revealed by high-speed AFM imaging D. Noshiro,T. Ando 

Philosophical Transactions Royal Society B

 373 1749 20170180-1 2018/05
 Insight into structural remodeling of the FlhA ring responsible for bacterial flagellar type III protein export Naoya Terahara,Yumi Inoue,Noriyuki Kodera,Yusuke V. Morimoto,Takayuki Uchihashi,Katsumi Imada,Toshio Ando,Keiichi Namba,Tohru Minamino 

Science Advances

 4 4 eaao7054-1 2018/04/25
 Chaperonin GroEL-GroES functions as both alternating and non-alternating engines D. Yamamoto and T. Ando 

J. Mol. Biol.

 428 3090-3101  2016
 High-speed atomic force microscopy reveals strongly polarized movement of clostridial collagenase along collagen fibrils T. Watanabe-Nakayama, M. Itami, N. Kodera, T. Ando and H. Konno 

Scientific Reports

 6 28975 2016
 The Intrinsically Disordered Protein Atg13 Mediates Supramolecular Assembly of Autophagy Initiation Complexes Hayashi Yamamoto, Yuko Fujioka, Sho W. Suzuki, Daisuke Noshiro, Hironori Suzuki, Chika Kondo-Kakuta, Yayoi Kimura, Hisashi Hirano, Toshio Ando, Nobuo N. Noda, Yoshinori Ohsumi 

Dev. Cell

 38 86-99 2016
 Functional extension of high-speed atomic force microscopy T. Uchihashi, H. Watanabe, S. Fukuda, M. Shibata and T. Ando 

Ultramicroscopy

 160 182-196  2016
 Two-ball structure of the flagellar hook-length control protein FliK as revealed by high-speed atomic force microscopy N. Kodera, K. Uchida, T. Ando, and S. Aizawa 

J. Mol. Biol.

 427 406-414  2015
 Method of mechanical holding of cantilever chip for tip-scan high-speed atomic force microscopy Shingo Fukuda, Takayuki Uchihashi, Toshio Ando 

Rev. Sci. Instrum.

 86 063703 2015
 Cofilin-induced unidirectional cooperative conformational changes in actin filaments revealed by high-speed AFM Kien Xuan Ngo, Noriyuki Kodera, Eisaku Katayama, Toshio Ando and Taro Q.P. Uyeda 

e-Life

 4 e04806 2015
 Potential pre-pore trimer formation by the Bacillus thuringiensis mosquito-specific toxin: Molecular insights into a critical prerequisite of membrane-bound monomers Wilaiwan Sriwimol, Aratee Aroonkesorn, Somsri Sakdee, Chalermpol Kanchanawarin, Takayuki Uchihashi, Toshio Ando and Chanan Angsuthanasombat  

J. Biol. Chem.

 290 34 20793-20803  2015
 CYK4 Promotes Antiparallel Microtubule Bundling by Optimizing MKLP1 Neck Conformation T. Davies, N. Kodera, G. S. Kaminski Schierle, E. Rees, M. Erdelyi, C. F. Kaminski, T. Ando, M. Mishima  

PloS Biol.

 13 4 e1002121 (26 pp) 2015
 Long-tip high-speed atomic force microscopy for nanometer-scale imaging in live cells M. Shibata, T. Uchihashi, T. Ando and R. Yasuda 

Scientific Reports

 5 8724 (7 pp) 2015
 Probing structural dynamics of an artificial protein cage using high-speed atomic force microscopy M. Imamura, T. Uchihashi, T. Ando, A. Leifert, U. Simon, A. D. Malay and J. G. Heddle 

Nano Lett.

 15 2 1331-1335 2015
 IgGs are made for walking on bacterial and viral surfaces J. Preiner, N. Kodera, J. Tang, A. Ebner, M. Brameshuber, D. Blaas, N. Gelbmann, H. Gruber, T. Ando, and P. Hinterdorfer 

Nature Communications

 5 4394 (8 pp) 2014
 Multiple Interactions of the Intrinsically Disordered Region between the N-terminal Helicase and C-terminal Nuclease Domains of the Archaeal Hef Protein  S. Ishino, T. Yamagami, M. Kitamura, N. Kodera, T. Mori, S. Sugiyama, T. Ando, N. Goda, T. Tenno, H. Hiroaki, and Y. Ishino 

J. Biol. Chem.

 289 21627-21639  2014
 High-speed AFM imaging Toshio Ando 

Curr. Opin. Struct. Biol.

 28 63-68 2014
 The path to visualization of walking myosin V by high-speed atomic force microscopy N. Kodera and T. Ando 

Biophys. Rev.

 6 237-260  2014
 Single-molecule imaging analysis of elementary reaction steps of Trichoderma Reesei cellobiohydrolase I (Cel7A) hydrolyzing crystalline cell Y. Shibafuji, A. Nakamura, T. Uchihashi, N. Sugimoto, S. Fukuda, H. Watanabe, M. Samejima, T. Ando, H. Noji, A. Koivula, K. Igarashi, and R. Iino 

J. Biol. Chem.

 289 14056-14065  2014
 Filming biomolecular processes by high-speed atomic force microscopy T. Ando, T. Uchihashi, and S. Scheuring 

Chem. Rev.

 114 6 3120-3188  2014
 Trade-off between processivity and hydrolytic velocity of cellobiohydrolases at the surface of crystalline cellulose A. Nakamura, H. Watanabe, T. Ishida, T. Uchihashi, M. Wada, T. Ando, K. Igarashi, and M. Samejima 

J. Am. Chem. Soc.

 136 4584-4592 2014
 A dynamic PID controller for high-speed atomic force microscopy N. Kodera, M. Sakashita, and T. Ando 

REVIEW OF SCIENTIFIC INSTRUMENTS

 77 8 083704-7 2006
 Two-way traffic of glycoside hydrolase family 18 processive chitinases on crystalline chitin K. Igarashi, T. Uchihashi, T. Uchiyama, H. Sugimoto, M. Wada, K. Suzuki, S. Sakuda, T. Ando, T. Watanabe, and M. Samejima 

Nature Communications

 5 3975 2014
 Identification of the specific IQ motif of myosin V from which calmodulin dissociates in the presence of Ca2+. H. Koide, T. Kinoshita, Y. Tanaka, S. Tanaka, N. Nagura, G. Meyer zu Hoerste, A. Miyagi 

BIOCHEMISTRY

 45 38 11598-11604 2006
 High-speed atomic force microscopic observation of ATP-dependent rotation of the AAA+ chaperone p97 Kentaro Noi, Daisuke Yamamoto, Shingo Nishikori, Ken-ichi Arita-Morioka, Toshio Ando and Teru Ogura 

Structure

 21 1992-2002 2013
 Fast phase imaging in liquids using a rapid scan atomic force microscope T. Uchihashi, H. Yamashita, T. Ando 

APPLIED PHYSICS LETTERS

 89 21 213112-3 2006
 High-speed atomic force microscopy of protein dynamics: myosin on actin and rotary enzyme F1-ATPase Toshio Ando 

Microscopy & Analysis

 27 3 10-13 2013
 Feed-forward compensation for high-speed atomic force microscopy imaging of biomolecules. T. Uchihashi, N. KOdera, H. Ito, H. Yamashita, T. Ando 

JAPANESE JOURNAL OF APPLIED PHYSICS PART 1-REGULAR PAPERS SHORT NOTES & REV

 45 3B 1904-1908 2006
 Real-Time Visualization of Assembling of a Sphingomyelin-Specific Toxin Neval Yilmaz, Taro Yamada, Peter Greimel, Takayuki Uchihashi, Toshio Ando, and Toshihide Kobayashi 

Biophys. J.

 105 1397-1405 2013
 Fast-scaaning atomic foece microscopy reveals the ATP/ADP-dependent conformational changes of GroEL. M. Yokokawa, S.H. Yoshimura, Y. Naito, T. Ando, A. Yagi, S. Sakai, K. Takeyasu 

EMBO JOURNAL

 25 x 4567-4576 2006
 High-speed atomic force microscopy for studying dynamic behavior of protein molecules at work. T. Ando, T. Uchihashi, N. Kodera, A. Miyagi, R. Nakakita, H. Yamashita, M. Sakashita 

JAPANESE JOURNAL OF APPLIED PHYSICS PART 1-REGULAR PAPERS SHORT NOTES & REV

 45 3B 1897-1903 2006
 High-speed AFM and applications to biomolecular systems T. Ando, T. Uchihashi, and N. Kodera 

Annual Review of Biophysics

 42 393-414  2013
 Role of trimer-trimer interaction of bacteriorhodopsin studied by optical spectroscopy and high-speed atomic force microscopy H. Yamashita, K. Inoue, M. Shibata, T. Uchihashi, J. Sasaki, H. Kandori, and T. Ando 

J. Struct. Biol.

 184 2-11 2013
 Fast-scanning atomic force microscopy reveals the molecular mechanism of DNA cleavage by ApaI endonuclease. M. Yokokawa, S.H. Yoshimura, Y. Naito, T. Ando, A. Yagi, N. Sakai, K. Takeyasu 

IEE Proc. Nanobiotechnology

 153 4 60-66 2006
 Active damping of the scanner for high-speed atomic force microscopy. 

REVIEW OF SCIENTIFIC INSTRUMENTS

 76 5 053708 2005
 Wide-area scanner for high-speed atomic force microscopy H. Watanabe, T. Uchihashi, T. Kobashi, M. Shibata, J. Nishiyama, R. Yasuda, and T. Ando 

Review of Scientific Instruments

 84 5 053702 2013
 High-speed AFM for studying the dynamic behavior of protein molecules at work T. Ando, T. Uchihashi, N. Kodera, A. Miyagi, R. Nakakita, H. Yamashita, K. Matada 

e-J. Surf. Sci. Nanotechnol.

 3 384-392 2005
 Molecular Machines directly observed by high-speed atomic force microscopy 

FEBS LETTERS

 587 8 997-1007 2013
 High-speed atomic force microscopy 

Microscopy

 62 1 81-93  2013
 Polarized Actin Bundles Formed by Human fascin-1: Their Sliding and Disassembly on Myosin II and Myosin V in vitro. R. Ishikawa, T. Sakamoto, T. Ando 

JOURNAL OF NEUROCHEMISTRY

 87 676-685 2003
 Phosphorylation-Coupled Intramolecular Dynamics of Unstructured Regions in Chromatin Remodeler FACT M. Hashimoto, N. Kodera, Y. Tsunaka, M. Oda, M. Tanimoto, T. Ando, K. Morikawa, and S. Tate 

BIOPHYSICAL JOURNAL

 104 10 2222-2234  2013
 High-resolution Imaging of Myosin Motor in Action by a High-speed Atomic Force Microscope. N. Kodera, T. Ando 

ADVANCES IN PROTEIN CHEMISTRY

 538 119-127 2003
 A high-speed Atomic force microscope for studying biological macromolecules in action. 

CHEMPHYSCHEM

 4 1196-1202 2003
 High-speed atomic force microscope combined with single-molecule fluorescence microscope S. Fukuda, T. Uchihashi, R. Iino, Y. Okazaki, M. Yoshida, K. Igarashi 

REVIEW OF SCIENTIFIC INSTRUMENTS

 84 7 073706  2013
 Guide to video recording of structure dynamics and dynamic processes of proteins by high-speed atomic force microscopy T. Uchihashi, N. Kodera, and T. Ando 

Nature Protocols

 7 6 1193-1206  2012
 A high-speed atomic force microscope for studying biological macromolecules in action 

JAPANESE JOURNAL OF APPLIED PHYSICS PART 1-REGULAR PAPERS SHORT NOTES & REV

 41 7B 4851-4856 2002
 Single molecule imaging on living bacterial cell surface by high-speed AFM H. Yamashita, A. Taoka, T. Uchihashi, T. Asano, T. Ando, and Y. Fukumori 

JOURNAL OF MOLECULAR BIOLOGY

 422 2 300-309 2012
 A high-speed atomic force microscope for studying biological macromolecules 

PROCEEDINGS OF THE NATIONAL ACADEMY OF SCIENCES OF THE UNITED STATES OF AME

 98 22 12468-12472 2001
 High-speed atomic force microscopy T. Ando, T. Uchihashi, and N. Kodera 

JAPANESE JOURNAL OF APPLIED PHYSICS

 51 08KA02 2012
 Link between the enzymatic and mechanical behavior in an actomyosin motor I. Amitani, T. Sakamoto, T. Ando 

Biophys. J.

 80 379-397  2001
 High-speed atomic force microscopy coming of age 

NANOTECHNOLOGY

 23 6 062001 2012
 Visualization of cellobiohydrolase I from Trichoderma reesei moving on crystalline cellulose using high-speed atomic force microscopy K. Igarashi, T. Uchihashi, A. Koivula, M. Wada, S. Kimura, M. Penttilä, T. Ando, and M. Samejima 

METHODS IN ENZYMOLOGY

 510 169-182  2012
 Direct observation of processive movement by individual myosin V molecules 

Biochem. Biophys. Res. Commun.

 272 586-590 2000
 High-speed atomic force microscopy reveals rotary catalysis of rotorless F1-ATPase T. Uchihashi, R. Iino, T. Ando, and H. Noji 

SCIENCE

 333 6043 755-758 2011
 Single-fluorophore imaging with an unmodified epifluorescence microscope and conventional video camera 

J. Microscopy

 195 178-182 1999
 Dynamics of nucleosomes assessed with time-lapse high speed atomic force microscopy A. Miyagi, T. Ando and Y. L. Lyubchenko 

Biochemistry

 50 7901-7908  2011
 Scanning force microscopy of the interaction events between a single molecule of heavy meromyosin and actin 

Biochem. Biophys. Res. Commun.

 234 178-182 1997
 Self-assembly properties and dynamic of synthetic proteo-nucleic building blocks in solution and on surfaces  A. Laisne, M. Ewald, T. Ando, E. Lesniewska, D. Pompon 

Bioconjugate Chem.

 22 1824-1834  2011
 High-speed atomic force microscopy and biomolecular processes T. Uchihashi and T. Ando 

Methods Mol. Biol.

 736 285-300 2011
 Structural changes in bacteriorhodopsin in response to alternate illumination observed by high-speed atomic force microscopy M. Shibata, T. Uchihashi, H. Yamashita, H. Kandori, and T. Ando 

ANGEWANDTE CHEMIE-INTERNATIONAL EDITION

 50 4410 –4413  2011
 Traffic jams reduce hydrolytic efficiency of cellulase on cellulose surface K. Igarashi, T. Uchihashi, A. Koivula, M. Wada, S. Kimura, T. Okamoto, M. Penttilä, T. Ando, and M. Samejima 

SCIENCE

 333 1279-1282  2011
 Imaging of nucleic acids with atomic force microscopy Y. L. Lyubchenko, L. S. Shlyakhtenko, and T. Ando 

METHODS

 54 274-283  2011
 High-speed Atomic Force Microscopy for Directly Visualizing Dynamic Biomolecular Processes 45 1 22-30 2010
 Direct Observation of Surfactant Aggregate Behavior on a Mica Surface using High-Speed Atomic Force Microscopy S. Inoue, T. Uchihashi, D. Yamamoto, and T. Ando 

CHEMICAL COMMUNICATIONS

 47 4974–4976  2011
 Video imaging of walking myosin V by high-speed atomic force microscopy N. Kodera, D. Yamamoto, R. Ishikawa, and T. Ando 

NATURE

  468 7320 72-76  2010
 High-speed atomic force microscopy shows dynamic molecular processes in photo-activated bacteriorhodopsin M. Shibata, H. Yamashita, T. Uchihashi, H. Kandori, and T. Ando 

Nature Nanotechnology

 5 208-212  2010
 Deciphering the structure, growth and assembly of amyloid-like fibrils using high-speed atomic force microscopy P.-E. Milhiet, D. Yamamoto, O. Berthoumieu, P. Dosset, Ch. Le Grimellec, J.-M. Verdier, S. Marchal, and T. Ando 

PLos One

 5 11 e13240 (8 pp) 2010
 High-speed atomic force microscopy techniques for observing dynamic biomolecular processes D. Yamamoto, T. Uchihashi, N. Kodera, H. Yamashita, S. Nishikori, T. Ogura, M. Shibata, and T. Ando 

METHODS IN ENZYMOLOGY

 475 Part B 541-56 2010
 Visualization and structural analysis of the bacterial magnetic organelle magnetosome using atomic force microscopy D. Yamamoto, A. Taoka, T. Uchihashi, H. Sasaki, H. Watanabe, T. Ando, and Y. Fukumori 

PROCEEDINGS OF THE NATIONAL ACADEMY OF SCIENCES OF THE UNITED STATES OF AME

 107 20 9382-9387  2010
 AAA+ chaperone ClpX regurates dynamics of prokaryotic cytoskeletal protein FtsZ S. Sugimoto, K. Yamanaka, S. Nishikori, A. Miyagi, T. Ando, and T. Ogura 

JOURNAL OF BIOLOGICAL CHEMISTRY

 285 9 6648-6657 2010
 Surface topography of membrane domains M.-C. Giocondi, D. Yamamoto, E. Lesniewska, P.-E. Milhiet, T. Ando, and Ch. Le Grimellec 

BIOCHIMICA ET BIOPHYSICA ACTA-BIOMEMBRANES

 1978 703-718  2010
 High-resolution high-speed contact mode atomic force microscopy movies of purple membrane I. Casuso, N. Kodera, C. Le Grimellec, T. Ando, and S. Scheuring 

BIOPHYSICAL JOURNAL

 97 5 1354-1361  2009
 Dynamics of bacteriorhodopsin 2D crystal observed by high-speed atomic force microscopy. H. Yamashita, K. Voitchovsky, T. Uchihashi, S. Antoranz Contera, J. F. Ryan, and T. Ando 

JOURNAL OF STRUCTURAL BIOLOGY

 167 2 153-158 2009
 Single-molecule imaging of a micro-Brownian motion of a chiral helical π-conjugated polymer as a molecular spring driven by thermal fluctuations K. Shinohara, N. Kodera, and T. Ando 

CHEMISTRY LETTERS

 38 7 690-691  2009
 Streptavidin 2D crystal substrates for visualizing biomolecular processes by atomic force microscopy D. Yamamoto, N. Nagura, S. Omote, M. Taniguchi, and T. Ando 

BIOPHYSICAL JOURNAL

 97 8 2358–2367  2009
 High-speed atomic force microscopy for nano-visualization of dynamic biomolecular processes T. Ando, T. Uchihashi, and T. Fukuma 

PROGRESS IN SURFACE SCIENCE

 83 337-437  2008
 Visualization of intrinsically disordered regions of proteins by high-speed atomic force microscopy. A. Miyagi, Y. Tsunaka, T. Uchihashi, K. Mayanagi, S. Hirose, K. Morikawa, T. Ando 

CHEMPHYSCHEM

 9 13 1859-1866 2008
 Anisotropic diffusion of point defects in two-dimensional crystal of streptavidin observed by high-speed atomic force microscopy. D. Yamamoto, T. Uchihashi, N. Kodera, T. Ando 

NANOTECHNOLOGY

 19 384009-384017 2008
 High-speed AFM and nano-visualization of biomolecular processes T. Ando, T. Uchihashi, N. Kodera, D. Yamamoto, M. Taniguchi, A. Miyagi, and H. Yamashita 

PFLUGERS ARCHIV-EUROPEAN JOURNAL OF PHYSIOLOGY

 456 211-225  2008
 High resonance frequency force microscope scanner using inertia balance support. T. Fukuma, Y. Okazaki, N. Kodera, T. Uchihahsi, T. Ando 

APPLIED PHYSICS LETTERS

 92  , 243119-243121 2008
 Tip-sample distance control using photo-thermal actuation of a small cantilever for high-speed atomic force microscopy. H. Yamashita, T. Uchihashi, N. Kodera, A. Miyagi, D. Yamamoto, T. Ando 

REVIEW OF SCIENTIFIC INSTRUMENTS

 78  - 83702-83706 2007
 Fabrication of 3D micro-cantilevers based on MBE-grown strained semiconductor layers H. Iwase, H. Choi, M. Akabori, T. Suzuki, S. Yamada, D. Yamamoto, T. Ando 

Physica E: Low-dimensional Systems and Nanostructures

 40 6 2210-2213  2008
 Control techniques in high-speed atomic force microscopy Toshio Ando 

Proceedings of the American Control Conference

 art. no. 4586984 3194-3200  2008
 High-speed atomic force microscopy for observing dynamic biomolecular processes T. Ando, T. Uchihashi, N. Kodera, D. Yamamoto, M. Taniguchi, A. Miyagi, H. Yamashita 

J. Mol. Recognit.

 20 448-458  2007
 Tip-sample distance control using photo-thermal actuation of a small cantilever for high-speed atomic force microscopy H. Yamashita, T. Uchihashi, N. Kodera, A. Miyagi, D. Yamamoto, T. Ando 

Rev. Sci. Instrum.

 78 083702 (5 pp)  2007
 Single Molecular Imaging of a micro-Brownian Motion and a Bond Scission of a Supramolecular Chiral pai-conjugated. K. Shinohara, N. Kodera, T. Ando 

CHEMISTRY LETTERS

 36 1378-1379 2007
 Japan AFM roadmap 2006 S. Morira, H. Yamada, T. Ando 

NANOTECHNOLOGY

 18 x 084001-084010 2007
Conference Presentations
Go to the lab website: http://www.s.kanazawa-u.ac.jp/phys/biophys/invited_talks.htm
Others
 High-speed AFM for studying the dynamic behavior of protein molecules at work. T. Ando, T. Uchihashi, N. Kodera, A. Miyagi, R. Nakakita, H. Yamashita, M. Matada 3 x 384-392 2005/12
 Review: High-speed atomic force microscopy for observing dynamic biomolecular processes. T. Ando, T. Uchihashi, N. Kodera, D. Yamamoto, M. Taniguchi, A. Miyagi, H. Yamashita 20 448-458 2007
 Invited Review, high-speed AFM and nanovisualization of biomolecular processes. T. Ando, T. Uchihashi, N. Kodera, D. Yamamoto, M. Taniguchi, A. Miyagi, and H. Yamashita 456 211-225 2008
Arts and Fieldwork
Patent
○Scan type probe microscope and active damping drive control device(publish date:2008/03)(country:Almost all countries)(No:WO 2008/029561 A1)
○Atomic Force Microscope(publish date:2008/03/01)(country:Almost all countries)(No:WO 2008/029562 A1)
○Scanning probe microscope and molecular structure change observation method.(publish date:2009/07/01)(country:USA)(No:US 7,556,968 B2)
○Scanning unit and scanning microscope having the same(publish date:2004/10/01)(country:USA)(No:US 6,809,306 B2)
○Scanning unit and scanning microscope having the same(publish date:2003/09/01)(country:USA)(No:US 6,617,761 B2)
Theme to the desired joint research
○Development of high-speed scanning probe microscopies
Grant-in-Aid for Scientific Research
○「高速AFMの高度化技術の開発とタンパク質の動作機序解析」(2014-2017) 
○「高速バイオAFMが拓く新構造生物学」(2012-2016) 
○「天然変性蛋白質」(2009-2013) 
○「生命現象の解明に資する革新的高速AFMの開発」(2008-2012) 
○「最高速AFMが解き明かす生物分子モーターのナノ構造ダイナミクス」(2003-2007) 
○「アクチンに形成される場で無生物は走るか?」(2004-2005) 
Competitive research funding,Contribution
Collaborative research,Consignment study
○Development of a high-speed atomic force microscope(2002-2003)
○Development of 3D high-resolution dynamic imaging instrument(2004-2009)
○Dynamics observation of vesicle adsorption by high-speed AFM(2008-2010)
Classes (Bachelors)
Classes (Graduate Schools)
International Project
International Students
Lecture themes
Others (Social Activities)