Associate Professor OSHIMA Hiroko
Faculty, Affiliation
Cancer Research Institute
College and School Educational Field
Division of Pharmacy, Graduate School of Medical Science

Laboratory
Division of genetics TEL:076-265-2724 FAX:076-234-4519
Academic Background
【Academic background(Bachelor's Degree)】
Kumamoto University 199203
Career
1992-1997 Banyu Tsukuba Research Institute
1997-2000 Merck Research Laboratory
2001-2005 Kyoto University
Year & Month of Birth
1969/09
Academic Society
Award
Specialities
Experimental pathology
Speciality Keywords
Research Themes
Inflammatory responses in gastrointestinal tumorigenesis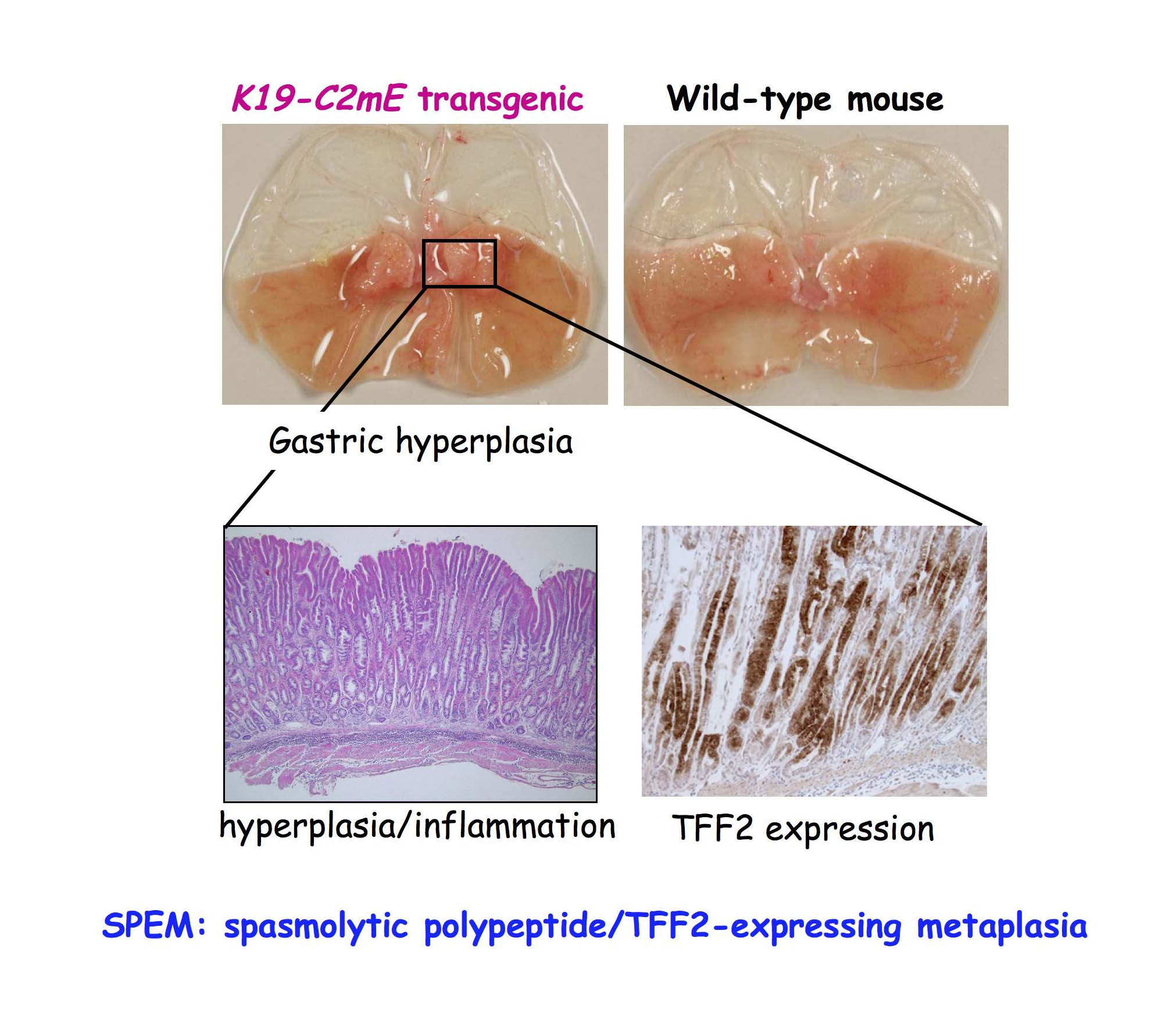 Inflammation and related induction of PGE2 pathway play an important role in gastrointestinal tumorigenesis. Gastritis in mice by transgenic expression of COX-2 and mPGES-1 or infection with Helicobacter causes SPEM development, which may contribute to gastric tumorigenesis.
Generation of inflammation-associated gastric cancer mouse model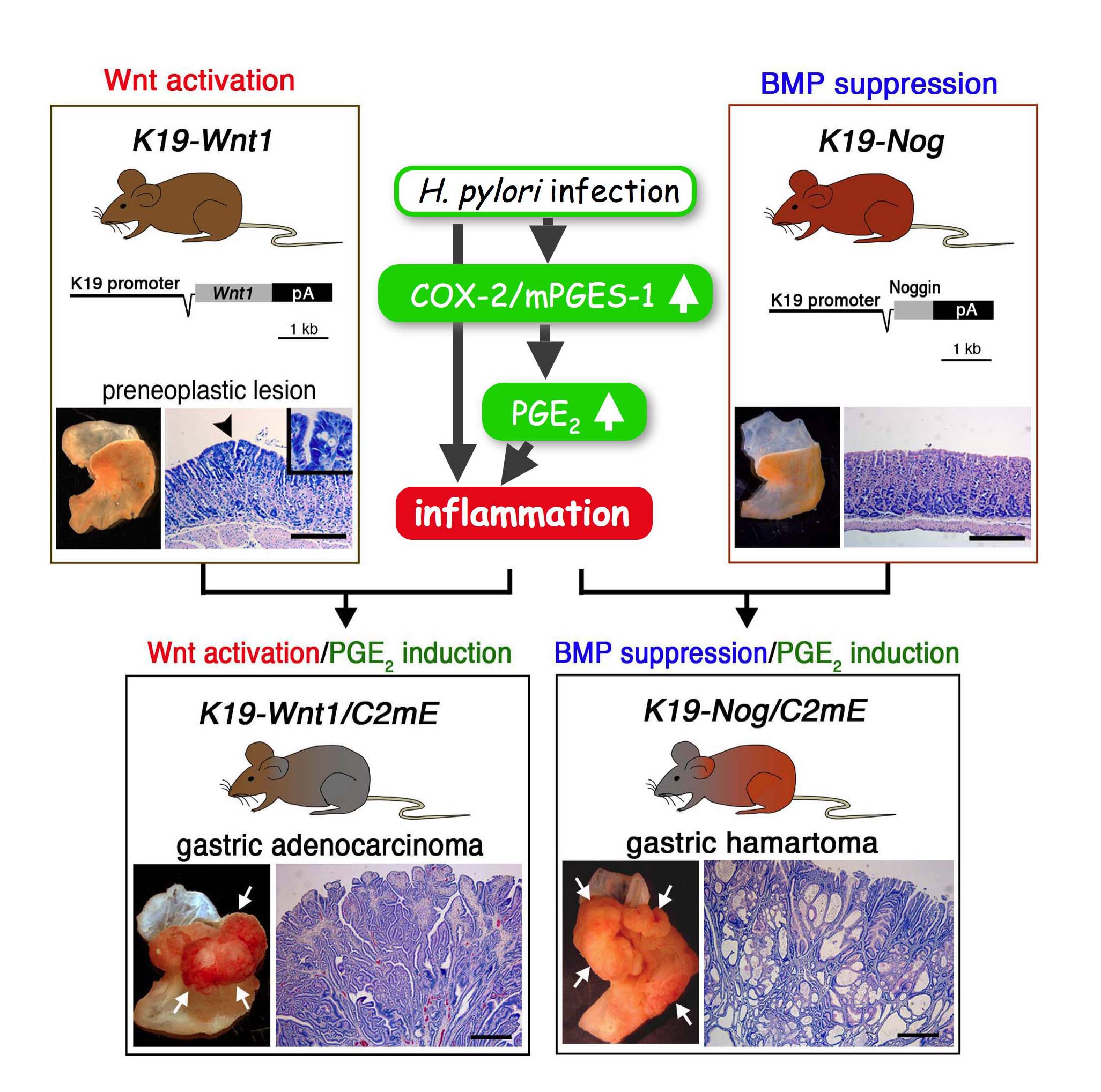 Activation of Wnt signaling and suppression of BMP pathway are both thought to cause gastric tumorigenesis. However, mouse model with Wnt activation or BMP suppression in the stomach did not develop tumors. Importantly, induction of gastritis by PGE2 induction in these model mice results in development of adenocarcinoma and hamartoma, respectively. These results indicate importance of inflammatory responses for gastric tumorigenesis.
Books
Papers
 Activation of epidermal growth factor receptor signaling by the prostaglandin E2 receptor EP4 pathway during gastric tumorigenesis.  Oshima H, Popivanova BK, Oguma K, Kong D, Ishikawa T, and Oshima M.  

Cancer Science

 2011/04
 Platelet 12-lipoxigenase accelerates tumor promotion of mouse epidermal cells through enhancement of cloning efficiency. Piao Y, Du Y, Oshima H, Jin J, Nomura M, Yoshimoto T, Oshima M 2008
 Activated macrophages promote Wnt signaling through tumor necrosis factor-alpha in gastric tumor cell. Oguma K, Oshima H, Aoki M, Uchio R, Naka K, Nakamura S, Hirao A, Saya H, Taketo MM, Oshima M 2008
 Induction and downregulation of Sox17 and its possible roles during the course of gastrointestinal tumorigenesis Du YC, Oshima H, Oguma K, Kitamura T, Itadani H, Fujimura T, Piao YS, Yoshimoto T, Minamoto T, Taketo MM, Oshima M. 

GASTROENTEROLOGY

 2009/09
 Induction of prostaglandin E2 pathway promotes gastric hamartoma development with suppression of bone morphogenetic protein signaling Oshima H, Itadani H, Kotani H, Taketo MM, Oshima M. 

CANCER RESEARCH

 69 7 2729-2733 2009/04
 Wnt activation and PGE2 induction. Oshima H, and Oshima M 

PATHOLOGY INTERNATIONAL

 2010/09
 Prostaglandin E2 signaling and bacterial infection recruit tumor-promoting macrophages to mouse gastric tumors Oshima H, Hioki K, Popivanova BK, Oguma K, van Rooijen N, and Oshima M 

GASTROENTEROLOGY

 2011/01
 ProstaglandinE2, Wnt, and BMP in gastric tumor mouse models Hiroko Oshima. Keisuke Oguma, Yu-Chen Du and Masanobu Oshima 

Cancer Science

 2009/10
 Inteatinal cancer progression by mutant p53 though the acquisition of invasiveness associated with complex glandular formation. Nakayama M, Sakai E, Echizen K, Yamada Y, Oshima H, Han TS, Ohki R, Fujii S, Ochiai A, Robine S, Voon DC, Tanaka T, Taketo MM, Oshima M. 

Oncogene

 36 42 5885-5896 2017/10/19
Conference Presentations
Others
 Increased levels of serum vascular endothelial growth factor by long-term exposure to hypergravity. Oshima M, Suzuki H, Guo X, Oshima H 56 4 309-313 2007
 Suppression of intestinal polyposis in Apcd716 knockout mice by inhibition of cyclooxygenase 2 (COX-2). Oshima, M., Dinchuk, J. E., Kargman, S. L., Oshima, H., Hancock, B., Kwong, E., Trzaskos, J. M., Evans, J. F., and Taketo. M. M. 1996
 Morphological and molecular processes of polyp formation in Apcd716 knockout mice. Oshima, H., Oshima, M., Kobayashi, M., Tsutsumi, M., and Taketo, M. M. 1997
 Hepatocarcinogenesis in mice with beta-catenin and Ha-ras gene mutstions. Harada, N., Oshima, H., Katoh, M., Tamai, Y., Oshima, M., and Taketo, M. M. 2004
 Hyperplastic gastric tumors induced by activated macrophages in COX-2/mPGES-1 transgenic mice. Oshima, H., Oshima, M., Inaba, K., and Taketo, M. M. 2004
 Hypergravity induces expression of cyclooxygenase-2 in the heart vessels. Oshima, M., Oshima, H., and Taketo, M. M. 2005
 Hyperplastic gastric tumors with spasmolytic polypeptide-expressing metaplasia (SPEM) caused by TNF-a-dependent inflammation in COX-2/mPGES-1transgenic mice. Oshima M, Oshima H, Matsunaga A, and Taketo MM. 2005
 Carcinogenesis in mouse stomach by simultaneous activation of the Wnt signaling and prostaglandin E2 pathway. Oshima H, Matsunaga A, Fujimura T, Tsukamoto T, Taketo MM, and Oshima M. 2006
 Destruction of pancreatic b-cells by transgenic induction of prostaglandin E2 in the islets. Oshima H, Taketo MM, and Oshima M. 2006
 Stromal fibroblasts activated by tumor cells promote angiogenesis in mouse gastric cancer . Guo X, Kitamura T, Taketo MM, Oshima M 2008/05
 Prostaglandin E2, Wnt and BMP in gastric tumor mouse models Oshima H, Oguma K, Du YC, Oshima M. 

Wiley InterScience

 2009/09
Arts and Fieldwork
Patent
Theme to the desired joint research
Grant-in-Aid for Scientific Research
○「上皮細胞腫瘍化と炎症反応の相互作用による消化管発癌機序」(2011-2014) 
○「SOX17の発現変化によるWnt活性制御が消化管腫瘍悪性化に及ぼす影響」(2010-2011) 
○「消化器腫瘍発生におけるCXCL14および組織マクロファージの役割」(2007-) 
○「炎症反応に起因した胃粘膜上皮細胞の腫瘍性増殖機序の研究」(2005-)
Competitive research funding,Contribution
Collaborative research,Consignment study
Classes (Bachelors)
Classes (Graduate Schools)
○Molecular Genetics of Tumor Biology(2017)
○Molecular Genetics of Tumor Biology(2017)
○Seminar on Tumor Biology(2016)
○Molecular Genetics of Tumor Biology(2016)
○Molecular Genetics of Tumor Biology(2016)
International Project
International Students
Lecture themes
Others (Social Activities)