Associate Professor IDA Tomonori
Faculty, Affiliation
College and School Educational Field
Division of Material Chemistry, Graduate School of Natural Science and Technology
Division of Material Chemistry, Graduate School of Natural Science and Technology
Course in Computational Science, School of Mathematics and Physics, College of Science and Engineering
Laboratory
Theoretical Chemistry TEL:076-264-5688 FAX:076-264-5742
Academic Background
【Academic background(Doctoral/Master's Degree)】
Kanazawa University Doctor Graduate School, Division of Science and Technology 200103 Accomplished credits for doctoral program
【Academic background(Bachelor's Degree)】
Kanazawa University 199403
Career
MITSUBISHI Paper mills Tokyo Lab.(1996/04/01-1998/03/20)
Year & Month of Birth
1971/04
Academic Society
The chemical society of japan
The chemical society of japan
Japan society of molecular science
Theoretical Chemistry
Award
Specialities
Basic chemistry
Speciality Keywords
Morecular orbital theory, electron propagator
Research Themes
Development of computational method for ionized and excited states by electron propagator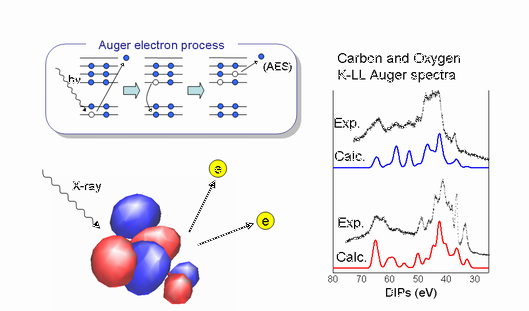 We calculate ionization potential and excited energy of molecule and cluster by using electron propagator method. The method is useful to calculate multi-ionized and high excited states of molecule and observed electron spectra of the states are analyzed by the propagator.
X-ray photoelectron and emission spectrum simulation of molecule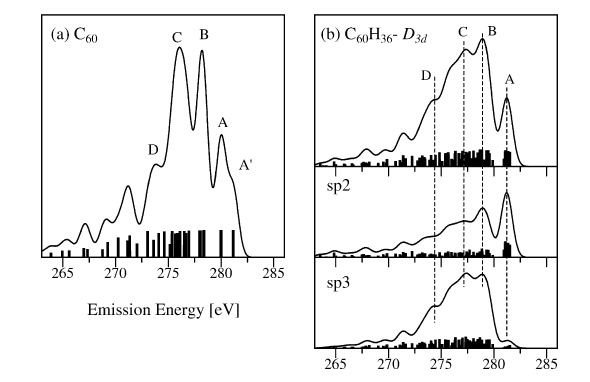 X-ray photoelectron and emission spectrum simulations of organic compounds are performed by application of molecular orbital theory or density functional theory (DFT). Particularly X-ray emission spectrum is analyzed using precise calculation of core-hole state by DFT.
Quantum wave packet simulation on hydrodynamics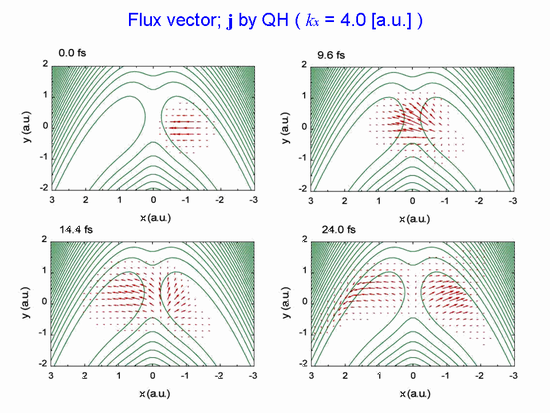 Quantum wave packet simulation is a useful method to reproduce photo-chemical reaction or electron transfer in which quantum effect plays important role. Wave packet simulation applied hydrodynamics is expected as a new method in deal with multi- dimension or level system. We investigate the quantum effect in chemical reaction by the method.
Books
Papers
 Two-dimensional wavepacket dynamics with quantum hydrodynamics 

INTERNATIONAL JOURNAL OF QUANTUM CHEMISTRY

 107 3169 2007
 Second-order, two-electron Dyson propagator theory: Comparisons for vertical double ionization potentials T. Ida and J.V. Ortiz 129 084105 2008
 Spin-adaptation of open-shell electron propagator theory M. Saitow, T. Ida and M. Mizuno 

CHEMICAL PHYSICS LETTERS

 486 171 2010/10
 Simulation of resonant X-ray emission spectra of ethylene and benzene molecules 

CHEMICAL PHYSICS LETTERS

 426 53 2006
 Simulation of thermal decomposition for polymer molecules 

JORNAL OF SURFACE ANALYSIS

 12 153 2005
 Ab initio MO approach to the magnetic interactions in chain structure of A2MnF5, Synthetic Metals 

SYNTHETIC METALS

 663 135-136 2003
 Analysis of electron spectra of carbon allotropes (Diamond, Graphite, Fullerene) by density functional theory calculations using the model molecules 

JOURNAL OF PHYSICAL CHEMISTRY A

 107 9403 2003
 Novel Cu(I) dinuclear complexes containing eta2-eta2, eta2-type benzoquinone ligand 

JOURNAL OF THE AMERICAN CHEMICAL SOCIETY

 125 1152 2003
 Time-resolved ESR studies on transient radicals photogenerated in solutions of melamine in ethylene glycol A.L. Konkin, H.-K. Roth, M. Schroedner, V.G. Shtyrlin, R.R. Garipov, T. Ida, M. Raetzsch, A.V. Aganov, G.A. Nazmutdinova 324 563-572 2006
 X-Ray photoelectron and carbon Kα emission measurements and calculations of O-, CO-, N-, and S-containing substances S. Shimada, T. Hiroi, T. Ida, M. Mizuno, K.Endo, E.Z. Kurmaev, A. Moewes 45 162-172 2007
 Substituent effects on ultraviolet absorption spectra of 5-substitued-Nb-acetyl-1-methoxy- tryptamines studied by density functional theory calculations K. Tokumura, K. Imai, A. Hayashi, T. Ida, M. Somei 73 275-287 2007
 Deuterium NMR Study of Molecular Dynamics and Phase Transition in Acetonitrile Crystal Y. Suzuki, M. Sato, K. Takanohashi, T. Ida, M. Mizuno 112 13481-13486 2008
 XPS Spectral Simulation of Chitosan in Thermal Decomposition Process K. Tamura, K. Endo, Y. Takagi, K. Kato, D. Matsumoto, T. Ida, M. Mizuno, Y. Suzuki, K. Takahashi, K. Uchida, H. Yajima 14 344-347 2008
 X-Ray Photoelectron Spectral Analysis for Carbon Allotropes K. Endo, D. Matsumoto,Y. Takagi, S. Shimada, T. Ida, M. Mizuno, K. Goto, H. Okamura, N. Kato, K. Sasakawa 14 348-351 2008
 Theoretical analysis of Auger electron spectra of 2nd periodic element containing substances Y. Takagi, K, Takaoka, S. Shimada, K. Endo, K. Kato, T. Ida, M. Mizuno 255 340-343 2008
 Fragment Distribution of Thermal Decomposition for PS and PET with QMD Calculations by Considering the Excited and Charged Model Molecules K. Endo, C. Masumoto, D. Matsumoto, T. Ida, M. Mizuno, N. Kato 255 856-859 2008
 Fragment Distribution of Thermal Decomposition for Lignin Monomer by QMD Calculations using the Excited and Charged Model Molecules K. Endo, D. Matsumoto, K. Kato, Y. Takagi, T. Ida, M. Mizuno, K. Saito, K. Fukushima, N. Kato 255 1048-1051 2008
 Dynamic and static behaviors of CH4 and CO2 in small and large cavities of hydrate T. Ida, K. Endo, D. Matsumoto, N. Kato, M. Mizuno, Y. Suzuki, M. Tadokoro 

JOURNAL OF MOLECULAR STRUCTURE

 1032 275-280 2013/01
 Depth profile assignments of nm and um orders by quantum chemical calculations for chitosan films modified by Kr+ beam bombardment K. Endo, H. Shinomiya, T. Ida, S. Shimada, K. Takahashi, Y. Suzuki, H. Yajima 

Progress in theoretical chemistry and physics

 B26 475-488 2012/06
 Valence XPS, IR and Solution 13C NMR spectral analysis of representative polymers by quantum chemical calculations K. Endo, T. Ida, S. Shimada, J.V. Ortiz 

Progress in theoretical chemistry and physics

 B26 393-406 2012/06
 Valence XPS, IR, and C13 NMR spectral analysis of 6 polymers by quantum chemical calculations 

JOURNAL OF MOLECULAR STRUCTURE

 1027 20-30 2012/11
Conference Presentations
Others
Arts and Fieldwork
Patent
Theme to the desired joint research
Grant-in-Aid for Scientific Research
○「電子伝播関数を用いた分子の多価イオン状態の計算手法開発」(2012-2014) 
○「二電子伝播関数法を用いた水クラスターの分子間クーロン崩壊に関する研究」(2008-) 
○「新規固体核磁気共鳴シミュレーション解析法による配位空間の研究」(2006-) 
○「理論的表面分光装置の開発」(2006-) 
Competitive research funding,Contribution
Collaborative research,Consignment study
Classes (Bachelors)
○Theoretical Chemistry III(2017)
○Introduction to Region-studies(2017)
○Lecture on Life in Campus and Society(2017)
○World of Chemistry(2017)
○World of Chemistry(2017)
○Experiments in Basic Chemistry C(2017)
○Experiments in Basic Chemistry A(2017)
○Introduction of Chemistry B(2017)
○Experiments in Basic Chemistry C(2016)
○World of Chemistry(2016)
○Theoretical Chemistry III(2016)
Classes (Graduate Schools)
○Quantum Physical Chemistry(2017)
○Material Analysis Chemistry I(2017)
○Seminar in Material Analysis(2017)
○Quantum Physical Chemistry(2017)
○Quantum Chemistry(2017)
○Quantum Physical Chemistry(2017)
○Quantum Physical Chemistry(2017)
○Seminar in Material Analysis(2017)
○Material Analysis Chemistry I(2016)
○Quantum Physical Chemistry(2016)
○Seminar in Material Analysis(2016)
○Seminar in Material Analysis(2016)
○Quantum Chemistry(2016)
International Project
International Students
Lecture themes
Others (Social Activities)