Professor MORIYAMA Osamu
Faculty, Affiliation
Faculty of Economics and Management,Institute of Human and Social Sciences
College and School Educational Field
Division of Humanities, Graduate School of Human and Socio-Environmental Studies
Division of Human and Socio-Environment Studies, Graduate School of Human and Socio-Environmental Studies
Welfare Management Course, School of Regional Development Studies, College of Human and Social Sciences
Laboratory
 FAX:076-264-5518
Academic Background
【Degree】
Master of Arts
Career
Tokyo Metropolitan Goverment(1985/04/01-2000/02/29)
Hokkaido University of Education HAKODATE Associate Professor
2008-2009 ASSOCIATE PROFESSOR
Year & Month of Birth
1961/10
Academic Society
Japan Society for Health and Welfare Policy
The Japanese Journal of Welfare Books and Literature
Japanese Society for the Study of Social Welfare
The Japanese Association of Research on Care and Welfare
The Japanese Society for Severe Motor and Intellectual Disabilities
Award
Specialities
Social welfare and social work studies
Speciality Keywords
social work.severe motor and intellectual.care
Research Themes
care work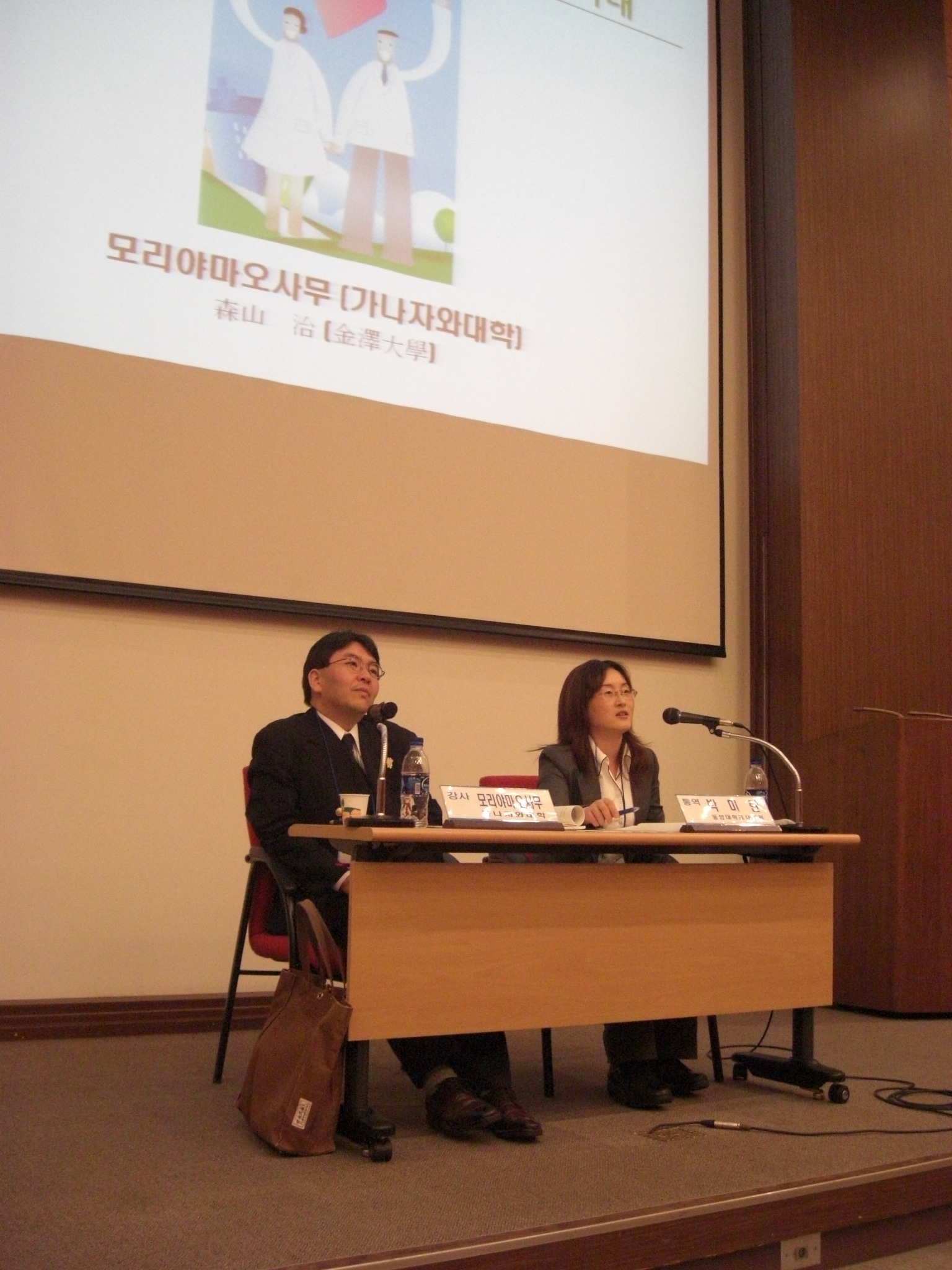 "Research on caregiving quality and caregiver training" (cooperative research)
The above project involves the examination of perspectives required for quality caregiving and caregiver training, in particular with regards to caregiving for the elderly, which is seen as a problem of 21st-century Asia, and includes the consideration of international comparisons. Its purpose is to serve as basic research for the integration of theory and practice that can address globalization of caregiving personnel. (The following image shows a report being presented at a scholarly seminar of the Korean Association of Medical Social Workers, Seoul, Jeju Branch.)
Social Policy for Severe Motor and Intellectual Disabilities
"Research on Policy Process Related to Children and Adults with Serious Cognitive and Physical Disabilities" (independent research)
Moriyama's interest is in explaining the process of how welfare policies related to people with serious disabilities were carried out in the 1960s, when welfare services were inadequate. He is also interested in attitudes towards people with disabilities (including discrimination, prejudice, and eugenic ideas) in Japan and human rights issues, including policies related to children and adults with physical disabilities since before World War II.
Social Policy in Tokyo Metropolitan Government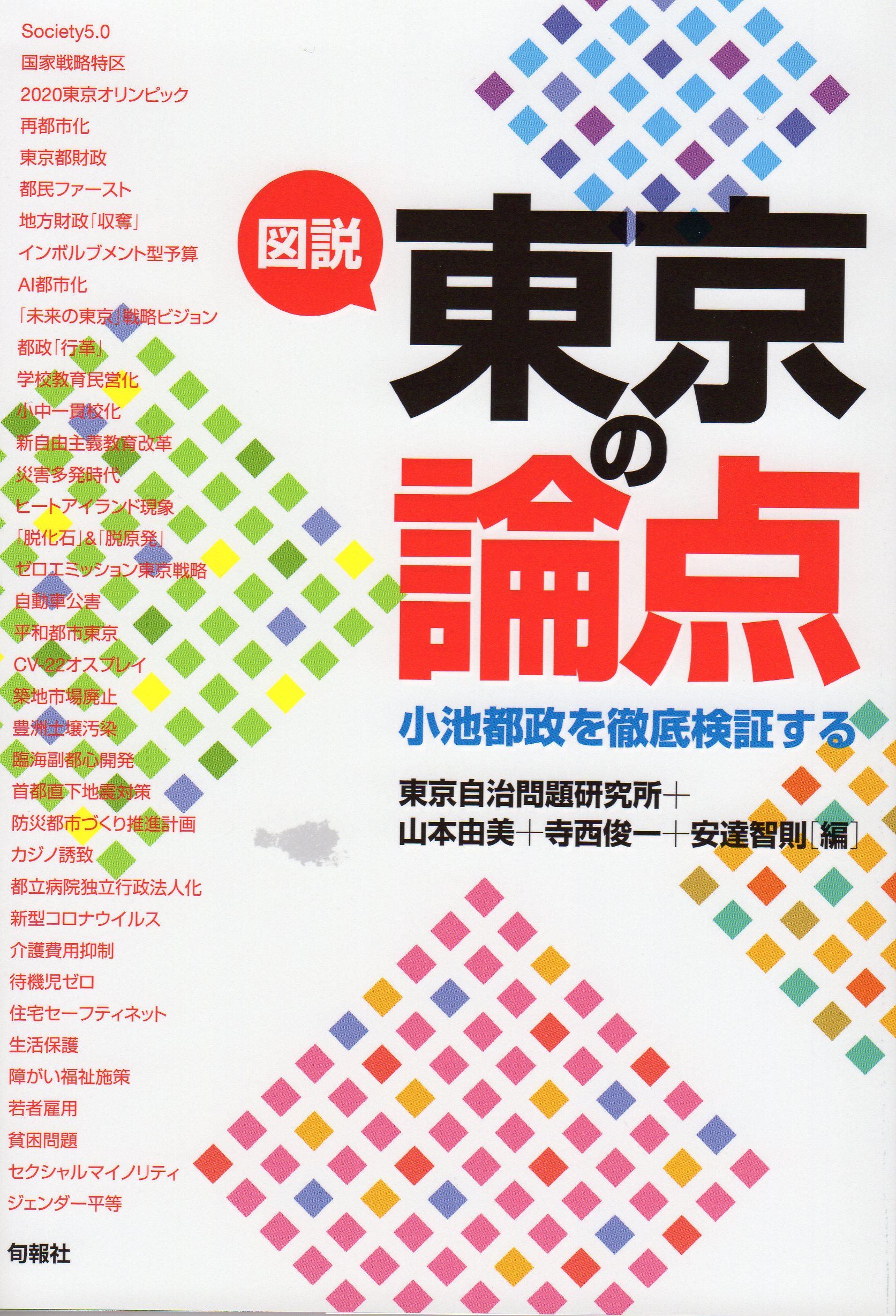 Comparative research on welfare services across municipalities (ku and shi). I write regularly for "Tokyo," a monthly journal published by Tokyo Jichi Mondai Research Institute.
Books
 Taro Sugihara,Tsutomu Fujinami,Osamu Moriyama Intelligent Assistive Technologies for Dementia Oxford University Press 2019
Papers
 Perspectives on Construction of Informal Care Support under Restrictive Policy of Care Security:Referring to Support for Informal Care Funded by Municipality in Finland Katsuro INOKUCHI,Osamu MORIYAMA 

Journal of Health and Welfare Policy

 2 1 65-86 2019/03
 CHOTOKU TOYAMA Career and Achievement Osamu Moriyama 16 1 31-39 2014/09
 A Consideration on Care-Work Education and Training of Foreigners in Finland Chikako Moriyama,Osamu moriyama 50 29-46 2014/03
Conference Presentations
Others
 A Comparative Study of Care Student's Images of the Professional Care Worker,using Semantic Differential Method between the Case of Japan and that of Korea 

RISSHO Journal of Social Welfare Studies

 13 1 29-35 2011/10/01
Arts and Fieldwork
Patent
Theme to the desired joint research
Grant-in-Aid for Scientific Research
○「人口減少時代における包括型雇用創出に関する研究」(2019-2021) 
○「条件不利性を抱える人々に向けた「中間的労働市場」創出の可能性に関する国際比較」(2016-2019) 
○「社会的包摂を視点とした介護労働力の政策化とキャリア形成にむけての国際比較研究」(2015-2017) 
○「「低密度地域自治体による公共交通政策と福祉の研究」」(2015-2017) 
○「福祉NPOのアドボカシー機能の検証と課題に関する研究」(2014-2017) 
○「認知症高齢者介護支援技術の開発・導入における技術的・制度的課題の抽出」(2012-) 
○「ポスト介護保険時代における介護の質と担い手養成に関する研究」(2012-) 
○「グローバル化時代における高齢者介護の質とローカル言語に関する研究」(2010-2012) 
Competitive research funding,Contribution
Collaborative research,Consignment study
Classes (Bachelors)
○Life and Social Welfare(2017)
○Study for Graduation Thesis(2017)
○Welfare Management(2017)
○Outline of Social Work 1(2017)
○Social Work Practice(2017)
○Guidance to Social Work Practice(2017)
○Social Work Practice(2017)
○Welfare Management 1(2017)
○Regional Development Studies 2(2017)
○Regional Development Studies 1(2017)
○Regional Development Studies(2017)
○Welfare Management 2(2017)
○Social Work Seminar 4(2017)
○Social Work 1(2017)
○Social Work Seminar 1(2017)
○Social Work Seminar 2(2017)
○Social Work Seminar 3(2017)
○Social Work Seminar 5(2017)
○Presentation and Debate (Freshman Seminar II)(2017)
○Presentation and Debate (Freshman Seminar II)(2017)
○Life and Social Welfare(2017)
○Freshman Seminar I(2017)
○Life and Social Welfare(2016)
○Welfare Management 1(2016)
○Outline of Social Work 1(2016)
○Regional Development Studies 1(2016)
○Welfare Management(2016)
○Social Work Seminar 2(2016)
○Seminar of Graduation Thesis(2016)
○Regional Development Studies(2016)
○Welfare Management 2(2016)
○Social Work 1(2016)
○Social Work Practice(2016)
○Regional Development Studies 2(2016)
○Social Work Seminar 3(2016)
○Social Work Seminar 4(2016)
○Social Work Seminar 5(2016)
○Social Work Practice(2016)
○Study for Graduation Thesis(2016)
○Welfare of Elderly(2016)
○Social Work Seminar 1(2016)
○Seminar on Social Welfare(2016)
○Guidance to Social Work Practice(2016)
○Life and Social Welfare(2016)
Classes (Graduate Schools)
○Special Study on Social Work(2017)
○Introduction to Social Welfare 2(2017)
○Studies on Social Policy 1(2017)
○Introduction to Social Welfare 1(2017)
○Special Study on Social Welfare 2(2017)
○Studies on Social Policy 2(2017)
○Special Study on Social Welfare 1(2017)
○Special Study on Social Work 2(2017)
○Special Study on Social Work 1(2017)
○Study on Social Work I(2017)
○Special Study on Social Work-1(2017)
○Special Study on Social Work-2(2017)
○Seminar on Social Welfare a-1(2017)
○Special Study on Social Welfare(2017)
○Seminar on Social Welfare a-2(2017)
○Seminar on Social Welfare b-1(2017)
○Seminar on Social Welfare b-2(2017)
○Problem Based Internship (Short Term)(2017)
○Problem Based Internship (Long Term)(2017)
○Seminar on Social Work I(2017)
○Special Study on Social Welfare-2(2017)
○Study on Social Work II(2017)
○Seminar on Social Work II(2017)
○Study on Social Work(2017)
○Seminar on Soial Work(2017)
○Study on Social Work(2017)
○Special Study on Social Welfare(2017)
○Seminar on Social Welfare b(2017)
○Seminar on Social Welfare a(2017)
○Special Study on Social Welfare-1(2017)
○Studies on Social Policy(2017)
○Lectures in Leading Regional Development Studies(2017)
○Seminar on Social Work(2017)
○Introduction to Social Welfare(2017)
○Special Study on Social Work(2017)
○Introduction to Social Welfare 1(2016)
○Lectures in Leading Regional Development Studies(2016)
○Studies on Social Policy 1(2016)
○Studies on Social Policy 2(2016)
○Problem Based Internship (Long Term)(2016)
○Introduction to Social Welfare 2(2016)
○Special Study on Social Welfare(2016)
○Study on Social Work(2016)
○Problem Based Internship (Short Term)(2016)
○Introduction to Social Welfare(2016)
○Seminar on Social Work I(2016)
○Seminar on Soial Work(2016)
○Special Study on Social Work 1(2016)
○Seminar on Social Work II(2016)
○Study on Social Work II(2016)
○Study on Social Work I(2016)
○Special Study on Social Welfare 2(2016)
○Study on Social Work(2016)
○Special Study on Social Work(2016)
○Seminar on Social Work(2016)
○Special Study on Social Welfare 1(2016)
○Special Study on Social Work 2(2016)
○Seminar on Social Welfare b-1(2016)
○Seminar on Social Welfare a(2016)
○Special Study on Social Work(2016)
○Studies on Social Policy(2016)
○Special Study on Social Welfare-2(2016)
○Special Study on Social Welfare-1(2016)
○Seminar on Social Welfare b-2(2016)
○Special Study on Social Welfare(2016)
○Special Study on Social Work-1(2016)
○Seminar on Social Welfare b(2016)
○Seminar on Social Welfare a-1(2016)
○Seminar on Social Welfare a-2(2016)
○Special Study on Social Work-2(2016)
International Project
International Students
Lecture themes
Others (Social Activities)