Associate Professor OTA Akio
Faculty, Affiliation
Faculty of Chemistry, Institute of Science and Engineering
College and School Educational Field
Division of Material Chemistry, Graduate School of Natural Science and Technology
Division of Material Chemistry, Graduate School of Natural Science and Technology
School of Chemistry, College of Science and Engineering
Laboratory
lab. of Interface Chemistry TEL:076-234-4766 FAX:076-234-4800
Academic Background
【Academic background(Doctoral/Master's Degree)】
Kyushu University Doctor Graduate School, Division of Natural Science 200003 Completed
【Academic background(Bachelor's Degree)】
Kyushu University 1995
Career
Year & Month of Birth
1972/12
Academic Society


CSJ


International Association of Colloid and Interface Scientists
Award
○Mukai Science and Technolory Fundation(2003/03/01)
○Mukai Science and Technolory Fundation(2003/03/01)
○Mukai Science and Technolory Fundation(2003/03/01)
○Mukai Science and Technolory Fundation(2003/03/01)
○Mukai Science and Technolory Fundation(2003/03/01)
Specialities
Solution Chemistry、Interface Chemistry Surfactant Self Organization、Functional solid state chemistry、Green/Environmental chemistry、Nanomaterials chemistry
Speciality Keywords
Solution Chemistry Interface Chemistry
Research Themes
Calorimetric study of solutions of amphipiles
Amphiphilic molecules form some self-organized aggregates in aqueous medium. Regardless of shape or size of them, a transfer of heat must occur by the aggregate formation; thus a calorimetry is one of the powerful techniques. For the purpose of clarifying the enthalpy change of aggregation and the magnitude of molecular interaction in the aggregate thermodynamically, the calorimetry of amphiphile solutions is curried out by ITC and/or DSC.
Aggregation behavior of surfactants and amino acid-type surfactants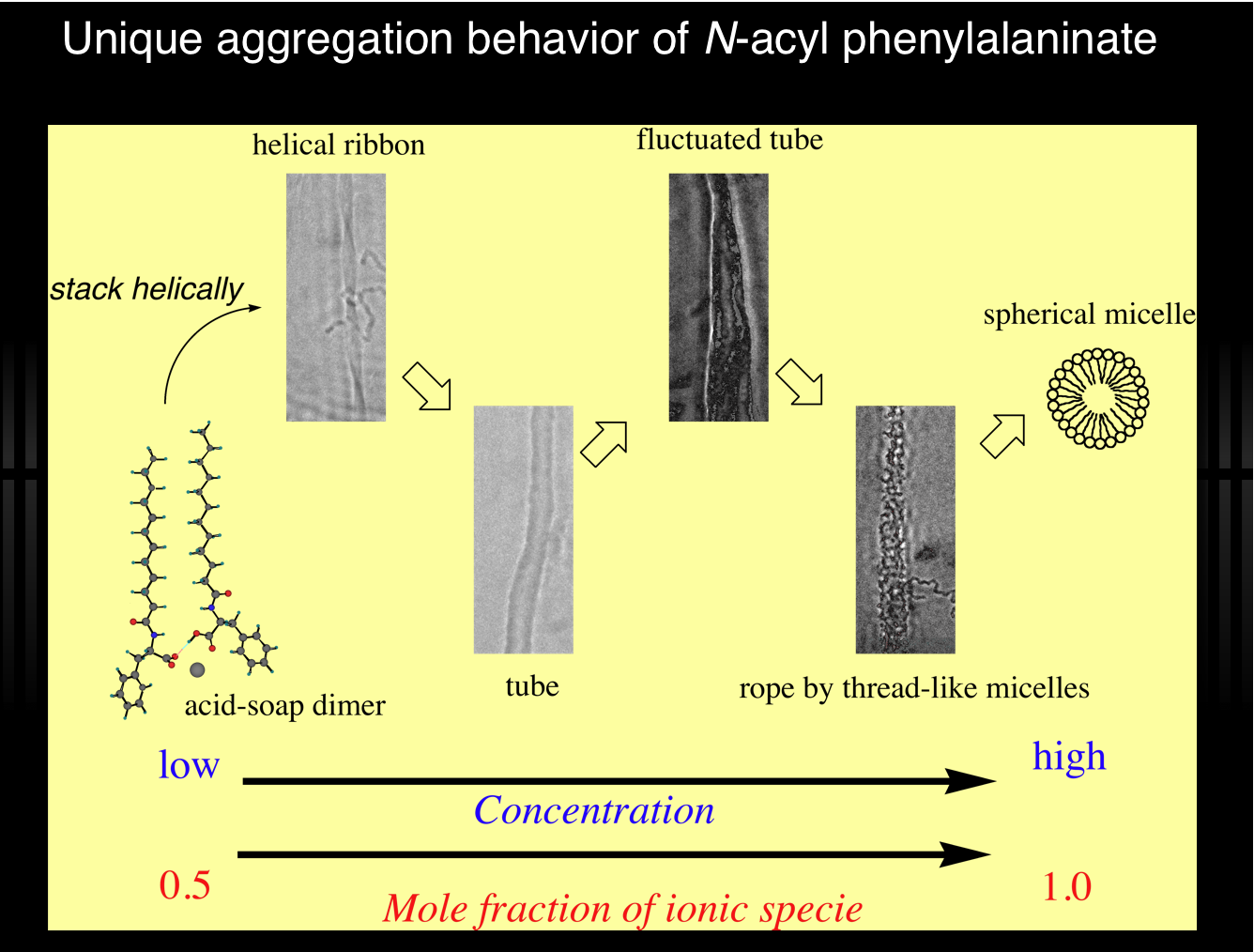 Properties of surfactant are dependent on a balance between the hydrophobic interaction in hydrophobic groups and the repulsive interaction in hydrophilic head groups. Generally, a systematical examination of the effect of the surfactant head group on the molecular aggregates has some difficulties compared with that of the hydrophobic tail group. One exception is the amino acid-type surfactant system. One can systematically control a head group, because surfactants derived from a different amino acid have a different head group. N-Acyl amino acid surfactants, which are anionic amino acid-type surfactants, are useful both from industrial and domestic viewpoints, because of their biodegradability and low toxicity. Further, concern over the effect of the residues on aggregation has been growing since it was reported that some amphiphiles containing peptide groups like N-acyl amino acid, self-assembled to form various highly-organized nanometer-scale structures.
Interaction between biomaterials and surfactant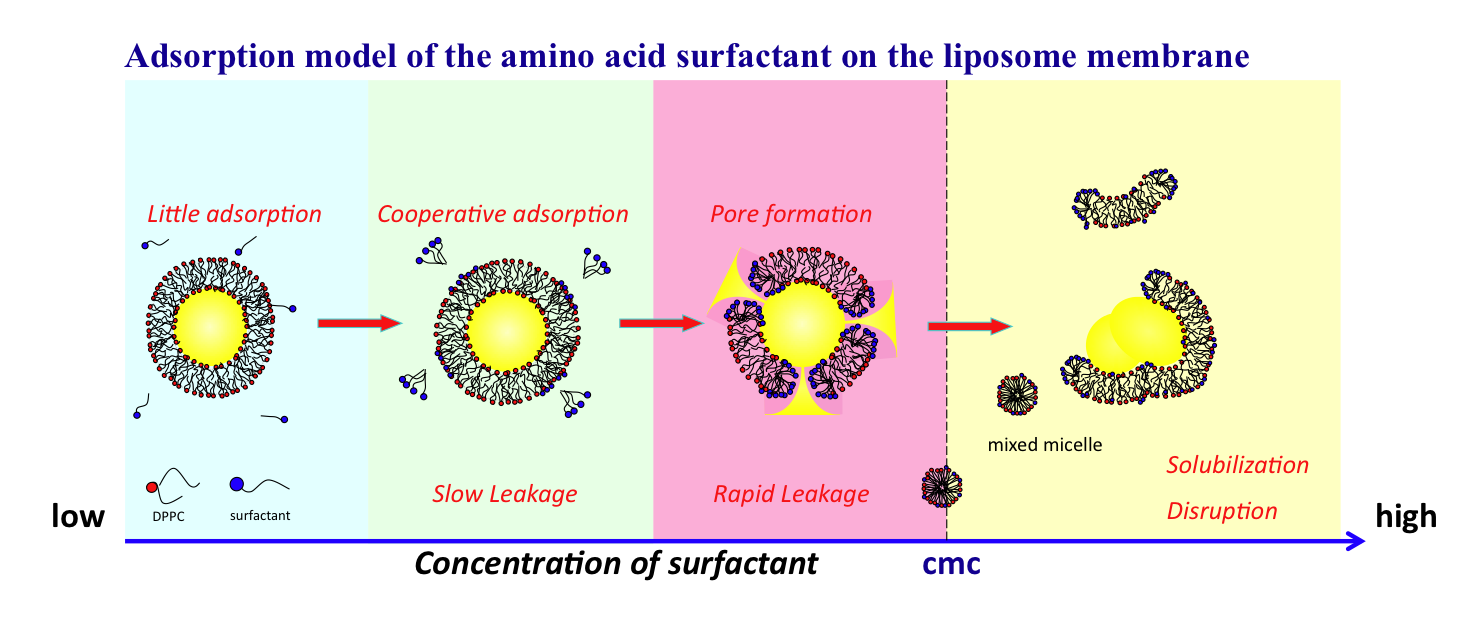 Biomolecules like as peptide, lipid, nucleic acid etc., have many special functions using a molecular-interaction ingeniously. When a surfactant acts on the human body, it interacts with these biomolecules at first. Thus it is important to elucidate the surfactant-biomolecule interaction. We investigates an organization of surfactant on phospholipid liposome, poly-nucleotides like as DNA and RNA with the object of application for DDS or gene-delivery. To achieve the purpose, some surfactants having amino acid or purine and pyrimidine bases structures are designed and their physicochemical properties are examined.
Books
Papers
 Study of the Antioxidative Properties of Several Amino Acid-Type Surfactants and their Synergistic Effect in Mixed Micelle Ohta, A., Hossain, F., Asakawa, H., Asakawa, T. 

Journal of Surfactants and Detergents

 23 1  99-108 2020/01
 Enhanced aggregation of stimuli responsive surfactants by esterolytic reactions Asakawa, T., Fujii, A., Yoneda, N., Ohta, A., Asakawa, H. 

Journal of Oleo Science

 68 6 573-580 2019/06
 Study of Antioxidative Properties of Some Mono Amino-Acid-Type and Dipeptide-Type Surfactants Hossain, F., Ohta, A.Email Author, Yamane, Y., Shizuka, A.-N., Asakawa, H., Asakawa, T.  

Journal of Surfactants and Detergents

 21 5 733-744 2018/09
 Solubilization of genistein in phospholipid vesicles and their atioxidant capacity Yamamoto, S., Ohta, A., Hossain, F., Anjani, G., Asakawa, H., Asakawa, T. 

Journal of Oleo Science

 68 1 61-66 2019/01
 Solubilization of genistein in phospholipid vesicles and their atioxidant capacity Yamamoto, S., Ohta, A., Hossain, F., Anjani, G., Asakawa, H., Asakawa, T. 

Journal of Oleo Science

 68 1 61-66 2019/01
 Aggregation behavior and thiol-thioester exchange for cationic surfactants with propylthioacetate side chain Asakawa, T.Email Author, Arai, N., Fujii, A., Takahashi, K., Takakuwa, K., Honda, M., Ohta, A., Asakawa, H.  

Journal of Oleo Science

 67 8 969-976 2018/08
 Structure Effect on Nonideal Mixing of Alkyl Methyl Sulfoxide and Alkyl Dimethyl Phosphine Oxide in Adsorbed Film and Micelle 

JOURNAL OF COLLOID AND INTERFACE SCIENCE

 216 41 1999/08
 Aqueous Solution Properties of Pyridinium-Type Perfluorinated Surfactants and Simulation of Mixture CMC 

JOURNAL OF COLLOID AND INTERFACE SCIENCE

 240 365 2001/08
 Calorimetric Study of Dilute Aqueous Solutions of Ethylene Glycol Oligomers 

JOURNAL OF PHYSICAL CHEMISTRY B

 102 24 4809 1998/06
 Calorimetric Study of Micellar Solutions of Pentaethylene Glycol Monooctyl and Monodecyl Ethers 

JOURNAL OF PHYSICAL CHEMISTRY B

 104 35 8592 2000/09
 Calorimetry of Micelle Formation of Binary Nonionic Surfactant Mixtures 

JOURNAL OF PHYSICAL CHEMISTRY B

 105 14 2826 2001/04
 Calorimetry of Surfactant Solutions. Measurement of the Enthalpy of Mixing of Tetraethylene Glycol Monooctyl Ether and Water 

JOURNAL OF PHYSICAL CHEMISTRY B

 101 18 3535 1997/05
 Calotimetric Study of Micelle Formation in Polyethylene Glycol Monooctyl Ether Solutions 

JOURNAL OF SOLUTION CHEMISTRY

 30 4 335 2001/04
 Interaction between Ionic and Nonionic Surfactants in the Adsorbed Film and Micelle. 3. Sodium Dodecyl Sulfate and Tetraethylene Glycol Monooctyl Ether 

LANGMUIR

 17 25 7752 2001/12
 Interaction between Ionic and Nonionic Surfactants in the Adsorbed Film and Micelle. Dodecylammonium Chloride and Tetraethylene Glycol Monooctyl Ether 

LANGMUIR

 16 20 5496 2000/08
 Interaction between Ionic and Nonionic Surfactants in the Adsorbed Film and Micelle. Hydrochloric Acid, Sodium Chloride and Tetraethylene Glycol Monooctyl Ether 

LANGMUIR

 15 17 5496 1999/08
 Miscibility of binary surfactant mixtures in the adsorbed film and micelle: the effect of size of polar head group 

COLLOIDS AND SURFACES A-PHYSICOCHEMICAL AND ENGINEERING ASPECTS

 183-1 1-3 403 2001/06
 Temperature Effect on the Adsorption and Micelle Formation of Pentaethylene Glycol Monoalkyl Ethers 

JOURNAL OF PHYSICAL CHEMISTRY B

 105 46 11462 2001/11
 The Excess Thermodynamic Quantities of Adsorption of a Binary Nonionic Surfactant Mixture 

JOURNAL OF COLLOID AND INTERFACE SCIENCE

 217 128 1999/09
 Thermodynamic Insight into the Origin of a Calix[n]arene-[60]fullerene Interaction and its Application to a Porphyrin-[60]fullerene Energy Transfer System 

JOURNAL OF INCLUSION PHENOMENA AND MACROCYCLIC CHEMISTRY

 38 163 2000/10
 Phase Transition and Miscibility of Binary Surfactant Mixtures in the Adsorbed Film at Air/Water Surface. 

JOURNAL OF COLLOID AND INTERFACE SCIENCE

 256 411 2002/12
 Calorimetric Studies of Aggregate Formation of Oleyl Alcohol in Oil Solutions. 

JOURNAL OF PHYSICAL CHEMISTRY B

 106 25 6548 2002/06
 Krafft temperature and enthalpy of solution of N-acyl amino acid surfactants and their racemic modifications: effect of the amino acid residue 

COLLOID AND POLYMER SCIENCE

 4 281 363-369 2003/04
 Aggregation Behavior of Fluorooctanols in Hydrocarbon Solvents 

JOURNAL OF PHYSICAL CHEMISTRY B

 107 41 11502 2003/09
 Krafft Temperature and Enthalpy of Solution of N-Acyl Amino Acid Surfactants and Their Racemic Modifications: Effect of Counter Ion 

COLLOID AND POLYMER SCIENCE

 282 1 162 2003/12
 Phase Diagrams of Mixtures of Diastereomeric Salts of N-Acyl Amino Acid-Type 

JOURNAL OF PHYSICAL CHEMISTRY B

 108 32 12204 2004/09
 Vesicle-Micelle Transition of N-Acyl Phenylalaninate Salt in Very Dilute Aqueous Solution 

CHEMISTRY LETTERS

 34 4 560-561 2005/04
 Unique Incorporation Behavior of Amino Acid-Type Surfactant into Phospholipid Vesicle Membrane 

COLLOID AND POLYMER SCIENCE

 283 8 987-993 2005/06
 Transition from Nanotubes to Micelles with Increasing Concentration in Dilute Aqueous Solution of Potassium N-Acyl Phenylalaninate Ohta A., Danev R., Nagayama K., Mita T., Asakawa T., Miyagishi S. 

LANGMUIR

 22 20 8472-8477 2006/10
 Spontaneous vesicle formation of single chain and double chain cationic surfactant mixtures 

JOURNAL OF PHYSICAL CHEMISTRY B

 111 1 107-115 2007/01
 The Unusual Micelle Micropolarity of Partially Fluorinated Gemini Surfactants Sensed by Pyrene Fluorescence 

LANGMUIR

 22 14 6035-6055 2006/07
 New Fluorescent Probes Applicable to Aggregates of Fluorocarbon Surfactants. 

Journal of Oleo Science

 56 11 587-593 2007/11
 Effect of the side chain of N-acyl amino acid surfactants on micelle formation: An isothermal titration calorimetry study Ohta, A., Toda, K., Morimoto, Y., Asakawa, T., Miyagishi, S. 

COLLOIDS AND SURFACES A-PHYSICOCHEMICAL AND ENGINEERING ASPECTS

 317  1-3  316-322 2008
 Aqueous solution properties of disulfide linked gemini and cleaved monomeric thiol surfactants Asakawa, T., Shimizu, Y., Ozawa, T., Ohta, A., Miyagishi, S. 

Journal of Oleo Science

 57 4  243-249 2008/04
 Spontaneous vesicle formation of single chain and double chain cationic surfactant mixtures Aratono, M., Onimaru, N., Yoshikai, Y., Shigehisa, M., Koga, I., Wongwailikhit, K., Ohta, A., (...), Matsubara, H 

JOURNAL OF PHYSICAL CHEMISTRY B

 111 1 107-115 2007/01
 Mixed Surfactant Systems, Surfactant Science Ser. Vol.124 2005/01
 Fluorescence Probe Study of Vesicle and Micelle Formations in a Binary Cationic Surfactant Systems Kodama T, Ohta A, Toda K, Katada T, Asakawa T, Miyagishi S. 277 20-26 2006/04
 Effect of stereochemistry on the molecular aggregation of phenylalanine dipeptide-type surfactants 57(12) 659-667 2008/12
 Synthesis of organic-inorganic hybrid bicelles-lipid bilayer nanodiscs encompassed by siloxane surfaces Yasuhara K., Miki S., Nakazono H., Ohta A., Kikuchi J.-I. 

CHEMICAL COMMUNICATIONS

 47 19 4691 2011/04
 Aqueous Solution Behavior of Cationic Surfactants Containing Sulfide Linked Alkyl Chain 

Journal of Oleo Science

 60 4 165-170 2011
 (R)-1-phenylethylammonium N-tetradecanoyl-L-phenylalaninate monohydrate 

Acta Crystallographica Section E: Structure Reports Online

 62 1 153-155 2006/01
 Dissymmetric Gemini Surfactants Generated by Disulfide Exchange in Mixed Micelles 

Journal of Oleo Science

 59 2 95-100 2010
Conference Presentations
Others
 Effect of counter ion on physicochemical properties of N-acyl amino acid salts 

Japan Oil Chemist Society

 6 1 7-14 2006/01
 Investigation on nano-channels made from lipo-amino acid surfactants on phospholipids vesicles 15 0 29-35 2007/
Arts and Fieldwork
Patent
Theme to the desired joint research
○Research on Mechanism of Molecular Recognition in Molecular Assembly
Grant-in-Aid for Scientific Research
○「リボ核酸を利用した界面活性剤自己組織体の形態制御と機能化」(2008-) 
○「機能化サプリメントを目指した脂質ータンパク質ハイブリッド型キャリアの創成」(2012-2013) 
Competitive research funding,Contribution
Collaborative research,Consignment study
Classes (Bachelors)
○Laboratory Course I(2017)
○Problem-Based Learning(2017)
○GS English Language for Undergraduates II (English for Science and Engineering)(2017)
○Problem-Based Learning(2017)
○Introduction of Chemistry A(2017)
○GS English Language for Undergraduates I (English for Science and Engineering)(2017)
○Research Work in Applied Chemistry(2017)
○Problem-Based Learning III(2017)
○Literature Survey in Chemistry(2017)
○Chemical Informatics(2017)
○Problem-Based Learning I(2017)
○Laboratory Course I(2017)
○GS English Language for Undergraduates II (English for Science and Engineering)(2017)
○Practical Seminar for Teaching Profession C / Junior High School・High School(2017)
○GS English Language for Undergraduates I (English for Science and Engineering)(2017)
○Physical Chemistry II for Application(2017)
○Problem-Based Learning III(2017)
○Fundamental Laboratory Course in Applied Chemistry(2017)
○Problem-Based Learning(2016)
○Problem-Based Learning III(2016)
○Physical Chemistry II for Application(2016)
○Specialized Topics in Applied Chemistry(2016)
○Introduction to Engineering(2016)
○Practical Seminar for Teaching Profession C / Junior High School・High School(2016)
○Laboratory Course I(2016)
○Literature Survey in Chemistry(2016)
○Research Work in Applied Chemistry(2016)
○Problem-Based Learning(2016)
○Problem-Based Learning III(2016)
○Chemical Informatics(2016)
○Problem-Based Learning I(2016)
○Fundamentals of Physical Chemistry(2016)
○Laboratory Course I(2016)
Classes (Graduate Schools)
○Physical Chemistry for Interface(2017)
○Research Ethics(2017)
○Advanced Chemistry(2017)
○Research Work(2017)
○Advanced Chemistry(2017)
○Presentation II(2017)
○Presentation IV(2017)
○Presentation I(2017)
○Applied Chemical Thermodynamics(2017)
○Presentation III(2017)
○Research Ethics(2017)
○Physical Chemistry of Self-Assembly(2017)
○Practical Exercise of Applied Chemistry(2017)
○Research Work(2017)
○Introduction of Energy and Environmental Program(2017)
○Fostering the independence of researchers(2017)
○Fostering the independence of researchers(2017)
○Physical Chemistry for Interface(2017)
○Physical Chemistry for Interface(2017)
○Physical Chemistry for Interface(2017)
○Research Work(2016)
○Introduction of Material Program(2016)
○Presentation IV(2016)
○Presentation I(2016)
○Presentation III(2016)
○Research Work(2016)
○Advanced Chemistry(2016)
○Presentation II(2016)
○Advanced Chemistry(2016)
○Applied Chemical Thermodynamics(2016)
○Introduction of Energy and Environmental Program(2016)
○Physical Chemistry of Self-Assembly(2016)
○Technical English for Applied Chemistry(2016)
○Physical Chemistry for Interface(2016)
International Project
International Students
Lecture themes
Others (Social Activities)