Associate Professor IKAI Tomoyuki
Faculty, Affiliation
Faculty of Chemistry, Institute of Science and Engineering
Associate Professor
College and School Educational Field
Division of Material Chemistry, Graduate School of Natural Science and Technology

Laboratory
 TEL:076-234-4781
Academic Background
【Academic background(Doctoral/Master's Degree)】
Nagoya University Doctor Department of Applied Chemistry 200803 Completed
Nagoya University Master Department of Applied Chemistry  200503 Completed
【Academic background(Bachelor's Degree)】
Nagoya University Chemical and Biological Engineering 200303
Career
Kanazawa University Graduate School of Natural Science and Technology Associate Professor(2014/07/01-)
Kanazawa University Graduate School of Natural Science and Technology Assistant Professor(2009/04/01-2014/06/30)
Nagoya University EcoTopia Science Institute Assistant Professor(2008/04/01-2009/03/31)
Year & Month of Birth
1980/11
Academic Society
Award
Nagoya University EcoTopia Science Institute Assistant Professor(2008/04/01-2009/03/31)
Nagoya University EcoTopia Science Institute Assistant Professor(2008/04/01-2009/03/31)
Nagoya University EcoTopia Science Institute Assistant Professor(2008/04/01-2009/03/31)
Nagoya University EcoTopia Science Institute Assistant Professor(2008/04/01-2009/03/31)
Nagoya University EcoTopia Science Institute Assistant Professor(2008/04/01-2009/03/31)
Nagoya University EcoTopia Science Institute Assistant Professor(2008/04/01-2009/03/31)
Nagoya University EcoTopia Science Institute Assistant Professor(2008/04/01-2009/03/31)
Specialities
Speciality Keywords
Research Themes
Development of efficient asymmetric catalysts and practical chiral recognition materials from novel helical polymers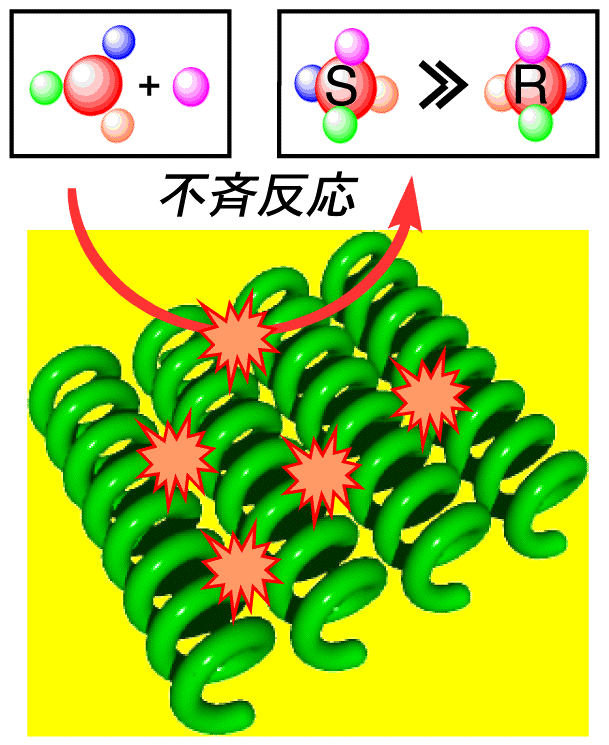 In recent years, optically-active compounds have been getting rapidly important in developing new chiral drugs, and substantial efforts have been undertaken to develop practical techniques for the preparation of enantiomers with a high enantiomeric excess. In this research project, we are working on developing asymmetric catalysts and chiral recognition materials using novel helical polymers.
Synthesis and practical application of well-defined polymers bearing polysaccharides as their basic structure
Characteristics of polymers are highly dependent on their molecular mass, steric structures or other primary structures. It is very important to control these primary structures when we design polymer materials. In this research project, we synthesize well-defined polymers, such as graft copolymers, dendritic polymers, and polyrotaxanes, using polysaccharides as their basic structure aiming to apply them as new functional materials.
Books
 Tomoyuki Ikai, Yoshio Okamoto Preparation and Chiral Recognition of Polysaccharide-Based Selectors Springer-Verlag Berlin Heidelberg  2010/05
Papers
 Macromolecular Helicity Induction and Memory in a Poly(biphenylylacetylene) Bearing an Ester Group and Its Application to a Chiral Stationary Phase for High-performance Liquid Chromatography Ryoma Ishidate, Kouhei Shimomura, Tomoyuki Ikai, Shigeyoshi Kanoh, Katsuhiro Maeda 

Chemistry Letters

 44 7 946-948 2015/04
 Synthesis of polyisocyanides bearing oligothiophene pendants: higher-order structural control through pendant framework design Tomoyuki Ikai, Yugaku Takagi, Ken-ichi Shinohara, Katsuhiro Maeda, Shigeyoshi Kanoh 

Polymer Journal

 47 9 625-630 2015/05
 Switchable enantioseparation based on macromolecular memory of a helical polyacetylene in the solid state Kouhei Shimomura, Tomoyuki Ikai, Shigeyoshi Kanoh, Eiji Yashima, Katsuhiro Maeda 

Nature Chemistry

 6 5 429-434 2014/04
 Influence of 4-fluorophenyl pendants in thieno 3,4-b thiophene-benzo 1,2-b:4,5-b dithiophene-based polymers on the performance of photovoltaics Tomoyuki Yamamoto, Tomoyuki Ikai, Shinji Katori, Takayuki Kuwabara, Katsuhiro Maeda, Tomoyuki Koganezawa, Kohshin Takahashi, Shigeyoshi Kanoh 

Journal of Polymer Science Part a-Polymer Chemistry

 53 13 1586-1593 2015/01
 Chiral fluorescent sensors based on cellulose derivatives bearing terthienyl pendants Tomoyuki Ikai, Daisuke Suzuki, Yutaka Kojima, Changsik Yun, Katsuhiro Maeda, Shigeyoshi Kanoh 

Polymer Chemistry

 7 29 4793-4801 2016/06
 Efficient and rapid direct transesterification reactions of cellulose with isopropenyl acetate in ionic liquids Ryohei Kakuchia, Makoto Yamaguchi, Takatsugu Endo, Yoshiki Shibata, Kazuaki Ninomiya, Tomoyuki Ikai, Katsuhiro Maeda, Kenji Takahashia 

RSC Advances

 5 88 72071-72074 2015/08
 Synthesis and application of immobilized polysaccharide-based chiral stationary phases for enantioseparation by high-performance liquid chromatography Jun Shen, Tomoyuki Ikai, Yoshio Okamoto 

Journal of Chromatography A

 1363 51-61 2014/01/01 
 Chiral amplification in polymer brushes consisting of dynamic helical polymer chains through the long-range communication of stereochemical Information Katsuhiro Maeda, Shiho Wakasone, Kouhei Shimomura, Tomoyuki Ikai, and Shigeyoshi Kanoh 

Macromolecules

 47 19 6540-6546 2014/10/14 
 Thieno[3,4-b]thiophene-benzo[1,2-b:4,5-b']dithiophene-based polymers bearing optically pure 2-ethylhexyl pendants: Synthesis and application in polymer solar cells Ikai, Tomoyuki;Kojima, Ryotaro;Katori, Sinji;Yamamoto, Tomoyuki;Kuwabara, Takayuki;Maeda, Katsuhiro;Takahashi, Kohshin;Kanoh, Shigeyoshi 

POLYMER

 56 171-177 2015/01/01 
 Synthesis and Characterization of Thieno[3,4-b]thiophene-Based Copolymers Bearing 4-Substituted Phenyl Ester Pendants: Facile Fine-Tuning of HOMO Energy Levels Tomoyuki Yamamoto, Tomoyuki Ikai, Mitsuhiro Kuzuba, Takayuki Kuwabara, Katsuhiro Maeda, Kohshin Takahashi, Shigeyoshi Kanoh 

MACROMOLECULES

 44 6659-6662 2011/08
 Synthesis of Polysaccharide Derivatives Bearing Pyridine N-Oxide Groups and Their Use as Asymmetric Organocatalysts Tomoyuki Ikai, Munetsugu Moro, Katsuhiro Maeda, Shigeyoshi Kanoh 

REACTIVE & FUNCTIONAL POLYMERS

 71 1055-1058 2011/08
 Synthesis and Chiral Recognition Ability of a Poly(phenylenevinylene)-Encapsulated Amylose Derivative Kazumi Tamura, Nor Syahidah Md Sam, Tomoyuki Ikai, Yoshio Okamoto, Eiji Yashima 

BULLETIN OF THE CHEMICAL SOCIETY OF JAPAN

 84 741-747 2011/07
 Immobilization of 3,5-Dimethylphenylcarbamates of Cellulose and Amylose onto Silica Gel Using (3-Glycidoxypropyl)triethoxysilane as Linker Shouwan Tang, Tomoyuki Ikai, Masashi Tsuji, Yoshio Okamoto 

JOURNAL OF SEPARATION SCIENCE

 33 1255-1263 2010/05
 Synthesis and Chiral Recognition of Novel Amylose Derivatives Containing Regioselectively Benzoate and Phenylcarbamate Groups Jun Shen, Tomoyuki Ikai, Yoshio Okamoto 

JOURNAL OF CHROMATOGRAPHY A

 1217 1041-1047 2010/02
 Immobilization and Chiral Recognition of 3,5-Dimethylphenylcarbamates of Cellulose and Amylose Bearing 4-(Trimethoxysilyl)phenylcarbamate Groups Shouwan Tang, Tomoyuki Ikai, Masashi Tsuji, Yoshio Okamoto 

CHIRALITY

 22 165-172 2010/01
 Synthesis and Immobilization of Amylose Derivatives Bearing a 4-tert-Butylbenzoate Group at the 2-Position and 3,5-Dichlorophenylcarbamate/3-(Triethoxysilyl)propylcarbamate Groups at 3- and 6-Positions as Chiral Packing Material for HPLC Jun Shen, Tomoyuki Ikai, Xiande Shen, Yoshio Okamoto 

CHEMISTRY LETTERS

 39 442-444 2010/05
 Enantioseparation Using Amylose Esters as Chiral Stationary Phases for High-Performance Liquid Chromatography Yuri Sugiura, Chiyo Yamamoto, Tomoyuki Ikai, Masami Kamigaito, Yoshio Okamoto 

POLYMER JOURNAL

 42 31-36 2010/01
 Structure Control of Polysaccharide Derivatives for Efficient Separation of Enantiomers by Chromatography Tomoyuki Ikai, Yoshio Okamoto 

CHEMICAL REVIEWS

 109 6077-6101
 Preparation and HPLC Application of Chiral Stationary Phase from 4-tert-Butylphenylcarbamates of Cellulose and Amylose Immobilized onto Silica Gel Jun-qing Li, Tomoyuki Ikai, Yoshio Okamoto 

JOURNAL OF SEPARATION SCIENCE

 32 2885-2891 2009/09
 Chiral recognition ability of cellulose derivatives bearing pyridyl and bipyridyl residues as chiral stationary phases for high-performance liquid chromatography Yasunaka Katoh, Yasutaka Tsujimoto, Chiyo Yamamoto, Tomoyuki Ikai, Masami Kamigaito, Yoshio Okamoto 

POLYMER JOURNAL

 43 84-90 2011/01
Conference Presentations
Synthesis of π-Conjugated Polymers Containing Glucose-Linked Biphenyl Units and Their Chiroptical Properties(conference:(International Symposium on Polymer Materials 2015 in Harbin)(2015/07)
Synthesis of the Benzo[1,2-b:4,5-b']dithiophene- Based π-Conjugated Polymers Bearing Optically Active Alkoxy Pendants (conference:The 4th International Symposium on Organic and Inorganic Electronic Materials and Related Nanotechnologies)(2013/06)
Synthesis of the Benzo[1,2-b:4,5-b']dithiophene- Based π-Conjugated Polymers Bearing Optically Active Pendants and Their Hole-Transport Property (conference:The 25th International Symposium on Chirality)(2013/07/09)
Helicity Induction in Poly(biphenylylacetylene)s and Their Application to Chiral Stationary Phases for HPLC(conference:The 3rd International Symposium on Chirality)(2013/07/12)
Synthesis of Polyisocyanides Bearing Oligothiophene Pendants: Higher-Order Structural Control through Pendant Framework Design(2016/05/26)
Arts and Fieldwork
Patent
Theme to the desired joint research
Grant-in-Aid for Scientific Research
○「ビフェニル基含有らせん高分子を用いた不斉選択性の反転が可能なキラル固定相の創製」(2012-2013) 
○「多糖の構造特性を活かした蛍光キラリティーセンサーの創製」(2009-2010) 
Classes (Bachelors)
○Problem-Based Learning I(2017)
○Fundamental Laboratory Course in Applied Chemistry(2017)
○Laboratory Course V(2017)
○Organic Structure Determination(2017)
○Laboratory Course V(2017)
○Laboratory Course V(2016)
○Problem-Based Learning I(2016)
○Laboratory Course V(2016)
○Organic Structure Determination(2016)
Classes (Graduate Schools)
○Applied Chemistry of Natural Polymers(2017)
○Fine Synthetic Polymer Chemistry(2017)
○Applied Chemistry of Natural Polymers(2017)
○Introduction of Material Program(2017)
○Synthetic Chemistry of Polymeric Materials(2017)
○Advanced Biorefinery(2017)
○Applied Chemistry of Natural Polymers(2017)
○Applied Chemistry of Natural Polymers(2017)
○Advanced Biorefinery(2016)
○Applied Chemistry of Natural Polymers(2016)
○Synthetic Chemistry of Polymeric Materials(2016)
○Fine Synthetic Polymer Chemistry(2016)
○Introduction of Material Program(2016)
International Project
International Students
Lecture themes
Others (Social Activities)