Professor NAKANISHI Yoshinobu
Faculty, Affiliation
Faculty of Pharmacy, Institute of Medical, Pharmaceutical and Health Sciences Laboratory of Host Defense and Responses
SPECIALLY APPOINTED PROFESSOR
DEPUTY ADMINISTRATIVE DIRECTOR at NANO LIFESCIENCE INSTITUTE
College and School Educational Field
Division of Health Sciences, Graduate School of Medical Science
Division of Cancer Medicine, Graduate School of Medical Science
Division of Cardiovascular Medicine, Graduate School of Medical Science
Graduate School of Phamateutical Sciences
School of Pharmacy, College of Medical, Pharmaceutical and Health Sciences
School of Pharmaceutical Sciences, College of Medical, Pharmaceutical and Health Sciences
Laboratory
Laboratory of Host Defense and Responses TEL: FAX:
Academic Background
【Academic background(Doctoral/Master's Degree)】
The University of Tokyo Doctor 1981
【Academic background(Bachelor's Degree)】
The University of Tokyo 1976
【Degree】
Ph.D.
Career
Year & Month of Birth
1953/08
Academic Society
Japanese Biochemical Society
Award
Specialities
Functional biochemistry
Speciality Keywords
apoptosis, phagocytosis, self defense, innate immunity, infectious disease
Research Themes
Mechanism and consequences of phagocytic removal of altered own cells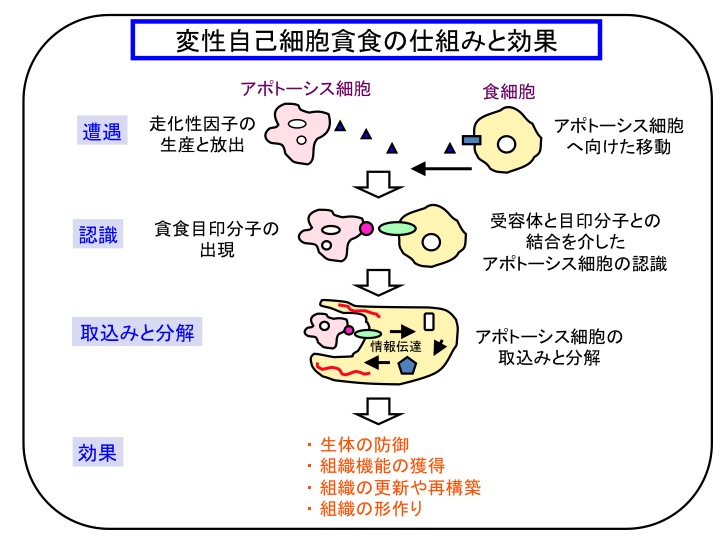 Aged, spent or pathogenic cells undergo apoptosis. Such altered own cells are removed by phagocytosis, and this event is necessary for the maintenance of tissue homeostasis. We genetically and biochemically investigate the mechanism and consequences of phagocytic removal of apoptotic cells in Drosophila.
Mechanism of prevention of infectious diseases by innate immunity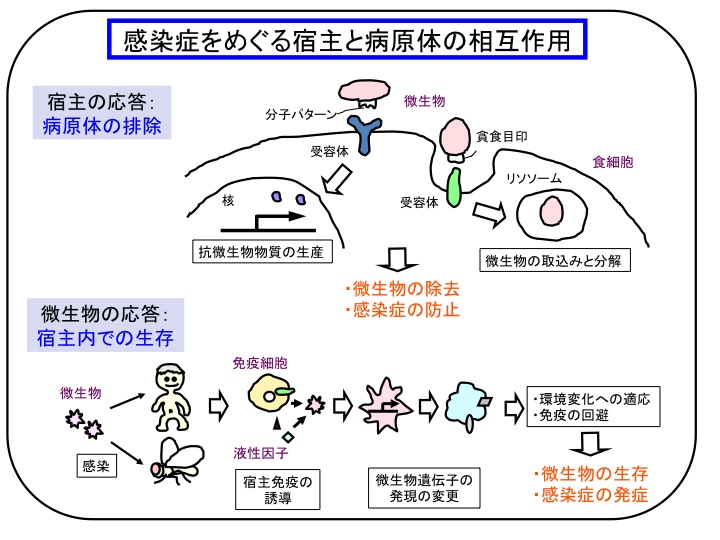 Invasion of pathogenic microorganisms induces innate immune reactions in host organisms. On the other hand, microorganisms try to evade host immunity. The consequences of such responses in both host and pathogens determine the development of infectious diseases. We investigate the interaction between host and pathogens using Drosophila and bacteria.
Books
 KEY CONCEPT MOLECULAR BIOLOGY 2005/02
 Nakanishi, Y., Henson, P. M., and Shiratsuchi, A. Pattern recognition in phagocytic clearance of altered self. Landes Bioscience 129-138 2008/07
Papers
 Co-expression of Fas and Fas-ligand on the surface of influenza virus-infected cells. 

Cell Death Differ.

 5 426-431 1998
 Essential role of phosphatidylserine externalization in apoptosing cell phagocytosis by macrophage 

Biochem. Biophys. Res. Commun.

 246 549-555 1998
 Thyroid hormone, all-trans retinoic acid, and 9-cis retinoic acid function as negative modulators of the effect of glucocorticoid on induction of _1-acid glycoprotein mRNA in RLN-10 cells. 

Biochem. Mol. Biol. Int.

 45 1 1-10 1998/06
 Molecular cloning of the rat Tpx-1 responsible for the interaction between spermatogenic and Sertoli cells. 

Biochem. Biophys. Res. Commun.

 248 140-146 1998
 Induction of apoptosis in ischemia-reperfusion model of mouse kidney: possible involvement of Fas. 

J. Am. Soc. Nephrol.

 9 620-631 1998
 Differential expression of putative transbilayer amphipath transporters. 

Physiol. Genomics

 1 139-150 1999
 Double-stranded RNA-activated protein kinase (PKR) fused to green fluorescent protein induces apoptosis in human embryonic kidney cells: Possible role in Fas signaling pathway. 

JOURNAL OF BIOCHEMISTRY

 125 2 391-398 1999/02
 Role of class B scavenger receptor type I in phagocytosis of apoptotic rat spermatogenic cells by Sertoli cells. 

JOURNAL OF BIOLOGICAL CHEMISTRY

 274 9 5901-5908 1999/02
 Phosphatidylserine-mediated phagocytosis of anticancer drug-treated cells by macrophages. 

JOURNAL OF BIOCHEMISTRY

 126 6 1101-1106 1999/06
 Expression pattern, subcellular localization and structure-function relationship of rat Tpx-1, a spermatogenic cell adhesion molecule responsible for association with Sertoli cells. 

Dev. Growth Differ.

 41 715-722 1999/12
 Recruitment of apoptotic cysteine proteases (caspases) in influenza virus-induced cell death. 

Microbiol. Immunol.

 43 3 245-252 1999
 Virus clearance through apoptosis-dependent phagocytosis of influenza A virus-infected cells by macrophages. 

JOURNAL OF VIROLOGY

 74 7 3399-3403 2000/04
 Ectopic activation of the transcription promoter for the testis-specific mouse Pgk-2 gene on elimination of a cis-acting upstream DNA region. 

Dev. Growth Differ.

 42 385-393 2000/08
 Spermatocyte-specific gene excision by targeted expression of Cre recombinase. 

Biochem. Biophys. Res. Commun.

 272 125-128 2000
 Phosphatidylserine-mediated phagocytosis of influenza A virus-infected cells by mouse peritoneal macrophages. 

JOURNAL OF VIROLOGY

 74 19 9240-9244 2000/10
 Expression of Fas and Fas ligand in normal and ischemia-reperfusion testes: involvement of the Fas system in the induction of germ cell apoptosis in the damaged mouse testis. 

BIOLOGY OF REPRODUCTION

 64 946-954 2001/02
 Induction of apoptosis and Fas receptor/Fas ligand expression by ischemia/reperfusion in cardiac myocytes requires serine 727 of the STAT-1 transcription factor but not tyrosine 701. 

J. Biol. Chem.

 276 30 28340-28347 2001/07
 Difference in the way of macrophage recognition of target cells depending on their apoptotic states. 

CELL DEATH AND DIFFERENTIATION

 8 1113-1122 2001/11
 A presumed human nuclear autoantigen that translocates to plasma membrane blebs during apoptosis. 

JOURNAL OF BIOCHEMISTRY

 133 2 211-218 2002/02
 Structural change of ribosomes during apoptosis: degradation and translocation of ribosomal proteins in doxorubicin-treated Jurkat cells. 

JOURNAL OF BIOCHEMISTRY

 131 3 485-493 2002/03
 Role of phosphatidylserine exposure and sugar chain desialylation at the surface of influenza virus-infected cells in efficient phagocytosis by macrophages 

JOURNAL OF BIOLOGICAL CHEMISTRY

 277 18222-18228 2002/05
 Inhibition of sperm production in mice by annexin V microinjected into seminiferous tubules: 

CELL DEATH AND DIFFERENTIATION

 9 742-749 2002/07
 Phosphatidylserine binding of class B scavenger receptor type I, a phagocytosis receptor of testicular Sertoli cells. 

JOURNAL OF BIOLOGICAL CHEMISTRY

 277 30 27559-27566 2002/07
 Independence of plasma membrane blebbing from other biochemical and biological characteristics of apoptotic cells. 

JOURNAL OF BIOCHEMISTRY

 132 3 381-386 2002/09
 Determination of cell type specificity and estrous cycle dependency of monocyte chemoattractant protein-1 expression in corpora 

BIOLOGY OF REPRODUCTION

 67 1502-1508 2002/11
 Double-stranded RNA-activated protein kinase interacts with apoptosis signal-regulating kinase 1: implications for apoptosis signaling pathways. 

EUROPEAN JOURNAL OF BIOCHEMISTRY

 269 6126-6132 2002/12
 Phagocytic removal of apoptotic spermatogenic cells by Sertoli cells: mechanisms and consequences. 

BIOLOGICAL & PHARMACEUTICAL BULLETIN

 27 1 13-16 2004/01
 Inhibitory effect of Toll-like receptor 4 on fusion between phagosomes and endosomes/lysosomes in macrophages. 

JOURNAL OF IMMUNOLOGY

 172  2039-2047 2004/02
 Expression and function of class B scavenger receptor type I on both apical and basolateral sides of the plasma membrane of polarized testicular Sertoli cells of the rat. 

DEVELOPMENT GROWTH & DIFFERENTIATION

 46  283-298 2004/06
 Impairment of spermatogenesis and male fertility in CIZ/Nmp4-disrupted mice. 

GENES TO CELLS

 9  575-589 2004/06
 Cleavage of calnexin caused by apoptotic stimuli: an implication for the regulation of apoptosis. 

JOURNAL OF BIOCHEMISTRY

 136  399-405 2004/09
 Draper-mediated and phosphatidylserine-independent phagocytosis of apoptotic cells by Drosophila hemocytes/macrophages. 

JOURNAL OF BIOLOGICAL CHEMISTRY

 279  48466-48476 2004/11
 Stimulation of phagocytosis of influenza virus-infected cells through surface desialylation of macrophages by viral neuraminidase. 

MICROBIOLOGY AND IMMUNOLOGY

 48  875-881 2004/11
 The testicular fatty acid binding protein PERF15 regulates the fate of germ cells in PERF15 transgenic mice. 

DEVELOPMENT GROWTH & DIFFERENTIATION

 47  15-24 2005/01
 Distinct localization of lipid rafts and externalized phosphatidylserine at the surface of apoptotic cells. 

BIOCHEMICAL AND BIOPHYSICAL RESEARCH COMMUNICATIONS

 327  94-99 2005/02
 Phosphatidylserine- and integrin-mediated phagocytosis of apoptotic luteal cells by macrophages of the rat. 

DEVELOPMENT GROWTH & DIFFERENTIATION

 47  153-161 2005/03
 Isolation of a Drosophila gene coding for a protein containing a novel phosphatidylserine-binding motif. 

JOURNAL OF BIOCHEMISTRY

 137  593-599 2005/05
 Externalization and recognition by macrophages of large subunit of eukaryotic translation initiation factor 3 in apoptotic cells. 

EXPERIMENTAL CELL RESEARCH

 309  137-148 2005/09
 In vivo analysis of phagocytosis of apoptotic cells by testicular Sertoli cells. 

MOLECULAR REPRODUCTION AND DEVELOPMENT

 71  166-177 2005/06
 Molecular dissection of internalization of Porphyromonas gingivalis by cells using fluorescent beads coated with bacterial vesicle. 

CELL STRUCTURE AND FUNCTION

 30  81-91 2005/12
 Augmentation of fatality of influenza in mice by inhibition of phagocytosis. 

BIOCHEMICAL AND BIOPHYSICAL RESEARCH COMMUNICATIONS

 337  881-886 2005/11
 Involvement of COX-1 and up-regtulated prostaglandin E synthases in phosphatidylserine liposome-induced prostaglandin E2 production by microglia. 

JOURNAL OF NEUROIMMUNOLOGY

 172  112-120 2006/03
 Involvement of mitogen-activated protein kinases in class B scavenger receptor type I-induced phagocytosis of apoptotic cells. 

EXPERIMENTAL CELL RESEARCH

 312  1820-1830 2006/06
 Selective expression of the scaffold protein JSAP1 in spermatogonia and spermatocytes. 

REPRODUCTION

 131  711-719 2006/04
 Essential role of the apoptotic cell engulfment genes draper and ced-6 in developmentally programmed axon pruning during Drosophila metamorphosis. 

NEURON

 50  855-867 2006/06
 Mechanisms and roles of phagocytosis in Drosophila and Caenorhabditis elegans. Nakanishi, Y., and Shiratsuchi, A. 

INVERTEBRATE SURVIVAL JOURNAL

 3 89-96 2006/09
 Perturbation of spermatogenesis by androgen antagonists directly injected into seminiferous tubules of live mice. 

REPRODUCTION

 133  21-27 2007/01
 Evidence for phagocytosis of influenza virus-infected, apoptotic cells by neutrophils and macrophages in mice. 

JOURNAL OF IMMUNOLOGY

 178  2448-2457 2007/02
 Identification of calreticulin as a marker for phagocytosis of apoptotic cells in Drosophila. 

EXPERIMENTAL CELL RESEARCH

 313  500-510 2007/02
 Participation of nitric oxide reductase in survival of Pseudomonas aeruginosa in LPS-activated macrophages. 

BIOCHEMICAL AND BIOPHYSICAL RESEARCH COMMUNICATIONS

 355  587-591 2007/04
 TLR2-mediated survival of Staphylococcus aureus in macrophages: a novel bacterial strategy against host innate immunity. 

JOURNAL OF IMMUNOLOGY

 178  4917-4925 2007/04
 Involvement of cannabinoid receptor CB2 in dectin-1-mediated macrophage phagocytosis. 

IMMUNOLOGY AND CELL BIOLOGY

 86  179-184 2008/02
 Mechanisms and consequences of phagocytosis of influenza virus-infected cells. Nakanishi, Y., Hashimoto, Y., Takizawa, T., and Shiratsuchi, A. 

ANTI-INFLAMMATORY & ANTI-ALLERGY AGENTS IN MEDICINAL CHEMISTRY

 7 2 87-100 2008/06
 Activator protein 1-mediated expression of monocyte chemoattractant protein 1 in cultured rat luteal cells. 

MOLECULAR REPRODUCTION AND DEVELOPMENT

 75  1077-1084 2008/06
 Signaling pathway involving GULP, MAPK, and Rac1 for SR-BI-induced phagocytosis of apoptotic cells 

JOURNAL OF BIOCHEMISTRY

 145  387-394 2009/03
 Inhibitory effect of N-palmitoylphosphatidylethanolamine on macrophage phagocytosis through inhibition of Rac1 and Cdc42. Shiratsuchi, A., Ichiki, M., Okamoto, Y., Ueda, N., Sugimoto, N., Takuwa, Y., and Nakanishi, Y. 

JOURNAL OF BIOCHEMISTRY

 145 1 43-50 2009/01
 The triacylated ATP binding cluster transporter substrate-binding lipoprotein of Staphylococcus aureus functions as a native ligand for the Toll-like receptor 2. Kurokawa, K., Lee, H., Roh, K.-B., Asanuma, M., Kim, Y. S., Nakayama, H., Shiratsuchi, A., Choi, Y., Takeuchi, O., Kang, H. J., Dohmae, N., Nakanishi, Y., Akira, S., Sekimizu, K., and Lee B. L. 

JOURNAL OF BIOLOGICAL CHEMISTRY

 284 13  8406-8411 2009/03
 Immune response to bacteria in seminiferous epithelium. 

REPRODUCTION

 137  879-888 2009/05
 Identification of lipoteichoic acid as a ligand for Draper in the phagocytosis of Staphylococcus aureus by Drosophila hemocytes.  Hashimoto, Y., Tabuchi, Y., Sakurai, K., Kutsuna, M., Kurokawa, K., Awasaki, T., Sekimizu, K., Nakanishi, Y., and Shiratsuchi, A. 

JOURNAL OF IMMUNOLOGY

 183 11 6451-7460 2009/12
 Pretaporter, a Drosophila protein serving as a ligand for Draper in the phagocytosis of apoptotic cells.  Kuraishi, T., Nakagawa, Y., Nagaosa, K., Hashimoto, Y., Ishimoto, T., Moki, T., Fujita, Y., Nakayama, H., Dohmae, N., Shiratsuchi, A., Yamamoto, N., Ueda, K., Yamaguchi, M., Awasaki, T., and Nakanishi, Y. 

EMBO JOURNAL

 28 3868-3878 2009/12
 Auxiliary role for D-alanylated wall teichoic acid in Toll-like receptor 2-mediated survival of Staphylococcus aureus in macrophages. Shiratsuchi, A., Shimizu, K., Watanabe, I., Hashimoto, Y., Kurokawa, K., Razanajatovo, I. M., Park, K. H., Park, H. K., Lee, B. L., Sekimizu, K., and Nakanishi, Y. 

IMMUNOLOGY

 192 2 268-277 2010/02
 Phosphatidylserine-containing liposomes inhibit the differentiation of osteoclasts and trabecular bone loss. Wu, Z., Ma, H. M., Kukita, T., Nakanishi, Y., and Nakanishi, H. 

JOURNAL OF IMMUNOLOGY

 184 6 3191-3201 2010/03
 Role and pathological significance of apoptosis induced by influenza virus infections. Takizawa, T., and Nakanishi, Y. 

THE OPEN ANTIMICROBIAL JOURNAL

 2 22-25 2010/04
 Inhibitory role for D-alanylation of wall teichoic acid in activation of insect Toll pathway by peptidoglycan of Staphylococcus aureus. Tabuchi, Y., Shiratsuchi, A., Kurokawa, K., Gong, J. H., Sekimizu, K., Lee, B. L., and Nakanishi, Y. 

JOURNAL OF IMMUNOLOGY

 185 4 2424-2431 2010/08
 Phagocytic removal of cells that have become unwanted: implications for animal development and tissue homeostasis.  Nakanishi, Y., Nagaosa, K., and Shiratsuchi, A. 

DEVELOPMENT GROWTH & DIFFERENTIATION

 53 2 149-160 2011/02
 Integrin βν-mediated phagocytosis of apoptotic cells in Drosophila embryos. Nagaosa, K., Okada, R., Nonaka, S., Takeuchi, K., Fujita, Y., Miyasaka, T., Manaka, J., Ando, I., and Nakanishi, Y. 

JOURNAL OF BIOLOGICAL CHEMISTRY

 286 29 25770-25777 2011/07
 A 93 kDa twin domain serpin has a regulatory function on the beetle toll proteolytic signaling cascade. Jiang, R., Zhang, B., Kurokawa, K., So, Y.-I., Kim, E.-H., Hwang, H.-O., Lee, J.-H., Shiratsuchi, A., Zhang, J., Nakanishi, Y., Lee, H.-S., and Lee, B. L. 

JOURNAL OF BIOLOGICAL CHEMISTRY

 286 40 35087-35095 2011/10
 Apoptosis-dependent externalization and involvement in apoptotic cell clearance of DmCaBP1, an endoplasmic reticulum protein of Drosophila. 

JOURNAL OF BIOLOGICAL CHEMISTRY

 287 3138-3146 2012/01
 Independent recognition of Staphylococcus aureus by two receptors for phagocytosis in Drosophila. 

JOURNAL OF BIOLOGICAL CHEMISTRY

 287 26 21663-21672 2012/06
 Role of NPxY motif in Draper-mediated apoptotic cell clearance in Drosophila. 

DRUG DISCOVERIES & THERAPEUTICS

 6 6 291-297 2012/06
 Phosphatidylserine recognition and induction of apoptotic cell clearance by Drosophila engulfment receptor Draper.  

JOURNAL OF BIOCHEMISTRY

 153 5 483-491 2013/05
 Differences in the mode of phagocytosis of bacteria between macrophages and testicular Sertoli cells. 

DRUG DISCOVERIES & THERAPEUTICS

 7 2 73-77 2013/07
 Involvement of EnvZ-OmpR two-component system in virulence control of Escherichia coli in Drosophila melanogaster. 

BIOCHEMICAL AND BIOPHYSICAL RESEARCH COMMUNICATIONS

 438 2 306-311 2013/08
 Role for σ38 in prolonged survival of Escherichia coli in Drosophila melanogaster. Shiratsuchi, A., Shimamoto, N., Nitta, M., Tuan, T. Q., Firdausi, A., Gawasawa, M., Yamamoto, K., Ishihama, A., and Nakanishi, Y. 

JOURNAL OF IMMUNOLOGY

 192 666-675 2014/01
Conference Presentations
Arts and Fieldwork
Patent
Theme to the desired joint research
Grant-in-Aid for Scientific Research
○「プログラム細胞貪食による不要自己細胞除去の仕組みと意義」(2016-2018) 
○「宿主との折り合いをつける細菌遺伝子の同定と機能解明」(2013-2015) 
○「ショウジョウバエのマルチリガンド受容体Draperによる貪食機構の解析」(2010-2012) 
○「ショウジョウバエ貪食受容体Draperを介した変性自己細胞除去の仕組み」(2007-) 
○「発癌防止におけるアポトーシス依存的貪食反応の役割」(2014-2015) 
○「CellCompetitionの不具合に起因する癌発症機構の研究」(2010-2011) 
Classes (Bachelors)
○Basic Health Science 1(2017)
○Basic Health Science 2(2017)
○Introduction to Life Science(2017)
○Freshman Seminar I(2017)
○Advanced Molecular Cell Biology(2017)
○Experiments in Biology 1(2017)
○Molecular and Cellular Biology 1(2017)
Classes (Graduate Schools)
○Advanced Course of Biopharmaceutical Drug Discovery(2017)
○Control of Immune System(2017)
○Advanced Seminar on Biopharmaceutical Sciences(2017)
○Maintenance of Genomic Integrity(2017)
○Analytical Study on Herbal Medicine(2017)
International Project
International Students
Lecture themes
Others (Social Activities)